Western Digital Corporation, also known as WD, is one of the most famous and trusted hard drive brands. With a track record spanning over two decades, WD has earned an enviable reputation for producing highly reliable and sought-after drives.
Western Digital (WD) has introduced a color-coded system to simplify the selection process and aid in remembering the intended purpose of each product line. There are six different series of hard disks from WD, but the black and blue series are the most popular and budget-friendly. So deciding whether to buy WD blue or black for your computer can be hard. To determine which WD blue or black is best for you, check out our complete WD blue vs black comparison guide.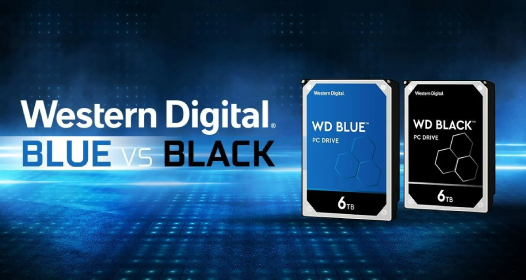 Part 1: Overview of WD Blue (HDD & SSD)
WD Blue is a versatile, affordable hard drive series suitable for basic PC storage. The HDD version provides decent performance with a 1TB platter, 64MB cache, and 7200 RPM, mainly intended for data storage and backup. On the other hand, the WD Blue SSD delivers high speeds of up to 2.4GB/s at a great price, making it a value-for-money choice.

WD Blue offers budget-friendly options in both HDD and SSD formats.
High RPMs (7200).
When WD Blue HDDs spin at high speeds, they don't make much noise.
The WD blue SDD comes with 5 years warranty.

Not available in 2TB or 6TB.
The HDD only offers 2 years of warranty.
Part 2: Overview of WD Black (HDD & SSD)
WD Black HDDs are designed specifically for performance-intensive applications. High speeds and a large cache make it an excellent choice for demanding desktop tasks. WD Black excels in audiovisual content creation, rendering, or gaming, securing its reputation as a top drive.
The WD Black SSD is a remarkably fast drive that significantly enhances the overall performance of any PC. With its various high-performance modes, including "Gaming Mode," it delivers exceptional speed and performance.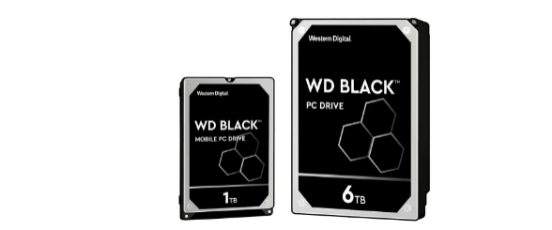 Ensure high performance.
Special mode option to do your work.
Long-lasting.
Both SDD and HDD come with 5 years warranty.
Available up to 10TB.

HDD and SDD are both costly.
WD Black HDD produces significant noise.
Part 3: WD Blue vs Black: Comparison by Features
Check out the Western Digital blue vs black (HDD and SDD )comparison at a glance.
1. Form factor
WD Blue and WD Black series are both available in 2.5" and 3.5" form factors, suitable for desktops and laptops.
2. Formatted capacity
WD Black drives offer larger formatted capacities compared to WD Blue drives.
3. Interface
WD Blue supports SATA III and PATA 100MB/s interfaces, while WD Black exclusively features SATA III interfaces, ensuring faster data transfer rates.
WD Blue SSDs use SATA interface, while WD Black SSDs utilize the faster PCIe 3.0 x4 / NVMe 1.3 interface, enabling even faster data transfer rates for improved overall performance.
4. Spindle Speed (RPM)
WD Blue desktop HDDs have an RPM of 7200, while laptop HDDs have an RPM of 5400. WD Black HDDs come with 7200 RPM.
5. Cache
Both WD Blue and Black series offer cache memories up to 256MB. However, WD Blue surpasses WD Black with cache memories of up to 128MB for laptop HDDs.
6. Use (suitable for home/work/gaming)
The WD Black and WD Blue series offer distinct advantages when selecting the perfect hard drive. The WD Black series is tailored for high-performance applications, making it ideal for demanding tasks, gaming, graphics and programming. On the other hand, the WD Blue series provides reliable performance suited for a wide range of everyday computing needs.
7. Price
WD Blue series starts at a more budget-friendly price point, with prices starting from $36.99. On the other hand, the WD Black series comes at a slightly higher price, starting from $51.99. When comparing WD black vs blue hdd, consider your specific requirements and budget.
People Also Read:
Bonus Tip: How to Transfer Data from One Hard Drive to Another?
Comparing WD black vs blue, you might consider utilizing it as your primary drive for gaming or work purposes. But how to migrate your data, including an operating system, to the newly purchased WD HDD or SSD? In that case, 4DDiG Partition Manager can be a great solution to your problem.
This user-friendly software can help you clone data to another disk or partition safely and efficiently, so that you can upgrade your hard disk without any fear. So let's check out how to use 4DDiG Partition Manager to clone a disk.
Download and install 4DDiG Partition Manager

Download, and install 4DDiG Partition Manager to your computer. Connect an external disk to your computer to clone a disk using 4DDiG Partition Manager. open the application and click on the "Clone Disk" option from the main menu.

Choose the target disk to receive data

In the "Clone Disk" section, choose a target disk (the newly purchased WD hard drive). After selecting the target disk, click on the "Continue" button.

Give permission to overwrite the Data

Double-check that you have selected the correct target disk, and once you are sure, click on the "Sure" button to proceed.

Start Cloning

Take a moment to verify that everything is done properly. If everything looks good, click the "Start" button to initiate cloning.

Complete The Task

Now, patiently wait for the cloning process to complete. The cloning operation's duration depends on the source disk's size. It is important to avoid performing any other operations or interrupting the process while it is ongoing.
People Also Read:
FAQs about WD Blue vs Black
1.Is WD Black faster than Blue?
Yes, WD Black is generally faster than WD Blue. The WD Black series is designed for high-performance applications, providing faster speeds and optimized performance for gaming, rendering, and content creation tasks.
2.Can WD Blue be used for gaming?
Yes, WD Blue can be used for gaming. While it may not offer the same level of performance as WD Black, WD Blue can still provide reliable storage for gaming applications. It offers a balance between affordability and decent performance for gaming enthusiasts.
3.What is the difference between WD Blue and WD Black?
Check out the main differences between WD blue vs WD black:
Performance: WD Black is optimized for high-performance tasks and offers faster speeds. WD Blue, while still capable, provides a more general-purpose performance suitable for everyday computing needs.
Capacity: WD Black drives offer larger storage options comparing WD blue
Price: WD Black drives generally come at a higher price point than WD Blue drives.
Final Thoughts
We hope our guide on WD blue vs black has provided you with all the information you need about the two-line ups of hard disks. For gaming, rendering, and content creation tasks, WD Black is a high-performance option. For general computing needs, WD Blue offers a balance between affordability and performance. It doesn't matter which one you buy, but consider using the 4DDiG Partition Manager tool for disk cloning to migrate your valuable data, including the operating system, to the newly purchased WD hard drive!