After you've successfully cloned the original Windows 10 hard drive to the SSD, it's time to boot your Windows PC from the SSD to take advantage of the faster and more fluid OS environment. When you try to load up your PC after cloning your HDD to an SSD, your heart may skip a beat. However, you should not be alarmed if cloned SSD won't boot Windows 10. You may be unable to benefit from the improved user experience if the cloned SSD fails to run, rendering the disc clone useless. What are your options at this point? Simply relax and follow the steps outlined below to properly resolve the SSD not booting after the clone issue.
Part 1: Why Does Cloned SSD Won't Boot?
Before we dig out how to make cloned ssd bootable, let's first find out why cloned SSD won't boot. There are a variety of reasons why the SSD won't boot after cloning. We've included some of the most prevalent explanations below:
There's a possibility that the cloned SSD won't boot windows 10 if the source drive you cloned has faulty sectors.
Because the system was corrupted during the cloning procedure, the cloned disc would not boot.
The partition that was "system reserved", not cloned.
Set the boot drive to the wrong drive.
While switching from HDD to SSD, the drive letter may have changed. And this progress may result in missing boot files, causing the cloned SSD to fail to boot on Windows 11/10/8/7.
The cloned disc will not boot due to a GPT/MBR conflict
Part 2: How to Fix Cloned SSD Won't Boot Windows 10?
Method 1: Correctly Install the Cloned SSD with a SATA Cable
Instead of using a USB connector, connect the cloned SSD to your computer with a SATA cable. When using a SATA cable to connect their PC to a cloned SSD, some Windows 10 users were able to get their PC to boot from it.
Method 2: Change Boot Order in BIOS and Make SSD Bootable as BootDisk
Until the cloned SSD is configured as the primary boot option in BIOS, macrium reflect clone drive won't boot from it. In this situation, all you have to do is modify the boot order in BIOS and choose the SSD as the first boot option.
Step 1: Restart your computer. When the startup screen shows, press the hotkey repeatedly to bring up the BIOS settings menu. F2, F8, F12, or Del are the most common hotkeys.
Please enter BIOS using the appropriate hotkey for your PC's brand.
Step 2: After entering BIOS, select the Boot tap with the arrow keys and select the SSD as the first boot option.
Step 3: To save the adjustments, press F10. After that, restart your computer.
Method 3: Setting BIOS to boot from UEFI or Legacy
MBR and GPT are the two sorts of partition styles. The startup mode Legacy is used by MBR. GPT is also compatible with UEFI. The cloned SSD will not boot if the partition style is incompatible with the boot mode. As a result, we must additionally enter BIOS and select the appropriate boot mode for your selected partition style otherwise cloned drive won't boot.
Step 1: Enter the BIOS utility.
Step 2: Select "UEFI/ BIOS Boot Mode" from the "Boot" tap with the arrow keys. Enter the code. Then, depending on your chosen partition style, choose "Legacy" or "UEFI."
Step 3: To save the adjustments, press F10. After that, restart your computer.
Method 4: Set System Partition as an Active Partition
The active partition should, in most cases, be the primary partition. The operating system's boot files are located in the primary partition. After cloning to SSD, Windows 10 computer won't boot from cloned SSD if the system partition is not designated as an active partition. Using Command Prompt, we could change the active partition.
Step 1: Boot from the old hard drive because the cloned SSD won't boot. Then, in the hard drive enclosure, place the SSD and attach the case to the PC.
Step 2: Once you've booted from the old hard drive, hit "Win" + "R" to open the Run box, then type diskpart into it. Enter the code.
Step 3: In the Command Prompt, type the commands below once a window appears. Each time you input a command, please press Enter.
List disk
Select disk XX ( Here "XX" is disk ID of SSD)
List partition
Select partition XXX (Note: "XXX" refers to the partition ID of your SSD)
Active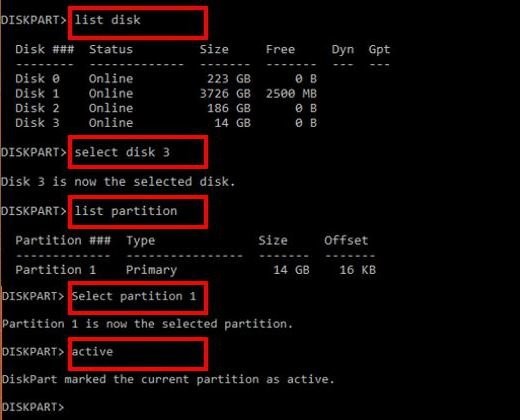 Step 4: After performing the following tasks, restart the computer.
Method 5: Run Bootrec.exe
If Windows Startup Repair fails, try Bootrec.exe to fix a cloned SSD that won't boot in Windows 11/10/8/7.
Step 1: Start the computer by booting from the Windows installation CD.
Step 2: Select Troubleshoot > Advanced Options > Command Prompt from the Troubleshoot menu. Type the bootrec.exe command in the pop-up command prompt to activate this program and cure the Windows 10/11 fails to boot problem with the commands below:
bootrec.exe /fixmbr
bootrec.exe /fixboot
bootrec.exe /scanos
bootrec.exe /rebuildbcd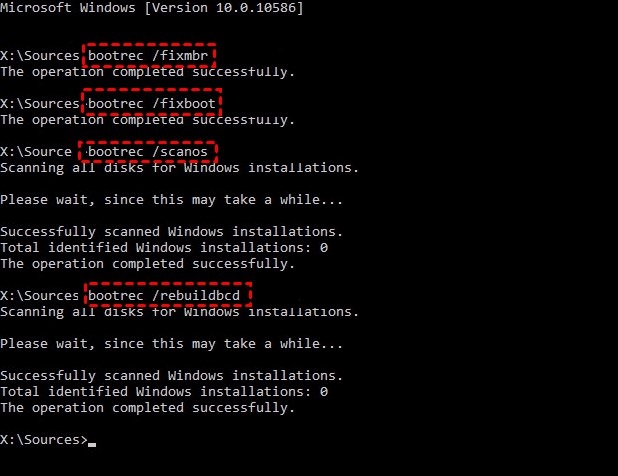 Method 6: Repair Windows Startup from Windows RE
After cloning SSD won't boot on Windows 10/11, you may need to enter the Windows recovery environment (Windows RE) to repair Windows Startup. The Windows Startup Repair tool will correct several issues and assist you in effectively booting.
Step 1: Start your computer by booting from the Windows installation CD. Choose the option to repair your computer.
Step 2: Select Troubleshoot -> Advanced Options -> Startup Repair (Windows 11/10/8) from the Advanced options menu. Then it will begin to fix the startup issue.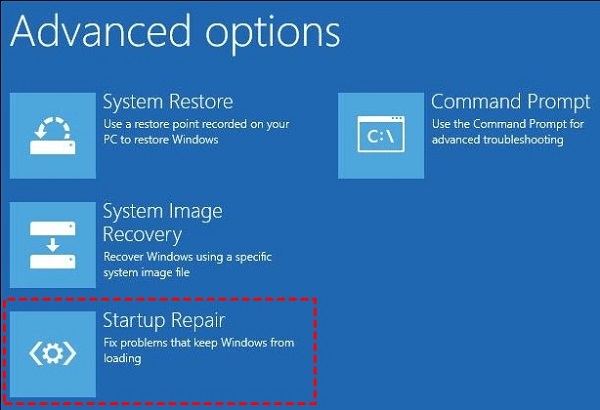 Part 3: How to Recover Lost Data from Cloned Drive?
Even if the lost files is replaced by the copied data, you can still recover the lost data back if the cloning disk or clone fails. Advanced data recovery software can assist you in recovering data from a formatted or failing hard drive or external storage device. Tenorshare 4DDiG Data Recovery is a strong data recovery program that can help you recover original documents from a hard disk that has been overwritten by cloned data. You can find features below and figure out how to recover lost data from cloned drive with 4DDiG.
Support to recover data from Windows/Mac/USB flash drive/SD card/digital camera, etc.
Recover from various loss scenarios like deletion, formatting, RAW, etc. with a higher success rate.
Supports file systems including as FAT16,FAT32,exFAT,NTFS, APFS and HFS+.
Support 1000+ files types such as photos, videos, documents and more.
Step 1:

Choose a Hard Drive

Once the installation of Tenorshare 4DDiG Data Recovery is done, you'll see the default home display. Choose the hard drive where you lost data and then click Scan to proceed.

Step 2:

Scan Hard Drive

4DDiG immediately examines the selected drive all around for missing data, and you may pause or stop the searching at any time if you've identified the files you want to recover. There are categories like Deleted Files, Existing Files, Lost Location, RAW Files, and Tag Files under the Tree View. You can also switch to File View to check file types such as Photo, Video, Document, Audio, Email, and others. Besides, you can search for target files or use Filter to narrow down your search on the left side of the panel.

Step 3:

Preview and Recover Files

Following the discovery of the target files, you can preview and recover them to a secure location. In case of disk overwriting and permanent data loss, please do not save to the same partition where you lost them.
FAQs
1. Can I boot from a cloned drive?
Yes, you can boot from a cloned drive unless the source disk contains bad sectors or the cloning program executed an incomplete clone.
2. Is cloning bad for SSD?
First and foremost, cloning is not a bad thing:) in most cases, it is extremely beneficial and convenient. But you should bear in mind that cloning gives you exact replica of your system and if the present system installation currently has flaws, you'll encounter the same problems after shifting to a new disk.
Conclusion:
When copying data, disk clone software will usually format the target drive. So, before starting the disk clone, make sure there is no useful data on the target drive. But if you've ever lost data after cloning, use Tenorshare 4DDiG Data Recovery to recover any lost data from it.