How to Fix Smart Hard Disk Error 301?

"I own an HP laptop and last night I was gaming on it when it suddenly shut down and showed a smart hard disk error 301. This happened while I was gaming like I do every day. What does this error exactly mean and what do I do to get rid of it?"
In recent times a lot of innovation has taken place in hard drive technology. The SMART hard drive is one such unique innovation that promises to change how you use hard drives. But with unique innovations come unique problems and the smart hard disk error is one such unique error. It signifies that your SMART hard drive isn't working as it's supposed to. This can be due to various reasons ranging from corrupted hard drives to virus attacks. So if you belong to a demographic of people who are facing this issue right now then you have come to the right place. In this guide on how to fix the SMART hard disk error 301, we will tell you all about the fixing part right from running utilities to reseating the hard disk itself. So buckle up and follow along to get rid of this irritating problem.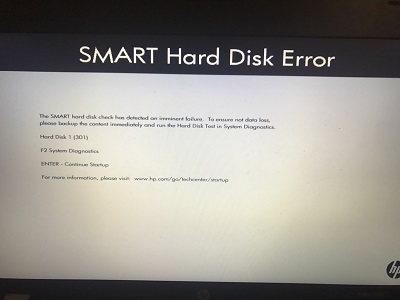 Part 1: What is a SMART Hard Disk?
A SMART hard disk or Self-Monitoring Analysis and Reporting Technology is an intelligent hard drive system that monitors the status of your hard drive in real-time, automatically. This enables it to alert you in case anything goes wrong like in the case of smart hard disk error 301.
Part 2: What Causes SMART Hard Disk Error?
Before knowing how to fix smart hard disk error it's important to know what causes this error so that we are better equipped to solve this issue. Some important causes to be considered before starting to solve this error include,
Failure of the SMART hard disk check.
Due to a BIOS which is outdated or misconfigured.
Virus or Malware attacks.
Physical damage endured by the hard drive.
Broken or destroyed IDE/SATA controller chip in the Motherboard.
Unexpected shutdowns due to power failure or other reasons.
Part 3: How to Fix Smart Hard Disk Error 301?
Fix 1: Restart Your Computer
As it is with any hardware error, the first step to fix the smart disk error 301 is to restart your computer. Shut down your computer normally and then remove all the connections to it, wait for 30 seconds and power your PC back up.
Fix 2: Cool Down Your Hard Disk
An overclocked hard disk may be a major reason behind the smart hard disk error hard disk 3 309. To make sure your Hard Disk is cool and not overworked you can follow the tips below.
Improve airflow to your hard disk.
Regularly clean your PC's vents.
Monitor PC temperature and regulate your usage accordingly.
Maintain ambient temperature.
Don't use your laptop on your lap, this may restrict airflow.
Fix 3: Check for File System Errors
Sometimes the pathway to fixing the hard disk error hp goes through the file system. This makes it important to scan for any file system errors. Here's how you should go about it.
Step 1: Go to the 'File Explorer' and click on the 'This PC' section present in the left pane. Here, right-click on your system drive and click on the 'Properties' option.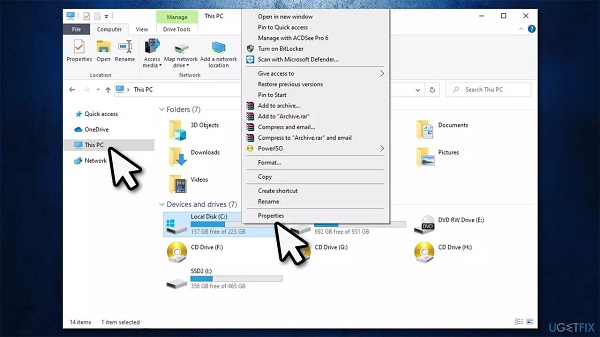 Step 2: Once in Properties, go to the 'Tools' tab, and under 'Error Checking', click on 'Check'.
Step 3: If the 'You don't need to scan this drive' pop-up comes, simply click on 'Scan Drive'. The scan will now begin and check for any file system errors.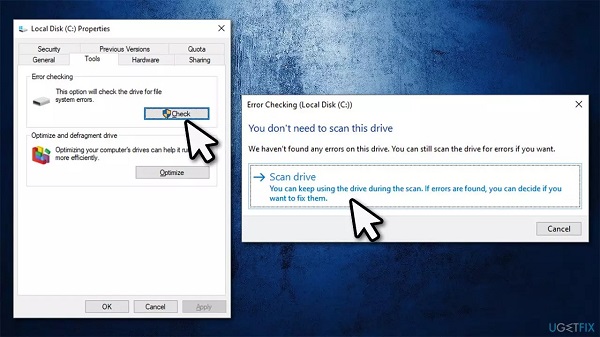 Fix 4: Run Check Disk
Check Disk or CHKDSK is a useful utility mostly employed in cases of hardware errors like the hp smart hard disk error. Let's see how you can use CHKDSK to rectify your Smart Disk.
Step 1: Open Windows search and type in 'cmd' and hit enter. The command prompt window will pop up.
Step 2: In the command prompt, write the following command and hit enter.
chkdsk C: /f /r /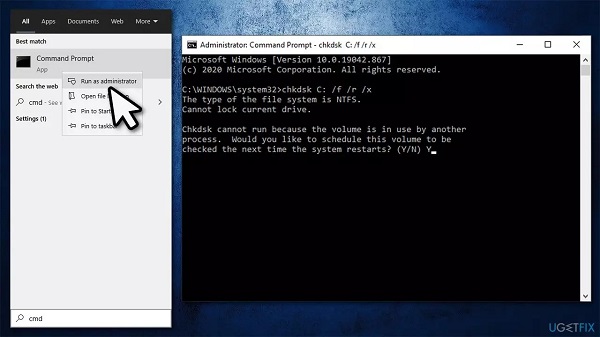 Step 3: Let the scan run its course and once it finishes, restart your computer.
Fix 5: Check Hard Disk from the BIOS
Apart from the Windows Utilities, you can also make use of the BIOS to fix the hard drive error 301 hp.
Step 1: Shut down your PC and turn it back on. While it is powering on simultaneously press the F10 key to enter BIOS. The BIOS key may differ for different brands.
Step 2: Once inside the BIOS, navigate it through the keyboard and go to the 'Diagnostics' tab.
Step 3: Go to the 'Primary Hard Drive Self Test' and press Enter. This will initiate a hard disk check and will tell you all about the errors and problems with your hard disk so you can go about fixing it.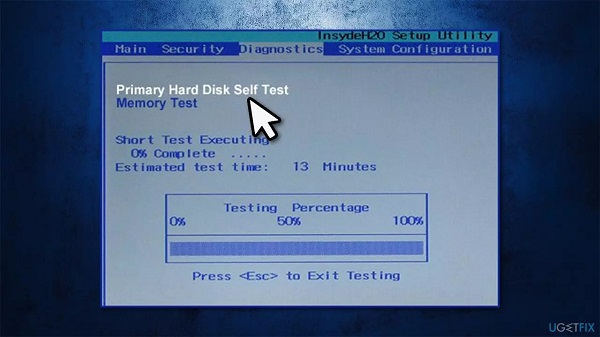 Fix 6: Change Boot Priority Order
Boot Priority order determines which hard disk will be used to boot into Windows. If your smart hard disk isn't up the priority order, it may cause errors like the smart hard disk error hp. To change the Boot Priority order, follow the steps below.
Step 1: Enter your PC's BIOS as instructed in Fix 5.
Step 2: Head on to the 'Boot' tab using the right arrow keys and change the boot priority order by changing the Smart Hard Disk's position to first.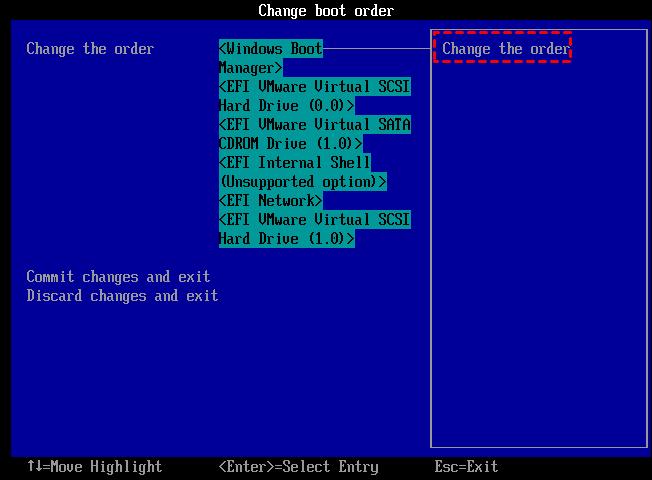 Fix 7: Reset BIOS
A BIOS reset reverts all the settings back to default and is an excellent option when nothing else is working.
Step 1: Enter the BIOS of your laptop by pressing the relevant keys on startup.
Step 2: Once you are inside the BIOS, navigate to the reset option. The option may differ between different laptops which include,
Load Default
Load Fail-Safe Defaults
Load BIOS Defaults
Load Default Settings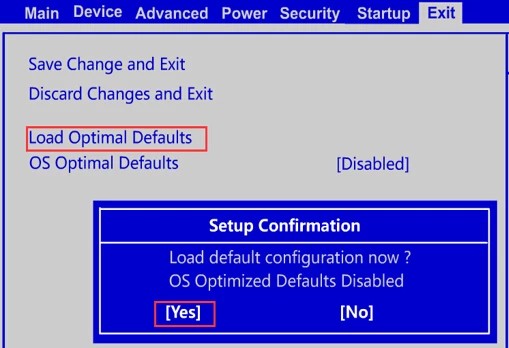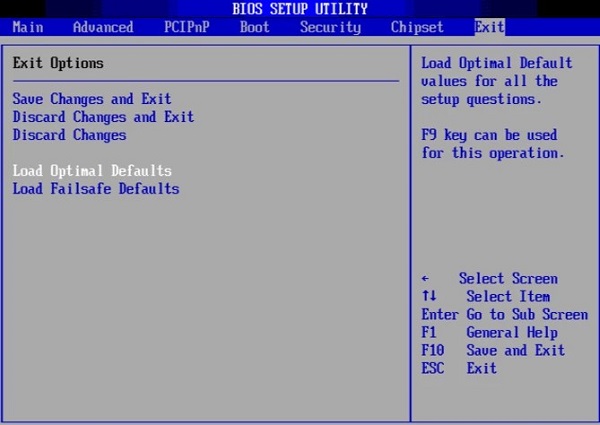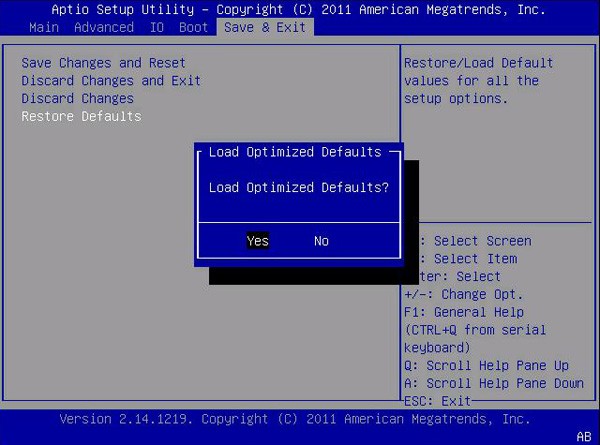 Step 3: Save the changes made and exit the BIOS.
Fix 8: Reseat Hard Drive
There is no use in following all the above fixes if the problem is an improperly seated hard drive. These technical issues easily escape our focus. Make sure your Hard drive is seated properly in its slot. If you are not sure, take it out and reseat it properly.
Bonus: How to Recover Lost or Corrupted Data from PC after Fixing Smart Hard Disk Error?
We are sure that after reading all those fixes you must have definitely learned how to fix smart hard disk error hp, but this is not where the struggle ends. Often, it happens that you lose your data while solving errors related to the hard disk, or the hard disk gets corrupted. Data loss is a very real possibility while solving this hard disk error but worry not because we have something that will not only find your deleted data but also help you recover it. That something is the Tenorshare 4DDiG Data Recovery software. It is a powerful and accurate data recovery software that promises premium performance at an affordable price. Its best features include.
Support various loss scenarios like deletion, formatting, RAW, corrupt, damaged, etc.
Recover files from Windows hard drives/Mac drives/USB flash drives/SD cards/external hard drives/digital camera, etc.
Support 1000+ data types such as photos, videos, audio, documents and more.
Fast scan with 100% security.
Higer success rate than its competitors.
To start recovering data from the smart hard disk using 4DDiG, follow the steps below.
Select a Location

Launch the 4DDiG app and select the disk from where your data was lost or corrupted. Click on 'Scan' to proceed.

Scan the Drive

The scan will now begin and it will start listing all the deleted files on your drive. If you want a more thorough scan you can go for the 'Deep Scan'.

Preview and Recover Files

Once the scanning process is complete, preview and save the files you want on your computer by clicking on 'Recover'.
Summary
That brings us to the end of the comprehensive guide on how to disable smart hard disk error 301. We have covered all the bases right from the smart disk error to resources you can use to bring back data in case of data loss. So go ahead and test out all the fixes and don't forget to go with the Tenorshare 4DDiG data recovery software for all your data recovery needs.