Can a NAS hard drive be used like a normal hard drive? External hard drive or NAS, which one is better?

"Can I use a NAS hard drive as a regular drive? Is External hard drive better than NAS?"
In this digital world, data is the most important factor now. Humans produce and store 328.77 million terabytes of data daily, which is quite huge. Storing and accessing data securely, efficiently, and conveniently needs proper management and planning.
Storage devices provide the convenience of storing this much data flexibly and conveniently. If you're wondering about setting up the data storage setup for your personal or enterprise use, you must have come across the confusion about whether to choose the NAS drive or the External Hard drive. This guide will help you find out the answer to the question "NAS VS External Hard drives" and the best NAS hard drive.
Part 1: What Are Nas Drive and External Hard Drive?
To get the best answer for NAS drive vs External drive, it's important to know what makes them different. You must have heard of and used external hard drives, but what's "what is a NAS hard drive"? If you're naive to the difference between a NAS drive and an External Hard drive, here's a simple explanation to help you figure out which one is which.
NAS Drive
NAS basically stands for Network Attached Storage. As the name suggests, NAS is a cloud storage network based on a heterogeneous structure. It's a central storage system that simultaneously serves multiple computers connected to the network.
It allows users to share and access the data on the NAS storage servers, such as pictures, videos, music and documents. One can access the NAS server's data remotely from anywhere in the world via internet connectivity.
External Hard Drive
The external hard drive is a conventional storage device, just like the onboard hard drives of modern computers. They come with the convenience of portability and can be physically attached to a computer via a wired connection for expansion purposes.
Different external hard drives are available in different storage sizes and can be used to store and back up data quickly. One can easily expand the computer storage, store and backup the data using the external drive.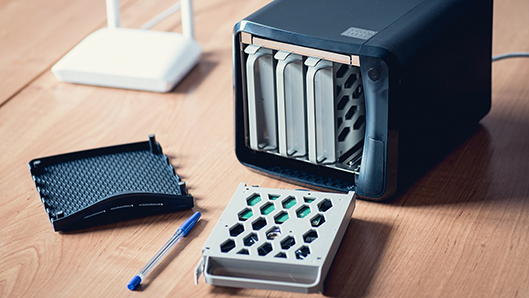 Part 2: NAS VS External Hard Drive, Any Differences?
Depending on the operating system you are using, clearing the cache on your computer may be a straightforward procedure. Here are a few standard techniques to clear cache on computer on Windows 10/8/7:
2.1 Capacity
Hard drives come in various storage capacities ranging from a few Gigabytes to multiple Terabytes. However, the storage capacity can't be expanded in the hard drives, and one would need to buy a new one for expansion - it's just like your phone's internal memory, as it couldn't be expanded unless you buy a newer phone with a bigger storage size.
Since NAS is iCloud storage, it can be easily expanded by adding more storage devices according to the user's need. Users can add as much storage capacity as they want without losing the previously stored data.
2.2 Speed and Flexibility
External hard drives provide high-speed data transfer experience ranging from 12 MBS/sec to 40 Gigabytes/sec depending on the USB connection.
Since NAS is a heterogeneous network of multiple clients, it serves multiple clients simultaneously, and accessing remotely affects the speed factor. The NAS storage data transfer speed ranges from 3mbs/sec to 20mbs/sec.
2.3 Accessibility
Users can access the data on the external hard drives by connecting them to the computer. The data is accessible on the computer it's connected to - the other devices connected via a network can't access it.
The data on the NAS storage can be easily accessed remotely as long as the user has the account set. It's like the online cloud storage service Google Photos, which allows you to store and access your photos/videos on your Google account.
2.4 Portability
External hard drives are compact and handy, which makes them super portable. They can easily be carried around without power or internet connectivity to access the stored data.
The NAS storage is built for stationary use and requires power backup and internet connectivity to provide data access to the clients.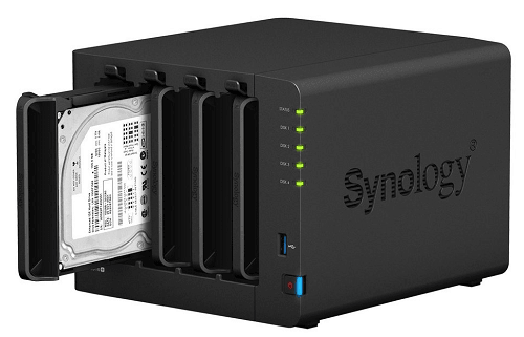 2.5 Data Backup and Recovery
External hard drives don't provide an easy and quick data backup/recovery solution. Users need to attach it to the computer/device to back up the data or find another external hard drive to back up the hard drive's data. Similarly, the restoration also requires connecting it to the computer/device.
The NAS storage has the operating system and ram to operate. Thus the backup process is always seamless. A user can set the schedule for automatic backups, and it'll take the backup of the data on its own from time to time. This way, data recovery is also hassle-free and quick.
Part 3: NAS or External Hard Drives, Which One Should I Choose?
Though we've differentiated both NAS storage and the external hard drive, it might still be difficult for you to decide which one is for which task. Here's the explanation to help you choose which one you should choose according to your need.
External Hard Drive: For Personal Use
External hard drives connect to one computer/device at a time - only one computer or device can access it.
If you're looking for a storage device, such as saving your photography assets or family videos that you need to access only on one computer at a time, external hard drives are a much cheaper option. The management and infrastructure cost of the external hard drive is zero.
NAS Storage: For Enterprise Use
NAS storage is the best option when the user has to access the data on multiple devices/computers. It provides data access to the devices connected to the network.
NAS storage is the ideal choice for enterprises and organizations which deal with data on a larger scale. Managing massive-scale data in hard drives can be a daunting task. The NAS storage with onboard brain enables handling and managing the data to be easy and hassle-free.
Part 4: How to Recover Data from NAS Hard Drive?
Though we've differentiated both NAS storage and the external hard drive, it might still be difficult for you to decide which one is for which task. Here's the explanation to help you choose which one you should choose according to your need.
4DDiG Windows Data Recovery is a powerful device designed to recover all data types on various storage devices, including NAS hard drive. It supports all the file systems and helps recover the data on the storage device at a convenience of a one-click process.
A user needs to install the 4DDiG Data Recovery program on the computer and select the storage device to recover the lost data. It'll run the recovery process using advanced and smart algorithms to find the deleted files.
Once the recovery process is completed, the user can preview the recovered deleted, select it, and hit the recovery button to restore it to the storage device.
Fast scan and 3 clicks to recover all mistakenly deleted files.
Recover deleted documents, photos, videos from NAS storage.
Recover 1000+ file types including photos, videos, documents, and audio.
File types including JPG, BMP, GIF, PSD AVI, MOV,MP4, M4V and all other types.
Recover data from laptop/PC, internal & external drive, USB flash disk, SD card,etc.
Recover data from various scenarios, such as accidental deletion, formatted, virus attack, system crash, and so on
After you install the program, please launch it. Next, you select Nas and click "connect to NAS". Doing that will allow the program to connect to the NAS storage devices on which you lost the data.
Now, you should fill in the corresponding information to connect to NAS. The information includes IP Address, Port Number, ID and Password. Then, you click "Connect".
Now just select the files type that you want to recover and click "Scan Selected File Types". After choose the location to store the recover data, the whole data recovery process is done.
Part 5: Can a NAS Drive Be Used as an External Hard Drive?
Since a NAS hard drive requires internet connectivity plus power backup, using it as an external hard drive isn't possible. The NAS storage connects to your home network, so the connected devices on a network can access it only.
However, the External hard drives are portable and can be used by connecting to the computer through a USB port, making them the best storage devices to carry around when you're traveling. The NAS storage comes in a box, which can't be carried easily like an external hard drive.
Part 6: How Can I Turn My External Hard Drive into NAS?
Using the NAS storage as an external hard drive isn't possible. Still, you can use the external hard drive in NAS storage, as the only difference between them is the operating system.
You'll mainly need a network router and a NAS adapter to turn your external hard drive into NAS storage. The NAS adapter is the solution if your network router doesn't have a USB port to connect the external hard drives. There are many available online, do your research in the hunt for the best NAS adapter by reading the reviews.
Moreover, choose the best HDD for NAS that provides solid transfer speed to efficiently transfer your data from one place to another. For high transfer speed, SSD (Solid State Drives) are recommended.
Once everything is ready, connect the hard drive to the NAS adapter, then set up the NAS user account on the computer.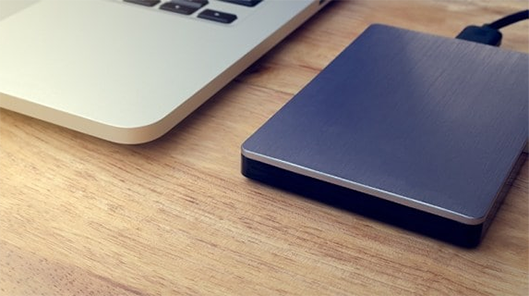 Conclusion
How to clear the cache on your computer was covered in this article. Feel free to erase the cache if your computer is having issues or running out of storage space. It's your time now. Pick a single technique that works for you to remove a particular cache. You may also just use 4DDiG Windows Data Recovery to save time and effort. It offers quick and trustworthy solutions to recover any data that is mistakenly lost during the process.