Today, we embark on a journey to demystify the world of driver management and shed light on a popular software tool called Driver Easy. If you've ever struggled with outdated drivers causing performance issues on your Windows-based system, Driver Easy is here to lend a helping hand.
But what about safety and reliability? This blog addresses the burning question: "Is Driver Easy safe?" By examining its features, reputation, and real user experiences, we'll provide you with the essential insights to make an informed decision about incorporating Driver Easy into your driver update routine. Let's get started!
Part 1: Do You Really Need Driver Easy for Your PC?
The big question is whether you truly need Driver Easy for your beloved computer. Well, the answer depends on your comfort level and time constraints. If you're a tech-savvy wizard who enjoys digging into the intricacies of driver updates, you might not need Driver Easy.
However, it can be a game-changer for the average user who prefers a hassle-free experience. It simplifies the often confusing process of finding and installing the latest driver updates for your hardware components, saving you time and effort. With its user-friendly interface and wide range of supported devices, Driver Easy offers convenience and peace of mind.
So, while it's not an absolute necessity, it's worth considering if you want to ensure your PC stays up to date-without breaking a sweat.
Part 2: Is Driver Easy Safe?
Driver Easy is generally considered safe to use. It is a legitimate software tool designed to assist users in managing and updating their drivers. However, as with any software, certain factors must be considered when assessing its safety and reliability.
Official Source: Driver Easy should always be downloaded from its official website (https://www.drivereasy.com/). Downloading from other sources may expose you to risks such as malware or compromised software versions.

Reputation: Driver Easy has been available for several years and has gained a significant user base. It has generally positive reviews and is widely used by individuals seeking a user-friendly solution for driver updates.

Security Measures: Driver Easy takes measures to ensure the security and privacy of its users. The software does not contain adware, spyware, or malicious components. It also offers a secure connection when downloading drivers and utilizes HTTPS for data encryption during online interactions.

System Compatibility: While Driver Easy aims to provide accurate and up-to-date driver updates, there may still be instances where certain drivers may not be compatible with your system or cause issues. Reviewing the driver details and performing a backup before proceeding with any updates is important.
In addition to considering the above factors, you can also look at real user reviews to judge whether Driver Easy is safe or not. Below are a few from Driver Easy reviews: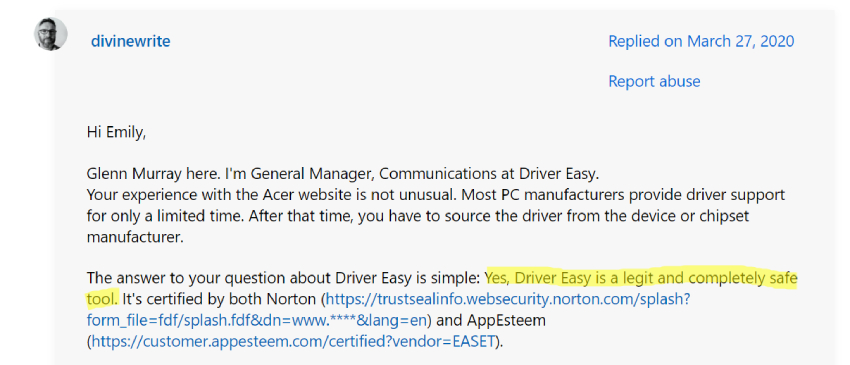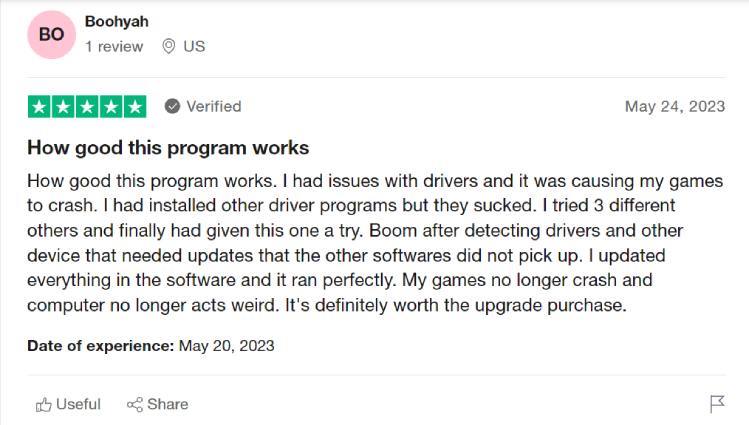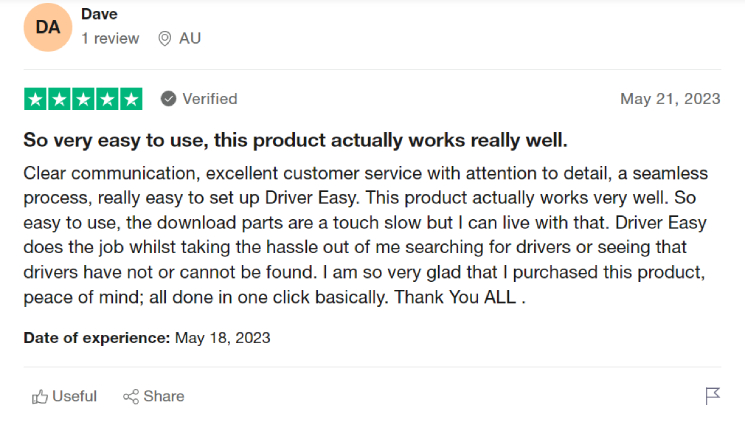 Based on user reviews, you can find that Driver Easy is a legit and safe tool and it is very easy to use. So you can use it with confidence, let's explore how to download Driver Easy and use it for free!
Part 3: How to Download Driver Easy and Use It for Free?
Driver Easy is a user-friendly software tool that simplifies driver management on Windows-based systems. With over 3 million active users worldwide, it scans, identifies, and installs the latest driver updates for hardware components such as graphics cards, sound cards, and network adapters. It offers a convenient and hassle-free solution for keeping your PC's drivers up to date and optimizing system performance. Let's discuss how to download and use it below:
How to Download Driver Easy
To download Diver Easy, consider the following steps:
Open your preferred web browser and navigate to the official Driver Easy website.
On the website, locate the "Free Trial" button at your screen's top right corner.
Click the "Free Trial" button and patiently wait for the download process to complete.
Once the download is finished, double-click the downloaded file and follow the onscreen instructions provided by the Driver Easy installer.

After successfully installing Driver Easy on your computer, click the "Launch Now" button to open the application.
How to Use Driver Easy
Step 1. Create a Restore Point
Within the Driver Easy interface, click the "Scan Now" button and wait for the scanning process to finish.
Review the list of available drivers displayed at the top of the software interface. And then, choose the Driver you want to update and click the "Update" button next to it.
A "Create a system restore point" window will appear. Select the "Manually Create" option and click "Continue".
Step 2. Download the Driver
Driver Easy will automatically initiate the download process for the selected Driver. Wait for the download to complete.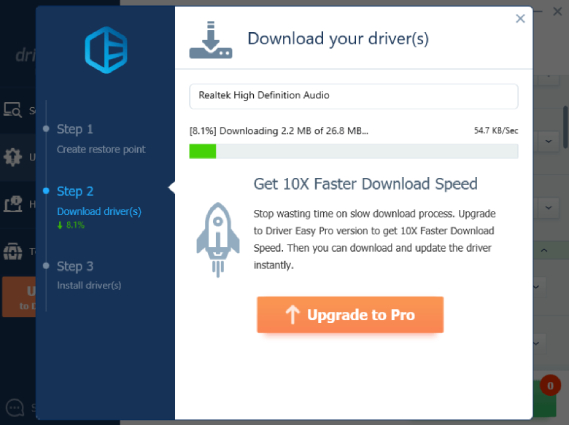 Step 3. Install the Driver(s)
In the "Install your driver(s)" window, select the "Manual Install" option and click "Continue".
Open File Explorer, double-click the address bar and copy the path. Right-click the Windows icon on the taskbar and select "Device Manager".
Within Device Manager, expand the categories and locate the device you wish to update.
Right-click the device name and choose "Update driver". Select the "Browse for drivers on your computer" option. And then, paste the copied path into the blank bar and click "Next".
Wait for the driver installation process to complete. Once you receive the message confirming successful driver updates from Windows, click "Close" to exit the window.
Bonus: Backup Important Data Before Using Driver Easy
It is highly recommended to backup your computer data before using any driver update software, including Driver Easy. While driver update software is designed to scan and update drivers on your computer, there is always a risk of data loss or system crashes during the update process. In some cases, incompatible or corrupt drivers may cause system instability or even prevent your computer from booting up.
To ensure the safety of your data, we recommend you use 4DDiG Partition Manager. It is the best disk clone software that allows you to clone your entire disk, including the operating system, applications, and files, to another disk. Additionally, it enables you to create, resize, delete, and format partitions on your hard drive without the risk of data loss.
You can use 4DDiG Partition Manager to back up your important data before using Driver Easy, here's how:
Download and install 4DDiG Partition Manager on your computer. Connect an external disk to your computer. Launch the application and select the "Clone Disk" option.

Select the target disk to receive the cloned data from the source disk and click the "Continue" button. (The target disk defaults to the disk connected to your computer.)

Please note that cloning will overwrite all data on the target disk, so double-check that everything is correct before proceeding, and then click on the "Sure" button.

A preview interface will appear, showing the effect of the cloned disk. Confirm that the preview is correct. Click on the "Start" button to begin the cloning operation.

Wait for the disk cloning process to complete. The cloning speed depends on the source disk's size, so be patient and avoid performing other operations or interrupting the process.
Once the cloning process is finished, you have successfully backed up your data from the source to the target disk. This ensures that your important data is protected before using Driver Easy or any other driver update software.
Conclusion
Driver Easy is a generally safe and reliable software tool for managing and updating drivers on your Windows-based system. However, backing up your important data before using any driver update software is important. We recommend you use 4DDiG Partition Manager disk clone software for effective data backup. Prioritizing data backup ensures the safety of your files during the driver update process.