Disk not initialized and unallocated is a typical hard disk issue that can interrupt your work. When a hard drive becomes uninitialized, you can't open your data there. Then, at that point, how to initialize disk without losing data becomes your primary concern. If you have a disk that appears as "Not Initialized" and you are wondering does initializing a disk erase data, don't worry. You can initialize the hard drive without agonizing over it. Here, you will learn all you need to know about initializing a disk and not losing the data saved on that Disk.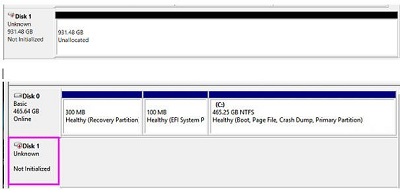 How to Fix External Hard Drive Not Initialized|Disk Unknow Not Initialized
Part 1: What Does Initialize Disk Mean?
While adding a new disk to your PC, it won't appear right away. You need to physically initialize the recently added hard drive before working with it. Initializing makes a disk usable by Windows. It lets you make partitions and afterward format the drive for further use.
Old disks with a lot of data additionally should be initialized. That is because of various framework errors. Here, you will learn how do Windows initialize disk and make your PC running again.
Part 2: Why Disk Manager Insists that You Must Initialize a Disk?
You should realize that the "You should initialize a disk" issue may happen to an SSD, hard drive, USB, and so forth. At some point, if your Disk isn't effectively installed or connected with your OS, Windows OS will not have the option to read the gadget, and you might even get the problem/error report. A convenient solution to this issue is to turn off the Disk from your PC, check the SATA and power link, and reconnect it to your PC accurately.
You might see this issue for two reasons:
The Disk is new, and you will need to initialize the disk to partition it. A while later, format the partition to prepare it for storing data.
The Disk has been utilized for a while and abruptly becomes uninitialized.
Part 3: Does Initializing a Disk Erase Data?
The MBR (Master Boot Record) is the first sector of an MBR or GPT disk. At that point, when MBR on your Disk is corrupted, you will see your Disk appearing as a disk not initialized. In this manner, initializing a disk intends to modify MBR, which won't delete data on your Disk.
At that point, you need to initialize disk MBR or GPT without losing data. Furthermore, just initializing the Disk will not make the Disk usable once more. Your Disk requires partitions and formatting, which will unquestionably delete your disk data. Due to that reason, people will tell you that initializing a disk might cause data loss on the drive.
Part 4: How to Initialize Disk without Losing Data?
Preparation: Recover Data from Uninitialized Disk Firstly
Before initializing disk, we highly suggest you to retrieve data from the uninitialized disk. The easiest and securest solution is using professional data recovery tool to help you out!
Tenorshare 4DDiG is specialized in data recovery from affected or unrecognized drives or devices. With this tool, you can recover any lost or deleted data from Windows/Mac/USB flash drive/SD card/External hard drive and more with simply 3 steps. The guide underneath will walk you through the steps to recover data from a disk not initialized.
Step 1:

Select the Uninitialized Disk

After installing Tenorshare 4DDiG, go to the homepage, which shows Devices and Drives. The uninitialized partition could be named as "Lost Partition" in the user interface and you can select it and thenn click Start to proceed.

Step 2:

Scan the Drive for Files

4DDiG promptly scans your chosen drive to look for the lost data. There is an advancement bar showing what amount has been thoroughly checked. Additionally, you can respite or stop the scanning whenever you track down your ideal files to recover.

Then, you can see the scanning result, which shows the number of files that have been found effective. You can click Deep Scan to look deeply for the erased files, which might consume more time.

Step 3:

Preview and Recover Lost Files

You can choose your ideal files subject to their category, preview them, and afterward click on "Recover" to get them back from your hard drive.

After clicking on "Recover," a dropdown box will open, requesting the area you wish to retrieve the files. Select the ideal yet unique location and tap OK. Do not save to a similar area where you lost them because it can cause Disk overwriting and lasting data loss.
How to Initialize Disk?
After you successfully retrieve data from uninialized disk, you can now start initialzing disk with the following steps:
Step 1: Right-click This PC from your desktop and go to Manage > Disk Management.
Step 2: Right-click the Disk that says "Not Initialized" and click on Initialize Disk to make it working again.
Step 3: In the "Initialize Disk" windows, you need to pick MBR or GPT as partition style for the Disk. Then, at that point, tap "OK" to proceed.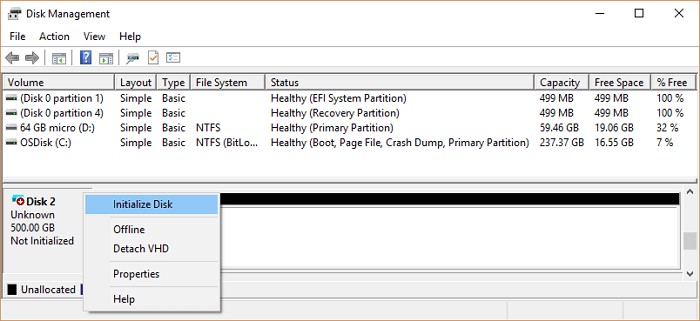 Partition and Format the Disk
Presently you can make new volumes on your Disk without stressing over losing every one of your files.
Step 1: Right-click This PC from your desktop and go to Manage > Disk Management.
Step 2: Click on "New Simple Volume" after right-clicking the unallocated space.
Step 3: Click "Next" to proceed in New Simple Volume Wizard.
Step 4:Follow the wizard to assign the volume size, appoint a drive symbol (alphabet) to the volume, and afterwards format the partition.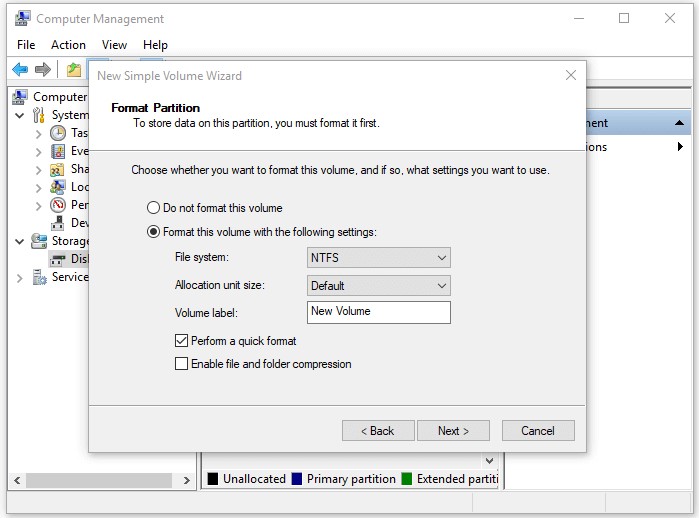 Part 5. FAQs about Initializing a Disk
1. What will happen if I initialize a disk?
Initializing is possibly required when a disk hasn't been used, i.e. has no filesystems. After a disk initializing, you can make partitions and format them to make a file system. Windows likewise shows this if you put a disk with a filesystem from an OS on it that it doesn't read, like Linux or Mac, and even Xbox One drives.
Note:Just because Windows shows Initialize Disk doesn't mean there is no data on it. It could have an unfamiliar filesystem (Mac or Linux) that Windows doesn't read, and adding it will erase the filesystem.
2. Can you recover data after initializing?
To play out a data recovery after Disk initializing, you might require an expert data recovery utility. Tenorshare 4DDiG is such a program. It empowers you to recover data from all data loss situations in Windows 11/10/8/7. All document types can be upheld by this dependable software like photographs, recordings, and different files.
3. How do I initialize my external hard drive without losing data?
Step 1: Go to Start with the right-click and select Disk Management.
Step 2: In the other window click on the new hard drive. If it is "Offline," change the status to "Online" to Proceed.
Step 3: Then, at that point, right-click on it and select the option "Initialize new disk."
In that way, you can initialize your disk drive without having the risk of losing your precious data. Anyway, we highly suggest to use data recovery tool to retrive your data before initializing external hard drive.
4. How do you fix the "You Must Initialize a Disk" error without losing data?
To fix the "You must initialize a disk" error, you can attempt one of the following five ways:
Initialize disk drive with Disk Management
Reinstall the Disk drive of the hard drive
Reinstall Universal Serial Bus (USB) controllers
Reset the CMOS Settings
Check bad sector
Conclusion:
Will initialize disk erase data on it? The appropriate response to this query is both "Yes" and No, particularly initializing disk will not eradicate its data. But in the meantime, to utilize the disk drive, you need to add partitions to the disk drive and format it, which will cause a loss of data. Tenorshare 4DDiG Data Recovery Software is the best solution. In this manner, utilizing data recovery software like Tenorshare 4DDiG is necessary if you would prefer not to lose files existing on your hard drive.