Question:Windows update deleted my files?

"How do I recover files that are deleted after updating to Windows 11 July 2021? All the files in my local disk are deleted. I already tried using Recuva but it doesn't work."

-Question from Quora
People upgrade Windows 11 to get security updates to shield their PC from dangerous attacks or simply to experience the new features. Over the long haul, it is likewise useful to get software updates, not exclusively to get to new features but to be on the safe side. Upgrading to Windows 11 from Windows 10, Windows 8.1 or Windows 7 usually is flawless. For the most part, it restores every one of the documents and other information, but in some cases, you may lose documents after moving up to Windows 11. Here you will get to know about how to recover files after Windows 11 update.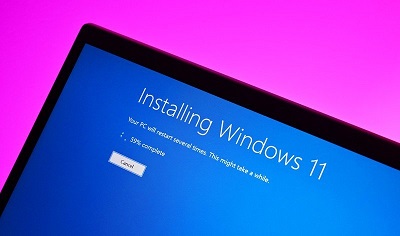 Part 1: The Possible Main Reasons for Files Deleted after Windows Update
The reasons that can prompt documents not to appear or being hidden can be many. But there is nothing to worry about; you can easily recover missing files after upgrade on windows 11. Some of the causes of Windows upgrade data loss include:
You are supported with a temporary Windows account.
The account that you used before the update is presently not working.
Documents have moved to different areas.
During the time while moving up to Windows 11, the records got erased unintentionally.
Part 2: How to Recover Files after Windows Update?
Video Tutorial: Recover Lost or Formatted Data after Windows 11 Update
Method 1. Remove the Temporary Account
You may experience difficulty tracking down your old documents after you upgrade your PC to Windows 11. Attempt the accompanying tips to restore files after Windows 11 upgrade.
Check whether you are backed with a temporary account.
Select Start > Settings > Accounts and then Sync your settings. If you see a message at the top that states, "You are signed in with a temporary profile. Roaming options are presently unavailable", restart your PC and sign in once more. This should eliminate the account, and your documents ought to be accessible once more.
Sync your Settings page.

Restarting your PC and logging in again likewise works if you see a message that states, "We can't sign in to your account." This issue can frequently be fixed by logging out and afterwards logging back into your account.
Method 2. Find Lost Files after Windows Update Using Search
If you are not logged in with a temporary Windows profile, you can straightforwardly look for the missing file(s) through the search box on the taskbar. To discover a record, you can look by the document name or the file type. For instance, if you are searching for a lost Excel record, search with the document name (with which it was saved before) or *.xlsx (check the image beneath).
In the Search bar on the taskbar, type indexing, and afterward select Indexing Options. Select the Advanced Administrator symbol to see more choices, then, at that point, select the Troubleshoot search and indexing and follow the measures. That way, you can recover deleted files after Windows 11 update.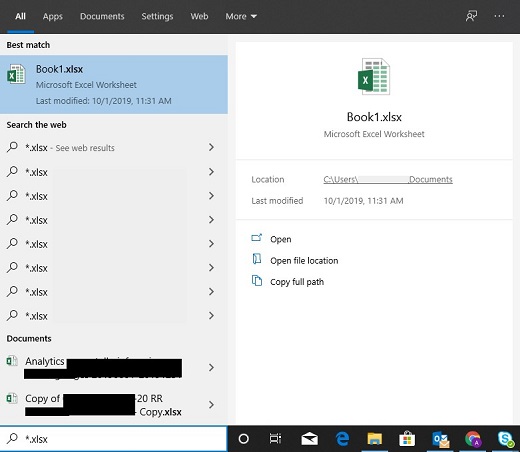 More things to attempt:
Windows update may stow away a few documents from seeing. In the Search box on the taskbar, type File Explorer Options, then, at that point, select the View tab. Under Hidden records and folders, select Show Hidden Documents. Then, at that point, take a stab at looking for your data once more.
A portion of your documents may have been moved when you installed Windows 11. To check the location of the documents you discover, press and hold (or right-click) the file and select the "Open File Location." Duplicate any records you need to move to an alternate location.
Method 3. Restore Lost Files after Windows Update with Backup
Go to the Start Menu, open Settings > Update and security > Backup, and select Backup and Restore (Windows 7). Select Restore my documents and adhere to the commands they provide you to recover lost files after windows update.
You can get a document back by making another one with a similar name and type in some cases. After you have made the new document:
Select Properties.
Select the Previous Versions tab.

Pick the document type to recover it.
Method 4. Enable Administrator Account Created for Upgrade
After moving up to Windows 11, the Administrator account you may have made may get disabled naturally. On the off chance that it is the situation, you will not have the option to see the documents stored on the broken Administrator account. To restore files after Windows 11 upgrade, you need to enable this account by following the steps beneath:
Type "Computer Management" in the hunt box on the taskbar and click open it.
When the "Computer Management" window opens, click on "Local Users and Groups" on the left side of the pane.

Double-tap Users on the right-hand side of the pane.

Double-tap "Administrator" to open Properties.

Uncheck the box "Account is disabled" if it is ticked already.

Snap "Apply," and afterward click "OK."
Sign in with this Administrator account and attempt to find your lost documents.
Method 5. Recover Files after Windows Update without Backup (Highly Recommended)
In case you unable to find the missing documents, it implies the records got erased while moving up to Windows 11. To recuperate erased documents, utilize Tenorshare 4DDiG Data Recovery Software, which can adequately recover erased records from any location on your device. If you have lost your precious data while upgrading to Windows 11, here, we will give you the detailed steps to recover data after installing new Windows.
Supports Windows 11/10/8.1/8/7 as well as Mac computers.
Recover files from removable devices including as USB, SD card, external devices, etc.
Recover 1000+ types of data types with Tenorshare 4DDiG.
Recover from various loss scenarios like deletion, formatting, RAW, etc. with a higher success rate.
Recover data from a crashed system.
Photo Repair and Video Repair are supported.
Easy and secure.
Free technical support.
Use copon code: 4DART30OFF to enjoy 30% OFF now.
Follow the steps below to recover lost data after Windows Update
Select a Local Disk

After installing and opening Tenorshare 4DDiG Windows Data Recovery, you will go to the home interface beneath, which shows areas like Devices and Drives and Common Positions. For our situation, pick the disk from where you lost your data and click Start to continue.

Scan the Hard Drive

4DDiG quickly checks your chosen hard drive all around to uncover the lost information. It records the filtered things dependent on Tree View and File View as 4DDiG discovers the erased documents in the drive.

Then, you can see the result, which shows the number of documents that have been found effective. Finally, if you can't track down the lost information you need, you can click Deep Scan, which might consume a long time.

Recover Files

4DDiG Recovery software can see and recuperate different record types like photographs, recordings, sounds, or archives. You can click on Recover to get them back from your hard drive.

After you click on Recover, a dialogue box will open, requesting the place you wish to restore the documents. Select the area and snap OK.
Part 3. Frequently Asked Questions about Windows Update
1. Does Windows update erase your files?
Moving up to Windows 11 may delete data like projects, documents, and older settings. Therefore, it is prudent to back up all the information before continuing with an update.
2. Is it worth upgrading an old laptop to Windows 11?
Windows 11 can chip away at the old Single-core processor with a small memory of about 1GB, yet slow. If your old PC has 4 GB RAM, 80 GB HDD, and a double core processor at 2 GHz, you can utilize Windows 11. Windows 11 is a lot quicker and better in any capacity than Windows 7.
3. How to deal with Windows update not working problem?
On the off chance that you get an error code while downloading and launching Windows updates, the Update Troubleshooter can help settle the issue. From the Start Menu, go to Settings > Update and Security > Troubleshoot > Additional Troubleshooters. Then, select Windows Update and Run the troubleshooter.
The Bottom Line
If you update the framework to Windows 11, you will be unable to find a few documents on your device. This might be because the Windows 11 update may likely have moved your data to another area on your PC, or the Windows update deleted files. This blog specifies some simple to utilize strategies to recover files after Windows update. So, while moving up to Windows 11, Tenorshare 4DDiG Data Recovery Software is the most solid alternative to recover data from Windows hard drive.