Word documents can be our most valuable assets. When we save the file with a new name, it becomes a backup of the original one. However, there are occasions when you delete and then re-save a document, but the new version is not working as expected. This means that your Word file has been corrupted. You may want to know how to recover an unsaved word document on Windows 10. This article is for you if you've just lost your unsaved Word document. We will tell you how to recover unsaved word document windows 10. In addition, we will also introduce a professional data recovery software. Tenorshare 4DDiG to help you recover deleted word document in time. The process is simple, but it does require a bit of technical knowledge.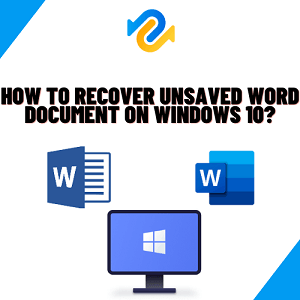 Part 1: How to Recover Unsaved Word Document Due to Different Reasons?
If you are an experienced user, you may have already been in a situation where your Word document is not saved. This article will list steps that can help with unsaved word document recovery.
Situation 1: Incorrect Saving
If you do not have a habit of properly saving and backing up files at regular intervals while working on Word, massive chunks of progress or even the entire document version may be lost if the Microsoft Word software is closed, crashed, or automatically restarted due to system errors. In recent years, the Microsoft team has worked hard to make data recovery easier, allowing you to recover unsaved Word documents. If so, how can AutoRecover help me recover unsaved word files? The steps outlined in this section are applicable to Microsoft Word for Office 365, Microsoft Word 2019, Microsoft Word 2016, Microsoft Word 2013, and Microsoft Word 2010.
Step 1: Open Microsoft Word on your computer.
Step 2: Go to the top left corner of MS Word and click on the "File" tab.
Step 3: Select the "Info" option in the menu bar, and then select the option "Manage Document".
Step 4: On the drop-down menu that appears, select "Recover Unsaved Documents", and after that you will be able to see and save a copy of your recently unsaved documents that you had previously saved.
Situation 2: Windows OS crashes
A crash of the Windows operating system may also result in you not being able to save your document. There is a possibility that your Windows PC could freeze when you are processing some programs, then stop and restart unexpectedly, which prevents you from making any progress or saving your files during that time.
Step 1: When you have opened MS Word, click on the "File" tab, then select "Options" in the drop down menu, and then look in this menu for the "Save" tab.
Step 2: Use the AutoRecover file location path to find the "Auto Recover File Location" folder on your computer, where you will be able to see the files that have been automatically deleted by the system.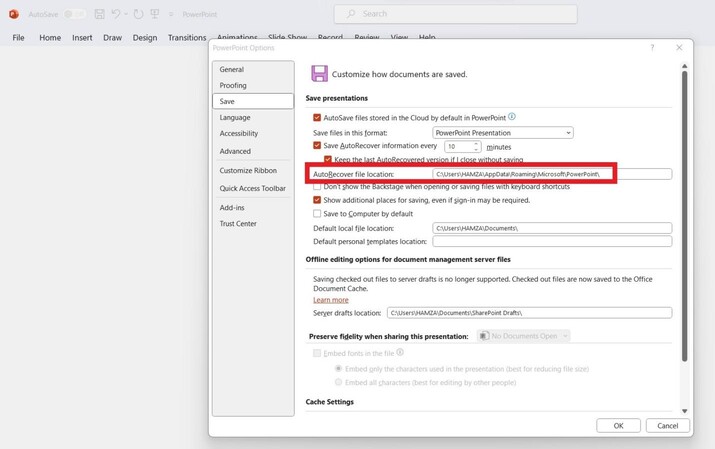 Step 3: Select the "Recover Unsaved Documents" icon in the Word app and paste the name of the unsaved files ending in .asd.
Step 4: The .asd file should be pasted into the File Name field of the pop-up box so that it can be restored from the unsaved document folder by clicking on "Open".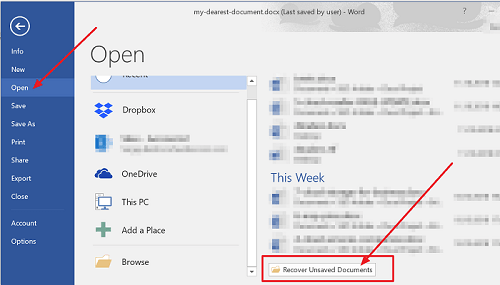 Situation 3: Accidental deletion
Among the most common reasons for data loss, accidental deletion is second only to system or software errors. The document may have been deleted by mistake when you intended to delete B document, or you may have just regretted deleting the document and want it back after a few days. Nothing to worry about! Throughout this part of the article, you will be guided on how to recover unsaved word documents on a Windows computer that have been deleted by accident.
Step 1: Navigate to your desktop and click on the Recycle Bin icon which you will find there.
Step 2: Go to the Recycle Bin and search for the document you're looking for in the list of deleted documents.
Step 3: To restore the misplaced document, right-click its name and select "Restore".
If Data recovery tools like Tenorshare 4DDiGData Recovery can help you restore deleted files back to your computer after they have been permanently deleted from the Recycle Bin.
Part 2: How to Recover Unsaved Word Document of Different Versions?
Version 1: Word Document 2010 or above
Every time you save a Word document, Word automatically creates a backup of it. You may not be aware that through Word's Auto Recover or Auto Save feature, you can also have your document automatically saved to a different location while you are working on it. If you have made any unsaved changes to the document, you can use this feature to recover them.
1. How to Recover A Word Document that You Didn't Save using Auto Recover
Your MS Word 2010 or MS Word 2013 or MS Word 2016 program has been set up with the "AutoRecover" function. If you can follow the steps below, you may be able to retrieve your unsaved Word document by following these steps:
Step 1: If you are using Microsoft Word, click Ctrl + O on your keyboard. You can find the "Recover Unsaved Documents" button at the bottom of the "Recent Documents" list and click on it.

Step 2: You will be able to see a number of unsaved documents in the "Open" dialogue box in the Unsaved files folder. It's only by looking at their data and time that you'll be able to tell which one you want.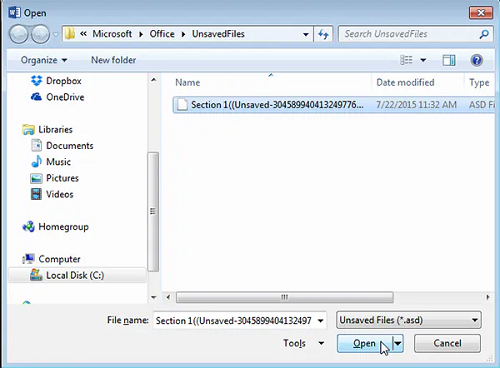 Step 3: The document can be opened by double clicking it. You can save it by clicking on the "Save As" button in the yellow bar on the right side of the screen if it is in read-only mode. As soon as you save it to a new location, you will be able to reopen it and edit it once you have saved it.

By using the AutoRecover feature, you are now able to recover your unsaved Word document. It is clear that this built-in feature is very helpful in the event that your working MS Word will suddenly shut down or crash due to unknown reasons. If you haven't activated AutoRecover on your Microsoft Word, you can do so by following the steps below.
Step 1: The first step is to select "File" from Word's menu and then "Options" from the left-hand menu.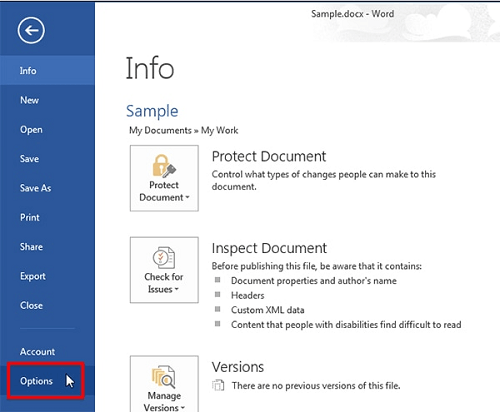 Step 2: If you click on the "Save" button on the left side of the dialogue box that appears, you will be able to save the file.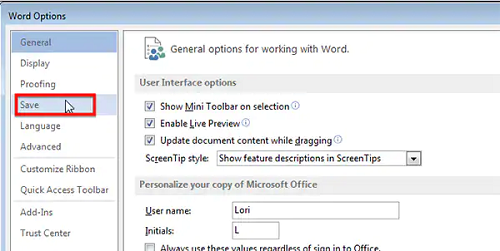 Step 3: You can configure the duration of time Word should save the document by clicking on the "Save Auto Recovery Information every" check box.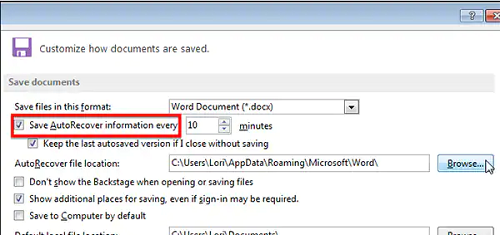 Step 4: The "Modify Location" dialog box appears, and you are prompted to select a location where to save the Auto recover files. Click "OK". After closing the "Word Options" dialog box, click "OK".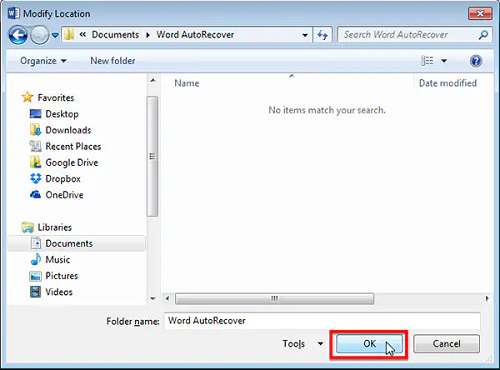 2. How to Restore Unsaved Word Document Using AutoSave Function
The Auto Save function can also be used to recover an unsaved Word document. Word 2010 and above are the only versions that have this feature, similar to Auto Recover.
Step 1: To Open Word and then click on the "File" menu to recover an unsaved Word document with the Auto Save function. You can recover an unsaved document by clicking on "Info" and then clicking "Manage Documents" and selecting "Recover Unsaved Document".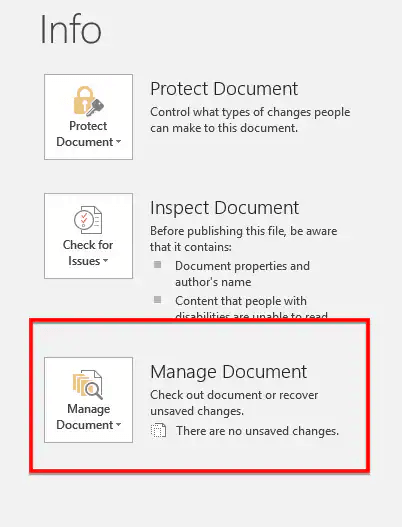 Step 2: As an alternative, you can use Windows Explorer to locate C:\Users\Username\AppData\Local\Microsoft\Office\UnsavedFiles.
There should be a list of all unsaved documents. It's now just a matter of selecting the draft and opening it. After opening it in a new Word document, you can save it under an appropriate name.
Version 2: Word Document 2007 or below
If you have Word 2007 or lower, you can also retrieve an unsaved Word document in much the same way, though this time you will need to use the Auto Recovery function to retrieve it. When you use the Auto Recover feature on Word, a temporary copy of the document is saved as you work, so that if anything goes wrong you can always access it.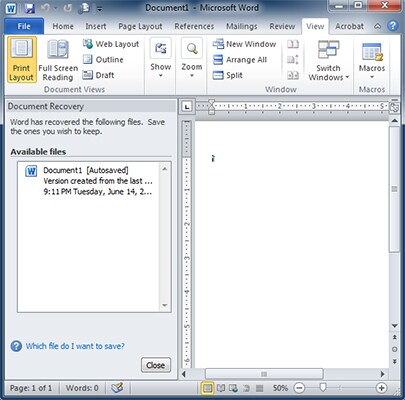 When you re-launch Word, you will be able to get the Auto Recover feature. You can open the documents by double clicking on any of them on the left side of the new Word window. After saving the document, you can edit it later.
Bounus Tips: How to Recover Deleted/Unsaved Word Document Using Tenorshare 4DDiG?
If you have lost your document due to different reasons, then there is no need to worry. There are many programs available on the internet that can help you in recovering your lost data. In this article, we will discuss one of them - Tenorshare 4DDiG. Tenorshare 4DDiG is a software that can recover your lost or deleted data from Mac, Windows, iOS and Android. It is a powerful tool that can "recover" all types of data, including text documents, pictures, music and so on.
Recover 1000 of file types such as word documents, photos, videos, files, audio, excel, PowerPoint and others.
Restore deleted files from computer or Laptop, internal or external drive, Flash drive, SD card, etc.
Support free download on Windows or Mac OS computers.
Recover files that have been lost caused by accidental deletion, formatting and other causes.
How to recover deleted photos from recycle bin after empty via Tenorshare 4DDiG?
choose the local disk

As soon as you have installed and launched Tenorshare 4DDiG Windows Data Recovery, you will be presented with the home interface shown below, which includes the options for Data Recovery and Advanced Recovery. In our case, what you need to do is to choose the local disk where the lost data is located from a list of hard drives, and then click on Start to begin the process. In the upper-right corner of the window, you will see a list of the target file types you can select before scanning begins.

Scan and search the disk

Upon selecting the selected drive, 4DDiG immediately inspects it all around for missing data. When you find the files you want to recover, you can pause or stop the scanning process. Within the Tree View, there are different categories like Deleted Files, Existing Files, Lost Locations, RAW Files, and Tag Files. Also, you can switch to the File View in order to check file types such as Photos, Video, Documents, Audio, Emails, and other types of files. Additionally, on the right side of the panel you have the option of searching for target files or narrowing down your search by using Filter to narrow down your search.

Preview and recover the deleted word document

As soon as the target files are discovered, you can preview them and recover them securely. Don't save to the same partition where you lost data in case of disk overwriting and permanent data loss.
FAQs about Unsaved/Deleted Word Document Recovery
1. Can I Retrieve A Word Document That Wasn't Saved?
Word files are created in a way that makes it easy to recover them if they were lost. Word has the ability to back up your document and save it in case of problems. If nothing works for you then you can use a recovery program like Tenorshare 4DDiG.
2. How Do I Recover A Word Document That Was Not Saved Windows 10?
We recommend using Tenorshare 4DDiG. to recover the word documents. It will save your time and will recover your document in just a few minutes.
Conclusion
We hope that you have understood how to recover deleted files from recycle bin after empty with built-in Windows tools and backups if you're lucky. Even if you are not, don't panic. Because Tenorshare 4DDiG is the safest and fastest data recovery software in this aspect of recovering deleted files from recycle bin after empty.