Did you recently reinstall Windows only to be greeted with a brand-new computer that was empty? Windows 10 reinstallation may be a laborious process, and if done incorrectly, it may result in data being accidentally deleted you will need to learn to recover files after windows reinstall. Reinstalling a fresh copy of the Windows OS from scratch has several benefits. For instance, after reinstalling Windows 10, you may benefit from features like the removal of viruses and spyware, restoring access to your applications, and resolving computer system problems. Additionally, reinstalling Windows gives your machine a new start and speeds up performance. But keep an eye out for any potential data loss.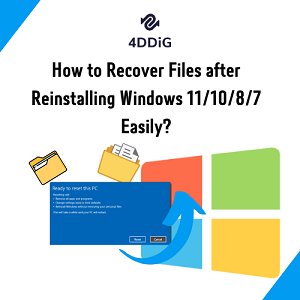 Part 1: Is It Possible to Recover Data After Reinstalling Windows?
When you reinstall Windows, the previous version of your installation should be saved in a folder labeled "windows.old," as recommended by Microsoft. If you have removed it, you will need to restore the windows.old folder to access the files you have destroyed. However, if you have made the mistaken decision to delete all your information when thoroughly installing Windows, you will need to do data recovery on the whole disk to retrieve all of your files to recover files after reinstalling windows 10. You mustn't use your personal computer to save any new data before you attempt to retrieve the files that you have destroyed from your hard disk. The reason for this is that even when a file is erased, it will still be there in the partition; however, your operating system will designate its address as vacant so that it may be overwritten by new information.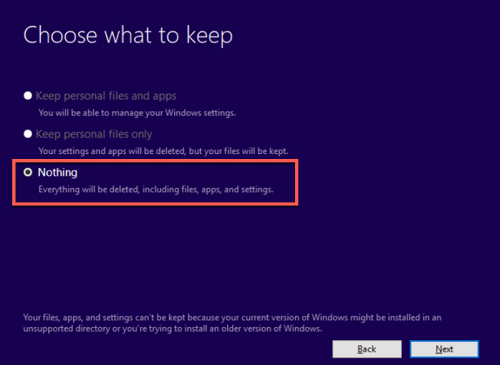 It is thus feasible to recover lost files after reinstalling Windows 10, provided that you have not added any new data to the same drive since the last installation of Windows 10.
Part 2: How to Recover Files After Reinstalling Windows 11/10/8/7?
Solution 1: Recover Files After Windows Reinstall with The Data Recovery Tool
It is possible that you will not be able to access certain locations or files due to partition errors, deletions, or missing tables. It is quite simple to inadvertently format a HDD, SSD, hard drive, or even an SD card or USB flash drive, which will result in the loss of any data stored on these devices. In such cases, the only way to get rid of these troubles is to use professional data recovery software such as Tenorshare 4DDiG data recovery. With the help of 4DDiG Windows data recovery, recovering files from Windows 10 after reinstallation becomes much easier.
Some of the impressive features of Tenorshare 4DDiG data recovery software:
Recover deleted files from your laptop or desktop computer, as well as internal and external drives, USB flash disks, SD cards, and more, all with a single software.
Restore files from drives that have been formatted and enables users to recover files after windows reinstall.
Retrieves more than 1000 types files, such as documents, photos, videos, audios and others.
No cumbersome process and no expertise required.
No advertising pop-ups and viruses。
So, how to recover files after reinstalling windows 10 with Tenorshare 4DDiG?
After the installation of Tenorshare 4DDiG Windows Data Recovery and the subsequent running of the program, you will be taken to the home interface, which consists of Data Recovery and Advanced Options and is seen in the following image. In this scenario, you will need to choose the local disk where you lost your data from a list of available hard disks, and then click the Start button to get started.
As soon as you choose a disk, 4DDiG begins scanning that drive thoroughly for data that is not there. If you wish to narrow down the search, you may choose the kind of file to look for or file categories like deleted files and stop the search or pause it when desired.
After finding your files using search, you will have the option to safely restore them on your device before uploading them to the cloud.
Solution 2: Restore Files with Windows's Built-in Backup File History
Using a data recovery program is suggested if you do not have a backup copy of your data accessible. On the other hand, if you have used Windows File History to create a backup of the data you lost, you will be able to retrieve the files from the backup location. The following is the list of the steps of how to recover lost files after installing windows 10 via backups.
Step 1: Launch "Settings," then pick "Update & Security" from the menu that appears.
Step 2: You can find your backup by selecting the "Backup" option from the menu.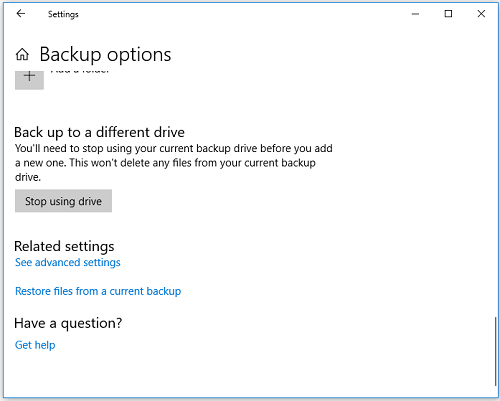 Step 3: Continue and navigate to "more options".
Step 4: Scroll down until you reach the area labeled "Related settings," and then choose the option to "Restore files from a current backup."
Step 5: Find the file you need, then use the arrows to navigate between the available versions of it.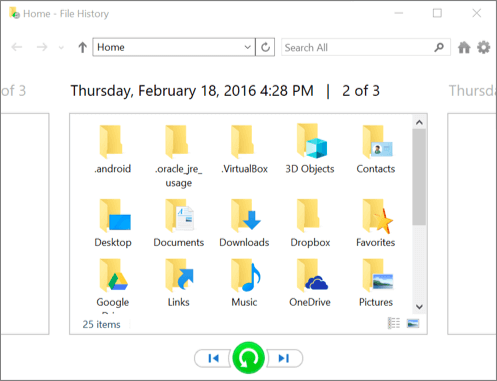 Step 6: Once you have located the version that you want, choose "Restore" to save it in the spot from where it was originally taken.
Step 7: To save it in a different location, right-click the "Restore" button, choose "Restore to," and then go to the location you want to use.
Solution 3: Retrieve Files Lost Due to Windows Reinstallation via Created System Restore Points
A restore point allows you to recover both your data and your operating system more easily. Yes, this does imply that the Windows Reinstallation you just completed will be deleted. But keep in mind that this also indicates that your data, which were deleted following the installation, will be restored. However, are you prepared to reinstall your operating system again? If this is the case, the following stages are designed to answer how to recover deleted files after installing windows 10.
Step 1: It is recommended that you launch the Run app. You may locate it by utilizing the Search option in the Start menu. However, the shortcut that you need is the Windows key in combination with the R key.
Step 2: Once the Run box has appeared, type "rstrui.exe" followed by pressing the enter key.
Step 3: You have reached the window for your System Restore. Naturally, you may choose the option that says "Choose a different restore point," which is available to you. Then, press the Next button.
Step 4: You need to pick the option that says "Scan for impacted applications," which you will notice when you access this function.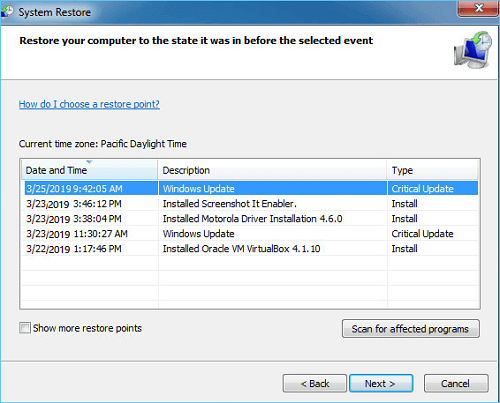 Step 5: Which drives are included in the Restore modifications may be seen here. Press Next if you are certain that your Data drives are secure. However, make a backup if your disks are going to be replaced. Repeat the procedure following the On-Screen Guidelines. Avoid attempting to stop this process.
Bonus Tips: How to Reinstall or Fresh Install Windows OS without Losing Data?
For Windows 10, there are three different kinds of reinstallations. Microsoft generally advises trying "Reset Windows 10" first, followed by "Reinstall Windows 10 using installation media" if necessary, and then "Clean install of Windows 10 using installation media" if required. Your programs and data will be affected differently by various reinstall choices. Before starting windows Installer 10, make a backup of any personal information and files you want to save on an external hard drive, USB flash drive, SD card, or cloud storage site so you will not need to recover data after windows reinstall. In any other case, be careful to choose the appropriate reinstall choices to save data or destroy everything during the reinstallation.
FAQs:
1. Is It Possible to Recover Files after Reinstalling Windows?
Yes, you can use backup files if any, Windows file history, system restore points, and always rely on data recovery software like Tenorshare 4DDiG to recover files after windows reinstall.
2. Where Are The Old Files after Reinstalling Windows?
You may start by searching for a folder called Windows.old on your C drive if you need to restore lost data after reinstalling Windows 10. Your personal files should be found in C:Windows.oldUsersUsername, if it exists. The files you need may be copied into the appropriate PC folders.
3. How Do I Recover Deleted Files after Installing Windows 10?
While holding down the Windows key, go to the search box and type Windows File Recovery. Once it's found, pick Windows File Recovery. Choose yes to authorize the app running. If this does not work, you might think about using data recovery software.
4. Do You Lose All Your Files if You Reinstall Windows?
If during Setup you do not format the C: disk, you will not lose any of your data; nevertheless, they might be transferred to a different place. Following the completion of the installation, there will be a folder named Windows.old in the primary directory of the C: disk. There, all of your files will be preserved. If you want to recover files after windows reinstall, you should use the solutions listed above.
Conclusion
We know losing data after a Windows update is frustrating but there are several solutions to help you out. But in our opinion, try Tenorshare 4DDiG data recovery software for the absolute solution when it comes to recover files after reinstalling windows 10.