How to Recover Deleted Restore Points Windows 7/10/11
Need to recover deleted restore points windows 7/10/11? Download 4DDiG Data Recovery for a seamless solution and safeguard your system's integrity. Your reliable restore point recovery is just a click away!

William Bollson
The System Restore points is a component present in the Windows OS that assists clients with returning their PC to a previous point on the record. In other words, you can return to the past. You can undelete System Restore points without trouble if they disappear. We ordinarily use System Restore when something turns out badly with the System that can be hard to fix. The issue is, at times, your PC shows the "Windows 10 restore points missing" problem. If you have lost the restore points, you can recover deleted restore points Windows 10 after consulting this guide.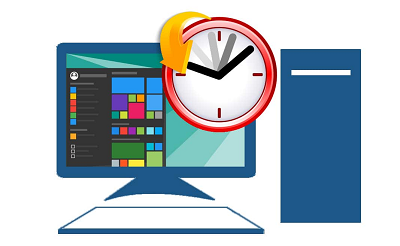 >
Part 1: What Happens If You Delete Restore Points?
A System Restore works by fixing any harms brought about by acting up, updates, software, and drivers. It is not quite the same as how data backup functions. It doesn't save a duplicate of your files. System Restore points work to repair your System by itself in a driver, boot, or OS error. But in the absence of restore points, you will not be able to trace back to the stable version of your PC. Deleting restore points will free some space and won't affect your computer negatively.
Part 2: How to Recover Deleted Restore Points?
Solution 1: Enable System Restore
The System Restore feature in Windows 10 is not enabled by default. It is requisite to turn it on to recover recently stored points. The steps below will assist with turning the feature on and help you with figuring out how to recover deleted restore points Windows 7 and 10:
Type "System" in the search box next to the Windows icon in the toolbar. From the system properties window, go to System Protection.
Turn on the System Protection by selecting a drive from your PC and clicking the "Configure" option.
From the "Restore Settings" tab, turn on "System Protection" (having the option for it). Click "OK" to leave the window.
Solution 2: Start Volume Shadow Copy Service
Volume Shadow Copy backs up app data and files. The Volume Shadow Copy permits the clients to backup data while it is being used. To recover erased restore point windows 7, keep following this guide:
Open the run box using Windows + R and enter "services.msc," and click OK to proceed.

Discover Volume Shadow Copy from the Services window that shows up. Right-click it and pick "Start" to proceed.

It will start to run and will enable you to make a restore point.
Solution 3: Run SFC to Fix System Restore Points Gone windows 10
Having no restore points in Windows 10/11 could likewise be the reason for Windows 10 restore points missing. To fix this:
Open Command Prompt by typing CMD in the search box. You can also press Windows + X key to open it.
Run CMD.exe as administrator.
Type "sfc/scannow" as the cursor appears and press Enter.
That will let you not have any lost or corrupted system files.
Solution 4: Adjust Disk Space Usage
A minimum Disk Space Usage will not let the OS make restore points. On such occasions, you should make more space. The steps below will let you with figuring out how to recover System Restore points gone windows 10:
Go to the search bar and type "System." From there, go to the "System Protection" tab.
Select a partition or drive from the window that appeared on your screen and press "Configure."
Drag the slider under the "Disk Space Usage" to set the maximum storage in the new spring-up screen. Drag it to max level and tap Snap "Apply," and close the window.
Solution 5: Restore System Points in Safe Mode
Figure out how to recover Windows 7 restore points disappear by entering Safe Mode:
Close every one of the open applications and restart your PC. Tap the "Shift" key before your PC enters the Windows login page.
From there, select "Troubleshoot" and go to "Advanced options."
Now select "Startup Setting" and go to the "Restart" feature. There, pick the "Enable Safe Mode with Command Prompt" option.

When the command prompt window shows up, input "rstrui.exe" and press "Enter."

You will see the accessible restore points as you click the "Next" button. Select any Restored points and tap the "Next" key at the bottom to refresh the System to that point.
As the following window appear, confirm the restoration process. Snap the "Finish" button to undelete System Restore points.
Solution 6: Change Triggering Properties of System Restore Feature
Open the search bar and type "Task Scheduler." Look for "Microsoft" in the Task Scheduler Library. From the dropdown menu, pick Windows > System Restore.
Select the SR option and go to the "Trigger" tab. Here, you can adjust the properties.
After making another task, pick the "Conditions" tab from the interface window. Go to the Power tab and untick the "Start the task only if the computer is on AC power" option.
Additionally, untick the "Start the task only if the computer is idle for" option.
Part 3: How Do I Permanently Save a Restore Point?
To make a permanent Restore Point on Windows 10, you need to follow the measures below:
Go to the Windows Start menu and select Complete PC Backup. Select "All Programs," then go to "Maintenance," and finally, select the "Backup and Restore Center" option.
Snap the "Back up Computer" option and select where you wish to save a permanent restore point.
Bonus: How to Recover Lost Files When Restore Points Are Missing?
The above solutions will assist you with recovering deleting restore points Windows 7 or 10 OS. It would help if you also were cautious while following the means because there is a chance of losing your files. You can stay away from system crashes and glitches of your hard drive by using the Tenorshare 4DDiG Data Recovery tool. Tenorshare 4DDiG Data Recovery is an incredible recovery program intended to restore any data type in just a few clicks. Here's how:
FREE DOWNLOAD
Secure Download
FREE DOWNLOAD
Secure Download
Select a Local Disk

Install and open the homepage of Tenorshare 4DDiG on your PC. Select the disk where you lost your data and press "Scan" to continue.

Scan and Preview Hard Disk

4DDiG will scan and find all the lost files on your PC. The scanning result shows all the files found effectivly. After the scanning, you can select files to preview before data recovery.

Recover Files from the Disk

Finally, you can afterward click on "Recover" to get them back from your hard drive. After clicking on Recover, select the location you wish to restore the files.
FAQs about Restore Points
1. Where are my restore points?
Press Windows + R to open the Run box. Type "rstrui" in the Run box and click "Next" In the System Restore Window. That will list all accessible System Restore points on your PC.
2. How does System Restore work?
System Restore takes a "preview" of some system files and the Windows library and saves them as Restore Points. It fixes the Windows by returning to the files and settings kept in the restore point.
3. Will a System Restore remove my current apps?
Utilizing a restore point will eliminate any applications and drivers introduced after the restore point was made. Making a progression of restore points on your PC will protect you from data losses.
4. How do I recover lost System Restore Points Windows 7?
You can recover Windows 7 restore points disappear using the above six techniques. Make sure each of the solutions is thoroughly performed to recover Restore points successfully.
5. How to delete Restore points in windows 7?
Go to the "System Protection" tab and select the desired drive.
From there, the System Restore points will be deleted.
Tap the "Configure" button and then press "Delete."
6. Do Restore points get deleted?
Yes, restore points can get deleted after 90 days. The lifespan of restore points in Windows 10 is limited to only 90 days. So, you may lose the restore points for your PC when its lifespan reaches.
Conclusion:
We hope that you have finally been able to undelete System Restore points using the above-recommended solutions. Apart from that, the most convenient way to recover your files is Tenorshare 4DDiG. 4DDiG can effectively get your files back without making you work for them. All it takes is just a few clicks, and you can get your lost files back again.