6 Best Samsung Data Recovery Solutions for PC in 2023
If you own a PC or Mac, you may utilize various Samsung data recovery software to retrieve your lost data. Among all of the solutions we discussed, 4DDiG is the most dependable.

William Bollson
You will inevitably lose all or some of your data when using modern devices like laptops and phones. Therefore, having a backup strategy for missing data is just as crucial. You should back up the data on all of your Samsung devices for this very reason so that you can retreat with Samsung data recovery later.
Only so many trustworthy smartphone apps can help you safely retrieve deleted files from your phone (either built-in or third-party apps). If you own a PC or Mac, you may utilize various Samsung data recovery software to retrieve your lost data. The software that you can use to recover lost data from your Samsung will be covered in this article. You will know which one to utilize with certainty after reading this essay. Go on reading.
Part 1: What Is the Samsung Data Recovery Solution
How to use Samsung data recovery? It would help if you had a tool made for this purpose to recover lost data from a Samsung PC. You can use a solution offered by Samsung Electronics called the Samsung Recovery Solution. The Samsung Recovery Solution is a utility program that can be helpful when you want to restore the computer's operating system to a previous backup state. It is pre-installed on the majority of Samsung devices.
If the system has had a significant error due to a system malfunction or virus attacks, it is used to "restore point" the Samsung computer.
Part 2: [In Advance] FAQ about Samsung Data Recovery Solution
2.1 Samsung Recovery Solution Pros& Cons
Samsung Recovery Solution Pros

Samsung Recovery Solution Cons
It enables you to recover lost data by restoring the operating system to a previous backup point.
It is possible to utilize it to back up the user's saved documents, directories, and even system preferences.
It has an intuitive interface enables users to select between two backup options.

Data not in the Backup can only be restored from a prior backup point, meaning all other data is lost entirely.
It does not allow you to select which files you wish to restore by allowing you to preview lost data before recovery.
2.2 Is Samsung Data Recovery Safe
Is Samsung data recovery safe? The data recovery function on Samsung devices is typically regarded as secure and dependable. Users can recover deleted or lost files from their Samsung devices. The function scans the device's storage and retrieves recoverable data using sophisticated algorithms. However, as a precaution, it is always advised to routinely Backup your crucial data to an outside source.
2.3 How to Use Samsung Data Recovery
How to use Samsung data recovery? Don't worry if your data disappears overnight or your Windows computer is acting strangely. Your data and information can still be restored using the Backup you made on a storage device.
You can back up all your data and crucial information on your Windows computer to a storage device. As previously mentioned, regularly creating backups will help you prepare for the worst.
Connect your Windows computer to the external storage device that contains your backup data, if necessary.
Then choose the Start icon, and finally, launch Samsung Recovery.
Select Backup and restore management, then click Restore next to the Backup you want to restore.
Select OK after choosing Start Restoration. After restarting, the computer will start to recover. The procedure can take a few minutes.
Part 3: What Are the Top 6 Workable Samsung Data Recovery Solutions
You want to retain a crucial file and be prepared for it. Instead, you should have dependable data recovery software set up on your computer, and this article is here to assist you in selecting the finest option.
Top 1: 4DDiG Windows Data Recovery
4DDiG Windows Data Recovery is a thorough data recovery program built exclusively for Samsung data recovery. It allows users to recover lost or deleted files from various storage devices, including hard drives, SSDs, USB drives, and memory cards, without needing a prior backup.
The software also has preview capabilities, allowing users to see files before recovering them, ensuring that the data they require is recovered. 4DDiG Windows Data Recovery is a dependable option for recovering lost data from Samsung devices due to its dependability, ease of use, and vast file recovery capabilities.
Pros

Cons
Accurately search and scan lost data
Preview lost files before recovery
Create WinPE bootable disk
Preview damaged images/videos before repair
Recover unlimited Deleted Photos, Videos, and other Critical Files
Recover data from laptop/PC, internal & external drive, USB flash disk, SD card, NAS storages, etc.

Free Trial can Recover limited (100MB only) data from computer
FREE DOWNLOAD
Secure Download
FREE DOWNLOAD
Secure Download
After installing and opening Tenorshare 4DDiG Windows Data Recovery, you will see the home interface with options for Data Recovery & Advanced Options. Choose the local disk where your data was lost from the list of hard drives, then click Start to initiate the scanning process. Alternatively, you can select specific file types in the upper-right corner before scanning.

4DDiG promptly scans the selected drive for missing data, allowing you to pause or stop the search anytime if you've found the desired files. The Tree View displays categories such as Deleted Files, Existing Files, Lost Location, RAW Files, and Tag Files. You can switch to File View to view file types like Photo, Video, Document, Audio, Email, and more. Additionally, you can use the search function or apply filters on the right side of the panel to refine your search.

Once the desired files are found, you can preview and recover them to a safe location. Avoid saving them to the same partition where the loss occurred to prevent disk overwriting and permanent data loss.
Top 2: CBL Data Recovery
CBL Data Recovery Software can help you recover files lost due to a virus infection, an unexpected system shutdown, a hard drive crash, accidental deletion, a hacker attack, or a software failure.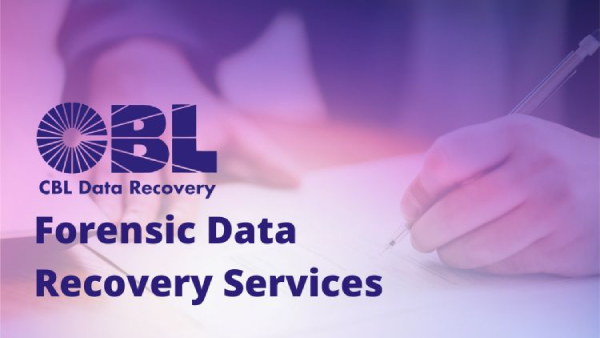 2.1 Pros&Cons
Pros

Cons
You can contact the support team directly at any time.
They will only charge the recovery fee if they successfully recover it.
Customers can get free quotations and evaluations from CBL.

Your data may be unsafe because the specialists can review it while it is recovered.
It is a lengthy procedure that may annoy the customer.
2.2 User Experience
CBL data recovery has been providing internet services since 1993. They offer various data recovery services, including SSD data recovery, USB data recovery, RAIDS recovery, and many more. CBL guarantees the safety of your data and a 90% recovery rate. They provide 24-hour customer service and direct touch for consumer needs. You will receive the services at the indicated price; no additional fees will be levied for recovery.
Top 3: Recuva
You may recover any file or document you accidentally lost or erased with the Recuva freeware. If you unintentionally delete a file, only some things are gone. Utilizing Recuva is pretty simple. The program will run a preliminary scan to visually display all of the recently deleted data that could be recovered.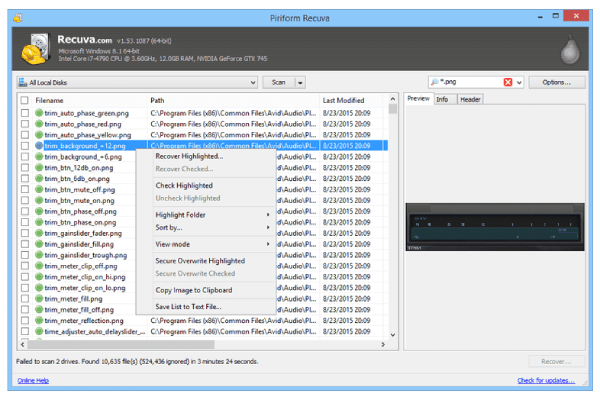 3.1 Pros&Cons
Pros

Cons
Low cost.
The free version is offered.
Preview display.

More expensive competitors can retrieve more files.
The user interface is old.
Restoring the original folder structures and file names is only partially supported.
3.2 User Experience
We like Recuva because of its low cost, straightforward interface, and ease of use, but it only recovered two-thirds of the deleted files on my test drive, which may need to be more in a crisis. Recuva performs poorly compared to the top listed in this article because it only supports a few file formats.
Top 4: Stellar Data Recovery
Stellar Data Recovery is a professional-grade software for Windows and Mac that can recover data from fully broken and unbootable computers that many lesser tools would consider unrecoverable.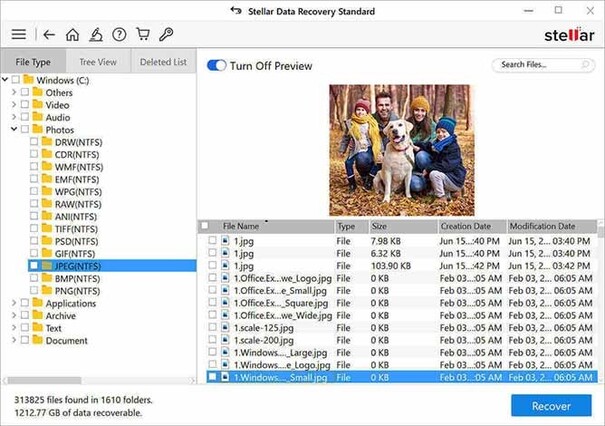 4.1 Pros&Cons
Pros

Cons
Support for a wide variety of storage devices.
Simple to use.
This preview option is quite helpful.

It is relatively pricey.
Scan and recovery times could be faster.
Store device selection could be better.
4.2 User Experience
This data recovery software, formerly known as Stellar Phoenix Data Recovery, supports NTFS, exFAT, and FAT (FAT16/FAT32) formatted hard drives, SSDs, USB flash drives, memory cards (including SD cards, MicroSD cards, CF cards, and so on), and other regularly used storage media.
Professional ($79.99 for one year or $99 for a lifetime license) and Premium ($99.99 for one year or $149 for a lifetime license) are available for professional use. The previous version is marginally less expensive because it needs video and photo recovery features.
Top 5: PhotoRec
PhotoRec features powerful file recovery capabilities as well as platform support. Whether you have a digital camera or a traditional hard disc, PhotoRec has you covered as long as you know how to utilize it.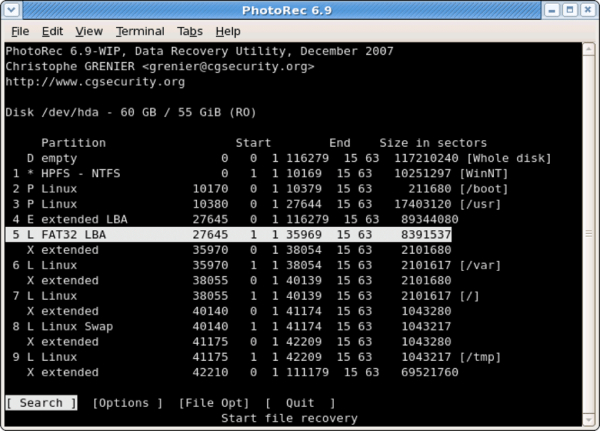 5.1 Pros&Cons
Pros

Cons
Works with all major operating systems.
About 300 file families are recovered.
Many file systems are supported.

It can be intimidating for newcomers.
During the scan, all files are automatically retrieved.
File names and folder structure could not be restored.
5.2 User Experience
PhotoRec can only recover picture file formats based on their name. However, that is not the case. In truth, this open-source data recovery program can recover over 480 file extensions (about 300 file families) from hard drives, memory cards, CD-ROMs, USB flash drives, and other storage devices.
PhotoRec's text-only user interface is notorious for frightening inexperienced users away, but we found the data recovery process self-explanatory. Sure, beginners could benefit from additional guidance, but that's what the official material is for.
Top 6: iSkysoft Data Recovery
ISkysoft data recovery software aims to recover various sorts of lost and deleted files from various devices. The software prompts you to select the partition or location associated with the data loss. You can recover a drive partition, an external drive, a specific file location, or a computer crash.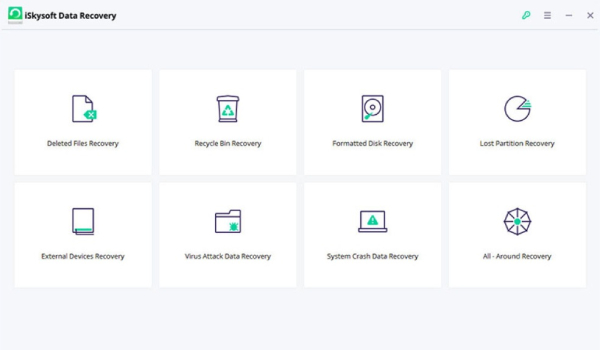 6.1 Pros&Cons
Pros

Cons
The three-step technique speeds up data scanning and recovery.
Capable of retrieving almost any sort of document, image, video, or email.
Allows for file preview before recovery.

It would be best to have a license to recover the detected files (the trial version only permits data search).
Only the Ultimate package includes the partition recovery feature.
Copying protected files is not permitted by the software.
6.2 User Experience
As previously stated, iSkysoft requires a license to retrieve data. And many users believe that paying could be more cost-effective, leading them to seek cracked software versions. It, however, is not recommended.
The 'Pro' price plan costs $39.95 for a 1-year-1-PC license. Furthermore, for a 1-year-1-PC subscription, the 'Ultimate' plan (including the Lost Recovery partition option) costs $59.95. The plans' one-month subscriptions are $4 cheaper. A lifetime subscription is also available for $10 more than the annual base fee.
Overall, iSkysoft Data Recovery is an intriguing bundle with low recovery rates and other evident flaws.
Conclusion
These are some of the most popular Samsung data recovery programs for restoring deleted files on your Samsung PC. Among all of the solutions we discussed, 4DDiG Windows Data Recovery is the most dependable. It is due to its excellent success rate, user-friendly interface, and support for recovering many files from your phone's memory or the cloud.
The good news is that this instrument is pretty priced compared to the competition. Download 4DDiG Data Recovery to get started with all of its valuable features.
You May Also Like
Home >>
6 Best Samsung Data Recovery Solutions for PC in 2023