Solid State Drives or SSDs are an example of what technological advancement can give us! In contrast to its predecessor Hard Disk Drives (HDD) SSDs are much more efficient and economical, which is why they sell like hot cakes on the market.
The reduced size and lack of moving components in an SSD makes it more ideal for storing data, reduce power consumption and increase your overall data transfer speed. Then again as your SSD ages it may lead to its capacitor degrading or the controller chip breaking. Unlike an HDD, your SSD comprises of solid parts which does not make a grinding or buzzing sound if something goes wrong which makes it harder to notice any changes.
In case you have noticed the early signs of your SSD failing, the obvious question would be can data be recovered from SSD? It indeed can, read on to find out more.
Part 1. Is SSD Drive Recovery Possible?
1. Overview of SSD Hard Drive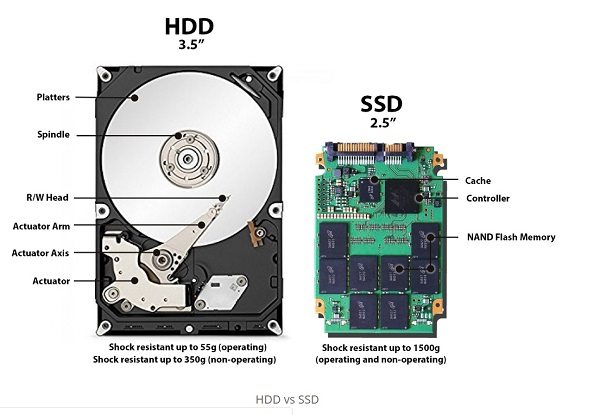 Compared with HDD which is the traditional storage devices that has been in use for decades, solid State Drives (SSDs) represent new-age compact memory technology which guarantees lasting durability and reliability. SSDs use the same technology as flash drives except it is known as NAND.
NAND involves floating gate transistors which stores data by recording the presence or lack of charge. These transistors are organized in a grid, which is further organized into blocks within the SSD.
The data recorded in each block of the SSD is tracked and retrieved by an SSD controller. The lack of small moving parts within your SSD reduces wear and tear enabling the drive to last longer.
Though SSD technology is the clear successor to that of HDD, each has its own advantage and drawbacks in terms of durability, processing power and rate of wear & tear.
Hard Disk Drives are more affordable and can store more data than SSD drives but it has moving mechanical parts which are prone to failure and damage.
Solid State Drives are more durable and can load data much faster than HDD. They also consume less electricity as there are fewer moving parts but fewer SSDs are available with high storage capacity making them more expensive as well.
2. SSD Trim
TRIM is an action/ command for the ATA interface that deals with Active Garbage Collection to organize and clean up Solid State Drive. TRIM decides for your SSD, which parts and pieces of data can be eliminated.
This command can vary in other interfaces and might go by different names under separate operating systems. Some of the operating systems do not carry TRIM command. In such cases, manufacturers create, design and test their drives with the assumption that TRIM will not be utilized.
When your computer is in idle state, TRIM erases invalid data using SSD to save extra time during a writing process. Active Garbage Collection shifts connected segments of information next to each other.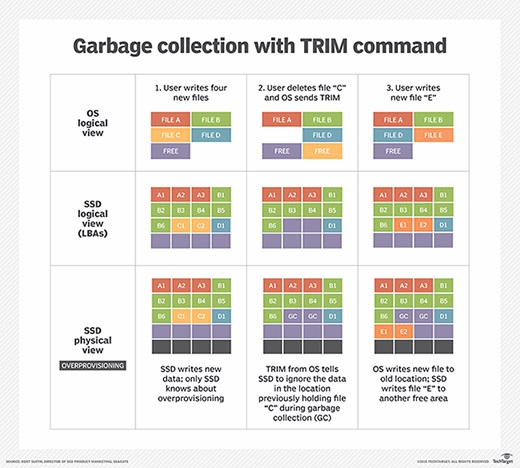 3. Is Data Recovery Possible from SSD Hard Drive?
Yes, SSD hard drive data recovery is really possible but its success can vary depending on whether you have enabled the TRIM command.
When the TRIM command is enabled, the SSD TRIM command allows the operating system to inform the SSD that the unused data can be wiped immediately. It is worth mentioning that TRIM is enabled by default. Due to this reason, you have to take extra steps for data recovery as soon as you realize that you lose your data on an SSD that is failing.
Below are pro tips to increase SSD data recovery chances:
1. Disconnect the SSD
It is highly recommended to disconnect the SSD immediately once you realize that you've lost data on it. Then, you should connect it to another computer and perform data recovery.
2. Format SSD
This simple method is going to restore the drive for sure, though it might risk the few of the data.
Plug-in the SSD.
Launch a session of Windows Explorer or, a session of Finder on Mac.
Find SSD, right-click on it then find Format.
These step will open a configuration window.
Locate File System > choose the one you plan on using.
Locate Volume label > enter the name you prefer to use for the drive.
Click on the Quick Format box & press start.
3. Power Cycling
Power cycling is basically leaving the power cable on to drain its power. It's helpful when the issue involves a power failure.
Unplug SATA cable.
Keep your power cable plugged.
Wait for thirty minutes, while the power is on.
Turn it off and wait for 30 seconds.
Turn the power on and again wait for thirty seconds.
If the problem remains try and repeat the steps for couple of times.
4. Perform Data Recovery As Soon As Possible
SSD recovery is time sensitive process, don't try to recover it by yourself which could make things worse. It is recommended to use professional data recovery like Tenorshare 4DDiG.
Part 2. Use Reliable SSD Recovery Software - Tenorshare 4DDiG
When your data gets deleted by accident or is formatted, the file is not physically erased from your drive (whether SSD or HDD) but is actually marked for rewriting. So, unless the data has been rewritten, there is still a window of opportunity for you to retrieve it. The longer you take to retrieve your data, chances are it has been rewritten. Recovering lost data is a tad bit complicated hence using a Data Recovery Software like 4DDiG can make this task 10 times easier for you.
Tenorshare 4DDiG is an all-in-one recovery solution for all types of files and devices. It helps you recover files that have been lost to deletion, corruption and formatting. You can recover data from SSD on both Windows and Mac with the help of 4DDiG.
Below is a guideline on how to start data recovery from SSD hard drive on Windows and Mac.
Step 1: Download Software and Select File Type
Download and install Tenorshare 4DDiG Data Recovery on a PC or Mac computer. Launch the software and then select the SSD device where you lost your data. Before scan starts, you can select the data type in the device.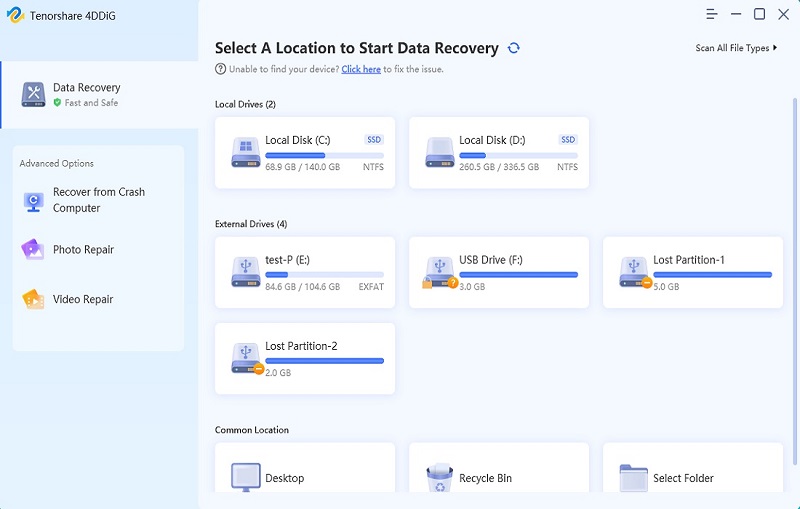 Step 2: Scan SSD Data
4DDiG begins scanning your hard drive for misplaced files in categories like deleted, lost, RAW, Tag and existing files. You can choose to pause the scan. The files can be previewed in tree style by default. You can also switch to file view where the data is categorized into images, documents, audio, video and emails. You can apply filter to target specific file types for more convenience.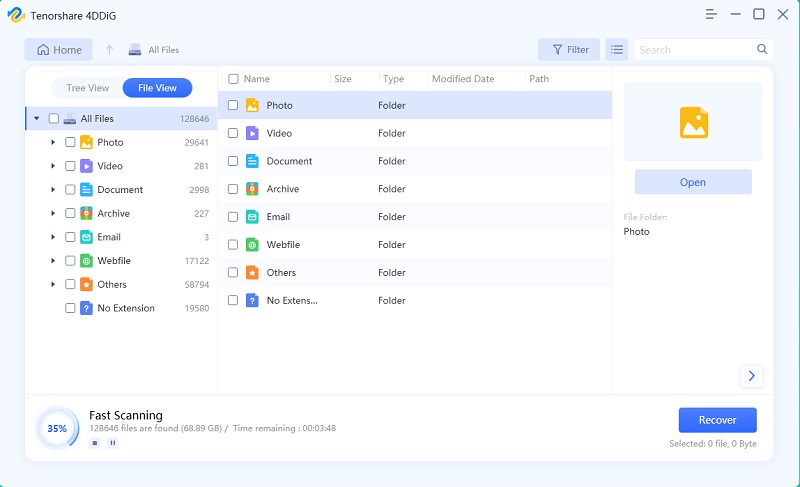 Step 3: Preview and Recover SSD Data
Once Tenorshare has completed scanning your SSD drive, you can locate and preview the file(s) you need. Choose these files and click Recover button to save them to computer.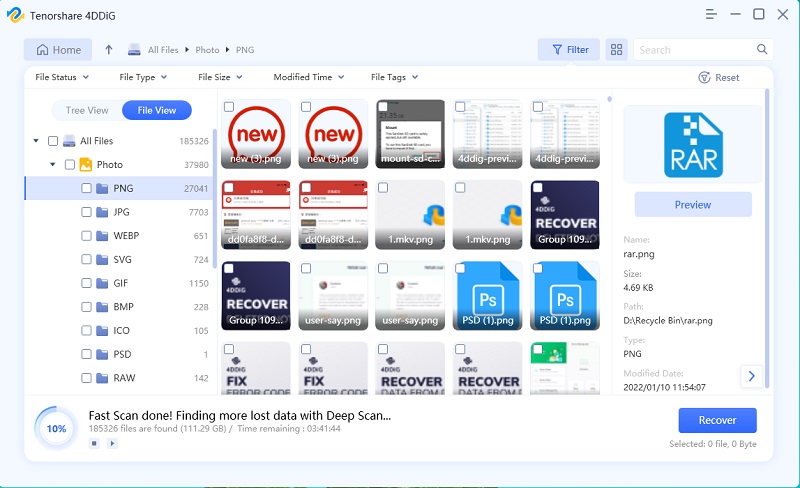 Part 3. How to Recover Data from a Dead/Corrupted SSD
Solid State Drives are devoid of moving parts but can still wear down over time. Damages to your SSD can take place due to three primary reasons.
Damage due to age: Your SSD can take on a limited number data writes before it begins to degrade.
Damage inflicted physically: If you drop your laptop or accidently pour some coffee over your PC, your SSD might have taken some damage.
Damage due to heat: Overheating can lead to computer components getting damaged.
If your SSD gets corrupted then retrieving data can get a lot harder. Though there are multiple reasons why your SSD could get corrupted, here are the most common;
Power Surges: SSDs are more susceptible to power surges rather than traditional hard drives. It is best to install a surge a protector to prevent this from happening.
Malware: Malware that finds its way into your data can be the cause behind your SSD corruption. You need adequate malware protection to prevent against SSD corruption.
SSD Wear: Even though your SSD's flash memory is less likely to wear out but due to long term use your SSD could get corrupted.
The Bottom Line
Your SSD is far more effective in storing data than HDD but it has its limitations. It doesn't completely free you of the worry of losing your precious data but installing a data recovery software like 4DDiG recovery surely lessens that worry phenomenally.