What do you do right away if you need more storage space? If you're like most people, you probably empty the Windows Recycle Bin. To accomplish this, right-click on the icon for the Recycle Bin and choose Empty Recycle Bin. Serious issues might arise if vital data are unintentionally deleted. The circumstance may cause them to panic at first, but it's not as severe as it appears. So, how to recover deleted files from recycle bin after empty, and what are the ways for doing it? Is it possible? The Windows Recycle Bin was created to prevent data loss, but what should you do if you've used it up and all of your files have vanished? We are here to provide recent methods and tools to recover your data in this article.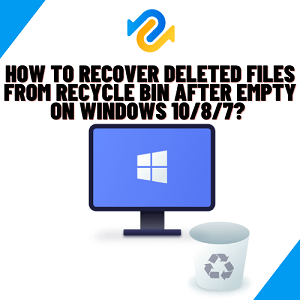 Part 1: Is Recycle Bin Recovery Possible?
Simply said, yes. The Windows operating system doesn't erase anything from your storage media when it deletes it. Even after you empty the Recycle Bin, the data may still be restored even if you can't see or access it. The secret is to retrieve deleted files from the Recycle Bin before fresh data overwrites them. Stop using your computer until you have completed recovering your lost data if you want to achieve this aim. If you act promptly, we'll show you many ways to restore files that have been removed from the Recycle Bin. Now, let's focus on how to recover deleted files from recycle bin after empty windows 10.
Part 2: How to Recover Deleted Files from Recycle Bin after Empty?
Method 1: Restore Files from Recycle Bin after Empty via Windows Built-in Backup Function
How to recover deleted files from recycle bin after empty free via Windows application for performing backups: You may use the Backup and Recover Function to restore files from the recycle bin after emptying it if you have previously set up a backup using that application.
Step 1: To access System and Security, go to "Control Panel" and make the appropriate selection.
Step 2: Click the restore option and find Backup and Restore from the drop-down menu.
Step 3: To locate the files that have been erased, follow the procedures outlined in the wizard.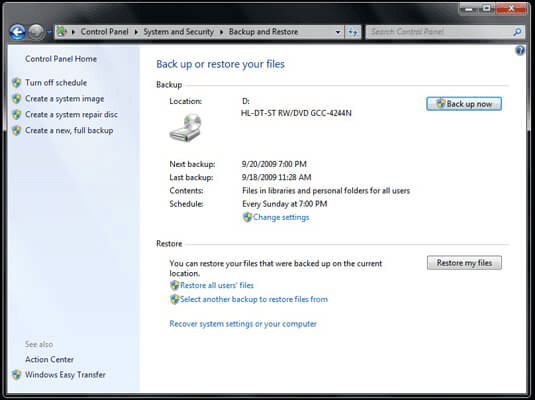 Method 2: Recover Deleted Files from Recycle Bin after Empty Using Data Recovery Software
If these methods are not useful or your settings were not set to automatically back up, then you might need an external tool to answer the question of how to recover deleted files from recycle bin after empty windows 10/8/7. The data recovery software solution known as Tenorshare 4DDiG offers consumers comprehensive information security safeguards.
Recover deleted files from emptied Recycle Bin or due to an OS update, virus attack, accidental deletion, etc.
Retrieve data from partitions and portable storage devices, such as external drives and USB flash drives.
Support recovery of 1000+ file types, such as photos, videos, audio, documents and so on.
Install on computers running either Windows 11/10/8/8.1/7 or Mac operating systems.
Provide a preview of the recovered material to help users save time.
How to recover deleted photos from recycle bin after empty via Tenorshare 4DDiG?
Select a Bin for Recycling

First, you will need to get Tenorshare 4DDiG Data Recovery and then install it on your computer. Start the software, go to the Recycling Bin, and after that, click the Start button to go on to the next phase.

Search and Scan the Recycling Bin

As soon as you choose a disk, 4DDiG begins scanning that drive thoroughly for data that is not there. You can halt or cancel the search at any point if you have found the files that you need to retrieve. Via Tree View, you will see subfolders labeled with headings such as Deleted Files, Lost Location, Existing Files, etc. You also have the option to go to the File View to examine other sorts of files, including photos, videos, and documents amongst others.

Preview and Retrieve Deleted Files from the Recycle Bin

After finding the files you're looking for, you'll have the option to preview them and then restore them to a safe place.
Now, you have learned how to recover files from recycle bin after empty via third-party data recovery software.
Method 3: Get Files Back from the Previous Version from the File History
In Windows 10/8/7, the system protection feature is on by default, and the operating system will automatically build restore points. You can recover your permanently erased files to a version that they were in before thanks to such restore points. Let's look at how to get files back after emptying recycle bin to reach their previous versions.
Step 1: To begin, go to the desktop and create a new file or folder there. Give it the same name as the file or folder that you just erased. (If the folder was at the root level of a drive, such as C:, you may right-click the disk and choose the Restore prior versions option from the context menu.)
Step 2: Select "Restore prior versions" from the menu that appears when you right-click the file. In this section, Windows will look for and show the previous versions of the files or folders that have been permanently removed, with each version having its own unique time and date.
Step 3: Simply choose the most recent version and then click the "Restore" button to easily restore irreversibly destroyed files or folders.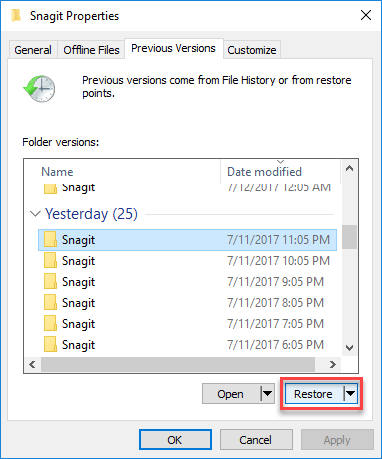 Method 4: Deleted Files Recovery from Recycle Bin after Empty with The Command Prompt
The command prompt can retrieve any files that were deleted in error and reverse the action of emptying the recycle bin. Then, how to recover files after deleting them from recycle bin by utilizing the command line?
Step 1: While your computer is starting up, press the F8 key, and then pick the Safe Mode with Command Prompt option.
Step 2: Simply enter cd../.. and then click the Enter button, then type cd $Recycle.Bin.
Step 3: After typing cd and pressing the tab key, you will be able to read the name of a directory. Once you've seen this, hit the Enter key.
Step 4: Type dir/a to see all of the files; then type copy [file name] [file location]; then type cd../.. > Type dir and enter > Type ren [file name].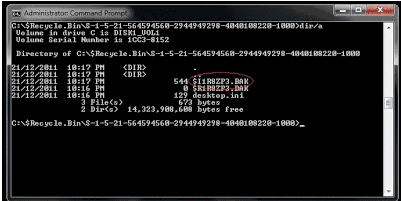 If you use Command Prompt to undo all deletions, the file names will not appear as they did before. Because of the potential for this procedure to go wrong, it is not advisable for anybody who is not an expert to give it a go.
Method 5: Retrieve Files from Recycle Bin after Empty with System Restore
System Restore will try to return your computer to a previous point in time, known as a system restore point. You will have the ability to restore any files produced or applications installed before the restore point was established.
Step 1: In the search box located on the taskbar, type the term "Control panel," and then choose the Control Panel option.
Step 2: In the search box located inside the Control Panel, type the term "recovery."
Step 3: Choose "Recovery" and then "Open System Restore" from the menu.
Step 4: In the Restore system and files settings tab, click the "Next" button.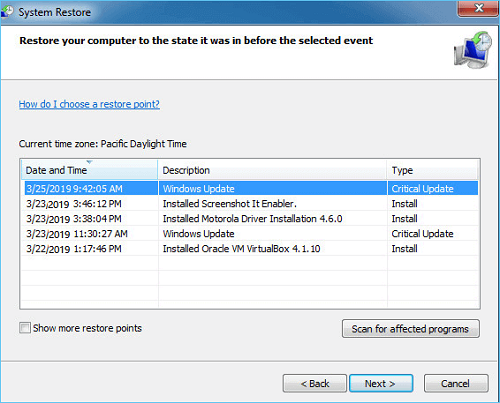 Step 5: Finally, choose the restoration point that you want, or click "more results" to see further options, and then scan any impacted applications.
Part 3: How to Avoid Data Loss from Recycle Bin Again?
Deleted files may often be recovered from the Recycle Bin, but there are steps you can take to guard against data loss in the first place. Rather than juggling to find answers for how to recover photos after deleting from recycle bin and also files, take the below preventative measures.
You may use Dropbox, Google Drive, Microsoft OneDrive, or any other cloud storage service with a free plan to back up your data to the cloud if you don't want to spend money on a dedicated backup storage device.
Keep an eye on the conditions and perform regular maintenance since hard drives and other storage devices are far more likely to fail if they're subjected to severe vibration, high humidity, or dust.
The reality is that there is a lot of harmful malware out there that, if you make a single error and let it onto your system, may prevent you from accessing crucial data. Keep your antivirus turned on unless you want to take the chance.
A backup power source known as an uninterruptible power supply, or UPS for short, offers emergency power during a brief power loss.
FAQs about Deleted Files from Recycle Bin after Empty Recovery:
1. How Can I Recover Permanently Deleted Files from Recycle Bin after Empty?
You can use the Windows system restore function, try to reload previous versions, and also use the command line if you trust your technical abilities.
2. Can Data Be Recovered after Deleting It from Recycle Bin?
Yes, you can use Windows built-in tools to recover the system or reach your backups, as well as try to utilize data recovery software like Tenorshare 4DDiG.
3. When You Empty the Recycle Bin Is It Gone Forever?
No, rest assured. There are several methods to recover recycle bin via Windows backup and restore and also deep recovery solutions offered by third-party tools.
Conclusion
We hope that you have understood how to recover deleted files from recycle bin after empty with built-in Windows tools and backups if you're lucky. Even if you are not, don't panic. Because Tenorshare 4DDiG is the safest and fastest data recovery software in this aspect of recovering deleted files from recycle bin after empty.