Having blurry spots on videos can be extremely annoying, as the blurry videos can spoil the fun and even destroy some important information the videographers want to convey. If you found the video you've captured or the video you were playing online or offline is blurry, and you want to know how to fix a blurry video and make it clear, we got you covered. In this article, we offer some video repair tools which are perfect for fixing a blurry video. Also, we further guide you on how to make a blurry video clear with online video editing tools available.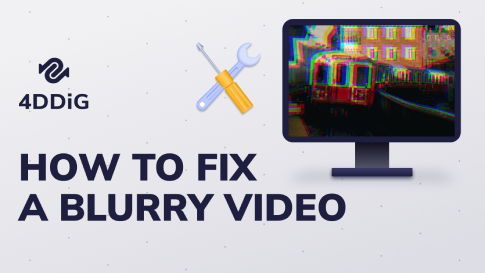 Part 1: Why Is My Video Blurry?
There can be several reasons why your video is blurry. Some of the top reasons are mentioned below:
Low Resolution: If you have recorded the video in a low resolution, then there are chances that it can get blurry when played back on a larger screen.
Compression: When you use the compression method to reduce the file size of your video, the video quality can be ruined, causing your video to get blurry.
Camera Settings: Sometimes, incorrect video settings like wrong focus setup can make your video blurry. Moreover, if you have used the slow shutter speed feature, there is a high chance that your video will not be cleared.
Encoding Settings: Poor encoding Settings can result in blurriness in your videos. So, it is recommended to digitize properly, so you can get the best results.
Limited Disk Space: If you don't have enough space on the hard drive of your computer, video playback can be blurry even if the media player is advanced or up to date.
Video File Being Corrupted: Videos stored on any drive can get blurry due to improper file transfer or download, or corruption due to a virus attack.
Part 2: How to Fix a Blurry Video?
Now that we've highlighted all the possible causes, let's move forward with the methods on how to remove blur from video. Here are mainly three different ways that you can try to fix a blurry video. 
Method 1: Fix Blurry Video Online Free
To remove blur from video, you can try Tenorshare 4DDiG Free Online Video Repair service. It is completely free and supports popular video formats, including MP4, MOV, M4V, etc. Moreover, it keeps your data safe and supports various devices, such as cameras, memory cards, and computers.
Here is how you can use this tool to fix blurry videos online. 
Visit 4DDiG Free Online Video Repair and click the "Upload Video" option.

Now, upload the video by choosing from PC. You can also drag and drop the file to save time. Once done, it will start uploading the video.
Soon the tool will start repairing your video. Once the process is done, you can download the new videos and see if it is blurry or not.
Method 2: Effectively Fix a Blurry Video with Video Repair Tool
HOT
In case your video is severely blurry and can't be fixed with 4DDiG online File repair, your next go-to solution is the desktop version of 4DDiG File Repair. This video repair software helps repair videos that are choppy, jerky, grainy, distorted, or fuzzy. So long as your video becomes blurry due to damage or corruption, regardless of whether they were damaged or corrupted during shooting, recording, transferring, editing, converting, or processing, File Repair can easily and effectively get the damaged video files repaired.
Here are the top features of this software. 
Repairs popular videos with different formats, including MP4, MOV, MKV, M4V, 3G2, 3GP, etc. 
Works with famous brands, including Canon, GoPro, and DJI.
Provides batch mode, allowing you to repair multiple videos at once.
100% secure and quick repair.
Now follow the steps below and learn how to unblur a video that has been blurred.
Begin by launching the video repair tool and choosing "Start" under "Enhance Video Quality." Afterward, click "Add/Drag Video" to pick the blurry video files from your computer. You can add multiple files simultaneously.

After adding your video, choose from three AI enhancement modes: General, Anime, or Face Model. Pick the one that suits your needs, adjust the resolution if needed, and then click Preview.

4DDiG File Repair will begin enhancing the video and show a preview of the first 10 improved frames. Preview the enhanced video and check if the video quality gets improved and becomes less blurry. If it doesn't meet your expectations, try another AI model or adjust resolution settings.

If the video quality improves, return to the previous page and click "Export All" to save the enhanced video to your computer.
Method 3: Fix a Blurry Video with VLC Media Player
The third method to fix blurry video is using a VLC Media player. It is a free and open-source player that helps fix blurry video within seconds. To use this software, you can follow the steps below. 
Launch VLC Media Player on your computer.

Go to the Tools tab and click on Preferences from the drop-down menu.

Next, select All at the bottom of the screen to reveal additional options.
Now, from the left-hand pane, select the Stream Output option.

Finally, change the value of the Stream output muxer caching (ms) to 1500 milliseconds and hit the Save button, then you're all set.
Part 3: How to Make a Blurry Video Clear
If your video has some blurriness because it was recorded while your camera was out of focus, don't worry. There are two online video editing tools that can make your blurry video clear or less blurry to some extent, by adjusting your video's settings. Let's dive in and explore more on how to make a blurry video clear with these two online video editors. 
Method 1: Make a Blurry Video Clear with Clideo Online Video Clearer
Clideo Video Clearer is an online video editing tool that lets you unblur a video that has been blurred by adjusting the brightness, exposure, sharpness, saturation, and other settings of your video for free. It works with all devices, including MAC, Windows, iPhone, and Android and you can use it without installing any programs or apps on your devices. All you need to do is to upload your video clips and make some adjustments necessary for clearing your blurry videos.
That said, here's how to remove blur from video with Clideo Video Clearer.
Go to the website and click the "Choose File" option to import any videos that have blurry issues you'd like to get rid of.

Once the video is uploaded, adjust the Settings by increasing the brightness and decreasing the contrast to clear up solve the blurriness issue easily.

After you are done with the adjustments, choose the format in which you want to save the video and click the "Adjust" option.

In the end, click the "Download" option to get the newly-adjusted video. You can also save it to Google Drive or Dropbox.
Method 2: Make a Blurry Video Clear with Flixier Video Clearer
Flixier Online Video Clearer is another option that you can use to make dark videos brighter and blurry videos clearer with ease. Coming without any downloads or installations, this tool is 100% safe and offers amazing results. What's more, using it, you can add a black bar and text and trim your videos.
Here is how to make a video less blurry using Flixier Video Clearer.
Go to the official website of Flizier Online Video Clearer , click on Choose video, then upload and import the video that you want to fix the blurriness.

When the video is uploaded, drag and drop it on the timeline. Then click on the Color tap at the top right corner of the screen. To make your video clearer, change its contrast and brightness.

Once you are done, click the "Export" option at the top right of the screen to download the video.
Part 4: How to Prevent Video Files from Getting Blurred?
So we've walked you through 5 effective ways to fix a blurry video and make it clearer, it's time to give you some tips that you can follow to prevent video files from getting blurred. All these tips are from the experts and will definitely help you in making videos attractive and less blurry.
1. Record Videos in High Quality
As mentioned above, it is important to record video in high resolution. The higher the resolution quality is set, the better video quality ends up being. So make sure to record the videos in high quality to prevent video coming out blurred.
2. Realize File Formats
Make sure to know the file formats. Our main advice is to try and use the .MP4 file format (or H.264) because this format offers high-quality video. Also, the file size will be small, which means you can upload them easily.
3. Use Vector Art Instead of Raster Art 
Many people recommend using Raster art for the videos, but we suggest using Vector art because it doesn't use pixels, which means you won't have to worry about the blur and low quality issues would appear on your video.
4. Use Google Drive/Dropbox/OneDrive to Send Videos
In many video sharing platforms, videos are compressed and get blurry during the processing time for a video uploaded. If you want send videos without losing quality, we recommend using cloud-based sharing platforms like Google Drive, Dropbox, and OneDrive to share videos. These platforms are good and won't reduce the quality of your videos.
The Bottom Line
In this article, we have discussed how to fix a blurry video and make it clear. Also we've mentioned some tips to prevent video clips from being blurry. If your videos get corrupted and won't play on any media players, we suggested using Tenorshare 4DDiG File Repair as it helps fix any damaged video files within minutes. Just give it a try and start enjoying your videos.