Whether you are an influencer or an inspiring photographer, blurry or grainy photos can destroy your hard work. Not to mention the hours you put into that hard work. That's why knowing how to fix blurry pictures is a skill you must definitely learn. In this era, using smartphones other than digital cameras is very common to capture, share and upload photos. But, if the pictures are blurry, Android and iPhone users feel confused about whether the same methods will work on both OS or whether they will differ. In this guide, we've shared five ways to fix blurry photos, plus a bonus tip for preventing blurry pictures. So, let's jump right into it.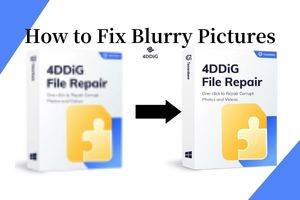 Part 1: What Causes Blurry Pictures?
There are multiple reasons behind the blurriness of photos. They include:
Wrong Grip: If your hands are shaking or you have a wrong grip on the camera, it will result in blurry pictures. To capture high-quality photos, you must have a firm grip on the camera.
Motion Blur: Motion blur is caused by using the camera in automatic mode in low light, resulting in capturing low-quality blurry pictures.
Focal Length: The focal length tells us the angle of view and how magnified the objects will be. Zooming the camera in and out will impact the focal length, causing blurry photos.
Vibration: When you press the shutter button on a camera to capture a photo, internal vibrations are carried across its body, affecting the lens. This may also cause blurry pictures.
Incorrect Focus: While taking photos, if you don't focus the camera properly on an object, the areas that are out of focus get blurred.
Part 2: How to Fix Blurry Pictures?
You are following the proper steps and taking the necessary care to prevent blurriness in pictures. But still, sometimes, you can get blurred or corrupted photos. It's annoying, but you can repair them with the methods given below:
Fix 1: Fix Blurry Pictures with 4DDiG File Repair[3 Steps Only]
4DDiG File Repair tool is a photo repair tool designed to repair blurry photos and other photo corruption issue. The repair steps are simple, and you can repair your old, corrupt, scratched, damaged, or blurry pictures in just 3 steps. Its features include:
Repair photos from internal and external drives, digital cameras, SD cards, and USBs.
Bulk photo repair up to 3,000 files.
Repair multiple photos in various formats at once.
Automatic and fast repairing process.
Support the repair of corrupted/damaged/blurred photos and videos in 3 steps.
Here's how to fix blurry photos with 4DDiG File Repair:
Download and install 4DDiG File Repair on your device. Open the software to olocate the "Photo Repair" tab. Click on the "Download" button under the "Enhance Photo Quality" to get the enhancement tool for your blurry pictures.

Add your blurry photos to the software and then select an AI model from the right pane. You can also adjust the resolution up to 8X for the photos. Press the "Preview" button and the tool will start processing your photos and removing the blurriness.

Once the enhancement is finished, you can preview the enhanced photo which is no longer blurry. Simply hit the "Export All" button to save the clear photos. And that's how easy to repair blurry photos with 4DDiG File Repair.
Fix 2: Use Photoshop to Repair
Photoshop is an industry-leading software for photography. But you can also use it to repair blurry or corrupted photos. Here's what to do:
Step 1: Open Photoshop and go to the "Filter" option in the above menu bar. Then choose "Sharpen" from the Filter menu.
Step 2: Choose the "Shake Reduction Filter" to automatically scan and repair the blurry picture. The progress bar will show the scanning process.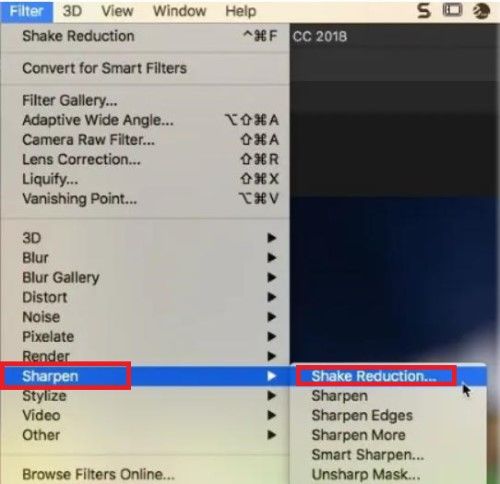 Once the scanning is complete, Photoshop will display a clear image. 
Fix 3: Repair Blurry Pictures with Picverse
Picverse is a comprehensive photo editing tool that uses AI to edit and repair photos. Here's how to fix a blurry picture with Picverse:
Step 1: Choose a blurry image and add it by either dragging it into the editor or select File > Open to add it from your computer or Mac.
Step 2: Choose the "Adjust" tab from the left Tools panel. You can select "Automatically" or "Manually." However, Automatically may not give you the results you want.
Step 3: "Manual" mode offers many adjustable tools. Then move to the "Detail" tab in the "Manual" mode. 
Step 4: Use the Sharpness and Details slider to adjust. For a final touch, scroll to the "AI adjust" tab while remaining in "Manual" mode and select "Enhance." Use the slider to adjust and press "Apply." 
Now any blurriness in your photo will be cleared. However, to save files without the watermark, you'll have to buy a subscription to Picverse.
Fix 4: Repair Blurry Pictures with Fotor
Fotor is a browser-based photo editor that you can use to repair your blurry or corrupted photos. You won't need an account to fix pictures, but you'll need to make one or sign in with your Google ID to save results. Here's how you can fix blurry photos with Fotor:
Step 1: Open the Fotor website from your browser, and select "Photo Editor" from the "Get a Quick Start" tab.
Step 2: Drag the image in the editor or choose "Open Image" to select a blurry photo from your device.
Step 3: Choose the "Adjust" tab from the left panel and move to "Basic Adjust."
Step 4: Move the slider on "Sharpness" to adjust to your liking. But don't move it too high otherwise, your image will be grainy. Also, turn up the "Contrast" slightly while remaining in the "Basic Adjust" mode.
After removing the blurriness, download your photo.
Fix 5: Repair Blurry Pictures on Phone[Android & iPhone]
If you are an Android or iOs user and don't want to use the above methods to fix blurry pictures, we have an easy solution for you. Follow the steps below: 
For Android Users
Step 1: Open your phone's "Settings." Then locate "Applications" and select "Application Manager" from the menu.
Step 2: Swipe left to get the "All" tab option and search for "Camera app" and press on it to open a new tab.
Step 3: Hit "Force Stop" to close your "Camera app." Open the Camera app again and check your photos. Sometimes pictures appeared blurred due to the Camera app getting crashed.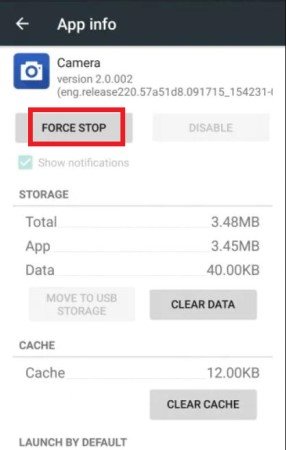 For iPhone Users
Step 1: If you own an iPhone 8 or later, open the app switcher. But if you have iPhone X or above, just swipe from the bottom of the screen to its center.
Step 2: Swipe the "Camera app" off the top of the screen to close it.
Now open the app again to check for results.
Part 3: Why you Should Choose 4DDiG File Repair to Fix Blurry Pictures?
The tools mentioned earlier for repairing blurry photos, such as Fotor, Photoshop, and Picverse, may not always work. That's because they are photo editing software and are not mainly focused on repairing blurry or corrupted photos. So, they have limited features in terms of repairing photographs. Moreover, they are time-consuming as you'll have to manually adjust the settings to remove blurriness. Also, they are not for new users but professional photo editors. So, navigating them can be confusing. They don't allow repairing blurry photos in bulk as well. Therefore, we don't recommend purchasing a photo editing software subscription just to remove blurriness. On the other hand, 4DDiG File Repair tool differs in that aspect that it is primarily a photo repairing and recovery tool. It can repair videos and photos in any condition, be it old, scratched, blurry, greyed-out, or pixelated from all kinds of external or internal drives.
Bonus Tip: How to Prevent Blurry Pictures?
Above, you read the methods of fixing blurry photos and what causes them. But do you know that there are some excellent ways to capture good-quality images without blurring them? Here's how to make a picture not blurry:
Hold the camera in a firm and steady grip and position it correctly. Your hands should not be shaky.
You'll have to be creative and have an excellent aesthetic sense to take photos.
If you need to capture sharp pictures, choose a fast shutter speed.
Focus the camera on the object correctly.
Consider the distance from where you are taking photos. A larger distance from the object will cause blurriness in photos.
A good-quality lens is vital to capture a high-quality image. Also, clean the lens properly to prevent blurriness.
Conclusion
Whether you capture pictures for fun or your business, blurry photos can be annoying. Especially if you don't know how to fix blurry pictures and can see your hard work going down the drain. But repairing them is possible. The main aim of our guide was to help you learn ways to fix blurry photos, what causes blurriness, and how to prevent it. If you don't want to go into the hassle of using a photo editor to fix blurry photos manually, we recommend using the 4DDiG File Repair tool. Firstly, it is designed to repair photos and videos from all kinds of storage devices. Secondly, it can repair photos in bulk regardless of their condition in just 3 steps. The whole process is automatic, so you won't have to fix each picture manually.