How to Fix Low Resolution Photos?

"I have to upload some photos to my company's website that I have taken with my phone. However, they are of low resolution and are not looking nice on the website. Is there a way to increase their resolution quickly? Thank you!"
Photos are a means of capturing your life in moments. They are a pathway to times you want to remember fondly. But you won't be able to do that if the pictures you have are blurry or of low quality. Low quality usually stems from the low resolution of images. Although it is recommended that you try and take high-quality pictures to avoid this issue, a lot of the time it's not possible. In these situations, you are left with the question, how to fix low resolution photos. Well, there are not a lot of ways to fix this issue but the ways that do exist are extremely effective. In this article, we will enlighten you about both of those ways and tell you how to use them to alter the resolution of your images. So keep your low resolution at ready because we are going to be making them high quality in no time.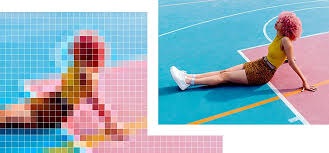 Part 1: What Causes a Low-Resolution Photo?
A low resolution photo is an irritating problem. It's not aesthetic and can't be used anywhere. But why do images lose their resolution? Well, there are various reasons which are as follows,
A photo that is enlarged without proper tools carries a high risk of getting degraded. Enlargement affects resolution and image quality significantly. Therefore, the use of a proper image resizing tool is recommended while editing your photos.
A major cause of blurry photos is shaky camera work. If the photo is not taken correctly at the source it becomes extremely difficult to correct it later.
Low-quality or blurry images can also result from improper camera settings. An improperly focused photo is one of the major causes of this problem.
ISO, aperture, and exposure can play a key role in image resolution. Cameras in which these settings are not optimized correctly tend to give out low resolution images.
Corrupted files are a big reason why you have low-resolution images on your PC. So make sure you repair these kinds of files at the earliest.
Part 2: How to Fix Low Resolution Pictures?
Now that we have looked at the potential causes of low resolution images, let us focus on how to fix low resolution pictures. As we said earlier, there are two extremely effective ways in which you can fix the pictures. These include using Photoshop and using a professional file repair app called the 4DDiG file repair app. We will look at them one by one and understand how they work. Let us start with the 4DDiG app.
Solution 1: Fix Photo Resolution with 4DDiG File Repair
Fixing the resolution of a photo is no easy task. Tools present by default in Windows are not enough to fix a photo's resolution. In these situations, you require professional help. An app that can fix your resolution issue quickly with high quality. An app like that exists and goes by the name of 4DDiG file repair app. The 4DDiG photo repair is an efficient tool that can repair almost any photo. Some of its best features include,
Fix blurry photos, pixelated or overexposed photos with ease.
Jpg, jpeg, arw, cr2, erf, nef, pef, orf, raw, srw, crw, and raf formats are supported.
3000 photos can be repaired at a time.
Fast repair times with no loss in quality.
Smooth, intelligent, and user-friendly interface for an enhanced user experience.
Launch the app once you have downloaded it. Then you can select Photo Repair to proceed.
You'll now be taken to the photo repair window wherein you'll have to add the low-resolution image. Once done, click on the 'Repair' button to start.
After the repair process is complete you can view the end result. If you are content with the results, save them on your PC.
Voila, you have now successfully repaired your low resolution image with nothing but a small yet effective image repair software.
Solution 2: Fix Picture Resolution with Photoshop
Photoshop is considered as the gold standard for dealing with anything related to photos. It is no different in this scenario. Photoshop is the perfect answer to the question, how to fix low resolution photo. Photoshop can fix your photos instantly. Here's how to fix picture resolution using Photoshop in 3 easy steps.
Step 1: Launch the Photoshop software on your PC and open the low resolution image in question. You can do this by going to the File menu and searching for the image on your PC.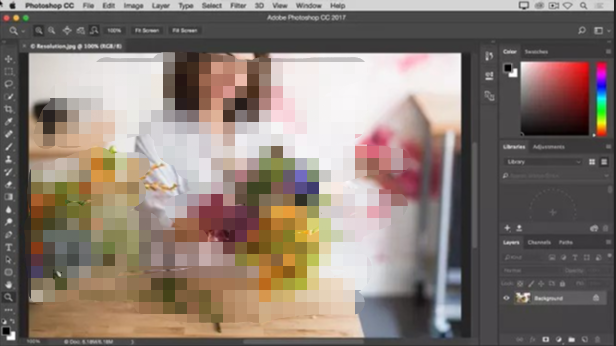 Step 2: Once the image is open in Photoshop, go to the 'Image' tab and choose the 'Select Image Size' option.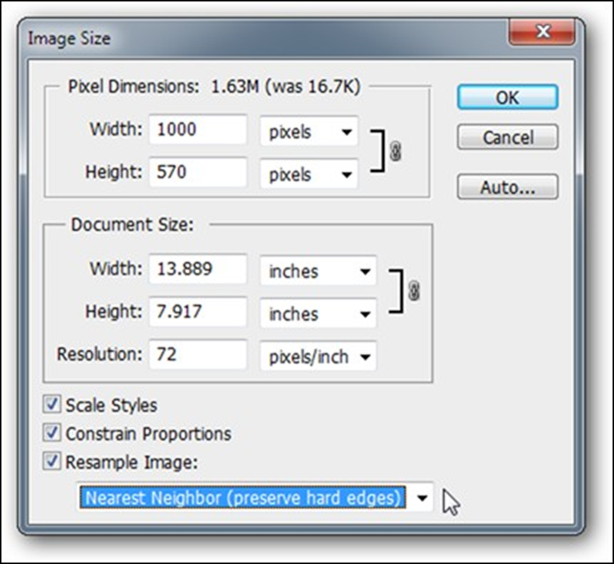 Step 3: In the window, you'll see various parameters like 'height' and 'width' that you can change to improve the resolution of the image. Once you are done click on the 'OK' button to apply the changes.
Photoshop is the perfect app to answer the question of how to fix photo resolution. However, you must know exactly how it's done. So play around with the Photoshop tools for a bit and see what settings give you the highest quality and apply them.  
Part 3: How to Avoid Low Resolution Photos?
The best answer to the question of how do i fix a picture with too low resolution is to avoid taking a low resolution image in the first place. Here are some tips that you can follow to avoid low resolution photos in the future,
Resize your pictures only when necessary.
You can edit the image after capturing it to correct aspects such as brightness or contrast.
Always try to capture pictures in RAW formats rather than in JPEG.
Always use a tripod or monopod to stabilize your device and get more stable photos.
Keep the ISO rating in your cameras low to ensure high quality.
FAQs about Low Resolution
1. What can I do to improve the resolution of a photo?
Nobody likes blurry or pixelated photos. Luckily there are two very good answers to the question, how to fix resolution on photo. These are Photoshop and the 4DDiG file repair app. You can use the resize the image in Photoshop to improve the resolution or you can repair it by using the 4DDiG photo repair app.
2. How do you fix low-resolution photos on an iPhone?
There are no easy answers to the question, how to fix low resolution pictures on phone because you cannot keep the image as it is and increase its resolution. You'll either have to alter it in some way or change your camera settings so that all the images that are clicked are of high resolution. You can do this on an iPhone by going to Settings> Camera > Formats. In the formats, section choose the 'Most Compatible' option. This will save the pictures that you click in the highest quality possible.
3. How do I fix low-resolution photos without Photoshop?
If you do not want to use Photoshop to fix your low resolution pictures you can use professional image repair apps. One of the best apps in that category is the 4DDiG file repair app which will not only repair your photos but also fix their resolution issues.
Summary
If you were worried about your blurry pictures and how to fix a low resolution photo, we hope the guide did everything to alleviate your worry. So download the 4DDiG file repair app now and get rid of all the pesky low-resolution photos on your pc.