How do I fix a corrupted 3GP file?

"Hey guys, I have an original 3GP file where the video freezes at a certain point but the audio continues working just fine. Do you think this is fixable? I know a thing or two about video editing but I am definitely not a pro so I would appreciate your help."
In the era of high-resolution 4K videos, the 3GP file format remains popular due to its efficient compression and compatibility with low-configured devices. However, one common issue faced by users is the corruption or damage of 3GP files. In this comprehensive guide, we will explore the top 5 effective methods to repair 3GP files, ensuring you can recover your valuable video content hassle-free. Whether you're a professional videographer or an everyday user, these techniques will empower you to restore your damaged 3GP files with ease.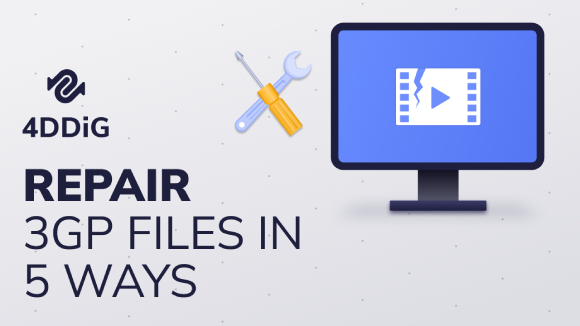 Part 1. What Did My 3GP Video File Get Corrupted?
Before we delve into the methods of repairing 3GP files, it's important to understand the common causes of file corruption. Various factors can contribute to the damage or corruption of 3GP video files. Let's explore these causes in detail:
Unreliable Source Downloads: If you download a 3GP file from an untrustworthy or unauthorized source, there is a higher risk of encountering corrupted or damaged files.
File Transfer Errors: Interruptions or errors during 3GP file transfers, like disconnections or incomplete downloads, can lead tocorrupt files. Network issues, USB drive problems, and other transfer medium issues can also cause 3GP file corruption.
Software Issues: Problems with your operating system, media players, or other software used to handle 3GP files can result in file corruption. This includes software crashes, conflicts, or improper handling of the files.
Physical Damage to Storage Media: Physical damage to the storage device where the 3GP files are stored, such as hard drive crashes, bad sectors, or media deterioration, can corrupt 3GP files,making them inaccessible or causing playback issues.
Improper File Conversion: Incorrect or faulty conversion of video files to the 3GP format can introduce corruption.
Part 2. How to Repair 3GP Files?
Having gained insight into the causes of 3GP file corruption, it's time to explore the top 5 methods to effectively repair and restore your valuable 3GP files. From utilizing a professional video repair tool to installing the K-Lite Codec Pack, these methods will effortlessly recover your 3GP files, allowing you to regain access to your cherished videos.
Method 1. Repair 3GP File with Free Online Video Repair Tool
One convenient option to repair your corrupted 3GP files is by using a free online video repair service like 4DDiG File Repair online tool. This specialized platform offers a free and convenient way to fix various video file formats, including 3GP. No need for third-party installations – simply access it from any device and effortlessly repair your corrupted files.
Here's how you can utilize this tool to effectively repair 3GP file online at no cost.
Open the web browser and visit the 4DDiG Free Online Video Repair website.

Click on the Upload Videos button and select the corrupted 3GP video file from your storage device. Alternatively, you can drag and drop the corrupted video file.

Wait a few moments for the video file to get uploaded and repaired automatically. After that, you can preview and save the repaired 3GP video file on your storage drive.
Note: While using a free online video repair service is convenient, the success rate may vary depending on the extent of the corruption.
Method 2. Repair 3GP File with 4DDiG Video Repair Tool
HOT
If the free online video repair service didn't meet your expectations or you need to repair damaged 3GP video files in bulk, using professional 3GP video file repair software like 4DDiG File Repair is the best way out. Designed for repairing heavily corrupted or damaged video files, it has a high success rate in recovering corrupt video files while maintaining their original resolution. With 4DDiG File Repair, you can effortlessly preview and export the repaired video files to your computer.
Simply follow these steps to repair your damaged 3GP video files.
Download and install 4DDiG File Repair on your Windows or Mac. Launch the application, click on the Video Repair tab and then choose the "Fix Video Errors" option.

Click on the Add Videos to Start Repair button and select the damaged 3GP video files from your device storage.

Click on the Start Repair button to initiate the repair procedure. 4DDiG File Repair Tool will analyze the file and attempt to fix any errors or corruptions.

After the repair process is complete, the software will provide a preview of the repaired 3GP files. You can play the videos within the tool to verify if the repairs were successful. If you're satisfied with the results, click Export All to save the repaired files to a desired location on your computer.

If you're satisfied with the results, click Export All to save the repaired files to a desired location on your computer.
Method 3. Repair Corrupted 3GP Files Using VLC Media Player
VLC Media Player, a popular and versatile multimedia player, can also be used to repair corrupted 3GP files. It has built-in features that can help fix minor issues in video files. Here are the steps on how to repair 3GP video files directly from VLC Media Player.
Open VLC Media Player and go to Tools > Preferences.

From the Preferences dialog box, select the Input/Codecs tab from the top.

Go to the Files section and select "Always Fix" option against the Damaged or Incomplete AVI File label.
Note: If your 3GP video file has any issue other than the indexing issue, this method might not work.
Method 4. Convert the Corrupted 3GP File to Another Format
Sometimes, converting the corrupted 3GP file to a different format can help salvage the video data. This is because when you convert the video file, it gets reindexed, which could have been broken previously. This method is also useful when you have a video player incompatible with 3GP files.
You can use video conversion software like VLC media player, HandBrake, or FFmpeg to convert the 3GP file to a more stable format such as MP4. Here are the steps for 3GP corrupted file repair by converting it to another format.
Launch VLC Media Player on your computer, go to the "Media" tab in the top menu and select "Convert/Save" from the dropdown menu.

In the "File" tab, click on the "Add" button to select the corrupted 3GP file you want to convert. Once selected, click on the "Convert/Save" button at the bottom.

Choose MP4 as the output format for the converted file by clicking on the dropdown arrow next to the "Profile" field. After selecting the destination folder where you want to save the converted file, click Start.

The conversion process will initiate, and the new MP4 video file will get downloaded automatically. Once the conversion is complete, try playing the newly converted file to see if it resolves the issue.
Method 5. Install the K-Lite Codec Pack
If you have converted your corrupted 3GP file to MP4 format and the file still does not play on your media player, you need to get K-Lite Codec Pack. It is a collection of video and audio codecs that enables the operating system to play different video formats that might not have been compatible beforehand. Here are the steps to install the K-Lite Codec Pack on your computer.
Download the K-Lite Codec Pack on your computer from K-Lite Codec Pack website.
After downloading the file, double-click on it to run the installer.

Follow the on-screen instructions and leave all the options default without making any changes. On the File Associations screen, select the Media Player Classic option if it is not checked already.

After the installation gets over successfully, restart your computer and play the 3GP file again.
Part 3. Best Practices to Prevent 3GP File Corruption
Prevention is better than fixing file corruption. Here are certain steps to prevent 3GP video files from getting corrupted or damaged.
Avoid Interruptions: When transferring 3GP files between devices or over a network, ensure the process completes without interruptions. Sudden power loss or network disconnections can lead to file corruption.
Avoid Renaming: Renaming a 3GP file after downloading or transferring it from another device can potentially lead to file corruption in certain situations. It is advisable to keep the original file name to maintain the integrity of the video file and avoid any potential issues.
Safe Ejection: When playing a 3GP file from an external device, avoid ejecting the device while the video is playing. Instead, close the media player and safely eject the device from your computer. Sudden ejection can cause damage to 3GP files on the external device.
Protect Against Malware: Keep your system protected against malware and viruses by using reputable antivirus software. Malware can corrupt files, including 3GP files, so regularly scan your system and keep your software up to date.
Keep a Backup: Regularly back up your 3GP files to a separate storage device or cloud storage. This ensures that even if corruption occurs, you have a copy of the original file.
Final Thoughts
3GP files can easily become corrupted or damaged, but there are effective methods for repair. For basic corruption, you can use the 4DDiG online video repair service or convert the file to MP4 using VLC Media Player. However, for heavily corrupted files, the recommended solution is the powerful 4DDiG File Repair tool. This tool ensures successful repair and recovery of your valuable 3GP files, providing you with a seamless resolution to your file corruption woes. Trust in these methods to restore your files and regain access to your cherished 3GP videos.