Transforming a color photo into black and white is a breeze with a single click in any photo editor. However, breathing new life into a black-and-white photo from the past and turning it into a vibrant color image require more expertise. Colorizing black and white photos involves infusing monochrome images with a realistic and visually pleasing color palette. That's where professional photo editors like Adobe Photoshop shine.
Adobe Photoshop is renowned as the go-to choice for professionals, offering an extensive range of tools to effortlessly convert monochrome photos into stunning color images. With Photoshop, you can not only add natural colors to objects within the photo but also fine-tune the color adjustments for optimal results. In this article, we'll walk you through how to colorize black and white photos in Photoshop like a pro. Additionally, we'll explore alternative methods to bring color to your black-and-white photos without relying on Photoshop.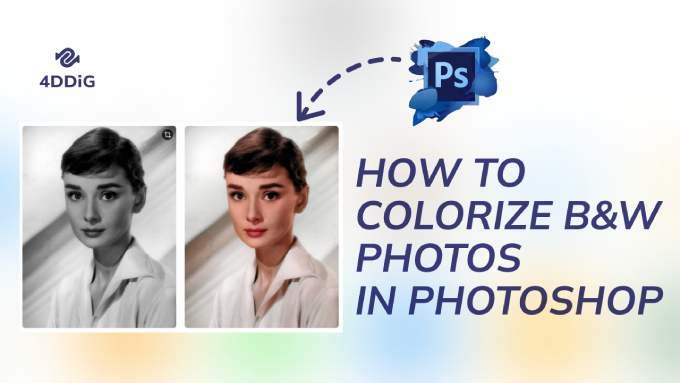 Part 1. Tips Before Colorizing Black and White Photos in PhotoShop
Before diving into the exciting process of colorizing black and white photos in Photoshop, it's essential to consider a few important tips. These guidelines will help you achieve better results and ensure a smooth workflow. Let's explore them:
Start with a High-Quality Scan: To retain maximum detail, start with a high-resolution scan of the black and white photo. This forms a solid foundation for colorization, resulting in a clearer and more refined outcome.
Learn Keyboard Shortcuts: Familiarize yourself with the keyboard shortcuts specific to the brush and painting tools in Photoshop. Mastering these shortcuts saves significant time during colorization projects.
Acquire Color Knowledge: Acquire a basic understanding of color theory principles to comprehend the interactions between different colors. This knowledge aids in creating colorized images that are harmonious and realistic.
Seek Reference Images: Gather reference images from the same era or similar settings to guide your color choices. These references provide insights into the prevalent color palettes of that time, assisting in accurate colorization.
Use Adjustment Layers: Make use of adjustment layers in Photoshop to experiment with various color effects. This technique allows for easy and non-destructive changes, granting you enhanced flexibility and control throughout the colorization process.
Part 2. How to Colorize Black and White Photos in Photoshop?
There are multiple ways to colorize black-and-white photos in Photoshop. In this guide, we'll focus on two of the easiest methods: using the Brush tool for manual color blending and utilizing the exclusive colorize filter for instant colorization. Let's delve into the detailed steps for each method.
Method 1. Use Brush Tool
The Brush tool in Photoshop is designed for painting colors onto photos. By employing this tool, you can paint colors onto every object within your black-and-white photo. To ensure the color blends seamlessly without compromising detail, you'll need to adjust the blending mode to "Color." Please note that this process can be time-consuming, so be patienct. Here's a step-by-step breakdown of how to colorize black-and-white photos in Photoshop using the Brush tool:
Open the black-and-white photo and create a backup by copying it to a new layer. To facilitate easy access, create separate layers for each color and label them accordingly.

Select the Brush tool from the toolbar and set the brush hardness to 100%. Choose a foreground color for painting the objects in the photo. Then begin drawing the color onto similar objects.

Once you have completed the painting on similar objects, go to the Layers Panel. Here, you must change the Blending mode to "Color" from "Normal." You will see that the color you have painted sync with the objects naturally. Zoom in to check for any missed areas and paint them to ensure a cohesive appearance.

Repeat the previous two steps for all objects in the photo, creating separate layers for each. If any colors overlap, adjust the layer positions accordingly.
Method 2. Use Photoshop's Colorize Filter
If manual colorization using the brush tool doesn't appeal to you, an alternative method is to utilize the exclusive Colorize filter in Photoshop for automatic colorization. The Colorize filter was initially introduced as a beta filter in Photoshop 2021, but it has become an official feature in Photoshop 2022. It is part of the Neural filters. Here are the steps on how to add color to black and white photo in Photoshop using Colorize filter.
Open the black-and-white photo and navigate to the Image menu. Choose "Mode" and select the RGB color option.

Go to the Filter menu option and click on the Neural Filters.

From the listed Neural Filters, go to the Colorize filter. You may need to download the filter if you are using it for the first time. After the download is complete, enable the filter, and you will observe the photo being automatically colorized.

Once you have applied the initial colorized effect, you can further fine-tune the colorized filter by adjusting various parameters and settings to achieve the best result for the colorized photo.
Part 3. How to Colorize a Black and White Photo without Photoshop?
Using the brush tool to colorize black and white photos in Photoshop can be time-consuming and may require extensive knowledge of colors for optimal results, and the colorize filter in Photoshop still has room for improvement. Given to this, you may wondering if there are better alternatives available. Fortunately, you can turn to dedicated photo colorizer software or utilize online AI photo colorizers to achieve excellent colorization results. In this section, We will illustrate how to colorize a black and white photo without Photoshop.
Method 1: Colorize Black and White Photos with Photo Colorizer Software
HOT
An excellent alternative to Photoshop for colorizing black-and-white photos is 4DDiG File Repair. With just a single click, you can effortlessly add colors to your photos, eliminating the need for expertise in color manipulation or the complexity of Photoshop. It utilizes an advanced AI algorithm to automatically infuse natural and vibrant colors and has the ability to detect human faces and apply natural skin tones for enhanced realism.
Here are the steps to colorize black and white photos via 4DDiG File Repair.
Begin by downloading and installing 4DDiG File Repair on your computer. Launch the program and navigate to the Photo Repair section. Click on the Downloads icon to download the photo colorize toolkit specifically designed for photo colorization.

Select the Add/Drag Photo button to import the black-and-white photo from your device storage. You can add multiple black-and-white photos if desired. On the next screen, select the black-and-white photo and choose the desired resolution. Turn on the Face Detection option if there are human faces in the photo.

Finally, click the Preview option, and the photo colorization process will initiate. You can compare the original and the result photos instantly. If you have imported multiple photos, repeat the last two steps for every photo.

Click the Export All button and save the colorized photos to your preferred location on your computer.
Method 2. Colorize Black and White Photos with Online Photo Colorizer
If you prefer not to install dedicated software or apps, you can use an online photo colorizer like Palette. Palette is an excellent online AI photo colorizer that automatically adds color to black-and-white photos. It also provides various color filters for you to instantly apply and choose the most visually appealing one. Please note that if you want to download the colorized photos in HD resolution, you may need to purchase credits. Here's a simple guide on how to turn black and white photo into color online via Palette.
Open Palette official website from your web browser. Click on the Upload Image option and select the black-and-white photo you want to colorize.

The colorization will take a few seconds. The default colorization filter is the base palette. You can select and apply the available filters to get the natural color tone on your photo.

Finally, click on the Download option to save the colorized photo. If you click on the HD download option, make sure you have purchased credits beforehand.
Final Thoughts
Hopefully, you have understood clearly how to colorize black and white photos in Photoshop. With the brush tool and colorize filter, you have powerful tools at your disposal to bring life and vibrancy to monochromatic images. However, if you're looking for a superior alternative to Photoshop for photo colorization, we highly recommend 4DDiG File Repair. This desktop tool provides an efficient and effective way to add natural and realistic colors to your black-and-white photos. Just embrace the possibilities and let your creativity soar with this remarkable tool.