Do your video footages fall short of having that oomph factor? It can be frustrating when your videos don't meet your expectations in terms of visual quality. Whether it's a lack of sharpness, dull colors, or overall underwhelming visuals, it's a common issue among many content creators and video enthusiasts. But fret not.
In this article, I'll introduce you to the 9 best video quality enhancers out there in 2023. From AI-powered to online video enhancers, you'll get the chance to bring your lackluster video footage to life with stunning clarity. We'll also delve into the strengths and weaknesses of each tool, so you can make an informed decision and choose the perfect one for your needs. So, without hesitating, let's check them out.
Best 5 AI-Powered Video Enhance Software
AI-powered video enhancement software has become an invaluable tool for content creators and filmmakers. Harnessing the power of artificial intelligence, these video quality enhancers help elevate your video quality to new heights with ease. Here, we've presented the top 5 best video enhancer software powered by AI. Read on and explore their unique features:
Our top-of-the-list AI video quality enhancer is 4DDiG Video Repair, While primarily known for its video repair capabilities, 4DDiG Video Repair also incorporates AI-powered video enhancement algorithm, setting it apart as an exceptional software solution for improving video quality.
By intelligently analyzing video frames and applying advanced algorithms, this software effectively restores and enhances the quality of videos afflicted by issues such as pixelation, blurriness, color distortion, and other visual imperfections. Now let's checkout its standout features in more detail.
Key features of this video quality fixer:
Upscale the HD (1080p or 720p) videos to 4K, and up to 8K resolution.
One-click repair choppy, fuzzy, grainy, and corrupted footage.
Supports a wide range of video formats such as MP4, MOV, M4V, MKV, and more.
Enhance multiple videos simultaneously with batch processing, saving time and effort.
Provides a preview of the enhanced video, enabling users to compare it with the original version.
Here's how to enhance video quality with the help of 4DDiG File Repair:
Download Video Enhancement Toolkit

Download and install the 4DDiG File Repair tool on your computer. Open the tool and select "Video Repair" from the interface. Choose "Enhance Video Quality" and download the toolkit. Once the download is complete, click "Start" to initiate the video enhancement process.

Import Videos

Choose "Add/Drag Video" to upload all the videos you want to enhance.

Choose Video Enhancement Mode

Select a desired enhancement mode from General, Anime, or Face Models and adjust the resolution. Then click on "Preview." The 4DDiG tool will display a preview of the initial frames of the enhanced video. Please wait for the process to finish.

Export Enhanced Videos

Check whether you're satisfied with the enhanced videos. If satisfied, click "Export All" to save them on your computer.
The second big name in AI video quality enhancer is HitPaw Video Enhancer. As one of the best video upscaling software for upgrading footage, it uses three awesome models to improve video quality drastically. The Denoise Model brightens up those low-light and dull clips. While the Animation Model gives a more natural look to anime clips on high-quality screens by sharpening them and adding vibrant colors. The Face Model retouches portraits in each frame, adjusting brightness, saturation, and contrast for a flawless finish.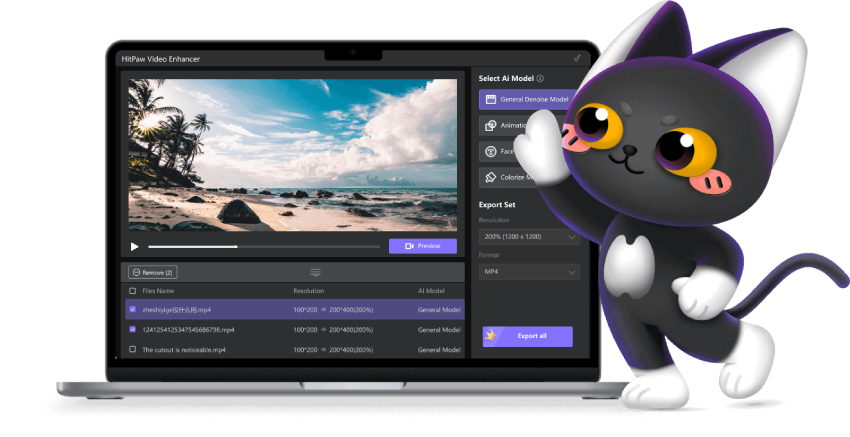 Main features of this quick 8K/4K video enhancer:
Automatically upscale video with trained AI.
Enhance your videos quickly and easily with just one click.
Enhance and enlarge low-resolution videos up to 4K/8K.
Eliminates background noise for clearer footage.
While HitPaw Video Enhancer is feature-rich, it also has a few limitations that should be taken into consideration. Below we've listed its pros and cons.
Pros:
User-friendly interface
High-quality enhancement results
Extra video editing features
Video properties are customizable
Stacked with filters, stickers, and video transitions
Updates automatically
Cons:
Limited control over output quality of downloaded videos
Slower download speed compared to some other tools
Dependency on source video quality
Higher pricing for Mac users
Inability to purchase separate features individually
AVCLabs is another powerful AI video quality enhancer that deserves a spot on our list. This software utilizes advanced techniques such as super-resolution upscaling and multi-frame enhancement to upscal videos from SD to HD, HD to 4K, and even 4K to 8K. But it doesn't stop there – AVCLabs Video Enhancer AI goes beyond resolution enhancement. It allows you to retouch faces and beautify portrait-style footage, ensuring stunning visuals. Whether you're aiming to create captivating visual content or simply upgrade video quality, this tool is an excellent choice that guarantees exceptional video enhancements.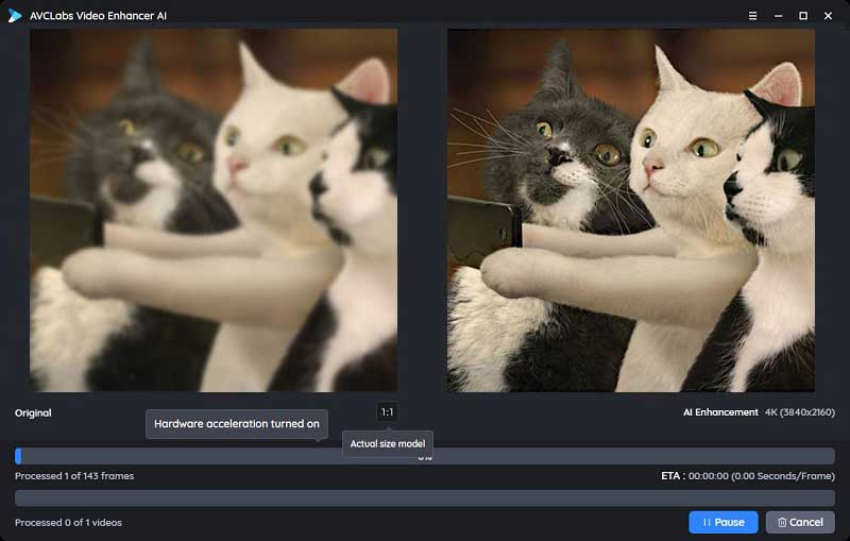 Some of the key features of AVCLabs Video Enhancer AI include:
Upscale video resolution from standard definition to stunning 4K and 8K.
Remove noise and grain from videos, resulting in clean and visually appealing results.
Sharpen faces and enhance facial details with dedicated AI algorithms.
Deinterlace videos for smoother playback.
Eliminate flickering in videos for a seamless viewing experience.
As with any software, AVCLabs Video Enhancer AI has its own set of advantages and disadvantages. Let's delve into the detail so that you can evaluate its suitability for enhancing your video quality.
Pros:
Intuitive user interface
Fine-tune settings to enhance videos
Supports multiple input and output video formats
Automatically improve videos with Optional AI models
Cons:
Free trial version adds a watermark
Requires high-performance computer hardware
Topaz Video AI is a video quality improver that identifies and addresses imperfections with remarkable accuracy, resulting in natural and high-quality video output. With machine learning technology and support for upscaling videos up to 8K, this tool is a game-changer in improving video quality.
It can improve video resolution, adjust colors, reduce flicker, and sharpen blurred areas. What's more, it offers editing features like restoration, slow-motion effects, trimming, deinterlacing, and denoising.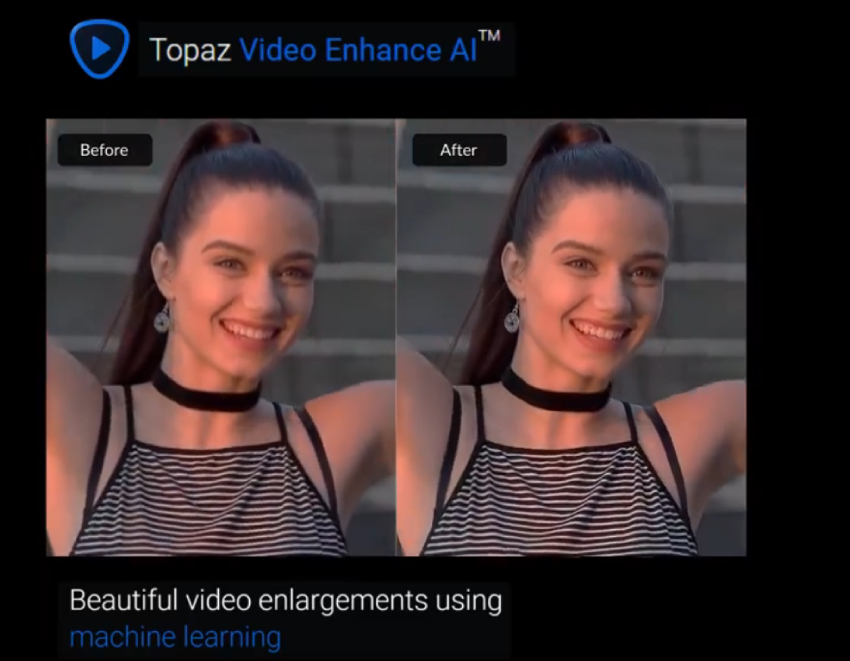 Key features that Topaz Video AI offers:
Enhance resolution by gathering details from multiple frames
Remove noise, grains, and flickering from videos
Restore old videos while enhancing details
Denoising video without softening footage
Deinterlacing videos Without reducing quality
Topaz Video AI offers several advantages and disadvantages worth considering. Here's a concise breakdown:
Pros:
Upscaling capability up to 4K and even 8K resolution
Exceptional video quality
Various AI models tailored for different video types
Ease of use for seamless video enhancement experience
Cons:
Costly with a $299.99 one-time price and additional fees for updates.
Improving video quality may require several hours to complete.
Requires a powerful computer with advanced specifications
DVDFab is a 4K video resolution enhancer that can not only upscale videos to 4K but will also remove noise and blur from the footage. Moreover, it can boost saturation and brightness and automatically sharpen and color-correct videos. You won't need to manually tinker with the settings as it can automatically process everything.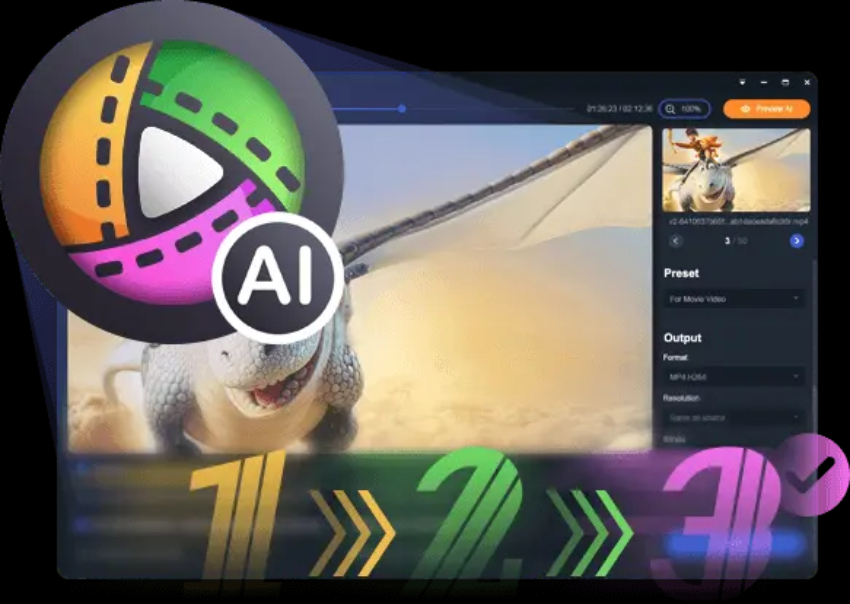 The key features in DVDFab Video Enhancer AI include:
Uses AI models trained by a neural network plus super-resolution technology
Upscales low-res videos to 4K
Enlarge video by 200% without losing quality
Fixes blur, noise, and jagged edges
DVDFab Video Enhancer AI also brings its own set of advantages and disadvantages to the table.
Pros:
Beginner friendly
Supports a wide range of video formats
Cons:
Supports Windows only
No video clipping feature
Best 4 Online Video Enhancers
Now, let's shift our focus to online video enhancers that empower users to enhance their videos directly through their browsers, eliminating the need for software installation. With an online video enhancer, you can effortlessly improve video quality online without the hassle of downloading or managing additional software.
Remini is an online photo plus video quality enhancer that uses a machine learning algorithm to improve quality. It also eliminates blur and noise, increases sharpness, adds pixels, and stabilizes video. You can easily upload the required video online and download it after the enhancement process.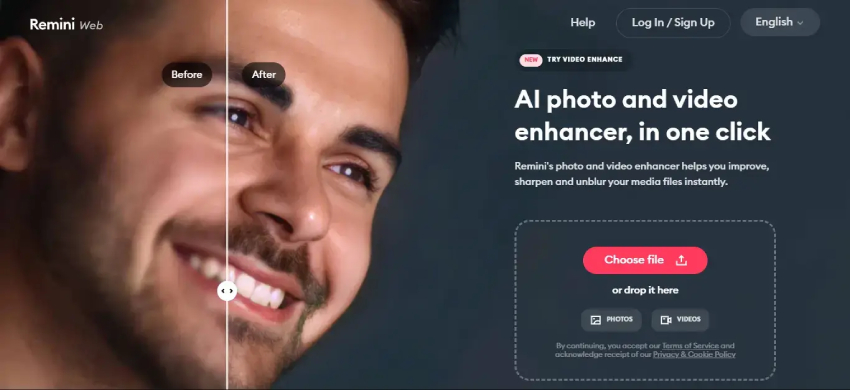 The main features of Remini Video Enhancer are listed as follows:
Uses artificial intelligence to enhance videos automatically
Uses high-performance computing to process to enhance videos quickly
Customizable video enhancements
Noise reduction and blur removal
Below are the main pros and cons of Remini Video Enhancer.
Pros:
Batch processing of videos simultaneously
Fast processing speed
Advanced editing tools such as curves, levels, and color balance adjustments
Ability to save projects in progress so you can come back later to finish them
Cons:
Relies on a stable internet connection
Watermark on the output-enhanced video
Free trial version adds a watermark
Clideo video enhancer is an online versatile platform offering a range of editing tools for images, audio, and videos. Using Clideo's Adjust Video tool, users can easily fine-tune various aspects such as brightness, contrast, and saturation and even add effects like vignette and fade to their videos.
However, it's important to note that this online video quality enhancer is limited – it cannot process media files larger than 500 MB.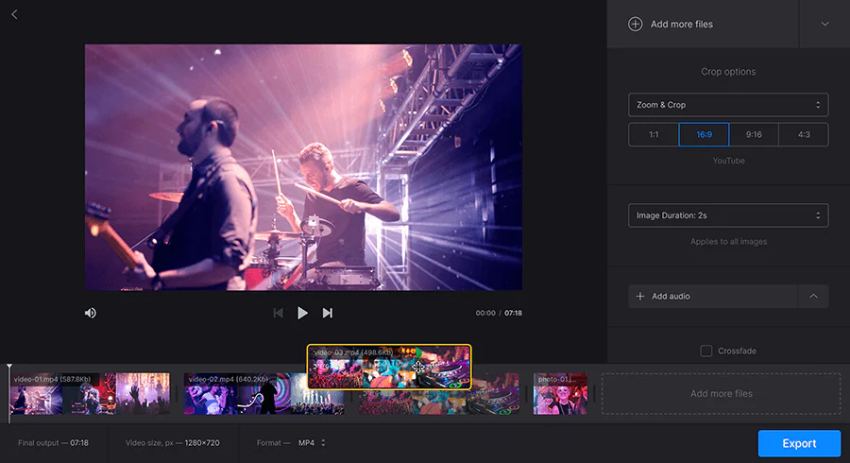 Clideo Video Enhancer boasts an impressive set of features, including:
Improve video quality by adjusting brightness, contrast, and saturation
Reduce unwanted background noise and graininess in videos
Upscale video resolution for sharper visuals
Stabilize shaky footage for smoother playback
Just like any tool, Clideo Video Enhancer comes with its share of advantages and disadvantages.
Pros:
User-friendly interface for easy navigation and use
Online accessibility from any device with an internet connection
Multiple enhancement options for adjusting videos
Cons:
Longer preprocessing time for videos
Can only enhance file size of less than 500MB
Absence of direct resolution selection options
Veed is a user-friendly online video enhancer tool to effortlessly produce professional-grade videos with just a few clicks. It can reduce noise and adjust frame rate, resolution, size, lighting, and audio quality easily.
Veed is a user-friendly online video enhancer tool to effortlessly produce professional-grade videos with just a few clicks. It can reduce noise and adjust frame rate, resolution, size, lighting, and audio quality easily.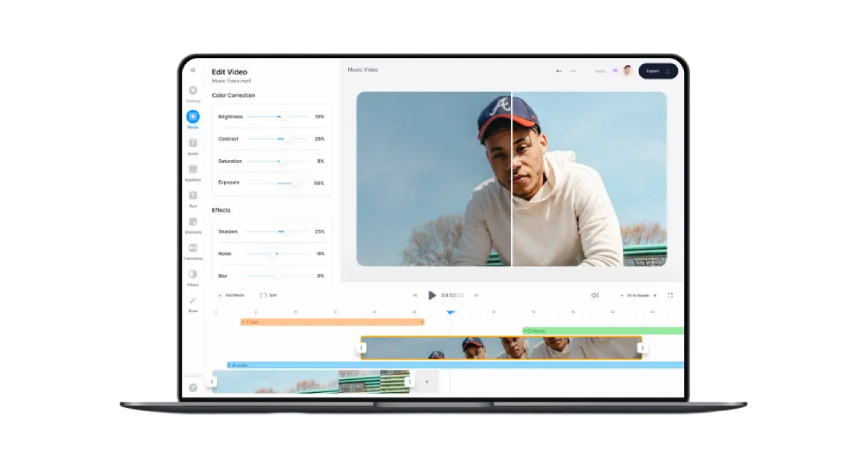 Notable features of Topaz Video AI include:
Noise removal, video, and green screen editor
Wide range of video filters and camera effects
Support for automatic subtitles generator
Add background music and commentary
There are both benefits and drawbacks to using Veed Video Enhancer.
Pros:
Offers user-friendly interface for beginners to enhance their videos
Provides numerous built-in features and basic editing functions
Enables resolution adjustment for flexible video customization
Supports popular audio and video file formats
Allows online accessibility without desktop installations
Cons:
Relies on a fast internet connection for optimal performance
Limited options for resolution selection
Limited support for suggested social media sizes
Has limitations on processing large media files
Access to additional built-in options and settings requires a subscription to the paid version
Clipchamp is an online video enhancer tool to simplify the process of improving video quality. It features the ability to trim, crop, and merge videos and add text, transitions, and sound effects. You can also use Clipchamp to add customized text to videos, balance colors, and change its speed, background, and transitions.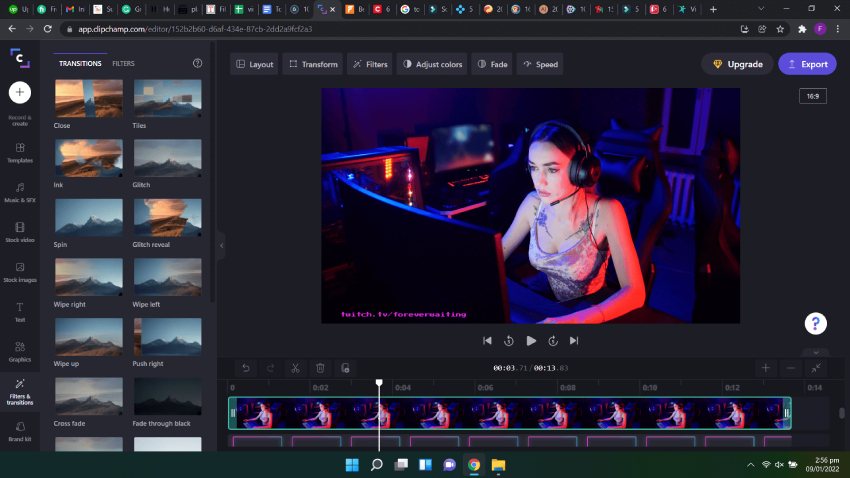 Clipchamp excels in providing the following features:
Seamlessly enhances video using AI
Equipped with advanced editing features
Comes with text to speech generator and green screen editor
It's important to consider the positives and negatives of Clipchamp.
Pros:
User-friendly and simple to navigate
Equipped with comprehensive editing features
Video quality increaser online without watermark
Access a vast library of stock videos, backgrounds, and sound effects.
Cons:
The free plan only offers 480 SD resolution.
Sometimes video processing can be sluggish.
Final Verdict
In conclusion, when it comes to improving the quality of your videos, a reliable and effective video enhancer can make all the difference. Among the various options discussed above, 4DDiG Video Repair stands out as the most trustworthy tool. With its powerful features and advanced capabilities, it ensures exceptional results in enhancing video quality.