Photos are precious memories of the years gone by. But what to do when you realize that you can no longer open your college or trip albums on your PC? You'll try your best to repair the image files. But alas, if they are corrupted, you cannot recover them easily and will have to use unique methods to restore the photos. In this guide, we'll share the reasons why photos corrupt. You'll also learn eight fixes to repair JPG files quickly and conveniently.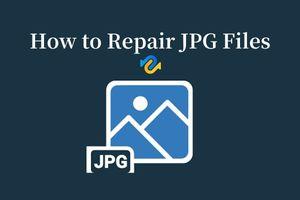 Part 1: What Causes JPG/JPEG Files Corruption?
JPG/JPEG images are the most commonly used file format by digital cameras. But they are also prone to file corruption like any other file format. Before learning how to fix corrupted JPEG pictures, first, understand the reasons behind file corruption so you can avoid fixing them in the future. Here are the possible causes behind JPG/JPEG file corruption.
A virus or malware attack has infected the storage media of JPG/JPEG files.
The storage device has bad sectors. 
The master boot record of your Windows OS is damaged.
Editing or encoding of image files is not done correctly. 
The scan of JPG/JPEG files was not finished properly.
Part 2: How to Restore Corrupted JPG/JPEG Files?
Here are the 8 proven ways to fix corrupt JPG and JPEG files:
Fix 1: Restore JPG/JPEG Files From Backup
Are you used to keeping backup files for your photos in an external drive or cloud storage? If yes, it is your best bet. You can restore the JPG/JPEG files from the backup if they are corrupted or broken.

Fix 2: Change JPG/JPEG Files Into Another Format
If you don't have a backup to fix corrupted JPG/JPEG files, you can change their format. Often the corrupted files will open successfully in another file format. 
Step 1: Import the corrupted JPG/JPEG file in the built-in Windows paint.
Step 2: Choose the File and Save As options.
Step 3: Save the file in different formats and check if it gets repaired in a particular format.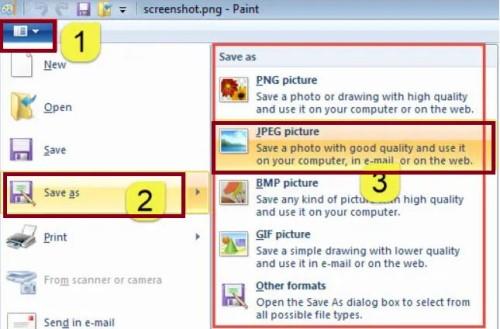 You can also convert the JPG/JPEG files into another format using a free online converter tool.
Fix 3: Rename the JPG/JPEG Files
The simplest way to fix JPG/JPEG files is to rename them without changing their extensions. Rename the files and try to access them with the new names.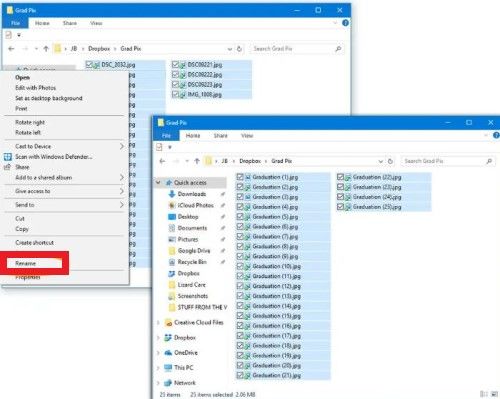 Fix 4: Use Paint to Open
If the above fixes don't work, open the corrupt image files in the built-in Windows paint on your computer. Change the name of the files and save them. Try to reaccess them. Hopefully, this step will repair them.
Fix 5: Re-download it Again
If you've downloaded photos from a source, sometimes the download is not finished properly and can cause errors or file corruption. Redownload the image files from the source and then view them. 
Fix 6: Use Tenorshare 4DDiG
If you've tried every method on our list and are still unable to repair JPG files, we recommend using a professional data recovery tool like 4DDiG Photo Repair. It is the fastest and easiest way to repair corrupted or broken image files with a high success rate. Features of 4DDiG include:
Repair distorted, blurry, pixelated, and greyed-out images in just three steps.
It can recover data from PC, Mac-based devices, USBs, digital cameras, encrypted drives, recycle bins, and internal and external devices. 
It uses an advanced algorithm to search intelligently for hidden files.
Repair and restore files lost due to accidental deletion, crashed system, formatting, corruption, and virus attack.
Recover over 1000 file formats, including photos, audio, video, and document files. 
It is compatible with all Windows and Mac OS versions.
Here are the steps to repair image files with 4DDiG:
Select Corrupted Image Files

Install 4DDiG on your computer and launch it. Select "Photo Repair" from the "Advanced Options" menu at the left. 

Repair Corrupted Image Files

Import or add corrupted photos and click "Repair" to start the scan for repairing corrupted files. You can preview your targeted files by pausing or stopping in mid-scan.

Save the Recovered Files

Once your targeted files are repaired, preview to check and save the recovered_jpeg digital camera files in a safe location.
Fix 7: Run CHKDSK
Another way to fix corrupted image files is by running the CHKDSK Utility. It will scan your entire system to fix any errors that may have corrupted your image files. However, backup the corrupted files to an external device before running the CHKDSK and follow the steps below:
Step 1: Connect the storage device that has corrupted image files with your PC.
Step 2: Press the "Windows and R" key together and type "CMD" in the window.
Step 3: Right-click on the "Command Prompt" and choose to "Run as Administrator."
Step 4: Type "chkdsk/r/fX" in the "Command Prompt." X is the corresponding drive letter.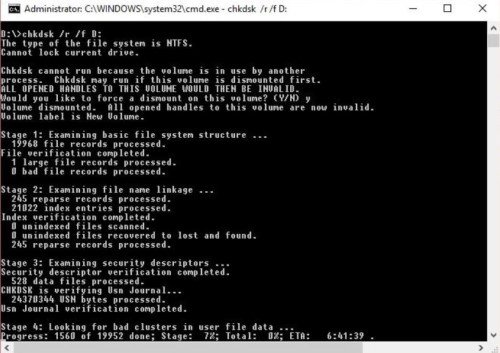 Step 5: Hit the "Enter" key and wait for the scan to complete.
Step 6: Press the "Up" arrow in the taskbar and double-click on the icon in the Windows tray that shows "safely remove hardware and eject media."
Disconnect the storage media and reconnect it to access photos. 
Fix 8: Use the Error Checking Feature
There is a built-in error-checking tool on your PC that you can use to repair corrupted JPG/JPEG files. Here's how you can use it:
Step 1: Open "File Explorer" and right-click on the storage device that contains corrupted image files to choose "Properties."
Step 2: Move to the "Tools" tab and select "Check."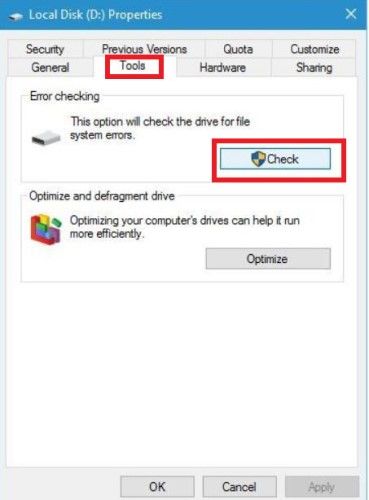 Step 3: Next, Click on "Scan Now." The tool will scan to fix the errors automatically.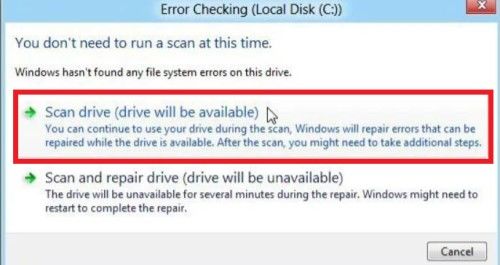 Restart your system to view if your photos are recovered. 
FAQs:
How to Repair JPG/JPEG Files From Digital Camera?
To repair JPG/JPEG files from a digital camera, consider using a reliable data recovery tool like Tenorshare 4DDiG. It has a high success rate and can repair 1000+ file formats in just three steps. 
How Can I Recover Corrupted JPEG Files Online?
If you have a few image files to recover, use an online recovery tool to restore corrupted JPEG files. However, you may have to buy a subscription for more files or batch recovery. You can also change the file format using an online image converter tool.
How Can I Repair Corrupted JPEGs Online for Free?
Use a free online image repair tool such as Office Recovery Online to recover corrupted JPEGs. However, you can only recover a limited number of files as it asks for subscription after a specific limit.  Also, you may be unable to restore all files as it doesn't have a high recovery rate. So, in that case, consider using an affordable tool like Tenorshare 4DDiG, as it has a high success rate in recovering corrupted image files.
How Do I Open Unsupported JPG Files?
Try changing the file format, or open the image file in a browser or Windows Paint and save it in your system. If these fixes don't work, use an image recovery tool.
Conclusion
When your JPG/JPEG files are corrupted, there are many online and offline fixes that you can try to restore those files. To answer your "how to repair damaged JPG files" query, we have mentioned various methods above that you can try. Especially we recommend using 4DDiG Photo Repair. It can repair JPG files and over 1000+ file formats with a high success rate regardless of their broken, corrupted, or formatted condition. Due to its advanced AI search algorithm and in-depth scanning, 4DDiG can repair pixelated, blurry, and greyed-out image files.