I was working on an important project and did not back up. I was so busy making crucial changes that I forgot to create a duplicate file. It was a grave mistake, and the outcome was horrible. The whole project files went overwritten, and I was helpless like anything. This unfortunate event urged me to find something that could retrieve my file. I found several options of recovering it and more diverse choices of not losing it in the first place. The article is also a product of that inconvenience that I faced. I wanted to make a complete guide on how to recover overwritten files.

Video Tutorial on How to Recover Overwritten Files on Windows 10/11
Part 1: What Is Overwritten Data Recovery?
When you are trying to replace old data with new data, you might have a chance to overwrite them. Overwritten files result from two circumstances, either you tried to replace the text or files. For instance, if you try to save a current doc with the exact same filename, the system will ask you to overwrite it. In case you proceed with OK, the old file will get all the changes, and the original text will be overwritten by the new one. Another possibility is to move the files from one place to another while overwriting the files with the same name. The damage has been done in both cases; now, the file is overwritten. Whether you are using an external device or an internal hard drive outcome will be the same. Now the real problem arises; how to recover an overwritten file? Overwritten file recovery depends on several circumstances, so there is no definite answer to it. However, it is possible to restore the overwritten file. The solutions of how to recover overwritten files on an external hard drive are given below. You need to identify the one that could work for you. Sometimes it will be impossible to recover overwritten files. If the data has been totally destroyed. But why not give it a shot if the data is critical, it is always worth trying.
Part 2: Recover Overwritten Files from the Previous Version-Limited Circumstances
Using a third-party tool for overwritten data recovery is sometimes very useful. While some people have a counterargument that it's just impossible to recover the overwritten files.
Method 1: How to Undo an Overwritten File Replaced from the Previous Versions?
In search of solutions: How to restore overwritten files? You must understand that this option will only work in some limited circumstances, for example:
The file has to have previous versions from a Windows backup.
The file must have a version from the last time you or the system created a restore point.
System restore must be turned on.
Suppose you have turned on the Windows Backup Service on your system. There is a high chance you may be able to recover an overwritten file with a previous version. Follow the given steps to attempt recovery.
Step 1: Open the file explorer.
Step 2: Head to the drive containing the data you want to recover.
Step 3: Select restore previous versions from the drop-down menu.
Step 4: Select the original version or the one you want to recover from the list provided by Windows.
Step 5: Click the restore button to retrieve the file.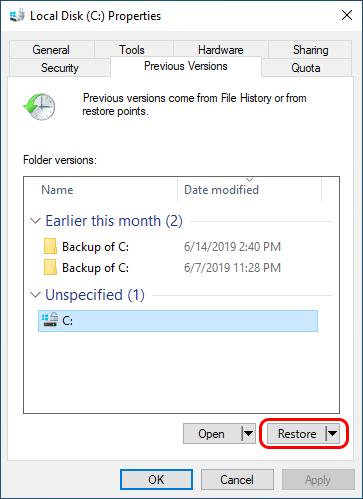 Method 2: Recover Overwritten Files on Windows 10 By Previous Versions
What are previous versions? Windows creates files as part of a backup or as a restore point. These are not original, but copies of the original ones and are called previous versions of the file. To recover overwritten files windows 10 you do not have to do much. You can do it by previous version. It is an automatic setting by the built-in operating system Windows for you. You can right-click on a folder or file you have modified and restore overwritten file to a previous version. It allows you to recover replaced files and the ones you accidentally overwrite.
Step 1: Reach to the folder where your desired file resides.
Step 2: Right-click on the file or folder.
Step 3: Restore previous versions.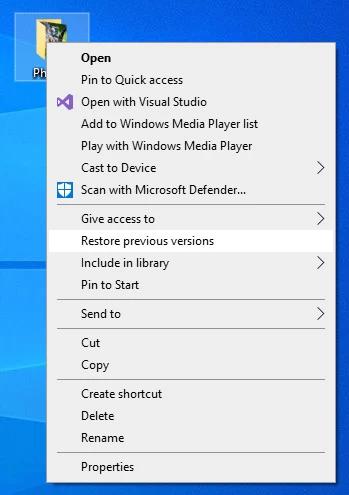 Step 4: The system will take over from here, and you will be welcomed by a window. The window will have a list of all the previous versions available.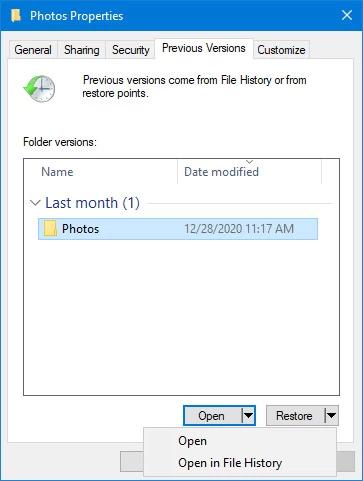 Step 5: Confirm the file selection.
Step 6: Restore folder or file.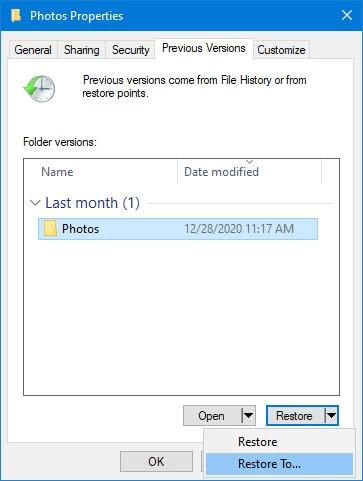 Step 7: Choose a location. That's how to restore replaced files.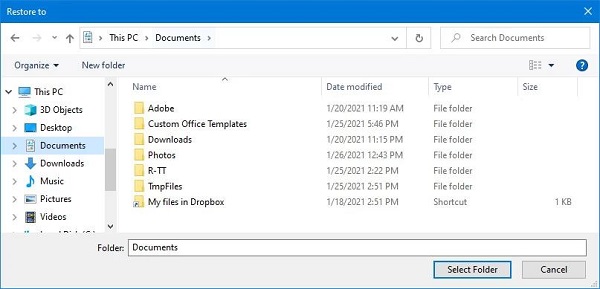 Part 3. Recover Overwritten Files from a Back Up - Backup Required
Method 1: Recover Overwritten Files No Previous Versions
The following steps will explain how to restore overwritten files by restoring your system to the last backup point. System Restore is the most effortless and efficient way to recover overwritten files.
Step 1: Search for "System Restore."
Step 2: Click on the outcome.
Step 3: Choose the previous date you lost the data.
Step 4: Follow the instructions given by the system to recover overwritten files.
Method 2: How to Recover Overwritten Files on Windows 10 through a Backup?
The most secure practice to save your data is to back up your Windows machine to an external hard drive. Get an external device handy for this purpose, it will make your life easier. It is much more reliable to recover overwritten files from a hard disk than any other method.
Step 1: Go to System Settings > Update & Security > Backup.
Step 2: The backup setup will appear here.
Step 3: Restore your files back onto your machine.
Part 4. Use Professional Data Recovery Software-High Success Rate
If you are still looking for: How do I recover a file I accidentally replaced?It means you must use an effective recovery tool to get your hands on the files you lost due to overwriting. Tenorshare 4DDiG is the best recovery software for data recovery from Windows, especially from overwriting.
Download the software from the official website. Launch it and follow the instructions one by one. You will see a user-friendly interface with easy instructions and click Scan.
Start scanning.
How to undo an overwritten file through 4DDiG? Simple, preview, and recover files. Shown in the picture below. Do not save to the same partition where you lost them in case of disk overwriting.

The same procedure is performed if you overwrite the data using an external hard drive. You will select the external hard drive to scan while choosing the location.
Conclusion
Hope this article was helpful. Stay tuned for more quality and informative content. The solutions of how to recover overwrite file may be complicated but it is worth giving a try if the data you lost is highly required. The best way to restore overwritten file is to always turn the system backup on. The last resort of how to retrieve overwritten files is to use the recommended software Tenorshare 4DDiG. 4DDiG Windows Data Recovery tool is best for how to undo a replaced file, including photos, videos, documents, and audio. The software is also best for recovering files lost due to accidental deletion, formatting, lost partition, corruption, crashed system, virus attack, etc.