Question

"Is there a way to recover photos from a computer (that has dropbox installed on it) even if it has been deleted from Dropbox servers for more than 30 days? Any software that could possibly bring it back?"

-Question from reddit
Dropbox, one of the market's most popular cloud storage services, provides customers with rich, high-quality services. Thus many users prefer to store and share their essential data in Dropbox. It is an excellent cloud file hosting service that allows you to save and share folders and files from any online storage device, such as OneDrive or Google Drive.
You should check out this great guide if you erased files from your Dropbox account and it's been more than 30 days. Here you will find a solution for dropbox recover deleted files older than 30 days and even older than 120 days.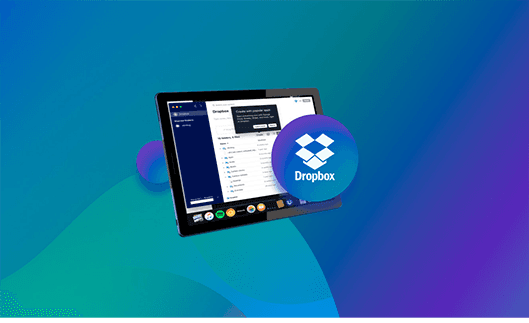 Part 1: Can I Recover Deleted Files from Dropbox after 30 Days?
Is it possible to recover dropbox deleted files older than 30 days? Yes, you can restore or recover deleted files in Dropbox files that are older than 30 days. In the following post, you will learn how to restore your deleted Dropbox data either manually or with the help of recovery software.
Dropbox is a popular online file storage, synchronization, and backup service. A Dropbox folder is generated when you download and install the application on your computer. Drag and drop your files, such as videos, photos, documents, music, and movies, into the folder to sync or backup your files to the Dropbox server. However, if you accidentally delete a file or folder, it will also be removed from the Dropbox server.
Part 2: How to Recover Permanently Deleted Dropbox Files in 30 Days?
If you require your Dropbox deleted files within 30 days/120 days, there are three options to recover deleted dropbox files. These methods are as follows:
Way 1: Recover Deleted Dropbox File from Dropbox "Deleted files" Folder
How to recover or restore deleted files or folders in Dropbox? Dropbox will preserve all deleted files in the Trash folder for 30 days (or longer if you have a Dropbox Business account or a Pro account with Extended Version History). So, if you accidentally destroy essential files or folders, you can try to recover them from Trash on the Dropbox website. Here's how to do it:
Step 1: At the top of the file browser, click the Trash can symbol near the search box.
Step 2: All deleted files and folders will appear in grey in the list. Click the empty area to the right of the name of the deleted file or folder you want to recover. By holding down the Shift (PC) or Command (Mac) key while clicking, you can pick many files or directories simultaneously.
Step 3: To selectively retrieve permanently deleted files/folders from Dropbox, click the Restore option.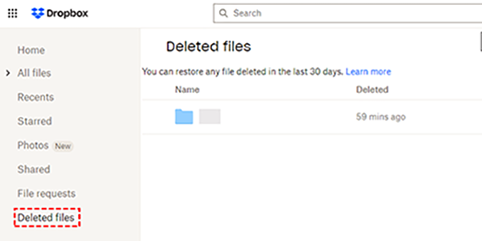 Way 2: Recover Deleted Dropbox Files on Dropbox Rewind
How to recover deleted files from dropbox? Dropbox has a Rewind tool that allows you to undo file changes such as deletion, renaming, editing, etc. Follow the procedures to undo the deletion of your files using Rewind.
Step 1: Access your Dropbox account. Navigate to the higher folder containing your deleted files.
Step 2: Select Activity > Rewind this folder by clicking the three dots icon.
Step 3: Select Get Started and then Pick a Day > Fine Tune. Choose a version to retain.
Step 4: After that, click the Rewind button.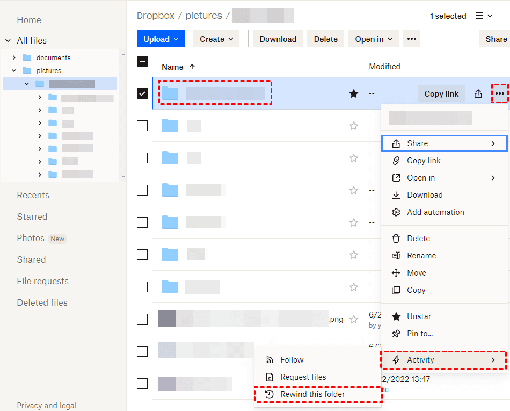 Way 3: Recover Dropbox Files from Cache
After you delete files from Dropbox, the cache folder will keep them for three days. They will, after that, be erased from the hard drive. You can use the following guide to recover files from the cache:
Launch File Explorer. To find your deleted Dropbox files, navigate to  %HOMEPATH%\Dropbox\.dropbox.cache.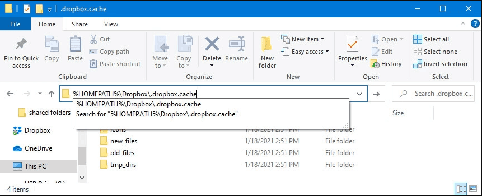 Part 3: How to Effectively Recover Permanently Deleted Files on Dropbox after 30 Days
As you may be aware, Dropbox stores all of your files in a queue process after they have been deleted for at least 30 days, 120 days, or a year, depending on your package. So, if you need those files back in your system, you must recover them within the time frame specified.
Although it appears difficult to restore deleted Dropbox data beyond 30/120 days, it is not impossible. Most Dropbox files are now immediately uploaded from your devices, such as laptops or computers. It means that even if your files were taken from dropbox after the queuing period, you could still find them on your device.
However, if those files have already been deleted from your computer's hard discs, you can use Tenorshare 4DDiG Windows Data Recovery, a specialized file recovery software, to recover deleted dropbox files.
Recover files from Windows/Mac/USB flash drives/Dropbox/SD cards/digital camera, etc.
Recover lost or deleted data from both local and external hard drives.
4DDiG supports the recovery of 1000+ files types.
Smooth interface with features that makes things less complicated.
Free of viruses, malware, pop-ups, or adware.
For a step-by-step guide on how to recover lost data after it is removed, follow the steps below:
 Select a Location

Open Tenorshare 4DDiG Windows Data Recovery to see the home interface. Select the location from a list of hard drives where you lost your data and click Start. Scan for the selected file types to start looking for the lost data.

Scan the Disk

4DDiG will look for the lost files from that location. On the other hand, you can play out a Deep Scan if you fail to restore the files using a normal scan.

Preview and Recover Files

Following the disclosure of the files you need, you can preview and save them to a safe location. Try not to save the files to a similar segment where you lost them.
Part 4: FAQs
Q 1: How Do You Find out Who Deleted a File on Dropbox
There is no proper way to check who deleted the file, but Dropbox keeps copies of any changes you make to files to protect users from accidental changes and deletions. Except for directories, the software stores versions of all file types. So, if you wish to undo your modifications and restore previous versions of any file, you can easily access the version history overview.
Q 2: Does Dropbox Delete Files after Inactivity?
Dropbox retains the right, with or without notice, to suspend Free Accounts at any time. If a Free Account is inactive for ninety (90) days without limiting the preceding scope, Dropbox reserves the right to delete any or all of Your Files without further notice.
Q 3: How Long Does Dropbox Keep Deleted Files?
How do I recover deleted files from Dropbox after 180 days? If you have a Dropbox Basic, Plus, or Family subscription, you have 30 days to recover deleted or restore older versions of existing files. However, if you use Dropbox Business, the software keeps your deleted files and revisions for considerably longer. This account allows users to undelete Dropbox files and restore earlier versions for up to 180 days.
Conclusion
How to recover deleted files from dropbox? Accidentally deleting files or losing them due to criminal acts or other causes is a typical issue for Dropbox users. It happened to a lot of folks at one point. Fortunately, restoring Dropbox files is not as challenging as it appears. Every situation and data recovery problem has a solution. Even files permanently deleted from Dropbox can be recovered with data recovery software such as Tenorshare 4DDIG Data Recovery. As long as you begin the recovery procedure as soon as feasible, you should be able to restore those missing files in no time.