Losing crucial C4D files can be a nightmare for a professional 3D modeler, especially if you need to present these files to a client or at a conference. Accidental hard disk/pen drive deletions are relatively regular and can occur anytime.
Logical corruption of your storage discs or even physical damage could result in losing your crucial C4D models. The adage "Not all lost is a loss" is true, but you can quickly retrieve your lost C4D files. This article also goes through numerous recovery strategies for recovering cinema 4d crashes when rendering.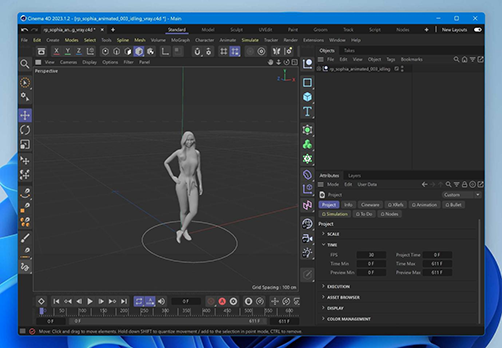 Part 1: What Is a CD4 file Type?
What is a CD4 file? Artists and designers use the 3D modelling, animation, and rendering program Cinema 4D. German software developer Maxon created this program. The film, television, architecture, product visualization, game development, and other sectors use Cinema 4D.
A Cinema 4D model file is a document that contains a 3D model built with Cinema 4D. The geometry, materials, and other details of the 3D model are described in these files, which commonly have the.c4d file extension. These can be imported into other 3D programs that support the Cinema 4D file format or opened and altered in Cinema 4D.
Cinema 4D model exports can be used for different applications, including creating 3D visualizations, animations, and simulations. They can also be utilized for building 3D models for usage in video games, films, and other media.
Part 2: Where Are C4D Autosave Folder?
Why can't I recover files from the autosave folder? Cinema 4D saves crash files in a user-specified place. With Cinema 4D, you can define where autosave files should be saved when you enable autosave. Cinema 4D stores autosaved files in the user's Documents folder by default, but you can choose another location.
Does Cinema 4D auto save? Here is how to locate the location of a Cinema 4D autosave:
Start Cinema 4D.
Choose Files > Autosave under Edit > Preferences.
You may check or modify your autosave settings and files here.
Part 3: How to Recover Deleted Cinema 4D Model Files
Although it is feasible to recover deleted C4D files, your likelihood of success will vary depending on several variables, including the extent of physical damage to your storage device, the amount of time that has passed since the file was deleted, and the cause of your data loss. The few methods you can try to recover deleted C4D files are listed below.
Fix 1: Recover to Old Version via Windows File History
Let's say you wish to recover a C4D file deleted or destroyed due to virus infections; system crashes, file corruption, etc. Then switching to this data recovery technique makes sense. Let's walk through both recuperation procedures in detail:
Step 1: Type File History into the Windows search tab. You will be taken to the Control Panel as a result. Searching the start menu for file history.
Step 2: Check to see if the File History option was enabled.
Step 3: Choose the option to restore personal files now.
Step 4: File History has a restore personal files option.
Step 5: Locate the C4D file you want to recover by browsing the backups that are accessible.
Step 6: After locating the relevant file, choose it by clicking the green Recover button. Then, your file will be placed back where it was.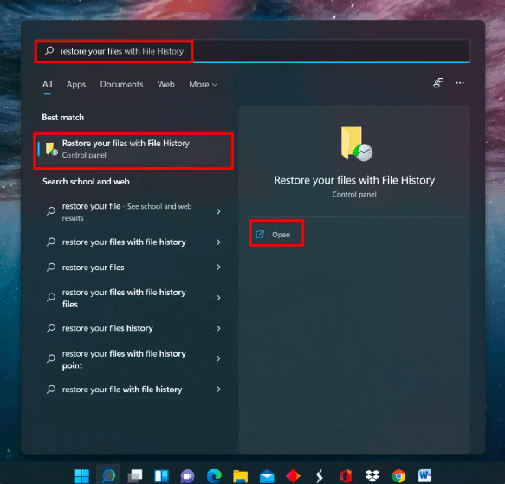 Fix 2: Restore C4D Files from Windows Recycle Bin
If the file was unintentionally deleted, it can still be in your trash or recycle bin. From there, you can attempt to restore Cinema files.
Click the Recycle Bin icon when you are there.
Look for the deleted C4D file after launching the folder.
Right-click on the file you want to restore, then choose that option from the menu.
You can now access your file in its original location.
Getting C4D files back from Mac Trash:
Go to the Trash icon on your computer.
Look for the deleted C4D file after launching the folder.
Right-click on the file to select it, then select "Put back" from the menu that appears.
You can now access your file in its original location.
Part 4: What's the Best Cinema 4D File Recovery Options
You can recover movie files with the help of various file recovery software. These programs look for deleted or missing files on your hard disc and make an effort to recover them. Data from damaged or corrupted files can frequently be recovered using third-party recovery tools, . In other words, you could still recover your Cinema 4D model files even if damaged.
One of the top data recovery programs for Windows 10 and 11 is Tenorshare 4DDiG, which may help you recover deleted files. It features one of the most straightforward user interfaces, is incredibly simple to use, and offers rapid and efficient results. It can recover any data for free.
Retrieve data from Windows-based storage devices like hard disks, USBs, and SD cards.
Recover more than 1000 file types including Cinema 4D File type.
Recover formatted, corrupted, deleted, and damaged files.
You can preview files before restoring them.
Let's find out how you can use 4DDiG to restore Windows Data after an update in 3 easy steps:
Download the 4DDiG tool, and install it on Windows where you want to restore your data. Open the tool and choose a drive to roll back the update.
Hit the "Start" button to start the restoration process. You can also pause the scan to preview files according to categories like Lost Location, Cinema 4D File, Deleted Files, etc., under the Tree View.
Following the completion of the scan, press "Recover" and choose a location to save them. Your Windows data should be restored by now.
Part 5: How to Open C4D Files on Mac and Windows
Can Blender open .C4D files? The primary program that can open files with the C4D file extension is Cinema 4D. You need to download the software on your computer to access your C4D files. From the developer's official website, you may download the Lite Edition or the Free Trial of Cinema 4D or buy a subscription to the program. For programs to recover .C4D files and access C4D files on your computers set Cinema 4D as your default application, follow these instructions:
Using Windows:
Open With > can be chosen by right-clicking the C4D file. Choose Another App Choose the Cinema 4D application.
Choose a different program to open the C4D file.
Click the OK button after selecting Always use this app to open your C4D files.
On a Mac
Choose Information from the drop-down menu after clicking on the C4D file. To see the choices, choose Open With. Choose the Cinema 4D application.
Choose the Change for all option and confirm your choices by clicking.
Part 6: Why Does C4D Files Get Lost or Deleted?
Why does C4D keep crashing? You could lose a Cinema 4D model file in several ways:
File deletion by accident: Deleting a file by mistake is simple, especially if you are working on several projects and files simultaneously. A Cinema 4D model file you unintentionally remove will be relocated to your trash or recycling bin.
Failure of the hard drive storing the Cinema files: You risk losing access to the file if the hard drive fails. It may occur if the hard disc sustains damage or develops a defect.
Attack from a virus or malware: These threats can corrupt or remove files from your computer, including Cinema 4D model files.
Software failure: If the program you are using to edit the Cinema 4D model file fails, the model file may get lost, C4D keep crashing or corrupted.
Accidental formatting: You can only access the Cinema 4D model file if the hard drive where it is stored is intentionally formatted.
Summary
Losing a large file like a Cinema 4D file may be a huge setback, especially for professional 3D modellers. These files can be valuable personal assets. Instead of starting over from scratch, Tenorshare 4DDiG makes it simple in c4d recovery files. But, if your storage drive has significant damage, it is best to obtain professional assistance before you unavoidably lose all of your crucial data to a virus assault, hardware failure, or corruption.