A network-attached storage device, or NAS for short, provides a network place to store data for your home or business. Also, the Synology NAS enables you to build a private cloud where you can safely and freely store, back up, access, and share your content.
It frequently happens for users to delete vital files unintentionally or on purpose only to find afterward that the files were crucial. Is there a recycle bin on a NAS? If the Synology NAS server is functioning properly in this situation, recovering the erased files from the Synology NAS drive should be simple. But first, let's look at the potential causes of NAS drive failure before discussing NAS data recovery sinology options.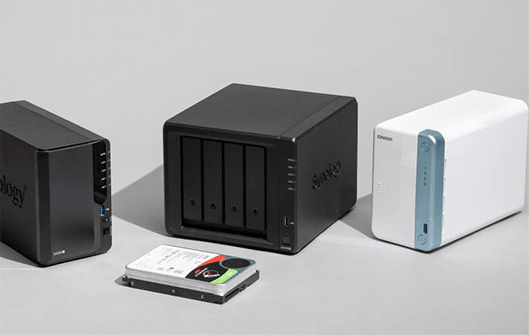 Part 1: Can Data Be Recovered from Failed Synology NAS?
What is NAS deleted file recovery? A specific specialized data storage server known as NAS, sometimes known as Network Attached Storage, combines storage components and embedded system software, allowing cross-platform file sharing. Thanks to NAS, users may quickly and easily exchange data, programs, and more. Yet, issues with NAS data loss occur every day. Most individuals' lament that they unintentionally deleted some data from this NAS shared folder. Yet, you shouldn't be concerned about data loss because it may be restored using a few techniques or software.
Part 2: Reasons for Synology NAS Data Loss
Any data loss common to other data storage media, such as accidental file deletion, logical operating system failures, and the effects of viruses and malicious software, can happen on Synology NAS devices.
Moreover, NAS storages are susceptible to certain data loss scenarios, including operator mistakes during RAID re-configuration or adding new discs to the NAS box erroneously, NAS software failures or problematic upgrades, etc. Let's examine the probable reasons why a Synology NAS drive can fail and need to perform Synology NAS data recovery.
Accidental deletion.
Disabled or emptied the recycle bin.
Formatting or startup of the disc.
Corruption of the NAS file system causes data to be unavailable.
Failure of RAID reconstruction.
Voltage swings or unexpected power outages corrupt NAS servers.
Data loss is caused by malware or virus attacks.
Part 3: How to Recover Deleted Files on Synology NAS
With several backup solutions, you can recover deleted files from NAS device. These backup methods can restore deleted files or folders if you've previously enabled them. It is how:
Fix 1: Recover NAS Deleted File via Recycle Bin
When making shared folders, the Enable Recycle Bin checkbox is automatically selected. When this option is enabled, a subdirectory is established where deleted files are stored. Files can either be retrieved from the Recycle Bin or deleted permanently. To continue, follow these steps to use the Recycle Bin to retrieve lost files from the Synology NAS drive:
Step 1: The Recycle Bin must be turned on for the shared folder you've chosen first.
Step 2: To activate the Recycle Bin feature, Go to DSM's Control Panel and click Shared Folder.
Step 3: After selecting a shared folder, go to Edit. After that, select Activate Recycle Bin. If you only want administrators to have access to the Recycle Bin, click the Limit access to the administrators-only checkbox. To save your changes, click OK.
Step 4: Go to File Station and find the shared folder with the enabled Recycle Bin feature to recover a deleted file or folder from the Synology Recycle Bin.
Step 5: Locate the #recycle folder. After that, right-click on the folder or file you want to retrieve. To restore the deleted files from the Synology NAS server to the desired location, click Copy to/Move to... and choose Move to.
Fix 2: Retrieve NAS Deleted File from Hyper Backup
You can schedule or manually back up many sorts of data, including system configurations, software/packages, and shared folders, on the Synology NAS using Synology's Hyper Backup. The data can be backed up on remote servers, public clouds, and local shared folders. The backed-up information is kept in a confidential database that is simple to explore, recover, or download. Using Hyper Backup, you can go back in time and restore the package's settings and data. By going to DSM and selecting Hyper Backup, you can restore the needed backed-up data if you've enabled the Hyper Backup feature.
Part 4: The Ultimate Synology File Recovery Tools to Recover Files on/from NAS
You shouldn't be alarmed if you discover that you unintentionally deleted files from your network hard drive; it is a mistake that happens to everyone. The good news is that Tenorshare 4DDiG can help you recover deleted data and synology drive restore deleted files. This software is one of the greatest tools for recovering lost data from many locations, including network drives (Synology NAS Disk). It is possible because it can open various file types and has strong features like previewing data before recovery. This file recovery software can restore deleted, formatted, lost partitioned, system crash, virus attack, and other data loss situations lost files, photographs, documents, and videos. The majority of NAS file types and brands are supported.
Recover 1000 of file types such as word documents, photos, videos, files, audio, excel, PowerPoint and others.
Restore deleted files from computer or Laptop, internal or external drive, Flash drive, SD card, NAS etc.
Support free download on Windows or Mac OS computers.
Recover files that have been lost caused by accidental deletion, formatting and other causes.
choose the local disk

As soon as you have installed and launched Tenorshare 4DDiG Windows Data Recovery, you will be presented with the home interface shown below, which includes the options for Data Recovery and Advanced Recovery. In our case, what you need to do is to choose the local disk where the lost data is located from a list of hard drives, and then click on Start to begin the process. In the upper-right corner of the window, you will see a list of the target file types you can select before scanning begins.

Scan and search the disk

Upon selecting the selected drive, 4DDiG immediately inspects it all around for missing data. When you find the files you want to recover, you can pause or stop the scanning process. Within the Tree View, there are different categories like Deleted Files, Existing Files, Lost Locations, RAW Files, and Tag Files. Also, you can switch to the File View in order to check file types such as Photos, Video, Documents, Audio, Emails, and other types of files. Additionally, on the right side of the panel you have the option of searching for target files or narrowing down your search by using Filter to narrow down your search.

Preview and recover the deleted word document

As soon as the target files are discovered, you can preview them and recover them securely. Don't save to the same partition where you lost data in case of disk overwriting and permanent data loss.
Part 5: How to Restore Deleted Files from RAID/NAS Manually
What happens if you are unable to use NAS data recovery software? EaseUS manual data recovery service is an option. Following a FREE diagnosis, it provides the following services. For personalized manual recovery assistance, speak with EaseUS data recovery specialists. After a FREE diagnosis, they could provide the following services. Their educated professionals with decades of experience can fix the broken RAID structure and retrieve data from all RAID levels.
RAID 0, RAID 1, RAID 5, RAID 6, RAID 10, and all other RAID levels can have their data restored.
Data recovery from enterprise RAIDs from QNAP, Synology, WD, Buffalo, and other manufacturers.
Recover lost RAID data resulting from any difficulties.
Restore drives with GPT-protected partitions.
Remotely recover RAID data; no need to ship.
Part 6: How Long Do Files Stay in Recycle Bin of Synology NAS?
Does Synology reset to delete data? The system will permanently delete everything that has been in the Recycle Bin for more than 30 days and cannot be recovered. Records and storage allotments for recycled items are taken into account. But you can retrieve permanently erased files after 30 days using the 4DDiG Data Recovery application.
Summary
How do I recover permanently deleted files from Synology NAS? Use the preceding procedures if you have a NAS server that has unintentionally been erased or reformatted. Get your files back if you can locate them and see a preview of the files you're looking for. A Synology NAS drive might malfunction for a variety of reasons. But if you unintentionally erase files from a Synology NAS device, don't worry; Tenorshare 4DDiG makes it simple to recover lost data. The software is straightforward to download, set up, and use. Thus, download it immediately, and you won't have to worry too much if you accidentally delete some data.