Simple Steps to Fix the 'You Need to Format the Disk Before Using It' Error
Read on to get 7 methods on how to fix 'You need to format the disk before you can use it' error. To recover data from the formatted disk, just try Tenorshare 4DDiG data recovery tool.

William Bollson
An external hard drive is a helpful tool for duplicating files between PCs or backing up your files and data, but what happens when you encounter the dreaded "You need to format the disk before using it" error? You might worry about this, especially if you have important files stored on your disk. But fear not! In this guide, we'll show you the best ways to fix the error and regain access to your precious data. Read on to learn how to deal with it!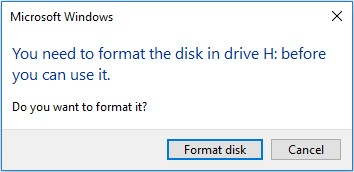 You May Also Like
Home >>
Hard Drive >>
Simple Steps to Fix the 'You Need to Format the Disk Before Using It' Error