How to Fix Corrupted Data on PS4?
Struggling with corrupted data on your PS4? Learn how to fix corrupted data on PS4 in this article. Moreover, reclaim lost data from a corrupted PS4 hard drive by downloading 4DDiG Data Recovery.

William Bollson
PS4 consoles can still let you play a variety of amazing and exciting games even if there are newer and more updated PlayStation consoles in the market. Like most consoles or even computers, issues in these devices are inevitable. One of probably the most terrifying issues you can encounter with your PS4 console is the PS4 corrupted data. While most players are still young and might not know anything yet about fixing PS4 corrupted data, this issue is actually just easy to fix. You might think that there must probably be something wrong with your PS4 console, but this issue does not always concern the console itself but it is mostly because of the game data. It is important that you know about PS4 corrupted data and in this article, we will show you how to fix corrupted data on PS4.
Part 1: Overview of PS4 with Corrupted Data
1. What are Symptoms of Corrupted Database?
PS4 corrupted data usually occurs when you try to open a game and your console notifies you that the database has been corrupted. It often shows a warning such as, "The database is corrupted. Restart the PS4. (CE-34875-7)" or "Cannot continue using the application. The data for the following application is corrupted". Sometimes it does not even notify you but you will notice that the game you are trying to open will take too much time to load and when it does, the game will be sluggish and impossible to play.
2. How Does a PS4 Hard Drive Get Corrupted?
There are a lot of factors that cause a PS4 corrupted file. In the worst-case scenario, it may be because of the console's hard drive but commonly this issue is rooted in the installation process. When you install a game, there are tendencies that it will get interrupted in the middle of the installation. This may be due to your storage capacity and other reasons that will result in a half-installed game that is unplayable.
Tips:
You may also be interested in how to fix PS4 white light of death.
Part 2: How to Recover Lost Data from Corrupted PS4?
It is truly frustrating when you experience PS4 corrupted data. This is even more heartbreaking if you have been playing a game for so long and even spend a couple of bucks for a better game experience and suddenly all of it is gone just like a bubble. If basic troubleshooting will not work, expert app developers have invented software that could solve your problem, the Tenorshare 4DDiG Data Recovery Software. This is considered to be the most powerful and reliable recovery tool on the internet. It will let you recover all your lost data in any type of file all in a single application. What's even more interesting about this tool is that it is compatible with almost every device and it is very user-friendly. So you will not have any difficulty in using this tool.
Features of 4DDiG:
It can recover from various devices including internal & external drive, SD card, USB flash disk, laptop/PC, etc.
Supports recovering 1000+ file types including videos, photos, documents, and audio.
You can recover lost files in various situation that includes formatting, accidental deletion, lost partition, crashed system, corruption, virus-attack etc. and more!
Scan data with quick scan and deep scan mode, with data preview available after scan.
Users can easily stop and resume scanning whenever they want.
How to Use 4DDiG to Recover Lost Data from Corrupted PS4 Hard Drive:
Select PS4 External Hard Drive

After you download and install 4DDiG, launch the program and connect the external hard drive of corrupted PS4 to the PC. Once 4DDiG detects the drive, select it and click Start to scan for lost/corrupted files.

Scan and Preview

It will take a while for 4DDiG to look for the lost data from the corrupted PS4 and the Deep Scan option can help provide more results. After the scanning, you can choose files to preview.

Recover Files from Corrupted PS4

Finally, choose the files you want and then click Recover to save them to a location.

There you go! Your lost data have all been recovered.

How to Recover Data from External Hard Drive in 3 Ways?
Part 3: How to Fix PS4 Corrupted Data
Although how to fix corrupted data on PS4 depends on the error that your console will notify, it is best to try fixing it by yourself first. Below are some basic troubleshooting on fixing a PS4 corrupted database.
Fix 1: Delete the Game and Reinstall It
The corrupted data PS4 is also caused by the installation process of the game being interrupted. Factors of this issue include your internet connection, the device's storage capacity, incompatible games, and many more. Delete the game, don't worry as your saved data will be safe. You can reinstall it from your disc, your Library, or at the PlayStation Store.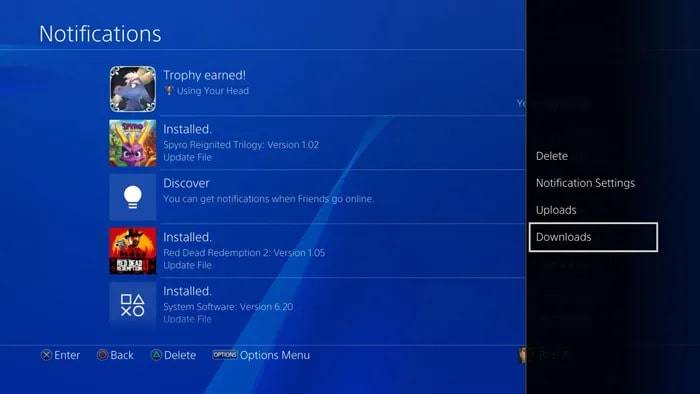 Fix 2: Delete Corrupted Downloads
When you are downloading a game and face any error, follow the steps below to delete corrupted downloads.
Head on to "Notifications" from the home screen.
Choose "Options" using your controller.
Go to "Downloads".
Select all the corrupted files.
Press "Options" again.
Then select "Delete".
Fix 3: Clean the Game Disc to Fix PS4 Database Corrupted
If the game is installed from a disc, delete the corrupted PS4 data from the cd. Take a lint-free cloth and dry wipe the disk. Once the disc is clean, try reinstalling the game.
Fix 4: Update the Software
The error can occur during or after your software is updated. Make sure your software is updated by going to your home screen, press "Options" and select "Check for Update" then install.
Fix 5: Restore Your PS4 Software Licenses
Although it is rare, it is possible that your PlayStation account may have a conflict with your game account. You can follow the steps below to restore your PS4 software licenses.
Go to Settings and select Account Management.

Then click on Restore Licenses.
Fix 6: Start the PS4 in Safe Mode and Rebuild the Database
To rebuild the database of your console it must be in safe mode. Here is how to do it to fix corrupted data on ps4:
You need to connect the PS4 controller with the console by using a USB cable.
Now press the power button on your PS4 console and hold. Release it after hearing the second beep.

Release the button and your PS4 should be in safe mode.
This process will scan for PS4 corrupted data. This is also good as it will help improve sluggish performance and slow load times.
Fix 7: Initialize Your PS4 to Fix Corrupted Data on PS4
While still on safe mode, you can try to initialize your PS4 console. This will restore the default setting of your console.
Initialize PS4 on the safe mode menu, or go to Settings.
Now select Initialization and then Initialize PS4.

Then tap on Quick.
Please be guided that this will erase all your data. It is recommended that you back up all your data with an external drive.
Fix 8: Hard reset Your PS4
If the options above still don't work, you might need to reinstall the OS. This option will delete everything on your hard drive so you better back up all your data first. You can still download the software again using your PSN account.
Fix 9: Get Your PS4 Fixed or Replaced by Sony
If your PS4 is purchased recently and still has a warranty, you can go to Sony's PlayStation Fix and Replace page and select your console to see if it qualifies for a free repair or replacement.
Fix 10: Replace the PS4 Hard Drive
This option will be your last resort if resetting the OS and trying the other mentioned options don't work. Just replacing the hard disk drive with another PS4-compatible HDD might do the work. If you previously replaced it with a new one, then place the old hard drive back.
Read Also:
Part 4. How to Avoid PS4 Data Loss in the Future?
Your game data is very important. Therefore, as a player, you should know what to do to prevent PS4 corrupted data from happening. Always make sure that your data is backed up with an external drive to save it from possible corruption. Check your internet connection and make sure your console's software is updated.
Frequently Asked Questions
1. How do I uncorrupt a save file on PS4?
Try basic troubleshooting. Clean your disc. It is best to use File Repair/Recovery Software.
2. What's the error "the add on for the following application is corrupted ps4"
It means that the screen will appear a prompt that saying "The cannot continue using the application ps4 the add on for the following application is corrupted", and your game will stuck at installation progress.
3. How do I fix error code CE-34875-7?
You need to delete the download that is corrupted and try to install the software again.
4. What happens if you rebuild database on PS4?
It locates the downloaded data on the drive. With this, it would be easier for your console to look for the details it needs for a particular game.
Conclusion:
Having PS4 corrupted data is one of the scariest problems players can encounter. It is caused by different factors that may have been accidental or simply just inevitable. While most players can handle this kind of issue on their own by basic troubleshooting, it would be difficult to deal with once you find out that the cause of the issue is far more complex than what you think. This is where Tenorshare 4DDiG Data Recovery Software can be useful. Data loss does not just happen on consoles, but on other devices as well. This data recovery application is the best solution there is when problem dealers of data corruption run out of options.