How to Fix Seagate External Hard Drive Beeping?

"I own a Seagate external hard drive that I've been using for more than a year. Yesterday it suddenly started making beep noises when I plugged it into my PS4. What do I do to get rid of this annoying sound?"
External hard drives are amazing things. They make data storage easier and more accessible. If you are a heavy PC you may know that it is an absolute must to own one. But external hard drives are not without problems. They require constant attention and care without which they can run into issues. One of those issues is the Seagate external hard drive beeping error. In this error, you'll hear a beeping sound coming from the Seagate external drive the moment you plug it in. There are numerous ways in which you can fix the Seagate external hard drive two beeps problem and we are going to talk about all of them in this thorough guide. You may also face some data losses while fixing this issue but don't worry because we will leave you with a fix that will recover all of your data and more. So read on!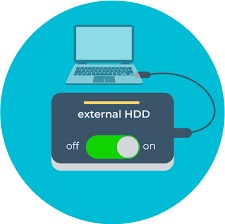 How to Recover Data from External Hard Drive in 3 Ways?
Part 1: Why is My Seagate External Hard Drive Beeping?
Hard drive problems are not uncommon and if you are going through a hard drive issue and wondering why is my external hard drive beeping, don't worry, we might have some answers.
A build-up of dust inside the ports of the hard drive or the plug.
Malfunctioning of the mechanical components of the hard drive.
Unstable power supply.
No power supply to the hard drive.
Physical damage to the hard drive may lead to seagate external hard drive beeping after dropped.
Part 2: How to Fix Seagate External Hard Drive Beeping and not Recognized?
Fix 1: Clear the Dust
If you think your computer is clean, think again. Electronic devices have a great ability to collect dust and sometimes it's the only factor behind hard drive problems like the seagate drive clicking and beeping.
The only way around is to clean your Seagate hard drive. To do it correctly, first, unplug your hard drive from all connections. Then clean your drive with canned air so that the ports are dust-free. Reconnect the hard drive back into the computer and see if it solves the ps4 seagate external hard drive beeping and not recognized error.
Fix 2: Try Another Cable
A faulty cable is nobody's friend. Faulty cables can hamper the connection of the hard drive to the computer and lead to the seagate external hard drive beeping and not working. The simple fix to this problem is to disconnect your hard drive from the faulty cable and replace it with a new cable and plug it back in.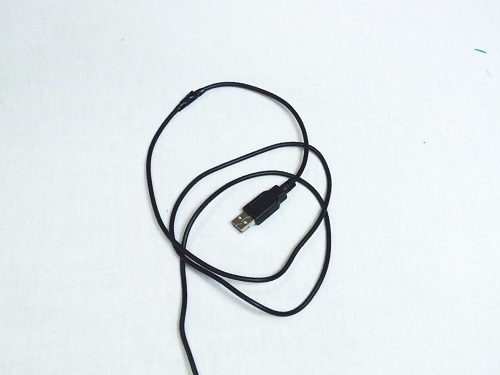 Fix 3: Connect the Drive to Another Port
If your seagate external hard drive keeps beeping when you connect it to your PC port, the problem may lie with your port. Ports are a prime location for dust accumulation and dust buildup over time may cause faulty connections with the hard drive. Ports can even get damaged leading to the beep sound coming from external hard disk.
Try plugging in your hard drive in a different port to see if it makes a difference. If it does then great, you've sold the problem. If not, then it's time to move onto the next solution.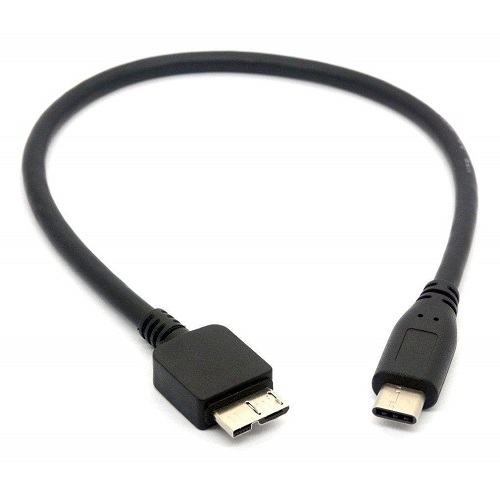 Fix 4: Use a USB Y-cable or Plug it into a USB Hub
A hard drive requires power to feed itself. If its power requirements are not met, it may become glitchy and cause the seagate external hard drive beeping no light.
So to adequately meet the power demand of the Seagate hard drive you can use a Y-cable or connect the drive to a USB hub. A Y-cable has a bifurcated end with two USB plugs which have to be connected at the same time so that the drive draws in enough power from the PC.
Fix 5: Connect the Drive to Another PC
The answer to the question of how to fix a beeping seagate external hard drive may not always be in the fixes above. Sometimes the fault may lie with your PC itself. To verify this connect your hard drive to a different computer and see if the seagate hard drive just beeps when plugged in.
Fix 6: Run the CHKDSK to Check the Drive
Another reason as to why the seagate external hard drive beeping ps4 may be bad sectors on the hard drive. To check whether that's really the case that's causing the seagate 2tb external hard drive beeping noise you can make use of a Windows utility that goes by the name of CHKDSK. Here is how you can use it to solve the beeping issue.
Step 1: Plug in your Seagate external hard drive to your computer and search for 'Command Prompt' in the Windows Search box and choose to 'Run as administrator'.
Step 2: Type in the command below and hit the 'Enter' key:
Chkdsk X :/r
Note: Here 'X' represents the letter allotted to your hard drive.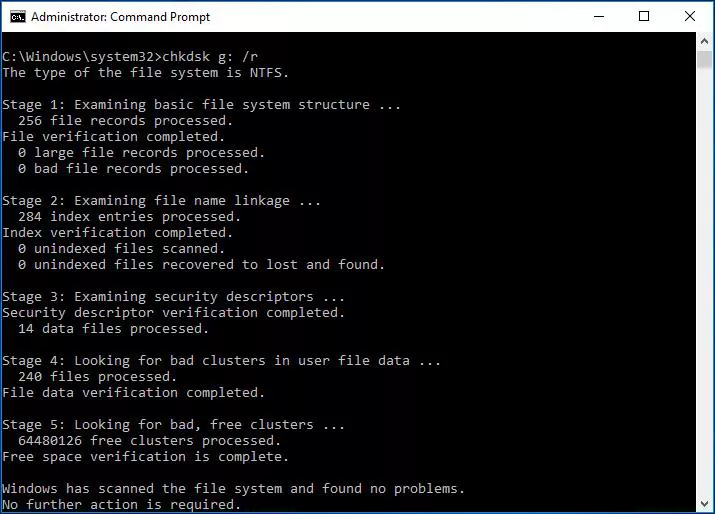 Step 3: Once the scan is completed you can reconnect your hard drive to the PC to see whether the seagate 2tb external hard drive beeping is resolved.
Bonus: How to Recover Data from a Beeping Seagate External Hard Drive?
Any kind of issue with hard drives is a direct threat to the data stored in them. You may end up losing data while trying to fix the seagate external hard drive beeping and not recognized problem. In these situations, it's essential to have a handy tool that will reverse the possible data loss. What if we told you that we have that handy app? That's right, the Tenorshare 4DDiG data recovery software is a multifaceted data recovery app that brings back your deleted data in a flash. Loaded with features it has established itself as one of the best apps for data recovery. Let's look at the features that make it so special.
Recover data from external drives including Seagate, Western Digital, Toshiba, Hitachi, Sandisk and more.
Supports formatted recovery, lost partition recovery, OS crash recovery, RAW Recovery and more.
Support to recover lost or deleted files from Windows/Mac/SD cards/external drives/USB drives/digital cameras, etc
Photos, videos, documents, and audio files are among the file types that can be retrieved.
100% safe and easy to use.
Now that you have an idea about the 4DDiG app let's look at how you can use it to reverse data loss issues occurring due to the seagate external hard drive beeping when plugged in error.
Connect and select the Seagate External Drive

After you download and install 4DDiG on your computer, launch the program and and connect the Seagate external storage. From the list of drives shown in the window, select target Seagate drive and click on 'Scan'.

Scan the Seagate Drive

Now the app will start scanning and collecting all the lost files found on the hard drive. And you can pause the scanning as soon as you find your desired files.

Preview and Recover Files

Once the scanning is complete, you can choose and save the files you want on your computer by clicking on 'Recover'.
External Hard Drive Beeping FAQs
1. Can a beeping external hard drive be fixed?
A seagate external hard drive beeping and not recognized ps4 issue can be fixed easily with basic cleaning of the ports of the hard drive and the plug and making use of the CHKDSK utility.
2. What does it mean if my hard drive is beeping?
If you are wondering 'why my external hard drive is beeping' and don't know what it means, we will tell you. It means that there is an error with your hard drive that is causing your hard drive to function improperly thus sending you an alarm through the beeping sound.
Summary
Warning beeps are annoying especially when they are coming from your hard drive. We hope that this guide has helped you wade through seagate hard drive beeping issues. And in case you lose your important data while fixing this issue you can always rely on the powerful Tenorshare 4DDiG data recovery app.