Instagram is an exclusive opportunity to meet like-minded people. Sharing videos and photos with stunning filters is a bonus. But what if your Instagram content is accidentally deleted? Don't be panic, we will cover you 5 ways to recover deleted instagram photos on instagram.
Part 1: Is it Possiable to Recover Deleted Instagram Photos/Videos?
If you have lost your Instagram images, it could be due to a virus attack, formatting, or any other reason, and you are wondering if it is possible to recover deleted Instagram photos, the answer is "Yes". When you delete content such as photos, videos, reels, IGTV videos, and stories, it is immediately erased from your account and transferred to the Recently Deleted folder. However, this Instagram recovery method only works if you deleted the particular Instagram post within the last 30 days. Deleted stories that are not in your Archive will stay in the folder for up to 24 hours. Everything else will be deleted promptly after 30 days. To access your deleted photos within those 30 days, go to Settings > Account > Recently Deleted on the latest version of the Instagram app.
Here, we have shared some of the best ideas to recover Instagram photos and videos.
Part 2: The Best Way to Recover deleted Instagram Photos/Videos after 30 Days
It is no longer difficult to restore Instagram photos. Tenorshare 4DDiG data recovery can give you a hand to recover deleted videos/pictures on instagram, which makes Instagram users' lives easier and more attentive. Not only it can recover your deleted photos & videos after 30 days, but also it can recover data from internal and external devices, be like SD card, PC, hard drive, USB, and so on.
Features of 4DDiG Data Recovery:
It supports data recovery from internal and external drives, including PC/laptop, USB flash disc, SD card, and so on
Recover 1000+ different files, including photos, videos, documents, and audio.
It can recover files that have been lost due to accidental deletion, formatting, partition loss, corruption, a crashed system, a virus attack, and other reasons
It offer two different version for Windows & Mac users
Follow below steps to recover deleted photos & videos on instagram:
After the installation and launch of 4DDiG Data Recovery, the home screen will be opened, which is shown below. It contains sections like devices and drives, common position and Advance Repair. Select the location where you lost your instagram photos & videos, and then click Start to begin.
Select the file types to scan, then click Scan Selected File Types to start scanning the disk. Here, you can choose video and photo to restore your deleted photos & videos on instagram.
Then 4DDiG will quickly searches the selected location for lost photos & video, and you may pause or terminate the search if you've recognized the files you wish to recover.
After locating the target files, you may preview and restore them to a secure place. Make sure you don't save your data to the same location where you lost them.
Part 3: How to Recover Deleted Instagram Photos/Videos without Software?
Fix 1: Go to the Recently Deleted
To restore or permanently remove content, follow these steps:
Step 1: To access your profile, click on your profile picture in the lower right corner. Then click on three line icon in the top right, then click on your activity.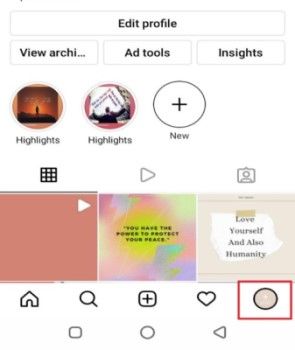 Step 2: Click on Recently Deleted. Please keep in mind that you may not see the option below if you have not recently deleted any photos or videos.
Step 3: Open the photos/videos you want to recover and click on the More option in the top right corner, then click on Restore to Profile or Restore to restore content or delete it.
Fix 2: Check your Phone's Gallery
Instead of looking up how to recover Instagram deleted photos on Google, check your phone's gallery. If you upload a photo to Instagram using an Android device, it will save a copy in your gallery in the Instagram folder. This also applies to iOS. Your Photos App has multiple albums, and the Instagram folder contains a backup of your files.
Fix 3: Use Instagram Archive Feature
Instagram's Archive feature is a user-friendly feature that has proven useful for users who want to hide particular photos, videos, or reels from being seen by anybody other than you. Your phone's temporary Storage can hide your Instagram post. So you can restore all your content from Instagram's Archive folder. The content you move to Archive will disappear from your profile but not be deleted. So you can recover them if you follow these steps.
Step 1: Launch the Instagram app and click on your Profile Picture, which can be found at the bottom of the screen.
Step 2: Click the menu icon, which may be found at the top of the screen. Select the Archive option from the drop-down menu.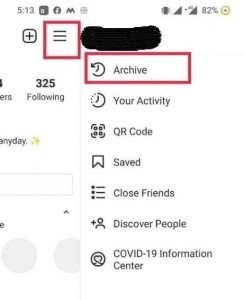 Step 3: Check the photos, videos, stories, and reels you have accidentally hidden in the Archive folder. Click it and then press the three-dots icon to select the option Show on Profile to restore them to your feed.
We hope you can regain your deleted Instagram videos & photos by using this solution. If not, use the automated methods to locate and recover Instagram photos.
Fix 4: Check the Google & iCloud Storage
You can take advantage of your phone's cloud storage service option. Google Photos (for Android users) and iCloud (for iOS users) back them up automatically through Instagram and other social media platforms. But this methods only work once you have already made the backup on it.
Conclusion
By using the method we have shared in this article. we hope this article will help resolve all your problems related to data recovery and deleted Instagram photos. If you failed with those without software method, We highly recommend you try the best solution to all your problem in the form of 4DDiG Data Recovery Tool.