Photoshop is a masterpiece tool valuable to many professional photographers and designers for editing and manipulating images. But you need not be in these professions to find them helpful. Unlike before, photoshop has become available on several devices, making it an artificial enhancing software that works magic for different forms of image manipulation. A photoshop file cannot afford to go on a running streak with no error as it is software; there is no guarantee against glitches or malfunctions. And imagine this happening to you when working on an important project, you will have to find a way how to fix corrupted Photoshop files. Here is a guide to show you how to fix this problem quickly with no stress.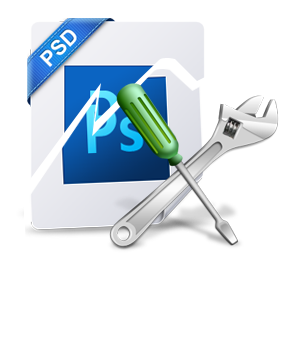 Part 1: The Main Causes Of PSD File Corruption
A corrupted Photoshop file is usually down to two root causes; a system crash or a software crash. Looking at the different possible scenarios. PSD file corruption can be occurred due to:
Sudden Power cut or failure while working or saving your PSD file.
Unhealthy hardware or file system.
Problem with Ram modules and Hard disk.
Malware Virus attack.
Software malfunction.
In the advent of any of the above possibilities, file progress is terminated rather than saved. And when an operation is interrupted with the prompt message— can't open a photoshop file due to corruption. You will have no choice but to select one of the following methods and steps to fix psd corrupted file repair.
Part 2: How to Fix Corrupted Photoshop Files?
Fixing a corrupted photoshop file is the primary focus of this guide, so without further ado, let's dive straight into it. The following are possible ways how to fix a corrupted photoshop file.
Fix 1: Use Data Recovery Software
Before repairing corrupt PSD files, other methods seem to be secondary and it is necessary to use Tenorshare 4DDiG data recovery software to recover corrupt psd files to keep data safe. It is the best data recovery software with the following basic features.
Support various files types like PSD files, photos,documents including Excel, Word, PPT, PDF and others.
Restore lost or deleted data from Windows/Mac/SD card/USB flash drive and more.
Recover corrupt or damaged PSD files, videos and photos.
Get files back by accident, formatting, corruption, etc.
Simple, secure and free of malicious pop-ups.
To get started with the 4DDiG software, follow this three steps:
Select The Path

Download and install Tenorshare 4DDiG on your computer. After launch, select the path that usually contain PSD file to select corrupted PSD file.

Scan PSD Files

The scanning process starts and the files you have selected to scan are displayed on your screen, you can find the PSD file you need to recover among all the files displayed.

Preview and Recover Your PSD Files

After the scan is complete, you can choose a file to preview and then click "Recover" to save them to a safe new location.
Fix 2: From The Previous Version
If you find out your photoshop file has been corrupted, you can try to recover it from an earlier previous version, but just like recovery through a .temp file, there is a limitation to the process. It will only work when the file history function is turned on before the .psd file gets corrupted. Still, want to give this recovery process a try? Follow the following steps on how to recover corrupted photoshop file from the previous version: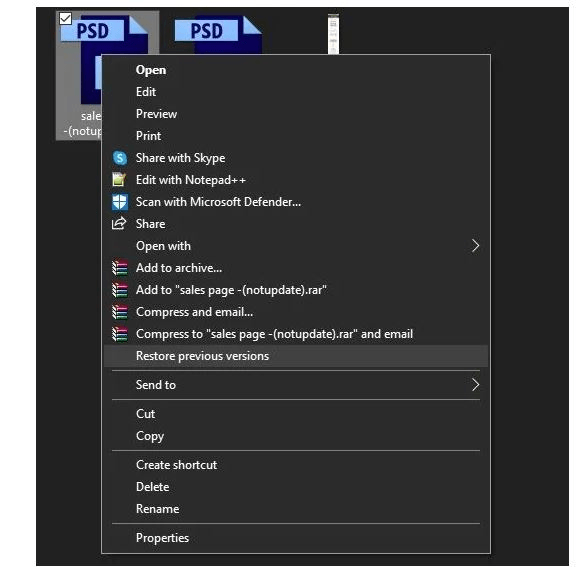 Step 1: Select the Photoshop file, and right-click to preview the drop-down option.
Step 2: Select the "restore previous versions" option.
Step 3: Find the earlier version of the corrupted file and click on restore.
Step 4: Select the most recent version and run on photoshop.
Step 5: While running on photoshop, accept all prompt message and save as a new psd file.
Fix 3: From AutoRecovery
If any of your actions or inaction has caused a photoshop file to be corrupted, you can perform a photoshop file recovery with the auto recovery feature. Though enabled, it only works at a fixed frequency, hence not so reliable. To auto recover your Photoshop file follow this process:
Step 1: Open the photoshop application and "Edit" on the top toolbar of the left hand side.
Step 2: Click preferences and then file handling.
Step 3: Check in the box for automatically recovering files every minutes.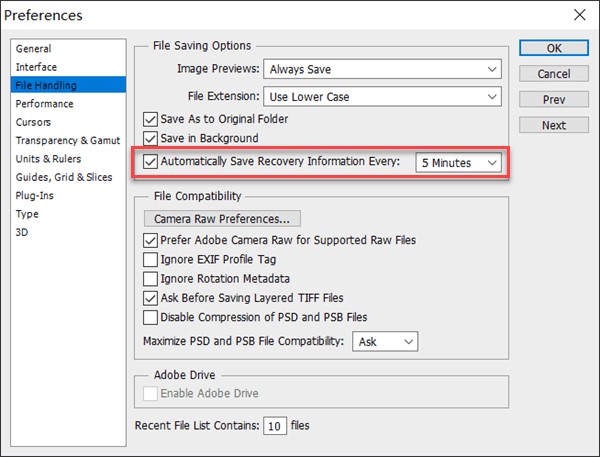 Step 4: Note the path of recovery and restore a version of the corrupted psd file.
Fix 4: Try to Open a Flat Copy
In case you don't know– A flat copy of your photoshop file is a reduced file size of your original file size. You can create a flat copy by merging layers to become background layers. In the use of photoshop, due to file error or corruption, you can quickly recover a copy of a file through a flat copy. Looking like an interesting method to try? You can only use this method for a file that has an existing file copy. The how to recover corrupted psd file with a flat copy is quite simple. Even though the effectiveness of this solution is in doubt. To recover a flat copy:
On Windows, click on ALT[Win] + SHIFT while clicking on the file to open and recover.
On Mac, click on Option[Mac] + Shift while clicking on the file to recover a non corrupted psd file.
Fix 5: From .Temp File
Temp files are folders on your system or PC where files still in operation are stored till they are permanently saved. While you can also use this recovery pathway to recover your PSD files, try not to overly rely on the .temp file because a deletion of the file will lead as in the case of system crash to total loss of files. However, if you will like to try out this process on how to fix corrupted photoshop file, follow the steps below:
Step 1: Open your .temp folder or locate it by inputting the term in the search bar.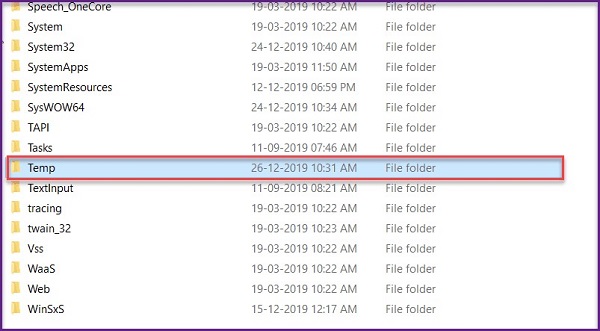 Step 2: Find the similar file related to your corrupted psd file you will like to recover.
Step 3: Rename the file extension to .psd to make it become a photoshop file.
Step 4: Finally open and recover the photoshop file.
How to Avoid Corruption Of PSD Files?
While corruption to a psd file, can render you to seek for options to recover files. Preventing such occurrences is advisable. Not only does it leave you with smooth operation while working on your project, it ensures you are proactive and not reactive in protecting your psd files or trying one of the too many methods on how to fix corrupted photoshop files. Note and activate the following:
Install an antivirus

Antivirus software helps to protect your computer and its file against viruses and malwares that might want to take over your device. If you have experienced a partial or complete computer crash you will find an installation, but you do not have to wait for this to happen.

Back Up

Backups are plan B security options available for Both local and cloud recovery are important for psd file usage especially if they are those you cannot afford to lose or willing to risk. These days it is easy to set up, so go ahead to try it today.

Install extra power backup

Using software like photoshop that requires a continuous supply of electricity to be safe is safer to have alternative or backup energy sources in case of a sudden power outage. However, check the specification of your system before installing extra power sources to find if it is compatible.

Update photoshop regularly

Since bugs and virus malware is a constant threat to your system of operation, updating your software regularly keeps you protected with the latest security features. To update your photoshop:

Step 1: Double click on the icon to launch the software.

Step 2: Select the Help option, then updates.

Step 3: If your system is in the latest version, you will get a prompt message displaying that. If not, follow the guide link to update your photoshop.
FAQs about PSD File Corruption
1. Can you uncorrupt a Photoshop file?
The answer to this is simple. Yes, you can. To get a satisfactory result, install the Tenorshare 4DDiG software and follow our three simple steps.
2. How does a Photoshop file get corrupted?
A Photoshop file can get corrupted in a number of ways and reasons, namely:
Faulty Hard disk and RAM modules
Photoshop Software malfunction
Unhealthy hardware or file system
Power cut or failure while working on a Photoshop file
Malware attack on a Computer system or device
Generally, a Photoshop file gets corrupted through a Computer or Photoshop malfunction.
3. How do I fix a corrupted PSD file online?
To fix a PSD file online, you can try either of these methods: From the .temp File, From the previous version, From AutoRecovery, Try to open a flat copy or use a data recovery software like the Tenorshare 4DDiG. Of all these methods, 4DDiG is the most reliable.
4. Can you fix a corrupted file?
Yes, with software like Tenorshare 4DDiG you can fix all formats and types of files, including PSD files.
Conclusion
Photoshop software is an essential tool that helps creative minds design and edits top-quality imagery. Constantly losing sleep over a likely or eventual loss of your project? If you have gone through the article, you will learn how to repair and recover photoshop files. Thanks to powerful recovery software like the Tenorshare 4DDiG, you can recover your file, even if your prevention mechanisms are employed and fail.