Windows 10 is a cross-platform operating system released by Microsoft for devices such as computers and tablets. windows 10 has now penetrated into every aspect of people's lives and because of this, there have been some problems. For example, windows 10 has a white screen interface after logging in, leaving people who are ready to work too late to react accordingly and properly. Nevertheless, the windows 10 white screen interface is not really a rare problem and has been reported several times in different forums. Although there are many reasons for the white screen, most of the time, the screen appears white because the computer was forced to restart. One of the scenarios is:
Part 1: Overview of Computer White Screen Problem
The Windows 10 white screen crash or White Screen of Death (WSoD) or just "White Death" alludes to an error with an OS that makes the PC quit working and show just a white screen. White Screens of Death are like Blue Screens of Death yet disparate in how they cause. A problem in the hardware is the most common reason for the White Screen of Death. There are likewise examples where software issues can bring about the white screen Windows 10. It additionally happens because of dropping your device, equipment damage, or an incomplete OS or application update.
Part 2: Massive Tips to Fix While Screen in Windows 10/11/8
Tip 1: Force Restart Your PC
Assuming you are getting the Windows 10 white screen on boot and the Windows sign-in page isn't showing in any way, the primary thing you should attempt is a power restart. If the white screen of death Windows 10 issues were brought about by an application or by a minor OS issue, a restart should fix it. You can perform a power restart by clicking the Power button for some time and continuing to press the Power key until the PC shuts down after its shutdown activity. Subsequently, boot your Windows 10 PC and check if the issue gets resolved.
Tip 2: Remove External Devices
If a restart of the OS doesn't tackle the issue of the white screen for Windows, try removing every one of the extra gadgets connected like printer, webcam, mouse, keyboard, etc. You should know that external gadgets can likewise make the OS crash. In this way, disconnect everything from your PC - turn off even the mouse. Then, at that point, power restarts your PC and see what occurs. If the Windows OS begins, try connecting all those parts again, each in turn. If a specific external gadget isn't working properly, you will recognize it without stress. Then, restart your PC, and if that works, the system will work just fine.
Tip 3: Boot in Safe Mode
Step 1: Press the Window + R buttons simultaneously on your keyboard.
Step 2: Go to the "Run" box and type msconfig, and then tap Enter on your keyboard.
Step 3: The System Configuration window will show up on your PC.
Step 4: From that point, change to the Boot tab, and under the "Boot" options, check Safe Boot.
Step 5: Here, you can likewise choose Network if you want to keep your internet running in Safe Mode.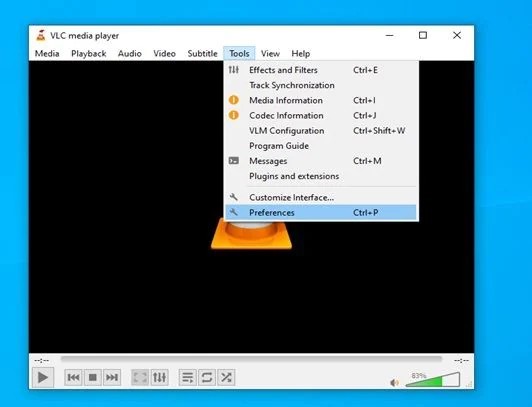 Step 6: That's it; reboot your PC as it will directly access the Safe Mode.
At times, some corrupted/third-party applications can be the answer to why is my computer screen white. To disengage the issue and distinguish the application that isn't running accurately, you should access the Safe Mode.
Tip 4: Update Graphics Drivers
If you haven't refreshed your graphics card drivers for quite a while, this can likewise prompt Windows 10 white screen with cursor. Then, at that point, while opening individual applications, the OS will crash. In this way, how about we check for an update of the graphics card drivers the following way:
Step 1: Click on the Start menu tab in the lower-left-hand corner of your screen and find Device Manager.
Step 2: Click Device Manager, and in the next window, select the data of your card.
Step 3: A rundown of drivers will show up here, and you need to tap on each and select "Update driver."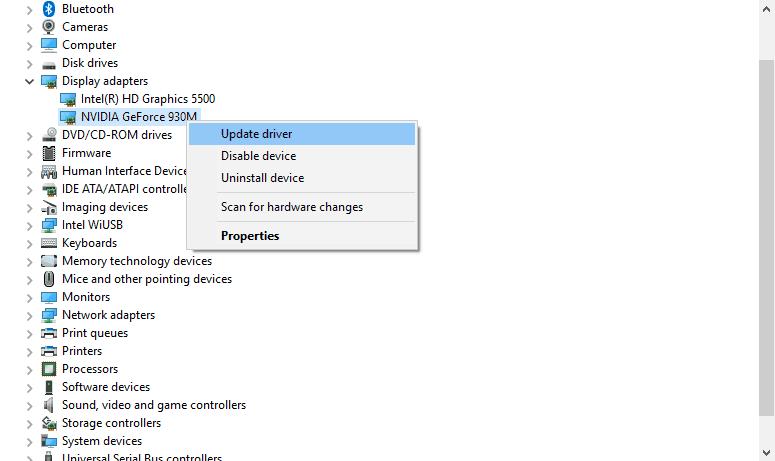 Step 4: Hang tight for the update, and afterward, restart the OS. There is additionally an approach to uninstall and afterward install the driver from the official site of the card.
Tip 5: Update Windows
Then again, the Windows 10 white screen after sleep can occur due to an issue with your OS. That occasionally happens, and you have to download the update for your Windows to fix the computer white screen issue.
To do this:
Step 1: Press the Windows + I key simultaneously on your keyboard.
Step 2: Go to the "Update and Security" area and click on the "Update" option.
Step 3: Update windows to fix Windows 10 white screen of death.
Tip 6: Uninstall a Recent Windows Update
It so happens that after Windows 10 OS update, the computer white screen on startup might show up. This solution is best if you began to encounter the white screen of death after introducing another Windows update. For this situation, use the following technique:
Step 1: Press Windows + I key simultaneously, then, at that point, the Update and Security window will open. Here, you can see all the installed updates.
Step 2: It is not user-friendly.
Step 3: Click the "Uninstall Updates" option. 
Step 4: Selective data restoration is not possible.
Step 5: All that remains is to choose the patch that most probably caused the Windows 10 white screen on startup and eliminate it.
Step 6: Select the patch you need to eliminate.
Tip 7: Check for Hardware Issue
If you can't tackle the issue using any of the above techniques, you need to realize that the problem might be related to the PC's hardware. That includes the processor, RAM, display, IC, drives, or board. Be that as it may, to check the soundness of the equipment, you want to have the appropriate expertise. You need to be able to look at the resulting voltage and other notable tests. Therefore, you better take your PC to an experienced repair shop where their experts will look into why the computer screen turns white and freezes windows 10.
Part 3: How to Recover Data from Windows with White Screen Error?
If you are attempting the above-mentioned methods, be sure to have a backup of your data ready and stay clear of data loss. Also, due to the laptop white screen, you may be at risk of losing your precious data. In such cases, Tenorshare 4DDiG data recovery software is a great tool if you're stuck with lost data. It assists you with rapidly restoring incidentally erased or lost data. Other than that, it has different valuable features that help in data recovery. Download Tenorshare 4DDiG and get your hands back on lost data.
Select a Local Disk

Launch the Tenorshare 4DDiG data recovery software and on the homepage, select a location from a list of options and then click Scan to proceed.

Scan the Local Disk

The software quickly looks at the folder or location, all over for missing files, and you can interrupt or stop the process whenever you like. If you can't find the exact files you were looking for, you can play out a Deep Scan, which is there at the lower part of the screen. It will deeply scan your selected location, which might takes some time.

Preview and Recover your Files
Following the scanning process, you can preview and save the files found back to a protected folder. Try not to restore the files to a similar folder where you lost them, to stay clear of data overwriting.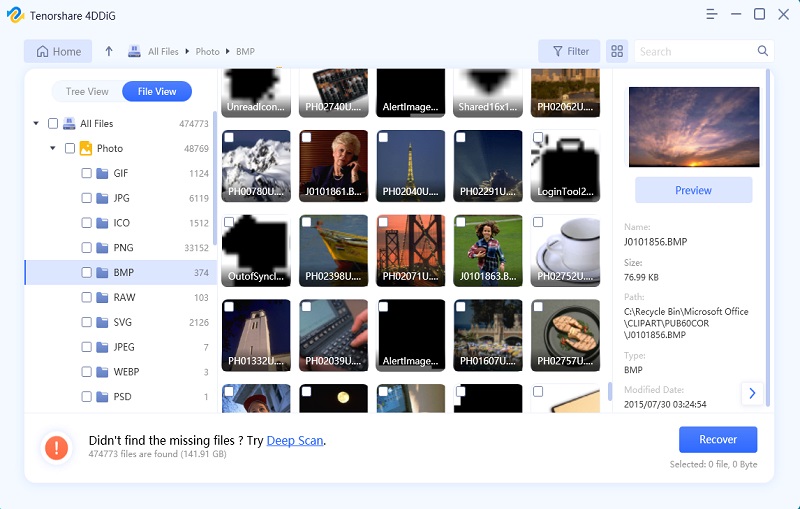 Summary
The WSoD is a common issue that each client faces. Nonetheless, the experience is frightening. To stay away from those, we've referenced the best strategies that can dispose of your WSoD issue. We have also provided you with a solution using Tenorshare 4DDiG, in case of data loss or accidental deletion.