How to Recover Deleted Photos from SD Card Mac?
Mac SD Card Photo Recovery Made Easy! Recover deleted photos from SD card Mac with 4DDiG Data Recovery. Download now for quick and reliable results!

William Bollson
Updated on 2023-09-22 11:14:46 to SD Card
SD cards provide convenience, but they can also cause data loss troubles with the slightest operation. One of the most common problems for most Android and camera users is losing photos from the SD card. When you realize you've lost data, stop using a Memory card, whatever method you use to lose your pictures. Don't consider taking more clicks on the card and consider removing them from the camera or Smartphone. Then, use professional recovery software to recover deleted photos from SD card Mac.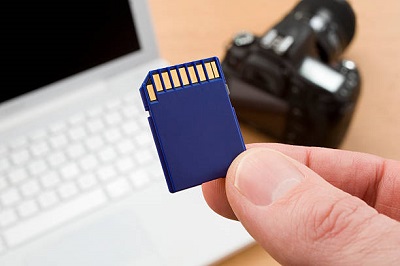 Part 1: Causes of SD Card Data Loss
The causes of photo loss from memory cards are listed below. You may never have considered it one of the factors that causes picture removal from a memory card. So, look at the causes and avoid all of these areas to prevent data theft from memory cards.
Sudden Removal of Memory Card

If you suddenly isolate the memory card while attempting to access the media, you may lose photos. Furthermore, if you eject the card during files transfer, your memory card may become corrupted, and then you will lose all of the photos on the memory card.

Formatting of Memory Card

When accessing the photo, the card may display errors such as "Memory card not working" or "Format fault". Such error messages indicate that the card is affected badly, but formatting results in removing the memory card's media. This condition reduces all survival chances.

Tips: Before formatting must make a complete backup of your media.

Sudden Power Failure during Copying Process

A sudden power outage while transferring files or synchronizing can result in photo corruption or removal. Furthermore, this may result in data unavailability.

Tips: To avoid this issue, you must have a power backup.

Virus Attack

If the card becomes infected with the virus, the photos kept on it will undoubtedly be corrupted. It's the most common issue and can cause damage until you recognize it.

Accidentally Delete All Media

Imagine you want to delete specific images from your memory card, but you accidentally select all of them and hit on the "Delete All" option. In this case, all of the photos on the memory card will be removed. It'll be challenging to store it back without backup, but you can easily do it with a specialized recovery tool like Tenorshare 4DDiG.
Part 2: What To Do Before Recovering Deleted Photos From SD Card?
Never use a memory card when any of the causes mentioned earlier damage your Memory card's media. This will add up to the damage and may cause difficulty in the recovery process. First, try to recover the media either by organic ways or with some professional tools.
Part 3: How To Recover Deleted Photos From SD Card Free?
The following solutions will answer you how to recover deleted photos from sd card Mac free:
Solution 1: Recover Deleted Photos From Internal Storage
Are you thinking about how to recover deleted photos from SD card without software? The first place to search for deleted photos with an SD card is in your device's internal storage or temporary holding on to a Mac or Windows PC. When you remove an image from your device, its data storage is set free for later use. It is not physically deleted from your SD card right away.
Note: That is why we suggest you stop using the device when you encounter any threat.
Browse to albums once the app has been opened and check if there are any pictures in recently deleted media. If this is the scenario, you can restore them to your desired album.

The process mentioned above is the same for Android and Mac devices. However, if you'll use the device after removal, it may become impossible to restore media.
Solution 2: Recover Deleted Photos From Backup
An SD card is used to save digital pictures for a long time or to increase the capacity of a camera. If you just took a photo but then removed it, you possibly didn't have time to make a backup of your pictures. Alternatively, if you're using the card to transfer photos to be regarded on multiple devices and the images have been native on the card for the same period, industry standards would recommend you to back up that card.
It entirely depends on how wisely you choose to back up the pictures on your Memory card. To safeguard cards used on your iOS devices, you can use iTunes or iCloud.
Creating backups, in whatever method you choose, is not limited to personal computers. You should back up files on your smartphones, including any SD cards that include photos you want to keep safe.
For SD card accidental damage, a backup could be the only method to regain your photos. Take the preceding advice seriously and begin backing up your data right away.

Solution 3: Recover Deleted Photos with 4DDiG
Tenorshare 4DDiG (Mac) makes it simple to restore any removed, formatted, or accidental deletion from your device or memory card. Recover your deleted files from common locations such as the Desktop, Recycle Bin, and Select Files, along with Devices and Drives, in various situations such as accidentally deleting, an empty Recycle Bin, and exploded structure virus infection, and much more. The following guide will explain recovering data from local disks, lost partitions, memory cards, and a crashed computer. To begin the process, download and install 4DDiG.
High productivity with easy preview option
Protect the validity of your data
Recover lost documents without rewriting any other files, ultimately safeguarding other files from just being rewritten.
A high rate of data recovery
Restoring data is as simple as three clicks. There is no need for technical knowledge.
Support macOS Monterey, macOS Big Sur, macOS 10.15 (Catalina) and below versions
Follow the steps below to know how to recover deleted photos from SD card with 4DDiG:
Select a Location

After you download and install Tenorshare 4DDiG on your Mac, launch the program and get your SD card connected to computer. 4DDiG should detect it instantly so that you can select the drive and click Scan to proceed.

Scan and Preview

It should take a while for 4DDiG to scan your selected drive all over for finding deleted photos. You can also interrupt or stop the search at any level as soon as you've discovered the files you want to fetch. After the scanning, you can select target files to preview.

Recover Deleted Photos from SD card

Now you can choose target photos and then click Recover to save them to a safe location. It is not advised to keep the recovered files to the separation where they were lost. This could result in permanent loss.
Part 4: Tips To Avoid Losing Photos From Memory Card
Remember Not To Be Impatient

Many photographers quickly remove the memory card after getting pictures. This does not give the images adequate time to write to the card entirely, leading to file errors or a need to format the card completely.

Verify Your Battery Levels

Cameras, undoubtedly, can't indeed function without a power supply, and writing data to a card requires a certain level of power. Stop using a camera with low battery levels.

Grant Your Card a Place to Live

Never let your card leave its base!

Be Cautious When Deleting or Formatting Photos

Remember, some cameras' internal formatting and removal tools use a dangerous strategy of formatting or removing.

Get a Reader

Card readers are a three-for-one deal. They are simple, easy to be used, and inexpensive.

Do Not Refill

Backfilling entails deleting old photos and then taking new ones.

Observe the Elements

Extreme temperatures can wreak havoc on memory cards, even those labeled for temperatures above 120 degrees Fahrenheit.
FAQs
1. Where do deleted pictures go from SD cards?
If you have accidentally removed the pictures from your memory card, photos will be moved to the trash or Recycle Bin. However, these files are not yet permanently removed. You can quickly recover them through the trash folder. What if the pictures are permanently deleted?
You can still get them back through the recovery software. Recovery can become challenging if you have used the card after deletion.
2. How can I recover permanently deleted files from an SD card?
Don't do anything about your memory card after you realize your pictures have been removed.
Choose a recovery toolkit.
Install and configure the recovery toolkit on your device.
Let's begin with Tenorshare 4DDiG mentioned above.
Scan to see what files it finds.
3. How to recover photos from a corrupted SD card?
If your corrupted SD card can't be recognized by Mac, you can use Disk Utility to repair it. If your Mac can successfully detect your corrupted SD card, we suggest you use SD card data recovery tool to recover photos from a corrupted SD card. To do this, follow the steps below:
Insert the SD card and begin scanning. Link the SD card to your computer using a card reader.
Select your required photos. Wait until the scanning is finished before selecting the images you want to recover.
Retrieve photos.
Conclusion:
You can see there are several possibilities if you removed some photos from such a memory card. It could be a complex or easy procedure, regardless of how long the pictures were removed and the accessibility of a backup. However, you can quickly recover deleted photos from SD card without a backup with a specialized tool 4DDiG Mac Data Recovery.