Imagine working on an important work project, and you are transferring files and images to the computer from an SD card. The transfer is going smoothly until you receive a prompt that the data has become corrupt. Your heart sinks as you do not know how to proceed. Fortunately, today's guide will act as a savior so you can learn how to recover photos from corrupted SD card. Unfortunately, a corrupted SD card does not come with a warning. However, educating ourselves about its primary causes can prevent losing crucial data. Following are a few typical reasons an SD card is compromised.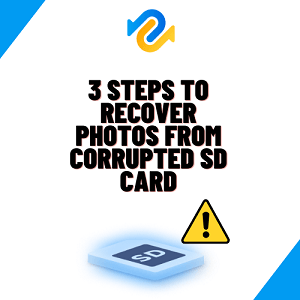 Part 1: Common Reasons for SD Card Corruption
Lax Performance

You will need to format the SD card when it is performing slowly. Sometimes overuse or constant interaction can result in a corrupt SD card. In the most unfortunate cases, the data transfer can take up to hours to transfer a handful of videos and pictures.

System corruption

The SD card requires the operating system to bypass the connection. If the link is compromised due to system corruption or incapability, you might need to format the SD card to recover the content.

Collective bad sectors

Bad sectors are present in the SD card, just like the hard drive. These compromised sectors eliminate the capability of saving content. Therefore, collective bad sectors are one of the reasons for SD card corruption.

Careless attitude

An apparent reason for SD card corruption is mishandling it. When an individual carelessly inserts or removes the SD card without proper steps, it compromises its internal working. Unfortunately, the SD card is now useless.

Manufacturing defect

Sometimes the causes of SD card corruption are not your fault. An SD card is sometimes compromised because of a manufacturing defect. The error is transferred to the customer, whether it is lax quality control or a production line defect. If this has happened to you, communicate with the seller or the manufacturer for a refund.
Part 2: How to Recover Photos from a Corrupted SD Card?
Option 1: Get Photos Back from Corrupted SD Card via CHKDSK
System corruption is one of the reasons you may need to recover photos from a corrupted SD card. Therefore, the solution is running the CHKDSK command. Here is how to retrieve files from an SD card that is corrupted without hiring professional help. An SD card will not stay operational for too long. It is a removable storage device that will result in bad sectors. The below-mentioned command will eliminate bad sectors and other errors. Before we begin, let us mention that CHKDSK will remove the content permanently to fix the SD card. Therefore, we insist that the individual saves data regularly in a backup pathway.
Step 1: Click start. Type "cmd."
Step 2: Open the "Command Prompt" by right-clicking. And then "Run as administrator."
Step 3: Input chkdsk H: /f /r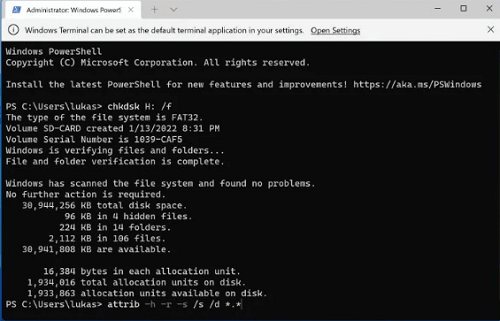 Step 4: Replace H with the drive the SD card denotes.
Option 2: Recover Photos from Corrupted SD Card Using Tenorshare 4DDiG
No matter how data loss happens, it is a misfortunate incident. The individual loses precious photos or crucial documents from an SD card. Instead of spiraling internally, the user must seek a solution to overcome content deletion. Therefore, we present Tenorshare 4DDiG. It is an innovative platform that will recover content expertly. Its operations are credible and accurate. Tenorshare 4DDiG begins by professionally scanning the SD card. Before we tell you how to retrieve files from an SD card that is corrupted using Tenorshare 4DDiG, here are its features:
It will retrieve content from corrupted, formatted, or deleted SD cards.
You can use it to recover files from remote external devices.
It offers RAW, lost partition, and operating system recovery.
Continue reading to discover how to recover photos from corrupted SD card using Tenorshare 4DDiG. The steps are very straightforward, similar to the interface.
Connect the SD card

Open Tenorshare 4DDiG on your computer. Connect the SD card. The software will exhibit internal and external storage devices on the computer. You can select "Scan All File Types" in the right corner to limit the search.

Scan the SD card and Preview it

Run the Tenorshare 4DDiG scanner. The software scans the SD card and presents the deleted files. You can click to select the file you want to preview.

Browse and Recover

Peruse the options from the scanning. You can search for the photos and select the ones you wish to recover. After you are pleased with the choice, click on "Recover." Save the recovered files in a different location to the original pathway.
Option 3: Retrieve Photos by Updating and Installing the Latest Version of The Driver
Many computer beginners constantly hear the word "drivers." Unfortunately, we are unaware of its meaning. A driver is built-in software that lets the computer interact with externally connected devices. A genius solution to recover photos from corrupted SD card is updating the driver. It will enhance the computer's card reading ability. However, sometimes the drivers are not updated, which causes incompatibility issues with the SD card. Here is how to fix it:
Step 1: Select "This PC" then click on "Manage".
Step 2: Click "Device Manager".
Step 3: Expand the Device Manager with a right-click. It will show a corrupted SD card. Select "Update Driver".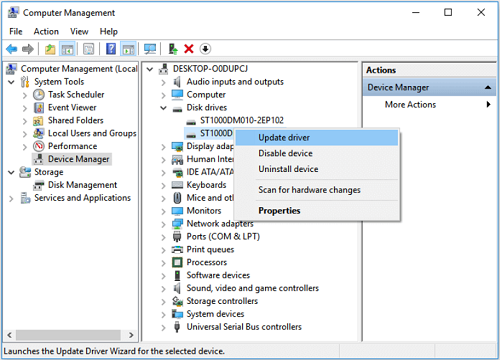 Step 4: Lastly, you can select "Search automatically for updated driver software." Ensure the computer is connected to the internet with a stable connection.
Option 4: Change the Card Reader to Restore Photos from Corrupted SD Card
The fourth strategy to recover photos from corrupted SD card applies to a new computer, USB Port, and reconnecting the memory card. Furthermore, it will also fix the issue when the computer does not recognize the storage device.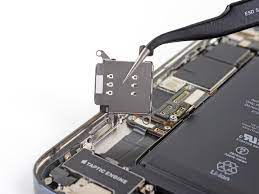 Reconnect and unplug the SD card from the PC.
If the computer does not recognize the SD card, apply the following solutions.
You can purchase a new SD card reader. Insert the SD card and connect it to the PC.
You can alternate with the USB ports and reconnect until the computer recognizes the SD card.
Connect the SD card reader and the remote storage device to the new computer.
Video Turorial on How To Recover Data From Corrupted SD Card
Tips: How to Prevent the Corruption of SD card?
Is your SD card becoming corrupt frequently? The data on your memory card is crucial to professional or personal realms. It is a memory holder for milestones and achievements. Therefore, we suggest using the following tips to minimize data corruption prompts. Have a look!
Use high-quality SD cards

Do not purchase third-party SD cards from unreliable sellers. Purchase from credible brands such as Samsung, Panasonic, or Kingston. These manufacturers practice robust quality standards. Furthermore, the purchase will also result in more reliability.

Use an antivirus

Secondly, the individual can also run an antivirus to ensure the data's integrity. SD cards are often shared among friends and family. As a result, the devices vary too. Sometimes the computers are not well-protected against viruses and malware. Therefore, do not insert unknown SD cards or use unknown devices either. Lastly, use a credible antivirus for a robust response against threats.

Avoid heat, moisture, and humidity

Keeping an SD card in a safe place is also an excellent idea to prevent data corruption. Therefore, store a card in an area without humidity or direct sunlight. Please keep it away from moisture too. Otherwise, the SD data will corrupt very soon.

Use the SD card properly

Lastly, we strongly advise against abruptly ejecting the SD card. Furthermore, do not forcefully insert the card into the slot too. In addition, do not interact with the SD card when it is writing or reading data. In short, anytime the SD card is disconnected improperly, the data will suffer.
FAQs about Corrupted Photos from SD card Recovery
1. Can I Recover Files from A Corrupted SD Card?
Word files are created in a way that makes it easy to recover them if they were lost. Word has the ability to back up your document and save it in case of problems. If nothing works for you then you can use a recovery program like Tenorshare 4DDiG.
2. Can You Recover Photos from A Corrupted SD Card in Android?
You can remove the SD card from your Android phone and connect the SD card to your computer. In terms of reliability and security, we recommend using Tenorshare 4DDiG to recover photos or other files, such as audios,videos and so on. It will save your time and will recover your document in just a few minutes.
3. How Can I Recover Files from A Corrupted SD Card Without A Computer?
You can recover photos from a corrupted SD card in more ways than one. Here are the suggestions:
Connect the compromised SD card to an android device.
Format the SD card on an android device.
Go to Settings on the smartphone. Select the Storage section and locate the SD card. Click "Format."
4. How Can I Recover My Corrupted Photos?
There are numerous software and techniques for how to recover photos from corrupted SD cards. However, the most reliable way to recover photos from corrupted SD card is by installing Tenorshare 4DDiG. The image recovery platform is straightforward, making it perfect for beginners. Tenorshare 4DDiG supports numerous formats too. Thus, its operations are wide-scale.
Conclusion
Choosing the most beneficial technique to recover pictures and content from a remote external device depends on the SD card's condition. Unfortunately, there is no clear answer if the SD card is physically damaged. However, there is a software solution to recover content such as pictures, documents, and videos. Tenorshare 4DDiG is an innovative platform approved by globally recognized communities for data recovery. It is the ultimate solution for retrieving content from deletion, formatting, crashed systems, and virus-attack. You can free download Tenorshare 4DDiG on Windows or Mac. Just join the Tenorshare 4DDiG family today!