Data loss is a nightmare for any organization, but with the right tools and techniques, recovering lost data can become much easier. When using the VMware disk, coming across the disk file not found error is quite casual. But it can give one excruciating pain when all the data stored is on the stack. This guide will explore how to recover data from VMware disks in 2023 using several methods. We'll discuss the basics of VMware disk recovery and what types of data can be recovered.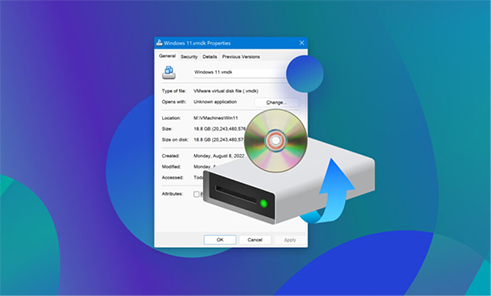 Part 1: About Vmware Disk File Not Found?
When the disk file is not found in the VMware disk, it means that the disk file needed to boot the system isn't available or has been lost. This usually happens when the disk's partition table, master boot record (MBR), and other important files become corrupted. Here's the list of several reasons why disk files not found:
Due to a hardware failure
The disk file not found error can also occur due to a hardware failure, such as failing disk controllers or disk drives. Users must be aware of the disk controller and disk drive health status before attempting any disk recovery process. If disk failure is possible, it is best to create backups regularly.
Power failure
Power failure is one of the most common causes of disk files not found. If a disk drive loses power abruptly, it can corrupt the disk's partition table and other files. This can result in disk file not found errors when attempting to boot from the disk.
Unable to start VMware
If the disk file is not found when trying to start VMware, it could be due to disk corruption, disk controller failure, or disk drive failure. If disk corruption is suspected, running disk repair utilities can help recover some of the data and may fix disk errors.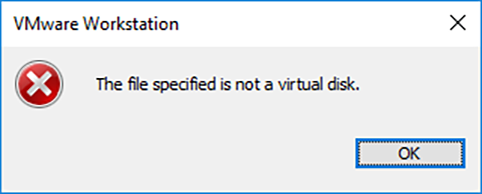 Part 2: In Which Situations Do You Need to Recover Files from VMware?
There can be several situations when you need to recover a file from VMware, as it's one of the most vulnerable Virtual machines. One common example can be that you're using the operating system on VMware and have stored some important information on it. Providing that you haven't transferred your important data to computer storage or other safe places, then out of the blue, the operating system disappears in the air, and you'll lose all that data. In this scenario, you'll look eagerly for the data recovery tools or methods to get it back.
Part 3: How to Recover Lost VMware Files via 4DDIG Data Recovery
When it comes to how to recover virtual machines in VMware? The Tenorshare 4DDIG Data Recovery is an advanced disk file recovery tool that can help users recover data from VMware disk files not found. This powerful recovery software is designed to detect, analyze, diagnose, and repair disk errors to retrieve lost files, including VMware files. It has several features that make disk data recovery easier and more efficient.
With Tenorshare 4DDIG Data Recovery, users can quickly scan the disk for missing disk files, repair disk errors, recover deleted disk files, and even undelete disk partitions that may have been corrupted or lost. It also supports disk recovery for various types, such as HDD (Hard Disk Drive), SSD (Solid State Drive), and more.
Recover accidentally deleted, hidden, broken, RAW, and corrupted files.
Recover files from external and internal drives, vmware, USBs, SD cards, and digital cameras.
Recover 1000+ file types, including audio, videos, documents, and images.
Recover data lost due to virus attacks, lost partitions, and formatted drives.
Several previews and in-depth scanning modes.
Check out the steps below to recover deleted files with the 4DDiG tool:
Download and install the 4DDiG utility on your computer. Open the utility and choose the drive from the user interface where you've lost the files. Or you can set the target file type from the upper right corner.
Tap the "Scan" button and begin the recovery process. Pause the scan to preview files according to their types and categories like Deleted, Existing, Lost Location, RAW, etc.
Once the scan finishes, tap the "Recover" button to save files in another drive.
Part 4: How Can We Recover Data from VMware Disk Manually?
Besides using advanced tools like 4DDIG Data Recovery that automates the data recovery, there are also manual methods. Here's how to recover data from A VMware Disk manually:
Step 1: Open the Run window by pressing the Windows key + R on the keyboard.
Step 2: Now type the CMD in the run window and hit enter to run the command.
Step 3: Once the common line prompt is opened, follow the following directory to browse the VMware development kit. Virtual disc development kit>>bin>>C:>Program files>>VMware>>Virtual disc development kit>>bin
Step 4: Next put the VMware-vsdiskmanager.exe in the CMD and hit enter.
The manual method to recover the data from the VMware disk requires extensive technical knowledge. So, you should only follow this method if you know what each command means. Otherwise, use the 4DDIG Data Recovery tool.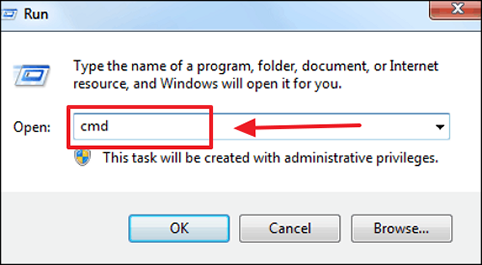 Part 5: FAQs
Why Do We Need Using a Virtual Machine
Using a virtual machine (VM) provides several benefits, including running multiple operating systems on one physical machine. This makes it easier for organizations to test new Operating Systems, software applications, or configurations without interrupting their existing environment.
Additionally, VMs can provide better security for sensitive data and applications as they can be isolated from the rest of the system. VMs also make it easier to back up data more efficiently and provide more flexibility when it comes to scaling up or down a system's capabilities.
Why Is the VMDK File Corrupted?
VMDK files can become corrupted due to several reasons, such as incorrect shutdowns, power outages, virus attacks, system crashes, and disk errors. Additionally, it may also be prone to corruption if the VMDK file is stored in an unsupported filesystem or located on a damaged partition or device. It's important to ensure that VMDK files are regularly backed up to reduce the risk of data loss or corruption.
How to Save Recovered Data from VMware?
Once you have successfully recovered data from VMware using a data recovery tool such as 4DDIG Data Recovery, you can save the recovered files to any location of your choice. The software will allow you to choose which files or folders you want to recover and where you want them saved. It is important to choose a secure location with plenty of storage space to ensure that your data is safe and secure.
Conclusion
Recovering data from a VMware disk can be difficult and time-consuming, especially if you are unfamiliar with the commands. Fortunately, Tenorshare 4DDIG Data Recovery makes the task much easier by automating and simplifying the whole process. With this powerful tool, you can quickly scan your disk for missing files. In this guide, we discussed how to recover virtual machine in VMware.