Question:Recover deleted files from emptied Trash Mac"

"Ahhh I fee so bad. So I accidentally deleted my friend's project off my Mac and even empty the Trash, and I was wondering what software to use to recover the file."

-A question from Quora
Mac users must be aware of the macOS Trash Bin. It is a fantastic folder that holds your deleted files. If you have unintentionally deleted some important documents, the Trash is where you should hope to recover them. But in the meantime, if you have empty the Trash, what can you do? In this article, you will learn about how to recover deleted files from Trash on Mac. After having read this article, you will be able to recover emptied Trash on Mac and get deleted files back on Mac.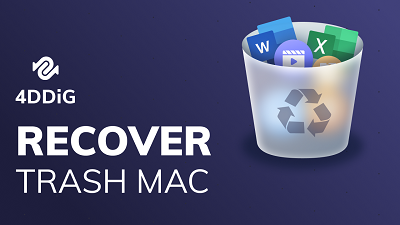 Part 1. Is It Possible to Recover Trash on Mac?
So, can you retrieve deleted files on Mac? The straightforward reply to this question is "Yes." There is a decent possibility that you can effectively recover deleted files on Mac even emptied Trash. When a file gets erased, the OS denotes its spaces as being accessible for use. If that space is expected to save new data, the old files will be overwritten, yet the file still exists on your device.
Keep in mind; you will increase your chances to recover deleted trash Mac by limiting the use of the storage device on which the data was initially stored. In this case, it is the internal hard drive. So, the most brilliant option for you is to limit using your PC for different activities until you have finished your life recovery.
Updates in Newer Versions of Mac
More up-to-date models of the OS have an option to automatically clear files from the Trash after 30 days. One can find that Option in macOS High Sierra, macOS Mojave, macOS Catalina, macOS Big Sur.
That makes it less likely to retrieve the record you need in the Trash, where it can be completely recovered with a couple of clicks. If you can still not get your files back, you should utilize specific software to recover emptied trash Mac after the Trash has been cleared.
Tips:
How to find trash on Mac?- To open the trash folder, you need to press command+shift+G and then type "Trash" to get into the trash folder. Or you can just simply click on the Trash icon on the desktop to open it.
Part 2. How to Get Deleted Files Back on Mac Emptied Trash with 4DDiG [Recommended]
Tenorshare 4DDiG Mac Data Recovery is the expert yet simple software to recover any sorts of files, including photographs, recordings, excel, word and others. You can make use of this software to recover emptied trash on Mac.
This Mac recovery software is featured to recover files from all Mac hard drive and other Mac-based storage devices including USB, SD Card, digital camera, etc. after emptying Trash, or due to an OS update, virus attack, accidental deletion, etc.
Check this detailed method and figure out how to perform Mac trash recovery with 4DDiG.
FREE DOWNLOAD
Secure Download
FREE DOWNLOAD
Secure Download
Select a Location

Open the 4DDiG-Mac software after installation and select a destination like your trash to begin Mac data recovery. At that point, click the "Scan" button to start looking into every single lost document.

Scan and Preview

It will take a significant chunk of time to scan all erased files. After the scan result, you can tap on any desired file types to see more details.

Recover Mac Files

Snap the "Recover" button and select an area to save the retrieved files. It is not prescribed to save the recovered files at the location where you lost them. Doing so can cause permanent data/file loss.

That's it. All of the lost files from your emptied trash shall be recovered now.
Video Tutorial: How to Recover Files after Emptying Trash on Mac
Part 3. How to Recover Deleted Files Mac without Software
There is only a single method to recover erased files from a cleared Trash Bin without using recovery software. You need to retrieve the missing files from a backup taken before the record was permanently erased from the computer.
Apple users should use the built-in backup source known as Time Machine to save their data consistently. That is the ideal opportunity for those backups to show their value by allowing you to recover accidentally erased files. This method will enable you to recover emptied trash Mac free.
Open Time Machine on your Mac

You can get to Time Machine by tapping on the clock symbol situated on Mac's menubar. You can likewise use the Terminal application, which permits you to control Time Machine. Utilizing Terminal will help you oversee different PCs and get various data for the backups that Time Machine has taken in the past.

Find your Document

Working out a document recovery with Time Machine requires that the media you utilize to backup your Mac is connected and turned on. When you open Time Machine, you will want to explore through the backups made of your files.

Look for the Desired Files in their Initial Locations

Identify all the files that got erased from a backup that happened before the erasure date.

Select the File you Need to Retrieve

After you have tracked down the mentioned files, click Recover to retrieve them back to your hard drive. This way, you can recover files from trash Mac.
Part 4. FAQs about Recovering Empty Trash Mac
1. Do I need to empty the trash on Mac?
One of the best advancements of the Mac was the idea of the Trash. Rather than erasing files quickly, you would put them in the Trash, where they would remain until you either took them out or erase them permanently. Clearing the Trash does not need to be a bust activity. Imagine that you have pretty recently trashed a couple of large files and need to recover their disc storage without throwing every document in the Trash. Select them, Control or right-clicks one, and select Delete. You can likewise use Command + Option + Delete.
The primary urge to clean the Trash is if you need to recover the disc storage it covers. You can do that immediately at any time, but in macOS 10.12 Sierra and later versions, you can have the Mac delete things from the Trash after they have been in there for 30 days.
2. When you empty Trash on Mac, is it gone?
Trash Bin in Mac works the same as the Recycle bin in Windows PCs, which is intended to give a small spot to holding erased files and data. If you find that you have erased something significant you did not intend to, you can get it back from the Trash bin without any problem. However, it is not generally that easy to recover lost files if you have cleared the Trash bin. But is it possible to recover files erased from Trash on macOS? The appropriate reply is YES.
3. What is the difference between empty Trash and delete immediately?
When you erase files from your Mac, they first move to the "Trash." That empowers you to recover your erased data back whenever you need it. When you clear the Trash, these files are erased and are not controlled by your macOS.
Even when you have cleared the Trash, the erased files will stay covered up on your Mac's hard drive insofar as new files don't overwrite them. It is also suggested that you try not to use your PC if you need to recover erased Mac files. Likewise, you should begin the recovery process soon after clearing your Trash bin.
Conclusion:
When you find that your files were unintentionally erased on Mac, you must quickly go to the Trash folder and recover files from there on Mac. What's awful, the Trash got emptied, and there are no backups? You don't need to worry! Download Tenorshare 4DDiG Mac Data Recovery software to recover emptied trash Mac. It permits you to restore everything you lost and recover data from USB, SD Card, or digital camera.
You May Also Like
Home >>
Recover Deleted Files after Emptying Trash on Mac