How to Recover Deleted Folders on Mac?
Accidently deleted folders on Mac? No worries! Download 4DDiG Mac Data Recovery to recover permanently deleted folders on Mac with ease.

William Bollson
Question:recover deleted folders on Mac

"Is there any "free" data recovery software for Mac to recover deleted files? I accidentally deleted my work files from the trash can.""

-A question from Quora
Are you afraid of losing your data? Do you want to know different ways to recover permanently deleted files on mac? The good news is the article ahead outlines all the possible sources to restore deleted files and folders on Mac. Even if you have emptied the Trash yet, it is possible to retrieve all mac deleted files and folders. Let's jump into the solutions.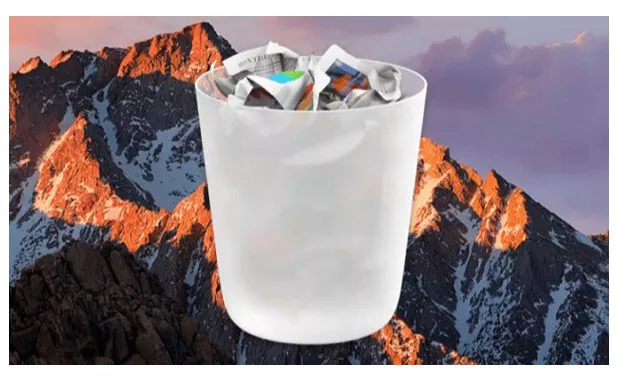 Part 1: Recover Deleted Folders on Mac with 4DDiG (Recommended)
Mac deleted files and folders could arise a problematic situation for a user. It may contain fundamental and sensitive data that you can not afford to lose. Whatever may be the reason, you can recover lost files on Mac with 4DDiG recovery software. It has excellent features and is straightforward to use.
Why 4DDiG Data Recovery?
User-Friendly
A manageable and spontaneous user interface helps you recover mac deleted files real quick. Its process of recovering files is efficient, and it ensures 100% recovery.
Data Safety
The 4DDiG is safe to scan and recover mac deleted files. It does not harm the data and retrieves the original one.
Same File Preview
Format of the file stays the same after recovery. It shows the correct list of previews so that you can easily select and recover the folder according to your preference. It supports all file formats BMP, JPG, JPEG, GIF, PNG, TXT, DOC, and PPT.
Quick Process
The speed of 4DDiG is impressive, and it is also resumable if you want to take a look at the scanned files between the process.
The process to recover lost files on mac with 4DDiG
Important Tip: Users of macOS High Sierra and the latest system will need to disable SIP first to access Mac files before starting the process.
Not to mention that Tenorshare 4DDiG Mac Data Recovery is the most effective and helpful recovery software, significantly to restore lost files and folders on Macos. Whether it is a single photo or a bunch of files in a folder. Regardless of the location of files, even if you have deleted the data from your Trash, It still can recover all those files within a few minutes.
FREE DOWNLOAD
Secure Download
FREE DOWNLOAD
Secure Download
Select a Location

To start the process, you need to install the software in your system first and then open it. You can select any location, either your hard drive or the external storage gadget. Start scanning any time you think is suitable.

Scan and Preview

Let it scan for a few minutes and 4DDiG will start looking up files and will show you the results in no time.

Recover Deleted Files on Mac

Once you get the files list in front of you, select the files or folders you want to retrieve. Press the recover tab and save the file to your desired location. For the safe side, do not save the file on the previous site as it may cause a permanent data loss.
Video Tutorial on How to Recover Deleted Folders on Mac?
Part 2 Restore Deleted Folders on Mac from Trash
The most common scenario with deleted files is that you may unintentionally drag the file or a folder to the trash can. You can recover it quickly by following the simple steps given below.
Go to the Trash bin and drag the file or folder out of it.
Or you can select the file and then select the put-back option.
Or in the Trash, select the file, choose to edit, and copy the file name; now, you can paste it to your desired folder.
You can only recover those files present in the Trash if you have permanently deleted them by emptying the Trash or using cmnd+shft+dlt. You need a professional recovery tool to get them the data back.
Part 3: Retrieve Deleted Folders on Mac with Time Machine
Suppose you do not want to use the recovery tool. In that case, you must be smart enough to turn on Time Machine on your macOS, which transfers backups on an external device regularly. Only then will you recover the lost files without the help of a professional macos data recovery tool. Although a time machine is a built-in option, you have to back up the data manually.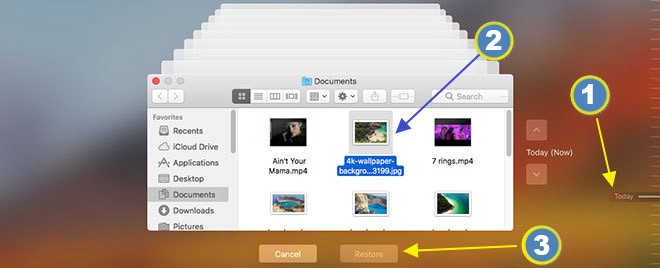 Attach an external storage device to the system and turn on the computer. There is a migration assistant window through which you can transfer all the data backed up by the Time machine on your mac.

The second option is to go to the applications through the Finder, select utilities and then the migration assistant, and then transfer the data process from the time machine to the external device.

Click on continue after selecting the file or the folder you want to backup. You can choose more than one file.
Click on continue.
It will start transferring once done, restart the system. You will see all the retrieved folders and files in your account.
Part 4: Restore Deleted Folders on Mac through Terminal
The Terminal is also a great option to restore deleted files on Mac. Still, it is only helpful if you know the file name and not permanently deleted from the Trash; otherwise, you will require a recovery tool. With an empty trash can, it is of no use.
Double click on the Terminal. If you don't know where the Terminal is, open the Finder and then go to Applications select Utilities. You will see the Terminal.
Now you need to manually type a command that says (cd . Trash) followed by the "return key."
Now type "mv filename../" and hit the "return key" again.
Exit the Terminal.
Part 5. Recover Deleted Folders on Mac with Undo Option
The easiest way is to press the command+Z keyboard shortcut to immediately retrieve the lost files on Mac. Unless you did not repeatedly use the copy and paste options.
Part 6. Find Deleted Folders on Mac from Backup
The habit of backing up your data is beneficial if you deal with important files and folders daily. There are many online backup sites and applications that give you easy and quick access to your files. Following are the two most commonly used backup applications to get your permanently lost data from the macos system.
iCloud
To get the backup file, log in and go to the settings, select advance, and restore the file to restore the file.
Google Drive
You can restore the deleted file by finding it in the Trash first, and then right-click on the specific file and restore the deleted file on Mac.
FAQs about Mac Data Loss
1. What may cause data loss on Mac?
The most common causes of data loss are:
Power failures
Virus attack
Hard disk failure
System shutdown
User mistakes
Data stealing
2. Is it possible to recover permanently deleted folders on Mac?
Many influential and practical methods are 100% successful in recovering permanently deleted folders on mac.
3. Where do files go when permanently deleted?
The files that accidentally got deleted from the device do not go anywhere but within the mac os. You just need to use correct commands and tools to get the data back.
Conclusion:
Recovery of lost files and folders is not a problem with lots of helpful tools and built-in options within your mac system. All you need is a good data recovery tool that may help you recover permanently deleted files on mac.
That is too if you have deleted the data from your Trash; otherwise, macos built-in apps are sufficient to recover the lost files on the Mac device. So far, the best-proven recovery tool is 4DDiG recovery software that gives you a timely response with an optimized scanning process to recover the files without damaging them.
It is highly recommended to recover the deleted data on Mac and save your time & energy with the help of 4DDiG recovery software.