Do you want to add colors to your black-and-white photos? If so, you're likely searching for convenient methods that allow you to effortlessly colorize them with just a single click since manually adding color to them can be a daunting task. In such cases, AI Photo Colorizer tools come into play. These tools utilize artificial intelligence and employ advanced algorithms to automatically infuse your photos with natural and realistic colors.
While there are numerous AI Photo Colorizer tools available in the market, not all of them are good enough to use. In this article, we will recommend some of the best AI Photo Colorizer tools that enable you to effortlessly transform your black and white photos into vibrant, colored ones within minutes. Furthermore, we will guide you through how to use these tools, ensuring a smooth and hassle-free colorization process for your old black-and-white photos.
Part 1. What is an AI Photo Colorizer?
Before we explore the best AI photo colorizers, it's better to first understand what an AI Photo Colorizer is.
An AI Photo Colorizer is an innovative tool powered by artificial intelligence that allows you to add color to black and white photos. These tools utilize sophisticated algorithms to analyze the tones, contrasts, and details of the image and intelligently apply colors based on the data.
Through the utilization of AI technology, these colorizers can automatically transform your monochromatic images into vibrant and lifelike representations, breathing new life into your old memories.
Part 2. What are the Best AI Photo Colorizers?
Now, let's explore some of the best AI photo colorizers that have garnered widespread recognition for their exceptional ability to add color to black-and-white photos. These remarkable tools have captivated users with their astonishing results and offer unique features and capabilities. Without further ado, here are the top contenders in the field of AI photo colorization, known for their impressive performance:
4DDiG Photo Repair stands out for its exceptional accuracy in adding color to black-and-white photos. This software goes beyond its file repair capabilities by providing an efficient solution for transforming black-and-white photos into captivating color images. With a single click, its advanced AI algorithms intelligently analyze and apply colors to the photo you uploaded automatically, eliminating the need for manual adjustments and saving you time. Its user-friendly interface also ensures a smooth and effortless colorization process for all users.
Key Features:
One click auto-add vibrant colors to old black and white photos.
Allows for simultaneous colorization of multiple photos.
Provides a preview of the colorized image, allowing users to compare the before and after effects.
Offers additional features for repairing and enhancing the overall quality of photos.
To utilize 4DDiG Photo Repair for colorizing black and white photos, follow these steps:
Download and install the tool, then launch it on your computer. Select Photo Repair and download the additional toolkit for colorizing photos.

Add the photos you want to colorize and adjust the image resolution to your liking. If any of the photos includes people, don't forget to enable Face Detection.

Hit the Preview button. 4DDiG Photo Repair will start processing your images and adding natural and vivid colors to them. Once the processing is completed, save your colorized photos to your computer with a single click using the "Export All" button.

Find them easily by selecting "Open Folder" once the export is complete.
Pros:
Comprehensive tool offering photo repair, photo colorization, and photo enhancement.
Intuitive interface, making it easy to navigate and operate.
Automatic colorization with a single click.
Utilizes advanced AI algorithms for fast and accurate colorization.
Offers a hassle-free colorization process with just a few simple steps, ensuring a smooth user experience.
Cons:
Limited customization options.
Dependence on training data quality.
Possibility of slight color inaccuracies.
Requires high-performance computer hardware
The second tool on our list is Movavi Photo Editor. Movavi is not only a versatile photo-editing tool but also an excellent black and white photo converter. It gives you smart tools that will let you edit your photos in no time and creates colorized photos with lossless quality. With the advent of deep learning AI, it can auto add appropriate and natural color to the objects in a black and white picture. Let's find out more about this AI ai picture colorizer.
Key Features:
AI restoration of old photos.
Automatic B&W photo colorization.
Provides diverse filters and effects for post-colorization photo enhancements.
Comes with powerful editing features, including precise object removal and quick photo background removal.
Provides color correction with preview.
Here are steps you can take when colorizing black and white photos using Movavi Photo Editor:
Download and install Movavi Photo Editor on your computer and launch it.

Hit the Browse for Images button and then upload the image you want to colorize.

Go to the Adjust tab. In the AI Adjust section, locate the Colorize photo switch and click on it.

To enhance the overall quality of the photo, adjust the Enhance slider by moving it to the right. This feature automatically adjusts brightness and contrast levels.
Click the Restore button and wait for a moment as Movavi Photo Editor processes and colorizes the photo.

Once the colorization process is complete, review the results and make any necessary adjustments if desired. Finally, save the colorized photo to your preferred location on your computer.
Pros:
Intuitive interface for easy navigation and user-friendly experience
Free trial for 10 photos
High-quality colorization output
Option to choose the size of images
Wide selection of 120 effects
Cons:
May struggle to accurately add color to objects in an image
Watermarks added to colorized photos in the free plan
Manual adjustments required for optimal effects
Free plan offers limited services
Hotpot. AI is another powerful AI colorization tool featured on our list. It is a convenient online platform for automatically colorizing black and white photos. Utilizing the DeOldify and proprietary enhancement techniques, it excels in enhancing old pictures with minimal scratches or blemishes. Moreover, Hotpot. AI supports users in selecting various colorization factors, offering flexibility and control over the colorization process.

Key Features:
Easily converts black and white images into colored ones with advanced deep learning algorithms.
Automates the colorization process, creating an effortless experience for users.
Provids a large range of colorization factor options.
Allows users to upscale images within a few minutes using various AI algorithms.
Restores and repairs images without damaging the original quality.
Here is how you can use Hotpot. AI colorize tool to colorize black and white photos online:
Head over to the Hotpot. Ai web interface.

Click on the Upload button and select the photo that you want to colorize.

Now choose the Colorization Factor and Size, then hit the Colorize button.

Wait for a few seconds and it will add colors to your image and download the colorized version of your image on your device.
Pros:
Supports various image formats, including JPEG and PNG.
The processing of image is automatic and quick.
Users can do some fine-tuning by adjusting colorization factor from 12 to 25.
Perfect for a high-quality restoration and colorization.
Cons:
Free trial version offers an image of limited size.
Batch processing is unavailable.
VanceAI Photo Colorizer, a full-suite online photo colorizer, is dedicated to helping users effortlessly turn black and white photos into colors without requiring Photoshop skills. Focusing on Artificial intelligence and supervised learning, it adds lifelike color to your black and white, yellowish, and grayscale images in one click, making your photo come back to life efficiently. Whether the photo you want to colorize is a family photo or historical material destroyed by tears, scratches, or spots, VanceAI can automatically enhance it to get the best quality.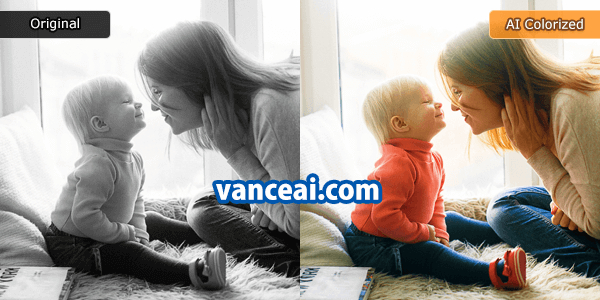 Key Features:
One click to auto-colorize black & white or grayscale photos anytime and anywhere.
Provides a fast and efficient colorization process, saving time compared to manual techniques.
Maintains original details and textures while adding appropriate colors for a natural-looking result.
Further use the brush to perfect black and white pictures.
Guarantees data security. All uploaded images will be deleted in 24 hours once processed.
Here is how you can use VanceAI Photo Colorizer for colorizing a black and white photo.
Click here to access VanceAI Photo Colorizer's official website.

Click on the Upload Image button and choose the photo that you want to add colors.

After uploading the photo, click Start to Process and let VanceAI to colorize the photo.

Preview the result and if you're satidfied with it, hit the Download button to save the colorized photo and that's it.
Pros:
Removes yellow before coloring a photo to guarantee the best effect.
Image Colorizer online, 100% automatically without manual effort.
Offers 5 images free trails
Provides high quality results
Speedy image processing
Keeps your data 100% secure
Cons:
Doesn't support batch processing for multiple photos at a time.
Supports only limited file formats like JPG, PNG, and JPEG.
Free version has many restrictions.
Cutout.Pro Photo Colorizer is also an online photo colorization tool that you can use to turn black and white photos into colored ones in a blink of an eye. By using well-trained AI image coloring algorithms, this AI photo colorizer identify objects in images and adds consistent, natural and realistic colors to them. You don't need to install any software or sign up to use this tool, which makes photo colorization a hassle-free experience.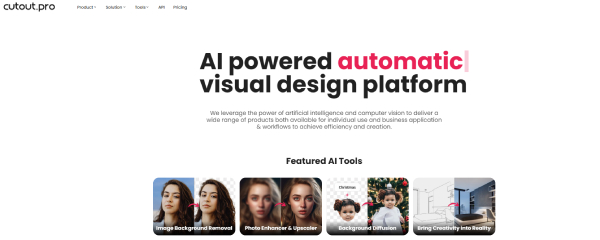 Key Features:
Straightforward and user-friendly interface.
Automatically colorizes black-and-white photos online.
Gets colorized photos in just a matter of seconds.
Batch processing for colorizing multiple photos at once.
Allows users to download colorized photos in different file formats like JPG and PNG.
Follow these simple steps to learn how to colorize black and white images with CutOut Pro.
Go to the CutOut.Pro website.

Click on the Upload Image button and add your black and white image.

Once the photo is uploaded, CutOut will automatically turn your photo into a colorful image. You can save the image by clicking the Free Download button.
Pros:
Colorizes your photo in just one click.
Free trial version allows users to preview and download the colorized photo.
Web-based tool with no installation or signups required.
Supports 5 simultaneous requests per second.
Cons:
Performance isn't exceptional.
Limited editing features beyond colorization.
Free version has many restrictions.
The final AI photo colorizer on our list is PicWish Photo Colorizer. It's relatively a new online tool but offers quick solution for turning old photos into images with natural colors and bringring your old photos to life. PicWish photo colorizer is currently completely free to use with no limitations. In just a single click, you can directly add color to black and white photo with it. .PicWish Photo Colorizer also comes with some features that you should know: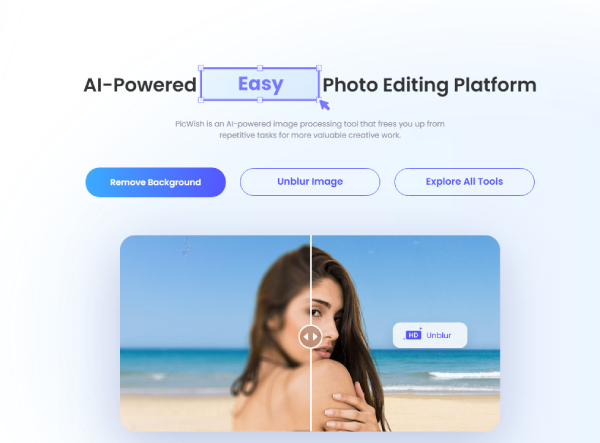 Key Features:
Effortlessly colorizes black and white photos with one-click.
Automatically colorizes black-and-white photos online.
Uses the latest advancements in AI to add natural-looking colors to old B&W photos.
API for developers who want to integrate this service into their apps.
Colorizing black and white photos is very easy with PicWish Photo Colorizer. Here's how:
Visit the PicWish Photo Colorizer website.

Choose the B&W photo that you want to colorize by uploading or dragging.

Wait for a moment and your photo will be automatically colorized. Then hit the Download button and save the image to your device.
Pros:
Colorizes your photo in just one click.
Free access, with the option to sign up for additional features.
Web-based tool with no installation required.
No watermarks added to the colorized images.
Cons:
Limited color palettes compared to other photo editing software.
Results may look artificial or unnatural.
API users need to pay for it.
Summary
So that's all about the best AI photo colorizers in 2023 and how you can use these tools to colorize black and white photos. All of them are great to bring your black-and-white photos to life but if you want a tool that goes beyond B&W photo colorization, then 4DDiG Photo Repair is your go-to option. This is not just a photo colorization tool, it is also an ultimate tool to repair your corrupted photos and enhance, enlarge, sharpen, and unblur your photos in one tap. So, what are you waiting for? Download and install 4DDiG Photo Repair to your computer and get started with your photos.