How do I connect my PS4 DualShock 4 controller to my PC?

"How do you connect PS4 to a PC to play PC games"
Gaming isn't just about your skill sets and years of practice to master your movements and reflexes, but a perfectly assembled gaming rig plays a vital role in taking your gaming experience to the next level.
Similarly, if you're a PC gamer and want to level up your gaming skills, using PS4 controller on PC can help you improve your overall gaming experience. It comes with all the necessary gaming buttons that PC games need and prevents you from pressing any unnecessary keys compared to the mouse and keyboard. Almost all of the famous games now support to connect ps4 controller to pc Whether planning a gaming night with your PC gaming squad or wanting to speed up your movements while in-game, connecting a PS4 controller to a PC is possible with simple steps.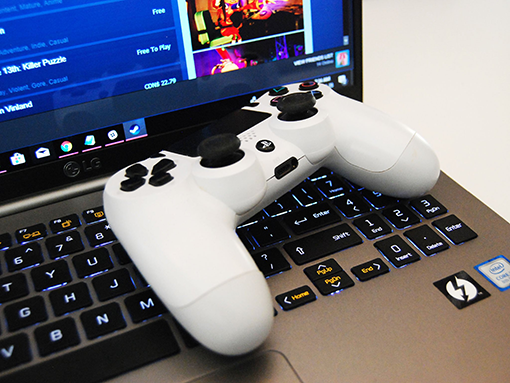 Part 1: Can You Use a PS4 Controller on PC
Does Windows 10 support a PS4 controller? Yes, it's quite possible to connect your PS4 controller to PC as long as you're using the right operating system. A few years ago, to connect PS4 controller to PC was a hassle for gamers, as compatibility issues hindered the experience.
You needed to setup PS4 controller PC by installing the 3rd party program to build compatibility between the PC and PS4 controller. However, Windows has evolved rapidly, and the latest version fully supports the PS4 controller.
All you need is the latest Windows version installed to connect PS4 to PC. You may ask, what about Windows 10? Does Windows 10 support a PS4 controller? Since Windows 10 is more stable compared to Windows 10, it allows you to connect the PS4 controller to the PC without installing any 3td party program.
Most importantly, all famous and renowned games now support the PS4 controller, so compatibility isn't the issue as long as you use the right operating system.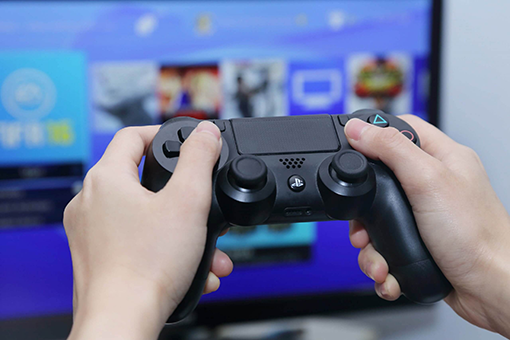 Part 2: How to Corrupt a File?
There are many reasons why your PS4 controller won't connect to your PS4. The most common reason for this issue is outdated drivers or Bluetooth firmware. In some cases, you might encounter a hardware fault that prevents you connect ps4 controller to pc. Generally, these problems occur when you don't have the latest version of Windows installed or when using third-party applications.
Here are some common issues that affect you to use PS4 controller on PC
Invalid BIOS settings
Poor Bluetooth signal strength
Dirty USB port connections
Low battery power in the controller
Outdated drivers or firmware
Corrupt Bluetooth or USB drivers
Part 3: How to Connect a PS4 Controller to PC
Once you've confirmed that your PC has Windows 10/11 installed and all required USB drivers are updated, it's time to connect PS4 controller to your PC. Here are four tested methods that can help play with ps4 controller on PC:
Way 1: Connect Your PS4 Controller via USB
One of the simplest methods to connect your PS4 controller to the PS is using the micro USB cable with most Android Phones. All you need is a wired PS4 controller, a micro USB charging cable, and a PC. Here's how to connect ps4 controller to pc using a USB cable:
Connect your PS controller and PC via a micro USB cable.
Wait for the drivers to install on your PC.
As soon as your PC detects the controller, your PS4 controller is ready for use.
Way 2: Connect PS4 Controller to PC over Bluetooth
If you don't have a micro USB cable or can't manage to pair your PS4 controller to PC using the wired connection, Bluetooth is another easier connectivity option to connect ps4 controller. You need Bluetooth enabled on your PC and Bluetooth drivers installed on the computer.Here's "how to connect ps4 controller to pc wireless":
Go to the Windows Menu settings on your PC, and search for Bluetooth and other device settings. Click it to open the settings and enable Bluetooth on your PC.
Press and hold the PlayStation + Share button on the PS4 controller simultaneously until it blinks - indicating it's ready to connect.
Move to your PC, and under the Bluetooth settings, click on Add Bluetooth or other device and select the Bluetooth option.
You should see the PS4 controller listed in the Bluetooth; click on it to connect your Pc to the PS4 controller.
Way 3: Play on Steam to Pair PS4 Controller to PC
If you want to play games on Steam, pair your PS4 controller to PC Steam. The desktop version of Steam supports multiple gaming controllers, from PS4 to PS5, Xbox series and Nintendo controllers. Here's how to pair ps4 controller to pc on Steam:
Launch Steam, go to the upper corner, hit Steam and click Settings.
On the dialogue box, click on Controller from the left side, and click on General Controller Settings under Controller Configuration.
Check mark the Playstation Configuration Support from the list to enable the PS4 pairing on your desktop Steam.
Enable the backlight on the PS4 controller and connect it to the computer using the micro USB cable. Once Steam detects the PS4 controller on the PC, it'll show at the bottom of the General Control Settings page.
Way 4: Use Xbox Controller Emulator: DS4Windows
To connect PS4 controller to PC is also possible using an Xbox controller emulator, such as DS4Windows. It's an open-source application that can be downloaded and installed easily without much technical knowledge.
It creates a virtual Xbox 360 controller on your system and lets you use PS4 controller on PC as an Xbox 360 controller, allowing you to play PC games using the PS4 gamepad. Here's how to connect the PS4 controller to PC using DS4Windows:
Firstly download the DS4Windows.
Extract the DS4Windows and double-click, and select allow if prompted.
Select the location where you want to save the files and data of DS4Windows.
Once you've selected the location, click the Install button to start the installation process.

Once the installation is completed, connect the PS4 to the PC via a micro USB cable, and the PS4 controller should start working on your PC.
Part 4: How to Recover Data from PS4 after You Connect PS4 Controller to PC
4DDiG Data Recovery is an easy-to-use and reliable data recovery software designed for users to quickly and securely recover lost, deleted, formatted or corrupted files from their PlayStation 4 console. It offers comprehensive tools and features, allowing users to recover their lost data efficiently.
4DDiG Data Recovery can be used to easily and quickly restore any file type or folder from the hard drive of a Playstation 4 console, even if it was deleted accidentally or corrupted due to system errors. It offers an advanced scan feature that allows users to perform deep scans on the entire storage device and find lost or inaccessible files. The software also has a drive health monitoring feature that lets users know the overall performance of their PlayStation 4 console, allowing them to identify any potential issues before they become larger problems quickly.
It can recover above 1000 file types.
It can restore videos, documents, audio, and images to their original state.
Retrieves data from all kinds of storage devices such as hard drives, SD cards, USBs, and digital cameras.
Uses MD5 Message-Digest Algorithm to locate deeply hidden files and restore them to their original position.
Supports data recovery from all versions of Windows
Extract files lost or damaged due to malware attacks, formatted disk partitions, and crashed systems.
Download, install and launch the 4DDiG tool on your PC. From the interface, choose the drive where you've lost data and hit "Start."
The scanning will find your target files and take some time to finish. But you can also pause the scan to check target files and their details according to their categories.
Once the scanning finishes, you'll get a list of the results. Select the files you want to retrieve and hit "Recover."
Part 5: FAQ about Connecting a PS4 Controller to PC
Q1: Why Is My PS4 Controller Not Working on My PC?
It could be due to a faulty USB cable, incompatible drivers, or outdated firmware. If the issue persists, connect it using Bluetooth instead of a USB cable. There may also be compatibility issues with certain games.
Q2: How Do I Fix My PS4 Controller Not Connecting to My USB?
Try using a different USB cable. If the issue persists, it may be due to incompatible drivers or outdated firmware. If the first method doesn't work, try updating the controller's firmware and reinstalling any necessary drivers.
Conclusion
To connect your PS4 controller to PC is a great way to enjoy gaming on multiple platforms. Pairing and connecting your PS4 controller with a PC should be relatively easy with the right setup. In this guide, we discussed how to connect ps4 controller to the PC using different methods. Depending on your preferences and available resources, you can use wired or wireless connections. Finally, if you ever lose important data due to system crashes, don't worry - 4DDiG Data Recovery can help you recover lost files quickly.