Have you lost your ARW image files? Perhaps they are corrupted, and you are looking for a solution to repair them. Losing valuable photos are like losing a part of your precious memory. Besides, if you are a professional photographer, it means the pictures could be of a client, which makes them irreplaceable. However, not everything is lost if your ARW files are corrupted. This guide will help you learn about them, the causes of their corruption, and how to repair ARW files using the best methods available. You'll also get some useful tips to avoid ARW file loss in the future.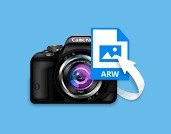 Prepare: What Are ARW Files?
Short for Sony Alpha Raw, ARW files are raw image files used by Sony's latest digital cameras. Saved by TIFF specifications, they are comparatively larger files than standard photo formats, which makes them difficult to open. ARW files are not compressed and are used to edit high-quality images. You'll need a specialized program to edit, process, and convert them to standard picture formats like PNG or JPEG.
Part 1: What Causes ARW Image Files to Go Corrupt?
In this section, we'll discuss the causes behind why ARW files are corrupted. Understanding these reasons will help you avoid these situations.
You tried to save ARW files when your camera's storage space was running low.
You took pictures when the camera battery was low.
Your camera's storage media is infected with a virus.
Your camera's storage media is corrupted.
You didn't handle the camera properly.
There was a power failure or system crash during file transfer or download.
Part 2: Best Way to Repair ARW Files
The best way to repair your ARW files is through the 4DDiG file repair tool. It comes with a simple and easy-to-use interface that requires no training and offers a fast and successful restoration process. You can use it to repair corrupted, inaccessible, heavily damaged, blurry, pixelated, greyed-out, and grainy photos.
Restore your ARW photos in just one click.
Repair all popular image files like JPEG, PNG, JPG, CR2, RAW, RAF, and SRW.
Batch recovers image files of different formats.
Batch repair up to 3000 photos at once.
Safely repair ARW files without data loss.
An ideal image-repairing tool for beginners and professionals.
No learning curve is required.
Here's how you can use 4DDiG File Repair to repair corrupted ARW files:
Download and launch the 4DDiG File Repair software on your device. Choose "Photo Repair."
Choose the corrupted ARW files to repair. Press "Start Repair" to begin repairing corrupted ARW files.
After the repairing process finishes, save the repaired ARW files in a safe location by pressing "Export."
Part 3: Other Ways to Repair Corrupted ARW Files
There are other practical ways as well to repair corrupt ARW image files. Here they are:
Fix 1: Repair Corrupted ARW Files With Adobe Photoshop
Adobe Photoshop provides an excellent solution to restore corrupted ARW files. You can open and view the ARW images in this software. Here's how:
Step 1: Download the current version of "Adobe Photoshop."
Step 2: Navigate where the ARW file is saved.
Step 3: Right-click on the image. Choose "Open with Adobe Photoshop."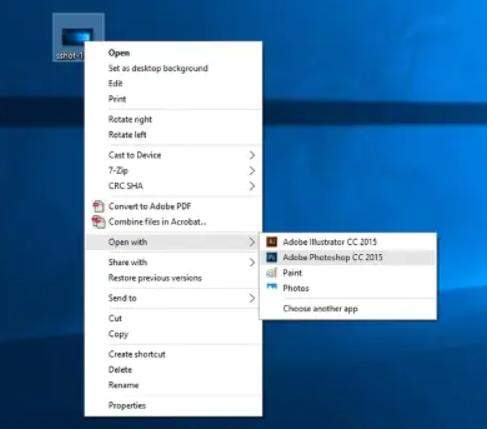 Step 4: It will repair the corrupted ARW file and open it within seconds.
Fix 2: Repair ARW Files With Sony's Imaging Edge
You can also fix corrupt ARW images by using Sony's Imaging Edge software. It will allow you to view and edit the corrupted ARW file. Just follow the instructions below:
Step 1: Launch "Sony's Imaging Edge" software.
Step 2: Open your desired ARW image in editing mode by clicking the "Edit" button. Then press "Export."
Step 3: Enter file type, color space, compression, and image size when prompted.
Step 4: Press "Save." This will hopefully fix the issue.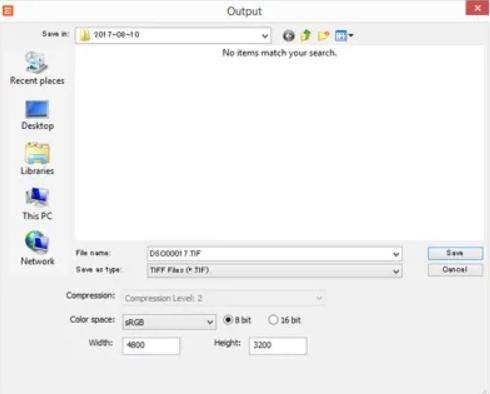 Fix 3: Open ARW Photos in Different Software
If you are still unable to repair corrupted ARW files, try opening them in other software. Use File Viewer Plus or Adobe Lightroom to open the files.
Fix 4: Repair Corrupted ARW File With Image Editors
Image Editors like Fireworks and Gimp can also help you achieve desired results by fixing the corrupted ARW files. They can also repair issues like blurriness, grainy images, and color loss in ARW files. However, you'll have to be an expert in using these Image Editors.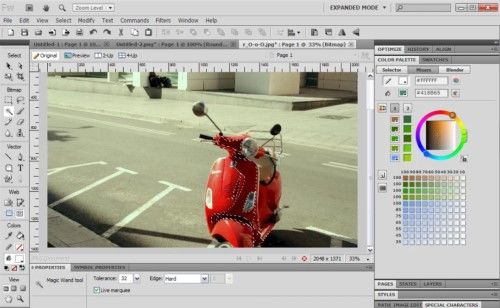 Fix 5: Open ARW Files on Lightroom
Another solution to access ARW files is Adobe Lightroom. It is a powerful image editing software that allows you to open inaccessible ARW images and edit them. Here's how to repair corrupt ARW files:
Step 1: Open "Adobe Lightroom." Then press "Import" in the below-left corner.
Step 2: Head to the ARW files you wish to access, then select the checkbox on top of the ARW images.
Step 3: Once you've selected the files, press "Import" in the below-right corner. Your chosen ARW images will now be a part of the "Adobe Lightroom" library. You can easily access them from there.
Bonus Tip: How to Avoid ARW Files Loss?
Taking some preventative measures will help you avoid ARW file loss in the future. Below are the best practices to follow:
Back-Up Files: Create a regular backup of your ARW files. So, in case you lose them, you can restore them from a backup. You can manually create a backup or sync your system to a cloud to save the ARW files periodically.
Save Files Automatically: Other than a backup, set a regimen to save your ARW files when working on them. You can set your system to save the files at intervals automatically.
Use Only Safe Devices: Connecting dubious devices with your PC will infect the system and can corrupt your ARW files. Therefore, be vigilant about the device you are plugging into your computer. Also, install reliable anti-virus software on your PC and scan regularly.
Avoid Power Surges: Interruptions in the power supply can also corrupt ARW files when editing, saving, or transferring them. Therefore, use a device with your computer that can act as a buffer to protect it from a direct power source and interruptions.
FAQS:
Can I Edit ARW Files in Lightroom?
Yes, you can easily edit ARW files in Adobe Lightroom. It is a powerful image-editing, manipulation, and processing software capable of editing ARW files and opening inaccessible ones.
Can I Convert ARW to RAW?
Use any online RAW image converter to convert ARW files to RAW or any other format. For instance, you can use Convertor 365 tool for this purpose.
Why Can't I Open ARW Files in Photoshop?
You may not be using the latest version of Adobe Photoshop, that's why you are unable to open the ARW files. Update your software and try opening the files. If you are still unable to open them, they might be corrupted. So try to repair them with the 4DDiG File Repair tool. It can restore corrupted and heavily damaged ARW files.
How Do I Convert Sony ARW Files?
You can use Sony's Imaging Edge software to convert ARW files into any format you want. Or you can try converting the files using an online converter tool like Zamzar File Conversion.
Conclusion
ARW files are a Sony file format for the brand's current digital cameras. These files are large and difficult to edit without specific software. Moreover, anything from power interruption to a virus attack or a system crash can cause them to go corrupt. But with the above solutions, you can repair ARW files to make them accessible again. However, using software to open, convert or restore files may not be everyone's cup of tea, as these are advanced image manipulation tools for professionals. In such a case, the 4DDiG file repair can help you safely restore corrupted ARW files to their original condition. It can also batch repair up to 3000 image files of different formats. Besides, it doesn't require any training, and even novices can use it.