Are you facing file lock due to the Fefg ransomware attack? Have you suddenly lost access to your computer data? It's indeed frustration, but you don't need to worry more. In this article, we'll discuss the best solution to recover Fefg files. Before starting, let's unveil the ransomware attacks and how these viruses can block your access to your files with the help of encryption data.
Part 1: Fefg Ransomware Overview
Though encryption algorithms are used for data protection from illegal users, cybercriminals may use these algorithms with bad intentions to host your file. This malicious attack can be loaded from the email attachments, so once the file is downloaded on the computer, it triggers the encoding procedure. These cyber-attacks directly target your money, files, and machines and cause data loss.
1. What is Fefg Ransomware?
Fefg is a new ransomware virus which will attack user's computer and then encrypting the files store on it, then they will extort users. Fefg belongs to the ransomware family of Djvu. These cyber-attacks target sensitive data and can lead to financial loss. Fefg will encrypt file by appending the .fefg extension on the encrypted files name , then make a "_readme.txt" file which just ask you for money to open the encrypted files.
2. How Do We Infect Ransomware Files?
Fefg ransomware encrypts your files with the .fefg extension and generates a file named "readme.txt" that displays the demand message. For example, if you have saved files on your computer such as bank statement.pdf, picture.jpg, and document. docs, Fefg will convert these to "bank statement.pdf.fefg, picture.jpg.fefg, document.docs.fefg, and so on. When the encryption process completes on the victim's files, all the content in these files will be locked. The readme.txt file contains a demand message that asks the user to buy a unique key and decryptor to decrypt Fefg files. We recommend you not to pay a ransom as there is no guarantee that they will help you to restore Fefg files. 
Part 2: How to Remove Fefg Files?
Once your system encounters a Fefg attack, we recommend you not to contact these cybercriminals to pay money. The best solution to decrypt Fefg files is to use removal software instead of removing Fefg ransomware manually. In this regard, let's unveil the best solutions: 
 Fix 1:Use Removal Software to Remove Fefg
Apart from encoding your data, Fefg ransomware will also install Azorult Spyware on your computer to impede your personal credentials like your payment details and desktop files. To remove Fefg files, we recommend you use the removal software.
Just go to the software official website and download it on your PC. Once the installation completes, the anti-virus software will automatically scan your computer to remove Fefg files and other malicious programs.
Fix 2: Remove Fefg by Deleted it   
Follow these steps to remove Fefg files by deleting them: 
warning:
Remove Fefg Files by deleting yourself will take couple of hours. What's more, it may damage your system during the deleting process. We really recommend you use the professional removal software to help, or you can use
Tenorshare 4DDiG data recovery software
to recover those files locked by Fefg.
Step 1: First, you need to reboot your computer into safe mode. 
Step 2: After reboot your computer into safe mode, click CTRL + SHIFT + ESC to open the task manager. Go to the Process tab and identify the malicious tasks.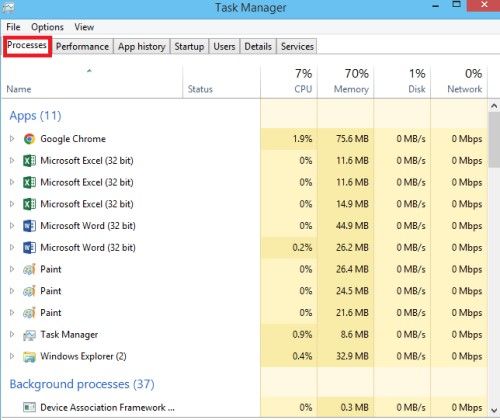 Step 3: Right click on the malicious readme.txt files in case of a Fefg attack and Open File Location. Once the file is opened, click on End the Process to get rid of these files.
Step 4: Press Win + R and copy & paste the following text: "notepad %windir%/system32/Drivers/etc/hosts" on the shows up windows.
Step 5: A new document will open. If you are hacked, you will see a ton of other IPs connected to your computer. 
Step 6: Press Ctrl+Shift+Esc and access the startup tab. In case, if you find suspicious IPs. Locate the Fefg file and click the Disabled button.
Part 3: How to Recover Lost Files Due to Fefg?
We recommend you use the decryption tool to decrypt Fefg files instead of deleting it by yourself. Additionally, we have introduced the top 4 methods to recover lost files due to the Fefg virus. 
 Fix 1: Use the Decryption Tool to Decrypt Fefg Files
You can't access your files just because those files are encrypted, you can use a decryption software to open it.
Just find the decryption software you trust, and download it form its official website. Once the downloading completes, launch the software utility and follow the on-screen direction to decrypt the files. Once the files get decrypted, you can access the files that used to locked by Fefg again.
Fix 2: Use Tenorshare 4DDiG Data Recovery to Recover Lost Files Due to Virus Attack
If you are looking for a more easy way to recover those files that locked by Fefg, we recommend to use Tenorshare 4DDiG data recovery software. It is the best all in one data recovery solution for different scenarios, including recover lost data due to Fefg attack.  
4DDiG Data recovery software offers the following features:
4DDiG supports data recovery from virus attack, such as Fefg virus
4DDiG supports various files types recovery, including photos, videos, document, and so on
4DDiG supports Windows and Mac OS
4DDiG supports both internal & external devices data recovery, including data recovery from USB Flash Drive, SD Card, external hard drive, etc.
To recover Fefg files using 4DDiG Data Recovery software, you need to follow these simple steps: 
Select the location 

First, download the 4DDiG Data Recovery software. After downloading, select the location where you store the files locked by Fefg. 

Scan the Fefg Files

Now wait for the 4DDiG scanning the chosen location, after scanning process done, you can choose the scanned out Fefg files and move to the "Recover" button, you can also choose to preview them before recovering.

Click the Recover Button 

After that you will get a pop up windows that ask you to choose a location to store the recover Fefg files, do not save it in the same place where you lost them to avoid files overwritten or files loss again.
That's all, after recovering, you can access those Fefg files again.
Fix 3: Recover Lost Files with Windows Previous Version
You can also use Windows Previous Version option to recover Fefg lost files. Follow these simple steps for the recovery: 
Step 1: First, right click on the Fefg infected file and tab properties.
Step 2: Once you have opened the properties, choose Previous Versions button. A menu of file versions will be there. You can select any version of the file and tap Copy. 
Step 3: To replace the file, click the restore button and you can recover the Fefg files now.
If you can't get the Fefg files back, them just go to the below method.
 Fix 4: Recover Files Lock by Fefg from Dropbox
Along with other methods to unlock Fefg files, you can also perform the Fefg file recovery from Dropbox. 
Important: This method works only if you have back up files on Dropbox.
Step 1: Go to the Dropbox website and then sign in your account. Then go to the folder which store the encrypted files.
Step 2: Right click on the files which have been encrypted and on the drop down list, click on Previous Versions.
Step 3: Now preview each available previous version, and if you found the correct version that you need, just click on the Restore button.
Part 4: How to Avoid Infecting Ransomware?
Prevention is better than cure. You might be interested to protect your files from Fefg ransomware. You can follow our pro tips to avoid this malicious attack:
Download the software from the official websites only
Don't trust the illegal emails from unknown email addresses 
Don't open the attachments by unknown addresses via Email 
Avoid the use of third-party software 
Use antivirus software of the reputed company 
 Part 5: FAQ about Fefg Files
1. Can I Open Fefg Files?
Absolutely not. These files are modified by the virus. So, the content of these files is only available after decryption. Or you can use Tenorshare 4DDiG to recover it.
 2. What should I do after infecting Fefg?  
Once the files are infected by Fefg ransomware, you can check your MP3 files with different media players. Since the Fefg ransomware will only encrypts the first 150KB of the files, and the MP3 files usually much more larger than 150KB, you might just lost 3-5 second of it. If you have infect Fefg on other files, the most important things you should do is to find the copy of the encrypted files, check your backup cloud like OneDrive, Google Drive, etc. Or may be you have share those files with your parents/friends. Or you can contact the government fraud to report the virus attack.
Final Verdict
We hope you are well aware of the reasons for the Fefg virus attack and how to recover the Fefg files. Fefg virus is a malicious attack by cybercriminals that can target your personal data and cause financial loss. To avoid any catastrophic situation in future, we recommend you form the habit of backing up files, and if you lost files due to Fefg virus, we recommend you use Tenorshare 4DDiG data recovery software to recover your lost files due to virus attack.