How to Recover Deleted Excel Files?

"I have a really important presentation coming up and I just ended up deleting my entire Excel sheet by mistake. Is there any way that I can get my Excel file back quickly, please help!"
Using Excel spreadsheets has become a part and parcel of the corporate world. It has become a crucial cog in the data-keeping machinery. We have come to rely on these simple sheets so much that a scenario without them seems like a nightmare. That's what this guide is all about, What to do if you end up losing your Excel file due to some reason or the other. In this guide, we will see various ways in which you can recover deleted excel files Windows 10. These fixes range from using utilities present on your computer by default to employing fixes from third-party apps. From causes to prevention tips we have got all bases covered. So in the future when you are suffering from this problem don't waste your time googling how to recover deleted excel files, simply head on to our site and get everything you need in a single article.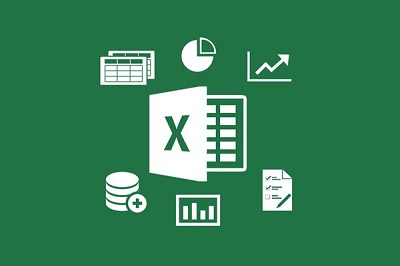 Part 1: What Cause Excel Data Loss on Windows 10/11?
The causes of data loss are varied. Isolating the cause of data loss can help us employ the perfect solution which will help us to recover deleted excel sheet in no time. So it's important to learn about the causes of Excel Data loss before we look at how to recover deleted files in excel. Common causes include,
Unsaved Files- Forgetting to save your work is a big reason behind Excel sheet loss. So always remember to save your work by keeping the Ctrl+S keys handy.
Virus or Malware- Viruses are good for no one, especially for data as they cause data loss with a burning intensity.
Formatting- If you have formatted your drive for some reason or by accident you will end up losing all data including Excel files.
User Errors- Users overwriting or deleting files is a major reason behind this problem.
Data Corruption of Excel files.
Part 2: Can You Recover a Permanently Deleted Excel File from Windows 10/11?
The answer to the question of can you recover a permanently deleted excel file is yes! It might be a little tedious at times but there are multiple solutions by which you can easily recover deleted excel file. So with that out of the way let's see how to recover deleted excel files in windows 10.
Part 3: How to Recover Deleted Excel Files Windows 10/11?
Fix 1: Recover Deleted Excel from Recycle Bin
It's no secret that the Recycle Bin is a treasure trove of deleted files. It is the first place you should look if you have accidentally deleted any files.
To recover deleted excel spreadsheet, open the Recycle Bin and navigate through the items in it. You can also search for a specific file in the search bar. Once you find the Excel sheet you are looking for, simply right-click on it and click on 'Restore'.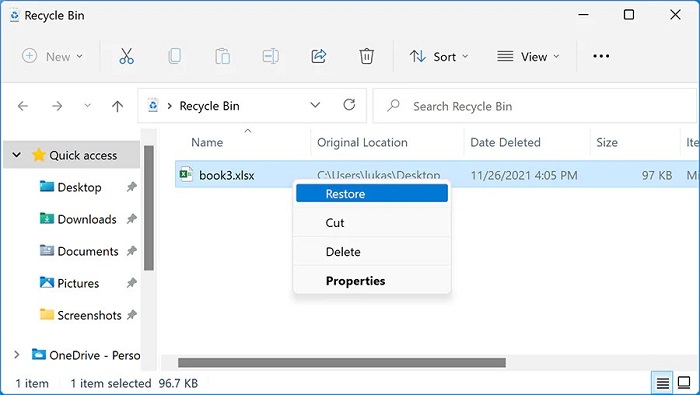 Fix 2: Recover your Deleted/ Lost Excel Files with a Data Recovery Tool
Sometimes the resources present by default on your PC may not be enough to recover deleted excel sheet data. In these situations, you need an intelligent and powerful utility that will recover your Excel sheets without a hassle. What if we told you we can provide you with that powerful utility? Yes, you heard that right, the Tenorshare 4DDiG Data Recovery is an all-in-one solution for all your data recovery problems including the recovery of lost Excel sheets. The best features of the 4DDiG app include:
Recover deleted or lost Excel, Word, Powerpoint, etc.
Recover files from Windows/Mac/USB flash drives/SD cards/external hard drives/digital camera, etc.
Support various loss scenarios like deletion, formatting, RAW, corrupt, damaged, etc.
Support 1000+ data types such as photos, videos, audio, documents and more.
Fast scan with 100% security.
Now let's see how to recover an excel file that was deleted with the 4DDiG data recovery in 3 simple steps.
 Select a Location

Launch the 4DDiG app on your PC and select the drive from where your file was deleted and click on 'Scan' to proceed

Scan to Find Deleted Excel Files

The app will now start scanning the drive for the deleted files. You can preview the found files as they are being found. Alternatively, you can also opt for a 'Deep Scan' if you are not satisfied with the initial scan results.

Preview and Recover Deleted Excel Files

Once the scan is completed, select the Excel sheets that you want to recover and click on 'Recover' and save these files on your device.
Fix 3: Recover Deleted Excel File from Backup
Backups are a great way to recover deleted excel file not in recycle bin. They store your files safely until you use them again. People who use Microsoft Office have the option of creating backups of their Excel files in One Drive. In the event of data loss, you can simply recover deleted excel file windows 10 through one drive.
You can also create local backups in external storage devices and use them if you lose your Excel files.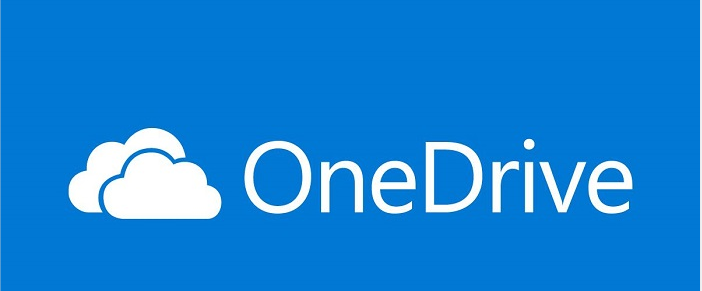 Fix 4: Recover Deleted Excel File with the help of the Command Prompt
If you are still looking for answers to how to recover a deleted excel file, the command prompt may be of some assistance. To use command prompt in this situation follow the steps below.
Step 1: Open the Command prompt on your computer by typing 'cmd' in the windows search box.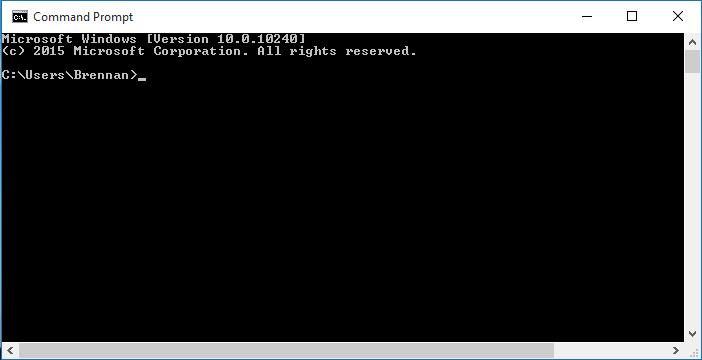 Step 2: Once it is open type in the following and hit enter.
chkdsk 'drive letter' /f
Here the drive letter will be the drive from which you lost the excel files, usually the 'C' drive or the system drive.
Step 3: Press 'Y' and in the new command line enter the drive letter again and click 'Enter'.
Step 4: Now enter the following command:
attrib –h –r –s /s /d *.*
and click on enter. This will trigger the recovery of the deleted files from the selected drive.
Fix 5: Recover Deleted Excel File through System Restore
System Restore is an amazing way to recover deleted excel file office 365. It reverses your system back to a point where your Excel sheet was not lost, thus bringing your data back.
Step 1: Open 'Control Panel' on your PC and head towards the 'System and Security' tab.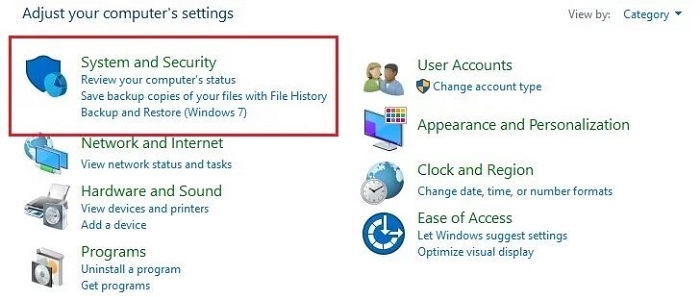 Step 2: From the left side panel click on the 'System Protection' option. This will bring the System Protection window with several tabs. Now go to the 'System Protection' tab. In this tab click on the 'System Restore' button.

Step 3: Click 'Next' in the next window. Now you will be able to see different points to which you can restore your system. Select one in which your files weren't lost and click Ok and that's it.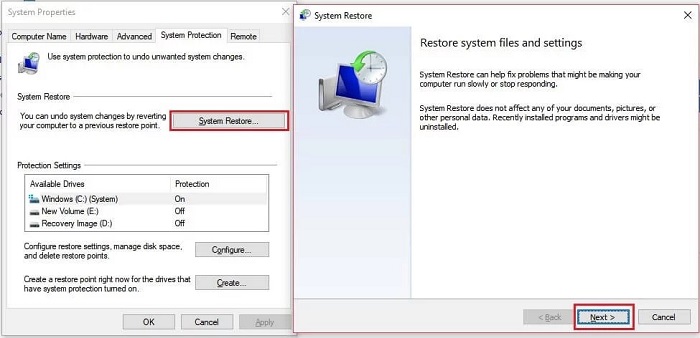 Part 4: How to Safeguard Your Data in Excel Windows 10/11?
The best answer to how to recover deleted excel sheet is by safeguarding your data in Excel so that this situation never occurs. But how will you do that? The answer is simple, through Autosave. Autosave is a great feature that ensures that the files you are working on are automatically saved at regular intervals. This ensures that your data is safe and not prone to data loss. To enable the Auto-recover feature in Excel,
Step 1: Open the Excel program and click on 'File'. Now select 'Options' and go to the 'Save' tab.
Step 2: Turn on the 'Save AutoRecover information every XY minutes' option and set the time interval. Click on OK once you finish.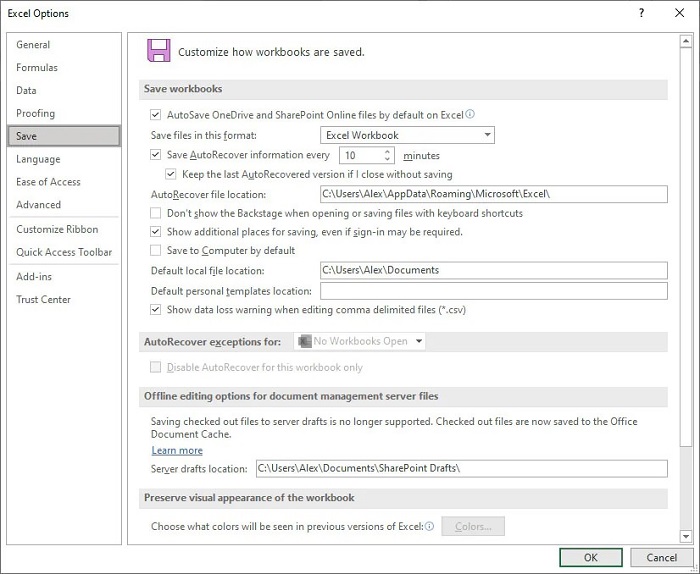 Excel FAQs
1. How to Recover Unsaved Excel Files?
Closing an important excel file without saving it is a big headache. In these situations, you can open the excel software again and check for your file in the recent files section. Apart from that you can also make use of the previous version utility and get your unsaved file back.
2. How to Recover Overwritten/Replaced Excel Files?
You can recover overwritten/Replaced Excel files by the following methods,
Recover Excel files from Recycle Bin
Recover Excel Files with Data Recovery Tool
Recover Excel File from Backup
Recover Excel File through System Restore
Summary
Even though we have given you various answers on how to recover deleted files from excel in this comprehensive guide, you won't require anything other than the Tenorshare 4DDiG to get your files back. That's how good that app promises to be. So download it now and say bye to your data loss problems forever.