Is your Windows 10 PC tossing BSOD error driver IRQL not less or equal in Windows 10? You are not the only one getting the problems; several others have reported this issueTo fix it without calling an expert or paying some money, this blog can help you. Here, you will easily figure out how to fix the "driver_irql_not_less_or_equal" problem. When you wish to open your PC and observe a blue screen with the "driver irql_less_or_not_equal windows 10" rather than the standard screen, then, at that point, don't overreact as such an issue is effectively fixable. The driver_irql_not_less_or_equal ntoskrnl.exe 800 error is related to the blue screen blunder (BSOD). Fixing a blue screen error is difficult. Everything you need to do is given in this article, along with the four most practical ways for fixing the blue screen issue. We will likewise talk about the technique to restore files from the PC if you, at any point, lose it during such a situation.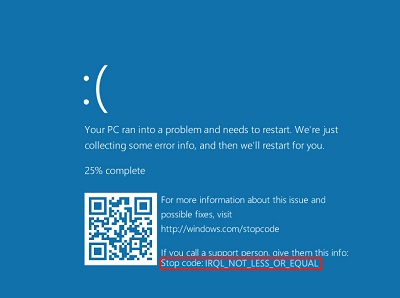 Part 1: Overview of Driver Irql Not Less or Equal
1. What Does DRIVER_IRQL_NOT_LESS_OR_EQUAL Mean?
A driver_irql_not_less_or_equal Windows 10 problem appears on a blue screen and displays a broken driver. It is brought about by; corrupted system files, inappropriately formatted, or old drivers. Another explanation could be because of malware or infection.
2. What Causes DRIVER_IRQL_NOT_LESS_OR_EQUAL?
After seeing Windows 10 blue screen error driver_irql_not_less_or_equal upon startup on your PC, then, at that point, something isn't quite right about your PC's network driver. That only occurs when a similar driver doesn't use the correct memory address while doing its tas. The error is otherwise called the "NETIO.SYS" problem, which is connected with the network driver of your system.
Part 2: How do I Fix Stopcode Driver IRQL Not Less or Equal?
Prepare: Recover Data from PC with Error Driver Irql Not Less or Equal
You're probably wondering how to access your important files from computers before you fix this error. When you run into driver irql not less or equal, you may be unable to boot your computer, let alone access files. Don't worry, I'll show you how to use Tenorshare 4DDiG to recover data from crashed or dead computers caused by the stop code driver irql not less or equal or any other problem.
As an excellent data recovery tool, 4DDiG can assist you in creating a bootable drive and recovering data from dead computers in a few simple steps. Furthermore, it can recover any deleted or formatted files from Windows, Mac, and removable media. The following are some of the 4DDiG data recovery's highlights:
Recover files deleted by accident, formatting, partition loss, corruption, system crash, virus assault, and computer errors.
Data can be recovered from a laptop/PC, internal and external hard drives, USB flash drives, SD cards, and other storage devices.
1000+ file kinds can be recovered, including photographs, movies, documents, and audio.
100% safe and easy to use.
Free technical support.
To recover unbootable laptop due to driver irql not less or equal with 4DDiG, prepare yourself with the following stuffs before data recovery from crash computer: another working computer, a blank USB drive with a capacity greater than 1.5GB.

Connect USB drive and Select

Launch 4DDiG software on your working computer and get your USB flash drive well connected. Choose Recover from Crash Computer from the home interface to proceed.

Create a Bootable Drive

Choose an external USB/DVD drive to create a bootable drive then click on Create. After a while, the bootable drive will be created successfully and then you can turn to your crashed computer to start data recovery.

Boot Crashed Computer and Recover Data

Restart your device after inserting the USB flash drive into the unbootable computer. After that, you'll see the computer brand logo on the screen, and you'll press the corresponding key until you reach the BIOS settings for your device. After entering the BIOS, use the arrow keys to navigate to the boot tab and select boot device. After that, your crashed system will begin loading files, so please be patient while the configuration is completed. 4DDiG will now launch automatically, and you can choose a location and data type to begin data recovery.
How to Recover Files from Crashed Windows 10 with Bootable USB Drive?
After the data recovey, let's find out how to fix driver irql_less_or_not_equal Windows 10 with the following methods.
Fix 1: Check Hardware & Software
If the blue screen at any point shows up on the PC, close down the PC totally and look at its RAMs. Please make sure to clean any residue off them and turn off and replug them before starting it once more. If you had included another software on the system, the gadget looks at its compatibility with the system or uninstall it. You will need to cure the blue screen driver_irql_not_less_or_equal issue by doing that.
Fix 2: Uninstall Network Drivers
The driver IRQL not less or equal windows 10, is connected with the network drivers of the PC. They may be ruined or obsolete, so it is ideal for uninstalling them from the PC until further notice to see if it does the job. Here is the strategy on how to play out the driver uninstallation:
Step 1: Open Device Manager and find the "Network Adapter." Under this tab, select the "Network Driver."
Step 2: Right-click on the driver and snap on "Uninstall" before going further.
Step 3: Restart the PC after that.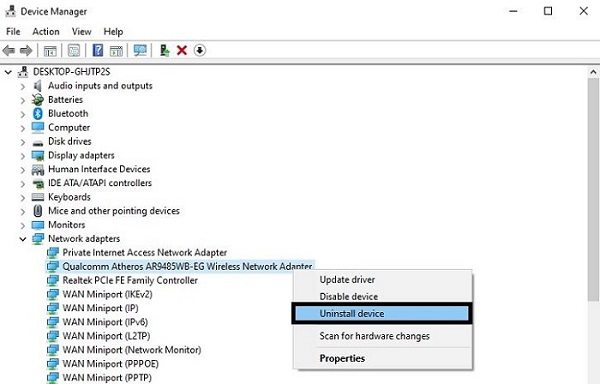 Fix 3: Uninstall and Reinstall Device Drivers
To utilize the web on your PC and don't wish to eliminate the above mentioned driver from it, then, at that point, stay away from following those steps. You can also refresh this driver. Here are the guidelines to play out the update:
Step 1: Stay on "Network Manager" and snap on the "Network Adapter" once more.
Step 2: Currently, click on "Update Driver" and snap on "Search Automatically for Updated Driver Software" to start the process.
Step 3: After doing the update, click on close and restart your PC, and the driver_irql_not_less_or_equal windows 8 issue will be resolved.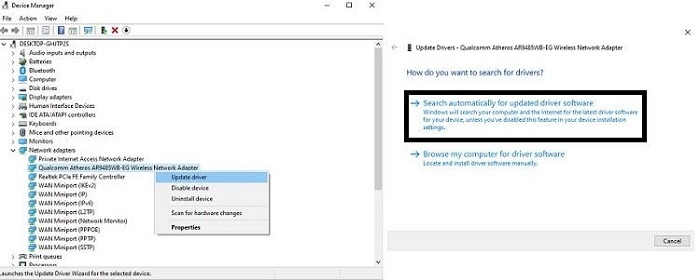 Fix 4: Update Device Driver
It is recommendable to uninstall and then reinstall the Windows 10 driver. If you get to see a *.sys file name with the error, find the driver, uninstall it and then reinstall it. If the blue screen shows a 0x000000D1 error code close to "DRIVER_IRQL_NOT_LESS_OR_EQUAL," it might be hard to decide the disabled driver.
Fix 5: Run SFC to Repair Corrupt Driver
Before running the SFC order, it is vital to check it is working appropriately. To do so:
Step 1: From the Start menu, type "Command Prompt" in the search bar, then, at that point, run it as administrator to open Command Prompt.
Step 2: Type "DISM/online/cleanup-image/restorehealth" and press Enter.
Step 3: Wait for the command to work. The interaction can take more time than 20 minutes, contingent upon the health of your PC. 
Step 4: Type "sfc/scannow" after the process ends and press Enter.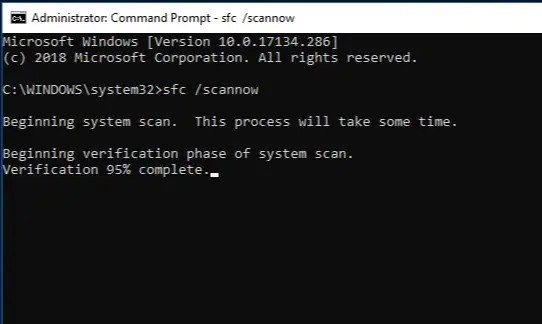 Fix 6: Run Windows Memory Diagnostic Tool
There might be an issue with RAM that causes error driver IRQL not less or equal on Windows 11. We should run the form in memory diagnostic that identifies anything wrong with RAM. To check if the RAM has an issue:
Step 1: Press Windows + R, type mdsched.exe, and press Enter.
Step 2: Click Restart now and check for issues.
Step 3: Wait for your PC to track down the issues for a while.
Step 4: When the checking system finishes, it will show all the identified issues.
Step 5: Also, shut down your PC, remove power links and batteries.
Step 6: Open up your PC, unseat the RAM, clear any residue, and set your RAM back again.
Fix 7: Perform a Virus / Malware Scan
We, as a whole, want to download or utilize documents and programs free of charge from different sources. More often than not, such an exchange could be dangerous, for example, malware or infection inside the PC. These records could likewise make the network driver become ruined.
If that that is the situation, it is best to promptly uninstall or eliminate such programs or documents from the PC and play out a full scan on the system. It would help if you used dependable antivirus programming or Windows Defender. Coincidentally, you can likewise figure out how to fix driver_irql_not_less_or_equal Windows 7 error.
Part 3: How to Prevent Driver Irql_Less_Or_Not_Equal Windows 10?
Here are a few tips that could forestall the driver_irql_not_less_or_equal on your Windows 10 PC and later on.
Step 1: Continuously download or move programming from reliable sources and try not to utilize them free of charge with their crack rendition.
Step 2: Beware of your framework's drivers and keep a routine check on them.
Step 3: Stay up with the latest version of Windows that will forestall the blue screen error from occurring in the future.
Step 4: Buy a dependable antivirus tool so no infection might, at any point, enter your system.
Related FAQs
1. What's a critical process died?
Critical process Died blue screen of death, with the code 0x000000EF, implies that a basic process is your system is not working. The interaction can be dangerous to such an extent that it could harm your disk, memory, or processor.
2. What's Windows stop code?
Whenever Windows crashes, it produces a stop code that appears on the Blue screen. The stop code begins with 0x, trailed by a line of eight different characters. Each stop code alludes to a problem and guides you to assist with fixing it.
3. What does DPC_Watchdog_Violation mean?
It is a typical Windows OS issue. It's happened for a few explicit reasons, such as unsupported SSD firmware, old SSD driver form, equipment issues, or corrupted system files.
4.Can RAM cause IRQL not less or equal?
Yes, by and large, this error is connected with the RAM (Random Access Memory) on your device. It happens when a program, an application, or a driver admittance to the RAM without consent.
Summary
The "driver_irql_not_less_or_equal" is certifiably not a severe issue and could be fixed. We have referenced each method in this article, which is very easy to perform and costs no cash. Moreover, in case of data losses during the process, use Tenorshare 4DDiG to get your data back.