How to get files off a hard drive that won't boot?

"'My hard drive refuses to boot no matter how many times I try. I have a lot of important project files on the drive and my submission is in a few days. Please help me to get my files back from that hard drive' "

-Question from Quora
Hard drives have come to assume an important part of our lives. Every day we create, download, see and consume a heavy dose of data that is efficiently stored by storage devices. But what if these treasure troves of our precious data suddenly don't work. No matter the amount of data lost, it still feels like a tragedy, because it forces us to part ways with something that was once ours. But that is not the case anymore and this guide will tell you why. In this guide on how to recover data from laptop hard drive that won't boot, we will talk about various fixes that you can implement in cases like these. Along with that, we will also talk about the Tenorshare 4DDiG data recovery software, an app that you can turn to if other fixes have failed. So let's get our fixes running so we can get your hard drive working!
How to Recover Data from Laptop Hard Drive that Won't Boot?
Part 1: Is It Possible to Get Files off a Hard Drive That Won't Boot?
An unbootable drive leads to many anxiety-driven questions like how to get files off a computer that won't turn on, how to recover files from a hard drive that won't boot, etc. But like the countless other errors that we have solved on this website, even this is not something that we can not solve. So yes, it is possible to get files off a hard drive that won't boot, it just requires some persistence and ingenuity. We will take you through the fixes step and step making the seemingly impossible task of recovering your files easy and within reach. Let's see how!
Part 2: How to Manually Recover Data from Laptop Hard Drive That Won't Boot?
One of the most effective solutions to how to get files off a hard drive that won't boot is to use a hard drive enclosure. But first, what is a hard drive enclosure? A hard drive enclosure is like a cover in which you place your drive. It protects the hard drive and allows it to be connected to the PC with USB, FireWire, eSATA ports, etc. You can get a hard drive enclosure online or from a local computer parts shop. Once you have brought it follow the steps below.
Step 1: The first step after buying an enclosure is to place your hard drive in it. The process for doing this may differ for different brands. It is recommended to read the manufacturer's instructions for doing it.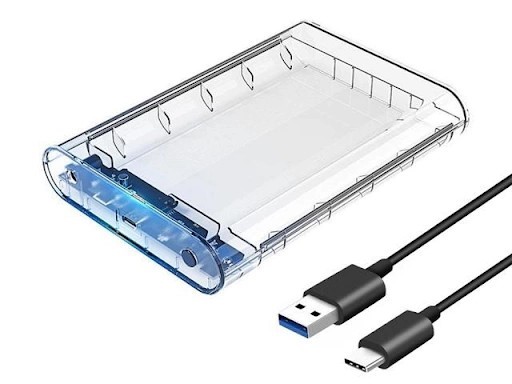 Step 2: Once the hard drive is in the enclosure, simply connect the enclosure to your PC. The PC will detect the enclosure and treat it like a normal external storage device.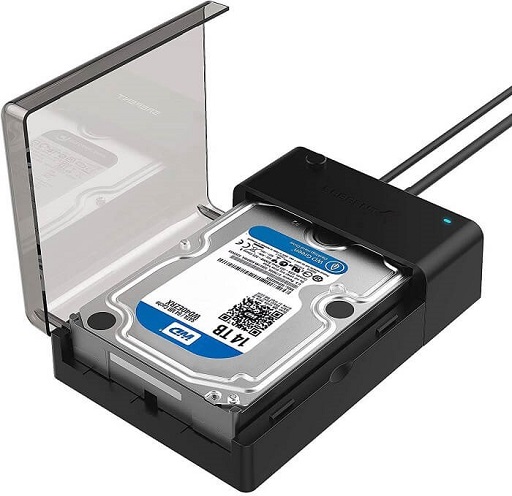 Step 3: Once the drive is connected, simply copy the data on your computer and that's it, you would have successfully recovered data from a drive that won't let you boot.
Part 3: How to Efficiently Get Files off a Hard Drive That Won't Boot?
If the above method does not fully answer your question of how to get files off a laptop that won't turn on, don't worry, because we are not done yet. There is another method that can efficiently get your files off a hard drive that won't boot and it goes by the name of Tenorshare 4DDiG data recovery. A fast and modern data recovery software that combines many exciting features to give you the best data recovery experience. Available for both Mac and Windows, it scans your deleted data and recovers them in minutes.
Some highlights of the 4DDiG data recovery include:
Boot and recover data from crached computer
Compatible with over 1000 file types and file systems, including photos, video, documents, audios and others.
Support to extract data from flash drives, hard drives, memory cards, digital cameras, and camcorders, among other storage devices.
Our data recovery success rates are among the best in the industry, with data recovered from a variety of data loss circumstances.
To recover unbootable laptop with 4DDiG, prepare yourself with the following stuffs before data recovery from crash computer: another working computer, a blank USB drive of more than 1.5G or CD/DVD.
Connect USB drive and Select

Launch 4DDiG software on your computer and get your USB flash drive well connected. Choose Recover from Crash Computer from the home interface and then click on Start to proceed.

Create a Bootable Drive

Choose an external USB/DVD drive to create a bootable drive then click on Create. After a while, the bootable drive will be created successfully and then you can turn to your crashed computer to start data recovery.

Boot Crashed Computer and Recover Data

Restart your device after inserting the USB flash drive or CD/DVD drive into the crashed computer. After that, you'll see the computer brand logo on the screen, and you'll press the corresponding key until you reach the BIOS settings for your device. After entering the BIOS, use the arrow keys to navigate to the boot tab and select boot device. After that, your crashed system will begin loading files, so please be patient while the configuration is completed. 4DDiG will now launch automatically, and you can choose a location and data type to begin data recovery.
Part 4: Tips to Boot the Hard Drive
'Better safe than sorry' is an idiom that should be immortalized in the minds of every PC user. Keeping your PC safe and your hard drive healthy takes effort. To make sure your drive doesn't run into problems like this one which leaves you googling how to recover files from a hard drive that won't boot windows 10, follow these basic tips that will make your life easier and your hard drive healthier.
Be careful while browsing the internet as it is the primary source of Viruses. Keep an AntiVirus installed on your PC to ward off threats.
Immediately stop all operations if you hear a clicking or grinding sound coming from your hard drive.
Back up your data as frequently as you can because calamity can strike at any time.
Make sure that the storage of the drive is safe to avoid physical damage. Excessive heat and humidity destroy hard drives, hence proper precautions should be taken while storing a drive.
Update your drivers regularly to avoid unexpected errors.
Check the connections to your hard drive regularly. Replace wires or peripherals that are old or exposed as soon as you see them.
Related FAQs
1. How do I recover data from a dead laptop?
There are a lot of ways in which you can recover data from a dead laptop. You can try placing the hard drive of the laptop in an enclosure after which you can recover your data. The other option is to make use of a professional data recovery software like the Tenorshare 4DDiG data recovery app.
2. How to recover files from an external hard drive that won't boot?
Using an enclosure for the external hard drive or a professional data recovery software like 4DDiG data recovery usually does the trick when it comes to recovering files from an external hard drive.
3. How to wipe a hard drive on a computer that won't boot?
There are several ways in which you can wipe data from a non-functional hard drive. These include:
Professional data eraser software.
Local repair shops.
Destroying the hard drive through physical damage.
Use a working PC to wipe off your old drive.
Summary
Hard drives are complex creations and require very little to go, rogue. It happens to a lot of PC users and it can probably happen to you. You have to be ready when it does and that is what this guide is leaving you with, a counter to your hard drive problems. If that wasn't enough, we have also made your acquaintance with the powerful Tenorshare 4DDiG data recovery software that will have your back in any situation that requires recovering.