Do you have a video on Youtube that was accidentally deleted or removed due to copyright infringement? How do you get it back up and running as soon as possible? Don't worry - this post will provide step-by-step instructions on how to recover a deleted video on Youtube. So you can continue enjoying the content of your choice without any delays. Whether it's an old video or one recently posted, everyone deserves an easy way to save their work for future reference. Ready to learn about restoring a deleted youtube video with minimal effort? Let's dive in!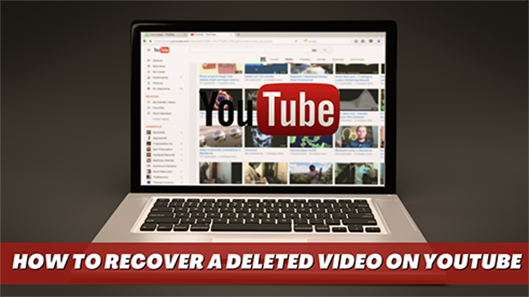 Part 1: Why Did the YouTube Videos Get Deleted?
You may be surprised to find out how useful it can be to know how to recover deleted YouTube videos. Flouting YouTube's rules and regulations is one of the primary reasons a video suddenly disappears, and mastering recovery skills can be most beneficial. After all, you wouldn't want your hard work to vanish like thin air! Thus, take the time to equip yourself with this knowledge so your video stays secure even if an unfortunate deletion occurs.
Let's take a closer look at some of the requirements that must be met for YouTube to delete your videos
Copyright Issues
Copyright issues are notoriously tricky when it comes to uploading videos online. Most people are familiar with the "copyright strike" rule, which means that if you upload a video that someone else owns, all they have to do is "strike" your video, and YouTube will take it down. Evading such an issue is only possible if laws back it.
Breach of YouTube's Terms and Policies
YouTube has an extensive set of guidelines that must be followed if you want to keep your videos up. Any violation will get your video quickly flagged from a certain type of content to potential hate speech, resulting in deletion. It's, therefore, important to stay up-to-date with YouTube's policies to ensure your video is retained with a warning.
Non-Friendly Content
YouTube also has a policy that prohibits videos deemed as "non-friendly". This type of content can range from nudity to sexual content and more. While it varies from each video, any violation of this rule will result in deletion without exception. Could you make sure to read the rules before posting anything online?
Part 2: Recover Deleted YouTube Video on archive.org with Video Link
One of the best ways is to use archiving service archive.org to recover a deleted video on youtube. The Archive is a platform where all sorts of information can be stored, and it automatically updates its archive from well-known websites. This means that whenever a video is uploaded to YouTube, Archive.org will attempt to store it. To recover deleted YouTube videos from the Archive website, follow these steps:
Step 1: The first step is to locate and access the deleted video. Even though it has been deleted, it should still be in your YouTube account. You should be able to access and copy its link, even if you cannot play the video.
Step 2: Once you have copied the link, try to go to the Archive website by typing "Archive.org" in your browser's address bar. This will take you to the main page of Archive.org.
Step 3: On the Archive.org interface, you will see a search bar. Paste the link of the YouTube video you just copied and click "Go" to start the search. A list of items should appear, and you can click on any video that belongs to you and try downloading it.

Step 4: Although this method may also work for other platforms, such as Facebook and Twitter, more is needed to be guaranteed success. Sometimes, the Archive website needs help to keep up with YouTube.
Part 3: Retrieve Deleted YouTube Videos without URL
If you've accidentally deleted a YouTube video and don't have the URL, there are still ways to find and recover deleted YouTube videos without URL Follow the steps below to retrieve the video title and then download the video for recovery.
RecoverMy.Video is a website that can help you recover the title of a deleted or private YouTube video from your playlist. To use it, you must create a free account and allow "read-only" access to your YouTube account. Then, click "Recover Now," and the website will list and send you the titles of any deleted YouTube videos on your playlist via email.
If the video was popular enough, it could be shared on other video hosting websites with the same title. To find it, you can input the title of the deleted video into Google search and see if any results come up. If you find a mirror site that has the video, you can bookmark it for later watching or download it using an online video downloader.
Alternatively, you can visit popular video hosting websites like Facebook, Vimeo, Dailymotion, Metacafe, Veoh, Twitch, Break, and Vevo and input the title or keywords of the deleted YouTube video. If you find the video on one of these sites, you can watch it, bookmark it, or download it for offline watching.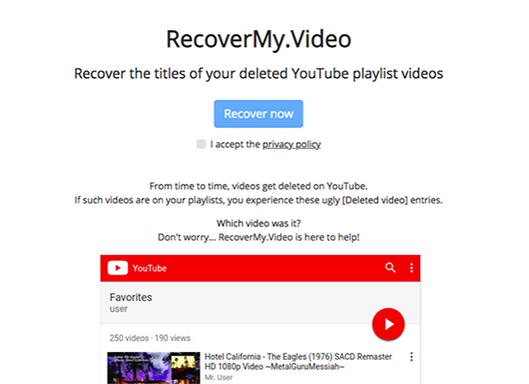 Part 4: Undelete YouTube Videos Using 4DDIG Data Recovery Software
If all the above methods fail, you can try using 4DDIG data recovery software to undelete YouTube videos. Tenorshare 4DDIG Data Recovery is a powerful data recovery software designed to help users recover lost, deleted, or inaccessible data from various storage devices such as laptops, PCs, internal and external hard drives, USB flash disks, SD cards, and other storage media and storage services.
One of the key advantages of 4DDIG Data Recovery is its all-in-one solution, which can handle all types of data loss scenarios, making it a versatile and comprehensive tool for recovering lost data. Additionally, the software has an intuitive and user-friendly interface that makes it easy to use, even for those who need to be tech-savvy.
Recover 1000+ file types including photos, videos, documents, and audio.
Retrieves data from corrupted, damaged, or formatted storage devices.
Restores files after retrieving them from damaged partitions and corrupted or crashed systems.
Recovers hidden, accidentally deleted, or corrupted data due to a malware attack.
It offers a high recovery rate by restoring data in its original condition.
Install and open the 4DDiG utility on your computer. Select the local disk where you lost your data and then click Start to begin. Or you can choose target file types in the upper-right corner before the scanning.
Tap the "Scan" button and begin the recovery process. And you may pause or stop the searching at any time if you've identified the files you want to recover.
Once the scan finishes, tap the "Recover" button to save files in another drive.
Part 5: Recover Deleted YouTube Video Files from Backup
If you have a backup system, you can use it to recover deleted YouTube videos. Most online storage services and cloud-based backup systems allow users to access their data from any device, making them ideal for recovering lost or deleted data. You can log into the account associated with your backup system and download the video file deleted from YouTube.
It is important to note that if you use a cloud-based storage service, such as Google Drive or Dropbox, there may be limits on how much data you can store or how long files will stay available. Before you use this recovery method, please check the terms and conditions of your backup provider so that you know what to expect.
Part 6: Contact YouTube Help Support
If you have exhausted all the methods mentioned above, you can contact YouTube help support. You can contact YouTube's customer service team to explain your issue. They may be able to provide some assistance in recovering deleted videos.
They may also be able to advise you on other recovery methods or refer you to a third-party data recovery expert who can help you recover your lost YouTube video files. Just to remind you, this method might take longer than the other options, but it could still be worth a try if all else fails
Conclusion
Recovering deleted YouTube videos is possible using various methods. If you have a backup system, you can use it to recover the video files. Alternatively, 4DDIG Data Recovery software can undelete your YouTube videos. Tenorshare 4DDIG Data Recovery offers an all-in-one solution and supports over 1000 file types for recovery with a high success rate - making it a great option for both professional and personal data recovery needs. Try out Tenorshare 4DDIG now to experience its power firsthand!