PlayStation 5 (PS5) has revolutionized the gaming industry since its launch. As a result of its advanced hardware and impressive graphics, it quickly became a favorite among gamers.
However, the PS5 is not immune to mishaps resulting in data loss. Saved game data holds immense value for gamers. It represents countless hours of progress, achievements, and unlocked content. Losing it can be devastating, especially after investing time and effort into a game. If you unfortunately lost saved game data, fear not! Learning how to recover lost saved game data on PS5 will save you a lot of time and effort. Let's get started!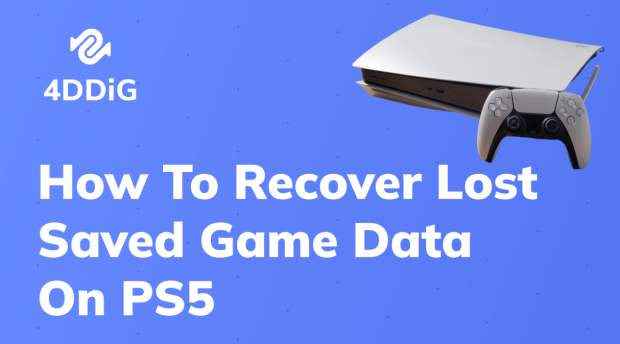 Part 1: How to Recover Lost Saved Game Data on PS5?
Solution 1. Recover Lost Saved Game Data on PS5 from Cloud Storage
Backing up your PS4/PS5 game save data to Cloud Storage is a highly effective method to ensure the safety and security of your files. PlayStation Plus cloud storage is available for PS5 consoles, providing a seamless solution for storing your game data.
By utilizing automatic synchronization to the cloud, your game data will be continuously updated, preventing any loss of progress. Rest assured that your valuable data will remain intact when you close your game or put your console in rest mode.
It is straightforward to recover your saved data in the event of data loss. The following steps will overwrite any existing data:
Go to "Settings menu" and navigate to Saved Data and Game/App Settings. After that, Select" Saved Data (PS5)" > choose "Cloud Storage"

Proceed by downloading the desired data to your Console Storage. Ensure you select the appropriate game.

Finally, synchronize your saved data to restore your desired files.
Solution 2. Recover Lost Game Save from PS5 Backup
Using a USB storage device can be another option to recover your lost PS5 game data. This method is commonly used by PS4 users who back up their PS4 data onto external hard drives. Additionally, if you do not have enough storage in the cloud or don't want to spend money on cloud storage, it may be the best option for you.
To ensure you have a backup readily available for restoration, follow these steps:
First, you have to connect a USB storage device to your PS5 console.
Navigate to the Settings menu, then select System > System Software > Backup and Restore. To get back your lost game data, click on restore.

Choose the specific game data you wish to restore, and then select the "Restore" option. Allow the console some time to restart.
Solution 3. Recover Lost Saved Game Data from PS5 Hard Drive
If you are seeking the most effective method to retrieve lost game data on your PS5, we highly recommend you recover lost saved game data from PS5 hard drive. However, you will need reliable data recovery software to do the process. There are several data recovery tools available, but we recommend 4DDiG Windows Data Recovery.
Tenorshare 4DDiG Windows Data Recovery offers high success rates for recovering lost data on Windows PCs and devices. It is possible to recover deleted, formatted, and RAW data from local disks, USB, SD cards, and external devices. You can restore saved game data, documents, photos, music, videos and more.
It is a highly regarded professional tool for recovering lost gaming data. Here's how to recover lost saved game data on PS5 using 4DDiG Windows Data Recovery easily.
Select the right location to start the recovery of your data

First, download and install 4DDiG Windows Data Recovery. Remove the hard drive from your PS5 and connect it to your PC. Open the application and select the external hard disk (where you lost data), and initiate the scanning process.

FREE DOWNLOAD

Secure Download

FREE DOWNLOAD

Secure Download

Start scanning the external hard drive

4DDiG scans the external hard drive for missing data instantly. Search for specific files or use the Filter option to narrow your search on the panel's right side. You can pause or stop the search anytime once you find the desired files.

Preview and recover lost gaming data

After finding the desired files, preview and recover them to a safe location. Make sure you don't select the same partition where the data was lost to prevent overwriting. Choose the right location (external hard disk/right partition) to retrieve your data.
People Also Read:
Part 2: Additional Tips to Avoid Losing Saved Game Data
To avoid the risk of losing your important saved files, it is crucial to back up your PS5 game data. If you haven't done so already, we have a bonus tip to guide you through a comprehensive backup process for your saved files. Here's what you need to do:
Navigate to the PS5 settings menu and select "Saved Data and Game/App Settings."
Now select "Saved Data (PS5)."

Finally, click on "Sync Saved Data" to initiate the backup process.
FAQs about PS5 Data Recovery
1. Can you recover deleted saves PS5?
Yes, you can. If you have previously backed up your PS5 data to the cloud, you have the option to restore any lost or deleted PS5 data directly from the cloud storage. You can conveniently perform this task from the Settings page. Besides, you can use USB hard drive and data recovery tool to recover deleted data.
2. How do I recover my PlayStation game data?
There are three methods you can follow to recover PlayStation game data. The three methods include
Recover data from the cloud
Recover Lost Game Save from PS5 Backup
Using recovery software
3. Where is game data saved on PS5?
Navigate to the Settings menu and click Saved Data and Game/App Settings. Next, choose Saved Data (PS5) or Saved Data (PS4).
People Also Read:
Final Thoughts
Hope you got a complete idea about how to recover lost saved game data on PS5. Following these key steps will help you achieve a successful PS5 data recovery. By implementing these methods, you can not only retrieve your data effortlessly but also safeguard it for future use.
However, it is crucial to note that utilizing a third-party tool like 4DDiG Windows Data Recovery is necessary for this process. You can utilize the tool to recover any lost saved game data on PS5 and save hours of gameplay. Don't hesitate to try it!