How to remove write protection from usb drive in windows 10?

"I have tried to remove or add to my drive, "write-protection" message appears. In this issue, my pen drive is not write-protected because it can add or remove on another computer but only can't in my computer with window 10. How can I do this problem? Please give any advice for me."

-Question from Reddit
Did you receive the message "the disk is write protected" while trying to copy files or folders to a USB flash drive or SD card on Windows 10? Take it easy now! This post will show you how to remove write protection on USB drive, pen drive or SD cards. Many people on various social media platforms have raised their voices that they face this issue. One such example is given above. Don't worry; this article will elaborate on how to remove write protection from a USB drive in Windows 10.
How to Remove Write Protection from USB Drive on Windows 10?
Part 1: Overview of Write-protected USB
1. What does write-protected mean?
Physical or virtual write protection (sometimes known as read-only) is available. When write protection is activated on a USB device, it can prevent new data from being written or old files from being altered. This usually implies that you can only read the data already on the USB but not erase or modify it. You can prevent data from being rewritten or erased by employing write protection.
Do you know any way to USB write protection removal in Windows 10? Don't worry; this post will show you how to remove write protection from USB/pen drive for free.
2. Why has my USB stick become write protected?
Whenever you experience the write protection error, you should be interested in potential causes. A few reasons are given below:
There is a physical write protection switch on some SD cards and USB drives. If this is going on, move it to the open position.
Infections assault the USB drive or SD card. If you track down an infection, dispose of utilizing your antivirus programming.
The USB drive or SD card is having no further space.
It appears to be challenging to fix compose security mistake in the third case, for you can't just move or erase records on the USB drive or SD card. In this condition, you might attempt arrangements presented in the following part.
Part 2: How to Remove Write Protection from USB Drive in Windows 10?
Do you know how to remove USB write protection? The steps below will show you how to remove write protection on usb drives in Windows 11/10.
Fix 1: Use Lock Switch
A physical switch on some USB flash drives allows you to lock or release write protection. On a USB flash drive, the location of a button will be different. Ascertain that the lock switch has been pushed up to the unlock position. If the USB drive is locked, you won't transfer data to it.
If the write protection switch on your USB drive is turned off and you still get the error message, or if your USB drive has no physical button, proceed to next fix.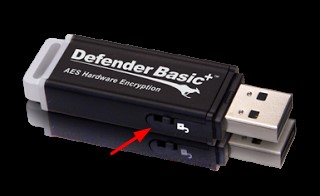 Fix 2: Run Disk part Command
You may remove write protection from USB drives using Diskpart, a command-line program included with Windows. Please refer to the steps below:
Step 1: Hold "Windows + R" on your keyboard. To open the DiskPart Command Prompt, type "diskpart" in the pop-up Run dialogue box and hit the "OK" button.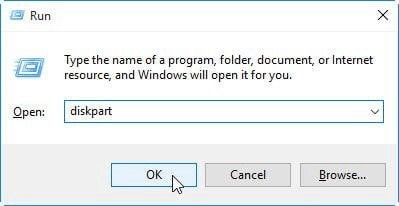 Step 2: Type the commands below one at a time, and pressing Enter after each one:
List disc - This command displays all of the disks connected to the computer, including internal hard drives.
"n" is the number of USB flash drives, thus select disc n. You can tell which one it is by looking at the Size column.
Disc characteristics clear read-only - modify the properties of your USB to make it non-read-only.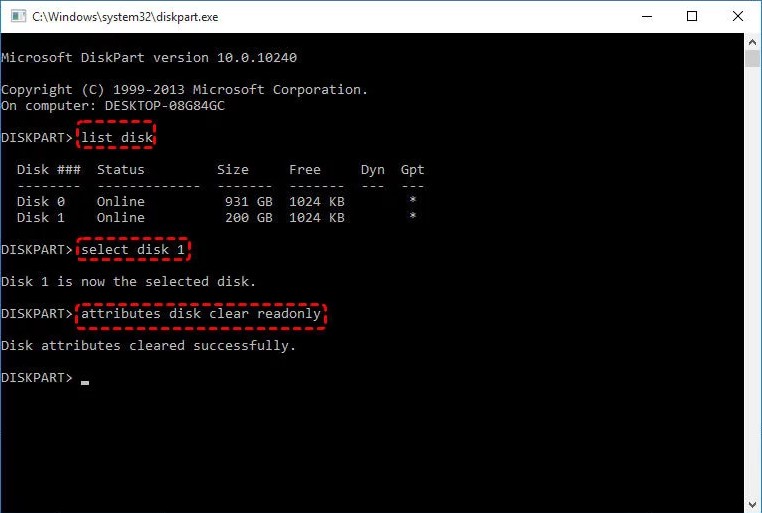 Step 3: Close DiskPart Command Prompt & re-plug your USB flash drive to verify if the write protection fault is fixed. If not, then please move towards the next step.
Fix 3: Edit Registry
Step 1: On your keyboard, press "Windows + R." To open the Registry Editor, type "Regedit" in the pop-up Run dialogue box and hit Enter or click on "OK".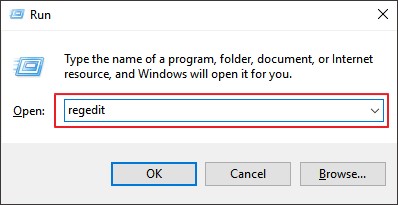 Step 2: Expand the left-hand pane's entries to get to the path.
Step 3: Right-click the Control (folder) key, choose "New" and pick Key. StorageDevicePolicies is the new key's name.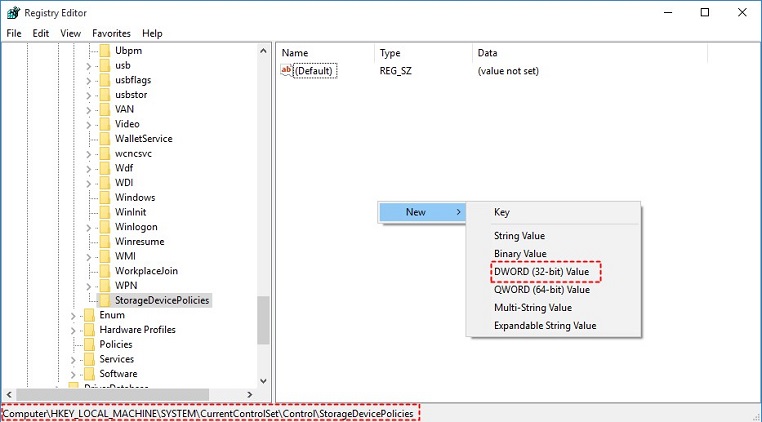 Step 4: Right-click on the white space in the right-hand pane and select the newly generated key. Choose "New" and then DWORD (32-bit) Value. Create a new DWORD named WriteProtect.
Step 5: Change the value of the newly formed DWORD from 1 to 0 by double-clicking it. To modify, click "OK."
Step 6: Restart your computer after closing Registry Editor.
Fix 4: Disable BitLocker Encrypted
If BitLocker is activated on your USB, it will encrypt your files and keep them safe. You'll need a password or recovery key to disable BitLocker on a USB stick. If you don't have any other choices, you'll have to reformat the hard disc.
On a PC, follow these steps to fix write protected USB:
Step 1: Launch "File Explorer" and search for the storage device you're looking for. BitLocker was activated for the device if the icon included a padlock.
Step 2: Select "Manage BitLocker" from the context menu by right-clicking on the icon. This step opens the BitLocker Drive Encryption window, which displays a list of all storage units and their encryption state.
Step 3: To turn off BitLocker, right-click the secured USB drive and select "Turn off BitLocker." Enter the password or choose another option before entering the recovery key. The state indicates that the device is being decrypted and that BitLocker will be turned off after it is completed.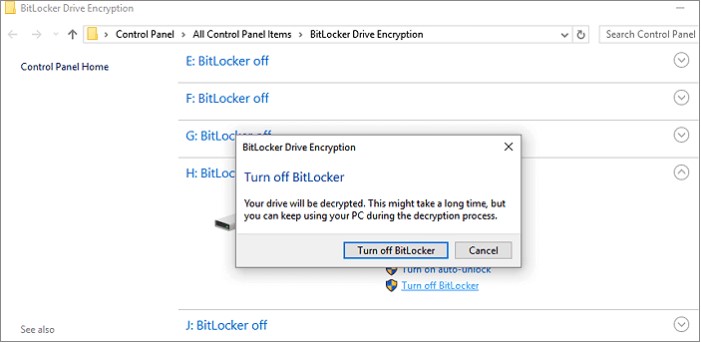 Try copying something on the USB stick again after you've disabled BitLocker to see whether the problem has gone away.
Tips:
If you lost data from Bitlock encrypted USB drive,
Tenorshare 4DDiG
can help you out in 3 simple steps!
Video Tutorial on How to Remove Bitlocker in Windows 10 || Recover Bitlocker Data on Windows 10
Fix 5: Format Write-protected USB
When searching the internet for remedies to the issue of USB/SD card write protection, formatting the USB drive, SD card, or other external storage devices will come up.
Because the file system may have been corrupted, leaving your drive in a terrible state, this is regarded as a good approach to remove write protection from USB/pen drive/SD card. However, you should be noted that formatting the USB will cause you data loss. No worries, a professional USB data recovery tool can assist you in data recovery.
Part 3: How to Recover Data after Formatting Write-protected USB?
After formatting the write-protected USB drive, all data on it will be lost. Luckily, with Tenorshare 4DDiG data recovery tool, you can easily recover any lost or formatted data from both removable drives and local drives. Now follow the steps below to get how to recover data from formatted USB drives with simply 3 steps.
Recover from various loss scenarios like deletion, formatting, RAW, etc.
Support to extract data from USB flash drives, hard drives, memory cards, digital cameras, and camcorders, among other storage devices.
Recover lost data from Bitlock encrypted drives.
Support recover data from Windows 11/10/8/1/8/7 and Mac computers.
Compatible with over 1000 file types and file systems, including photos, video, documents, audios and others.
Connect the USB and Select It to Scan

Once installed, open Tenorshare 4DDiG and connect the formatted USB to the computer. After it is detected by the program, click Scan to proceed. Before the scanning, you can also choose target file types.

Scan the USB Drive

4DDiG promptly looks for lost files in the chosen USB drive all over based on your preferences. And you can switch from Tree View to File View or simply use Filter to find lost data.

Preview and Recover Files

Once the files are found, you can preview and restore them to a safe location on your PC. It is not advised to save the files back to the folder where you lost them to avoid data overwriting.
Write-protected FAQs
1. How can I change the write-protected USB in Windows 10?
Look for a lock switch on the USB device and toggle it to the off position. Use the diskpart command instead, or set the WriteProtect value to 0 in the Windows Registry Editor. Clear the Read-only check box in the file's Properties for individual files.
2. How do I remove write protection from micro SD card in Windows 10?
There are three ways to remove the write protection from SD cards.
Toggle the Physical Switch to the "On" position. Almost all SD cards have a locking mechanism in the form of a slider on the side.
Examine the properties and space of the card. When you add a removable device to Windows, you can disable the ability to write to it.
Reset the Attributes of the Card.
Summary
This post provides many strategies to assist you in resolving USB write-protected in Windows 10 issue. These solutions can also remove write protection from USB drives in Windows 10 if the disc is write-protected. Tenorshare 4DDiG enables you to retrieve your data after they have been formatted.