A USB drive is quite possibly the most used partition in saving files, photographs, audios, and recordings relying upon the size of the USB. It is also undeniable that a USB drive is vulnerable to various errors. When utilizing USB, the message you may frequently get is the "Please insert a disk into Removable Disk" error. The "please insert disk into USB drive" problem always happens on an unreadable, unusable, or inaccessible USB drive, pen drive, or SD card. In case you are upset by this issue, follow to learn how to eliminate the problem and get your work going again. 
How To Fix Please Insert A Disk Into USB Drive Error?
Part 1: Causes of Please Insert a Disk into Removable Disk
At the point when you get the notification "please insert disk into removable disk" while attempting to open the gadget, it's probably because:
You haven't connected the removable disk properly
Your computer can't read your USB drive
The device you are using is unreadable
Assuming you don't know about the particular cause of the error, we suggest you go through the fixes we gave beneath.
Part 2: How to Recover Data from USB Drive that Says Please Insert a Disk into Removable Disk
If you attempt the fixes for the "please insert a disk into removable disk E" error, you bring your disk "half" back to life. That means you haven't fixed it completely, yet far better than its original state. If you want to recover data from your inaccessible USB drive before fixing the issue, you can utilize the Tenorshare 4DDiG Data Recovery. It is an advanced data recovery tool that can restore your media and recover all sorts of files in a few clicks.
Recover data from inaccessible/unrecognizd/undetected drives.
Recover files from Windows, Mac, USB flash drive, SD card, external devices, digital camera, etc.
Support 1000+ data types including photos, videos, audio, documents and more.
Support various loss scenarios like deletion, formatting, corruption, and RAW, etc
Higher success rate than competitors.
Easy and simple steps.
Step 1: Connect the Affected USB
After you install Tenorshare 4DDiG Data Recovery on your PC, launch the software and connect the affected USB drive. After the drive is detected, select it and click Start to proceed.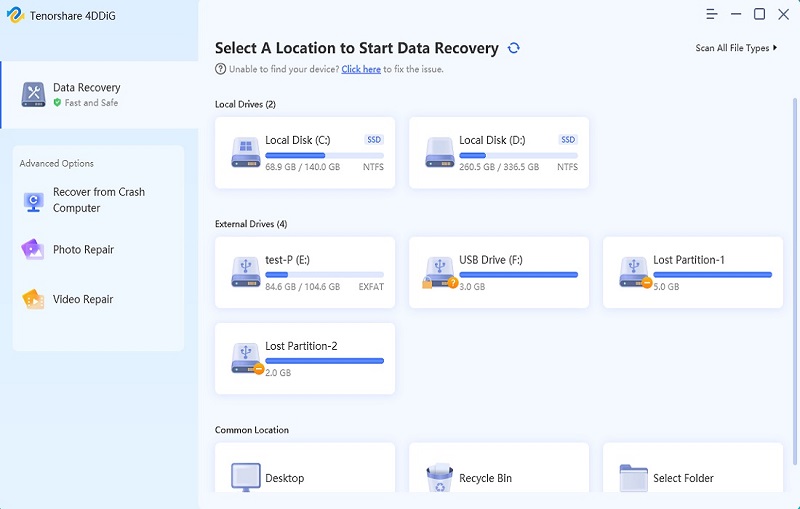 Step 2: Scan the USB Drive
4DDiG immediately scans your drive all around to uncover the lost data and enable you to access the existing files. Then, you can see the scanning result, which shows the number of found documents. You can click "Deep Scan" for an in-depth scanning result.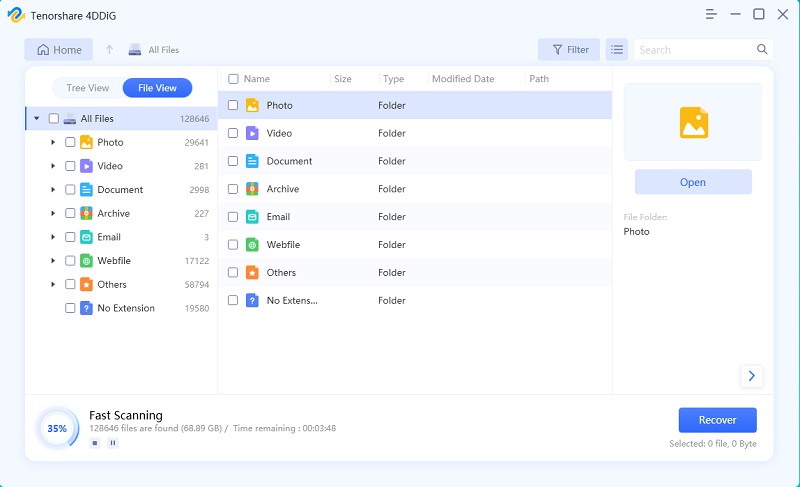 Step 3: Preview and Recover Files from Drive
4DDiG previews and recuperate various record types like photographs, recordings, audios, reports, and more. You can click on "Recover" to get them back from your hard drive and save them to a unique location.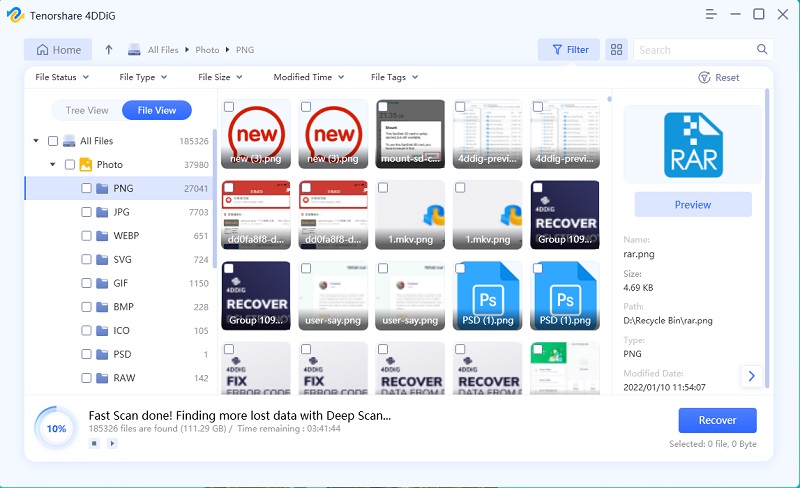 Part 3: How Do I Fix a Flash Drive that Says Insert Disc?
After the data recovery from the USB drive with 4DDiG, you can now start fixing the issue without any worries.
Fix 1: Change the USB Port
Most of the time, you link a USB to your PC via one of the front USB ports. Since the front USB ports are associated with the motherboard via a cable while the rear USB ports are patched to the motherboard straightforwardly, the rear USB ports are more stable compared to the front ones. Hence, link your USB drive to your PC via the rear USB ports and check whether the issue exists. 
Fix 2: Try heating up or Cooling the Drive Manually
Step 1: Insert USB drive to PC and heat the USB using a hairdryer.
Step 2: Wait for some time and then eject and insert the USB drive again. See if your PC can now access your data. 
Step 3: If this technique doesn't work, eject and cool your USB drive for some time and try connecting it multiple times again. Check whether it works this time.
If the above arrangements couldn't work to tackle the "please insert a disk into USB drive Windows 10" error, don't worry, as you can depend on Tenorshare 4DDiG to reestablish your vital data on it. 
Fix 3: Assign a New Drive Letter 
In case the drive letter of your USB drive clashes with the drive letter of one of the partitions on your PC, you receive the "there is no disk in the drive. please insert a disk into drive" error. To manually assign another drive letter to your USB drive:
Step 1: Sign in as an Administrator account on your PC and press Windows + X to open Disk Management. 
Step 2: Right-click on your removable drive partition, and under Disk Management, Change Drive Letter and Paths.
Step 3: Change the drive letter to a unique drive letter.
Fix 4: Scan Hardware Changes 
The feature "Scan for hardware changes" is utilized to examine and load the changes you made to your hardware. Executing this operation is also helpful to get rid of the "please insert disk into drive D" problem. 
Step 1: From This PC, go to the "Manage" menu and open "Device Manager."
Step 2: Find and right-click your USB drive, then, at that point, pick "Scan for hardware changes."
Step 3: After the scan, check whether your disk works appropriately again. 
Fix 5: Update Driver 
Assuming you have got a device problem, you ought to consider upgrading the driver. Drivers are what make the interaction between your PC and a hardware device happen. To update drivers:
Step 1: From This PC, go to the "Manage" menu and open "Device Manager."
Step 2: Find and right-click your USB drive, then, at that point, pick "Update."
Step 3: Check if your disk started working appropriately again.  
Fix 6: Fix Inaccessible USB Drive Using Diskpart
From the search box of the Start menu, type cmd for Command Prompt. Right-click and Run Command Prompt as administrator. In the Command Prompt Window, type the accompanying enumerated underneath and click "Enter" after each command:
Step 1: Diskpart> list disk 
Step 2: Diskpart> select disk A (A being the drive number assigned to your USB)
Step 3: Diskpart> clean
Step 4: Diskpart> create partition primary
Step 5: Diskpart> active
Step 6: Diskpart> Select partition 1 
Step 7: Diskpart> format fs=fat32
Fix 7: Try Hardware and Devices Troubleshooter
Step 1: Go to the Settings app and open "Updates and Security."
Step 2: Go to Troubleshoot and press the "Additional troubleshooters" option.
Step 3: Select Hardware and Devices, run the troubleshooter, and wait.
Step 4: Follow the directions given on your computer screen and restart your PC.
Fix 8: Delete Partition and Create a New One
To erase a partition, you need to open Disk Management. Here, track down your drive and right-click on it to delete the volume tab. After that, create another volume and right-click your drive. From the rundown, select "New Simple Volume." Set up the basic details (size, drive letter, etc.) for the drive and click "OK." Presently restart the PC and reconnect the USB drive. The "please insert a disk into drive windows 10" issue ought to disappear. 
Fix 9: Repair the Drive by Formatting 
Step 1: Right-click "My Computer" and open "Disk Management" from the Manage menu.
Step 2: Right-click on the hard drive, USB/SD card, and select Format Volume.
Step 3: Reset File System (NTFS/FAT32) and rename the gadget.
Step 4: Click "Finish" to finish repairing gadget with the "SD card please insert a disk" blunder.
FAQs
1. How do I fix Please insert Disk 1?
You can solve the "Please insert Disk 1" error using the Diskpart feature from Command Prompt. We have mentioned above the method you can employ to get rid of this issue.
2. How do you fix there is no disk in the drive error?
Step 1: Tap Window + R to open the Run box.
Step 2: Expand Disk Drives and right-click your desired hard drive, USB, or SD card to Disable it. 
Step 3: Reboot PC, and the "there is no disk in the drive windows 10" issue will likely be settled.
Summary
We have provided the possible fixes for the "Windows 10 please insert a disk into drive" issue. Truly talking, if any of these techniques neglect to fix the "please insert a disk into USB drive" issue, it's almost certain there are hardware problems on your drive. In such a case, you might lose your data. Here comes 4DDiG for your rescue. To get your data back, you can use Tenorshare 4DDiG Data Recovery Software.