A USB is an essential tool in our personal and professional lives. A USB drive must be compatible with a different device or operating system to operating gently, just as any other item is termed brilliant for being compatible with other devices. How to format USB to FAT32? In Windows, there are three file systems: NTFS, FAT32, and exFAT. However, because of FAT32's superior compatibility, many users prefer to format USB to FAT32 with Windows 11/10. The leading cause for formatting a USB drive to FAT32 on a Windows PC is to make it compatible with various devices and operating systems. So, in this post, we'll learn how to format USB to FAT32 on Windows 10/11 and why we need to do so.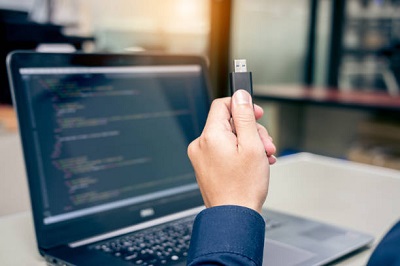 Part 1: Why Should I Format USB to FAT32?
With Windows 95, FAT 32 became the oldest file system in Windows, displacing FAT16. NTFS and exFAT are two new and contemporary file systems in Windows. There are several reasons why you would want to format USB to FAT32 in Windows 10/11. Some of the most prevalent causes, according to us, are given below.
FAT32 is Windows' oldest file system, so most external devices use it. We buy flash drives that are likewise formatted in FAT 32.
There are other current file systems, but FAT32 is widely used since it is compatible with new and older machines.
It is mainly used on portable devices to let users utilize USB on various systems while ensuring that it is compatible with all of them.
Part 2: How to Format USB to FAT32?
Fix 1: Format USB to FAT32 with Professional USB Formatter
When it comes to formatting USB drives, we suggest opting for a professional USB format tool like 4DDiG Partition Manager instead of relying solely on built-in Windows tools such as File Explorer, Disk Management, or Diskpart. The reason behind this recommendation lies in the advanced disk management functionalities offered by 4DDiG Partition Manager.
With its intuitive user-friendly interface, you can quickly get started with the USB formatting process using this tool, without any concerns about encountering operational difficulties. Moreover, this powerful tool supports formatting USB drives of various sizes, including 32GB, 64GB, 128GB, 256GB. Here's how to do:
Download and launch 4DDiG Partition Manager on your computer. Ensure your USB drive is connected to your computer. Then select "Partition Management" and right-click the USB drive that you want to format and select the Format option.

Select the desired file system (such as FAT32 or exFAT) and specify the volume label.

Review the formatting configurations and click the "OK" button to initiate the formatting process.

Wait for the process to complete, and once finished, your USB drive will be successfully formatted to to FAT32.
Fix 2: Format USB to FAT32 with File Explorer
Windows File Explorer can not only view and handle files, but it can also do essential disc management such as format flash drive to FAT32. If you don't want to use any software, you may format the accessible partitions with File Explorer. File Explorer, on the other hand, cannot execute disk-level operations.
Step 1: On the taskbar, click the File Explorer icon, then This PC. You should be able to see all of the connected disks and partitions.
Step 2: Select the format from the context menu by right-clicking on the piece. Please make a backup of all vital data on the partition; otherwise, you won't be able to restore it.
Step 3: Select FAT32 from the File system drop-down in the format box, fast format, and click the Start button. The drive should be prepared to use after this is completed.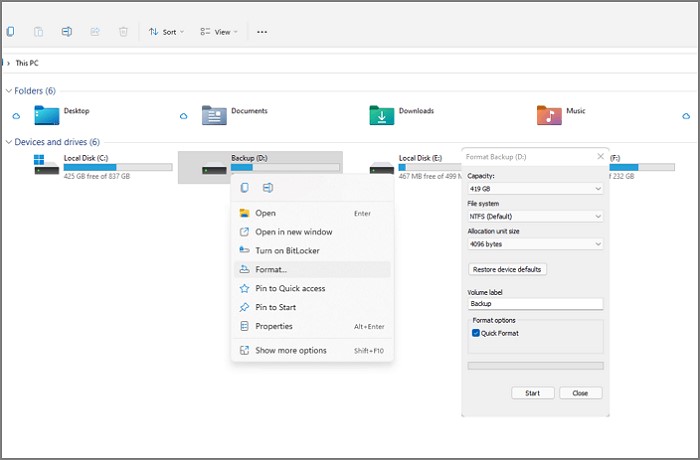 Fix 3: Format Drive to FAT32 via Disk Management
While File Explorer is useful for formatting partitions, the Disk Management program is required to format drive to FAT32 file system.
Step 1: Select Create and format hard drive partitions from the Disk Management menu. It will display a list of hard discs and partitions once it is opened.
Step 2: Select Format from the context menu by right-clicking on it. This procedure should not be performed on an EFI or Primary partition. Even if you do so, you will be refused entry.
Step 3: Volume label, Format 32, can be selected as the format choice. After that, you may utilize it in File Explorer.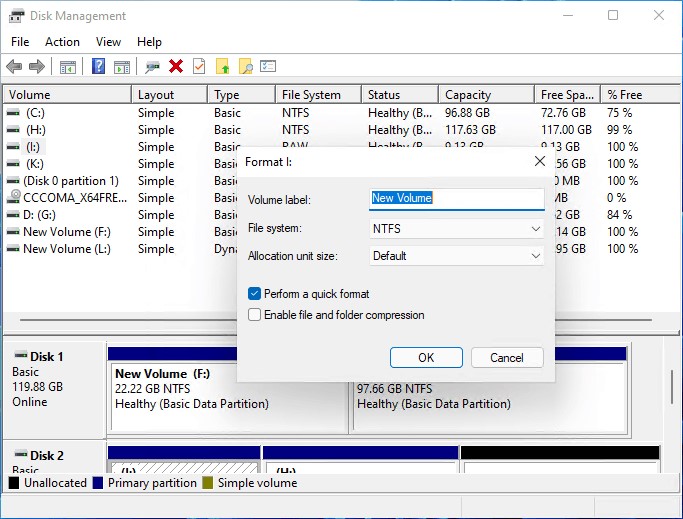 Note:
Use this tool with extreme caution. You will not be able to retrieve any partitions on your disc if you remove them by accident. Try
Tenorshare 4DDiG Data Recovery
to recover any lost data after formatting the USB via Disk Management.
Fix 4: Format Flash Drive to FAT32 Using CMD
How to format flash drive to FAT32? If you like to use Command Prompt for nearly everything, you may also use the Format command in Windows to format your USB disc. You may also format using the Windows Terminal, which is included in the Power Menu in Windows 11 and is similar to Command Prompt in Windows 10.
Step 1: To enter the Power Menu, press WIN + X and choose Command Prompt with Administrator permission. Keep track of the drive letter.
Step 2: Type format /FS: FAT32 into the command prompt and hit the Enter key.
Step 3: The operation result should now be shown, and the drive should be ready to use.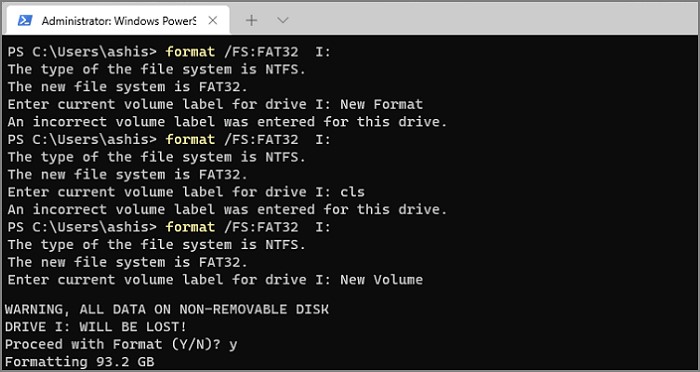 Fix 5: Format USB to FAT32 with PowerShell
How to format USB drive to FAT32? You can format a disc in FAT32 format with PowerShell, just like the command prompt.
Step 1: PowerShell may be found in the start menu if you search for it.
Step 2: Replace Drive Letter with the actual drive letter in the PowerShell window and run the command below.
Step 3: Depending on its size, it may take some time to format the drive. It is because the above command does not do a fast format.
Step 4: After the formatting is finished, you'll be prompted to give the drive a new name.
Step 5: Press Enter to create a new drive name.
Step 6: A "Format Complete" notice will appear as soon as you press the Enter key.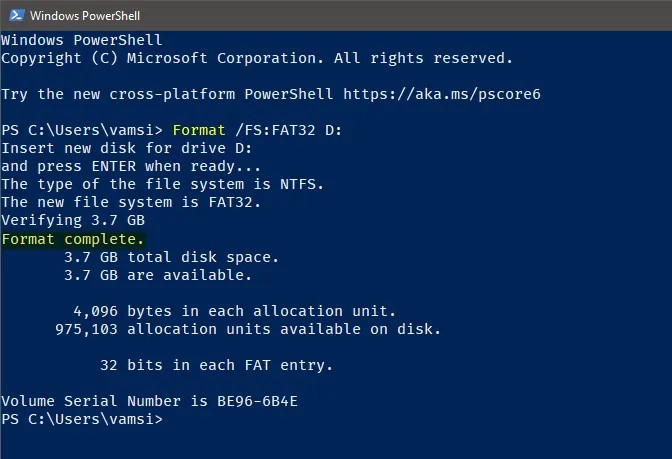 Part 3: How to Recover Lost Data after Formatting USB to FAT32?
With above methods, formatting USB drive to FAT32 can be quite easy now. However, you may lose important data after formatting the flash drive. Tenorshare 4DDiG is a professional USB data recovery tool that can recover any lost, deleted or formatted files including videos, photos, audios, documents, etc. Now follow the steps below to figure out how to recover lost data after formatting USB to FAT32.
Recover data that was accidentally deleted lost due to formatting, partition loss, corruption, system crash, virus attack, and other factors.
Support to recover lost or deleted files from Windows/Mac/SD cards/external drives/USB drives/digital cameras, etc
Photos, videos, documents, and audio files are among the file types that can be retrieved.
100% safe and easy to use.
Connect and select the USB

To begin, download and install Tenorshare 4DDiG Data Recovery. Start the program, connect your USB drive to the PC, and then pick the drive to begin scanning.

Scan the USB Drive

Once the scanning starts, you'll see the recovered files as they are being found. You can preview these files. Once the scanning is complete go through the files that are found.

Preview and Recover Files

After discovering the target files, you may preview them and save them to a secure location. Please do not save to the same partition where you lost your data in the event of disc overwriting and permanent data loss.
How to Format USB to FAT32? (32GB/64GB/128GB Supported!!!)
Related FAQs
1. Why can't I format USB to FAT32?
Here are the three most common reasons:
The size of the partition you need to format is greater than 32GB. You won't be able to format partitions larger than 32GB to FAT32 in Windows.
On a detachable drive, the partition that has to be formatted to FAT32 is not the first primary partition.
The USB drive has a write-protection feature.
2. How do I format my USB to FAT32 for free?
You can do it free by following Fix 1, Fix 2, and Fix 3 mentioned above
3. What File System Should I Use for My USB Drive?
FAT32 is the most suitable file system for both older and newer computers (PC and Mac), as well as game consoles and other USB-connected devices.
Summary
By thoroughly reading this article, you should now have a comprehensive understanding of how to format USB to FAT32. Simply follow the provided methods diligently. We recommend you use 4DDiG Partition Manager, which provides a reliable and user-friendly interface for formatting USB to FAT32. In the event of any accidental file loss during the formatting process, fear not, as the powerful 4DDiG USB Recovery tool can swiftly recover your files without hassle. Give it a try and experience its efficiency firsthand!