How to fix unknown usb device port reset failed?

"I received the following message 'Unknown USB Device (Port Reset Failed)' when I tried to plug in my USB. I have repeatedly checked all of my USBs and connected devices and they are all OK. So what is causing this problem?"

-Question from Reddit
Who hasn't faced USB problems at the most inconvenient of times? Every one of us is aware of what a USB is and what it does. USBs are an inseparable part of our daily work. It makes life easier by making data storage simpler. But as with any piece of hardware ever produced, it is bound to run into problems here and there. One such problem is when your PC is unable to recognize the USB device due to an issue in your USB Port. The error message accompanying this problem reads 'unknown usb device port reset failed'. This is the error that we are going to be focusing on in this article. Starting with the causes, we will move on to the fixes for this error. We will also introduce you to an amazing data recovery software named 4DDiG data recovery in case you end up losing data while fixing this error.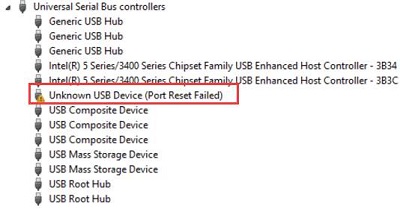 Part 1: Overview of the Unknown USB Device Port Reset Failed error message
1. What does USB port reset failure mean?
Running into a USB error especially when you need to get important work done is an unparalleled annoyance. USB-related errors signify a problem with the USB device descriptor. It means that the USB port is not able to recognize the USB device inserted resulting in an error reading a usb port reset request failed.
2. What causes USB port failure?
A port reset failed error is intricately tied to its cause as the cause of the error determines the fix to be employed. Not knowing the exact cause of the issue can send your approach into disarray leading to confusion and frustration. So let's look at the possible causes that are behind this error.
Outdated or corrupted drivers.
The USB device is suspended- Windows suspends devices that have been inactive for some time.
Hardware issues- USB drive contains bad sectors
Part 2: How to Fix Unknown USB Device (Port Reset Failed) Windows 10?
Quick Solutions
Fix 1: Connect the device with another USB cable
Sometimes the error may not lie with your PC at all. That's right, if a USB cable is defective it may lead to an error message. So get hold of a different USB cable and try to plug in your hardware and see if it solves your problem.
Fix 2: Try Different USB Port
Before jumping to conclusions about your USB Device it's a good idea to check other USB ports in your PC to see if it's a generalized issue or a case of a single USB port malfunctioning. So insert your USB into different ports to see whether it is working.
Fix 3: Connect the device to another PC
It may turn out that the issue does not lie with your USB at all, that it is the PC that's causing trouble. This may happen due to hard drive problems in the PC, outdated drivers, etc. Try connecting your device to a different computer to check if your USB is functioning properly.
Advanced Solutions
Fix 4: Run Hardware and Devices Troubleshooter
It's always a good idea to use the troubleshoot feature in Windows when dealing with hardware issues. It pinpoints issues that are plaguing the hardware and rectifies them. So how do we use this feature to fix the unknown usb device (port reset failed) problem, here's how.
Step 1: Bring up the Command prompt by typing cmd in the Windows search box. Now enter the following command in it and then press Enter.
"msdt.exe -id DeviceDiagnostic0"
Step 2: The Hardware and Devices troubleshooter window will now emerge after you run that command. Press the 'Next' button to start the troubleshooting process. Let the troubleshooter run its course.
Fix 5: Uninstall the USB Drivers
One of the major causes of this error is old, outdated drivers. Revamping the drivers' database by deleting the old drivers may just do the trick and solve this USB error. Let's see how to do that.
Step 1: Open the Windows run dialogue box by pressing the Windows + R buttons simultaneously. Open device manager by typing in 'devmgmt.msc' in the run dialogue box.
Step 2: Once in the device manager, look for the 'Universal Serial Bus Controllers' category and expand it. In this category locate the malfunctioning USB drivers. They are usually marked with a yellow sign of 'Unknown USB device'.
Step 3: Right-click on that USB and from the menu, select the 'Uninstall' option. Once complete, restart your device. Windows will automatically look for new updates for that USB and install them. If not, you can do it manually by downloading the required drivers.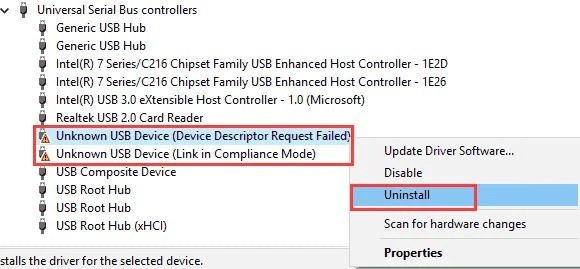 Fix 6: Update the Generic USB Hub Drivers
Getting rid of the old drivers is not enough to solve this problem, updating old drivers is also essential. To do it:
Step 1: Go to the 'Universal Serial Bus Controllers' (USBC) category in the Device Manager as instructed in Fix 2.
Step 2: From the list of options in the 'USBC', select the 'Generic USB Hub' option and right-click on it. From the menu, select the 'Update Driver Software' option.

Step 3: Now, the Update window will pop up. Select the driver software available for your device and install it.
Fix 7: Disable USB Selective Suspend feature.
USB selective suspend feature is a nifty tool to save power when a particular USB port is not in use or inactive for a long time. It occasionally leads to errors like the usb port reset failed. If the suspend feature is what is causing this error then disabling it is the best way to go, here's how to go about it.
Step 1: Open Control Panvel and navigate to the 'Hardware And Sound' window. In the hardware and sound window go to the 'Power' options and click on 'Selected Power Plan'.
Step 2: Now click on the 'Change Plan Settings' button in the power plan window. Once in the 'Change Plan settings' menu, click on the 'Change Advanced Power Settings' button.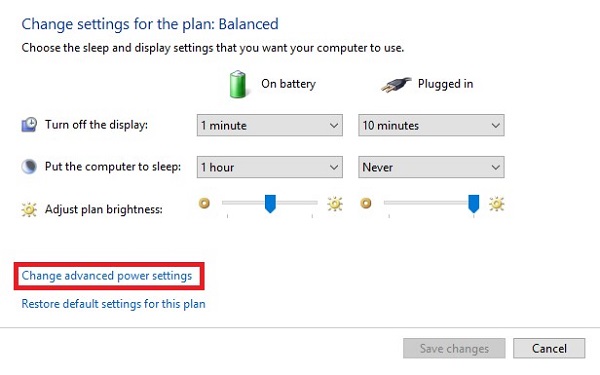 Step 3: Now an elaborate menu of advanced options will open up. In this menu, click on the drop-down category labeled as 'USB Settings'. This will lead to the 'USB selective suspend Settings' with two sub-options labeled as 'On Battery' and 'On Power'. Disable these options and click on OK and you are done!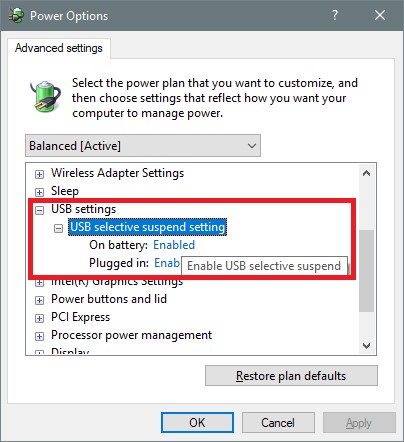 Fix 8: Run Surface Diagnostic Toolkit.
Surface Diagnostic Toolkit is a utility present in Surface laptops that can rectify errors like these. To use it, simply search 'Surface Diagnostic Toolkit' in the Windows search box and click Enter. Run the toolkit when it shows up on the search and just follow the instructions from there on after and you'll be set.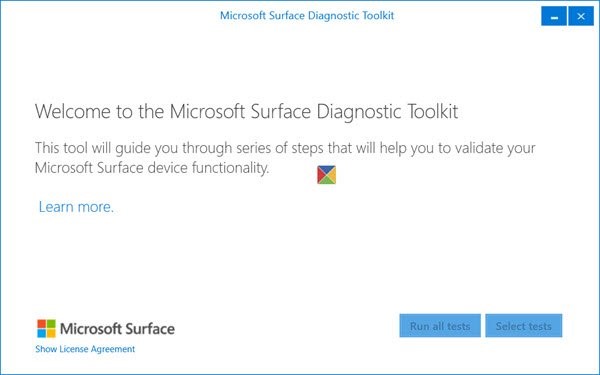 Fix 9: Disable C State in System BIOS.
C state is a power-saving state that kicks in when your computer is idle. A C-state cuts power from the idle units of the PC which may be giving rise to an unknown usb device (port reset failed) windows 10 error. You can disable this C state in the BIOS by following the manufacturer's instructions as the procedure differs for different PC makers.
Fix 10: Update System BIOS
If nothing works then it's a good idea to update your BIOS and see the results before sending your laptop to the repair shop.
You can update your BIOS directly from the manufacturer's website or create a bootable drive with that update and boot it.
Apart from that, you can also update the BIOS through BIOS update applications that come pre-installed on your laptop.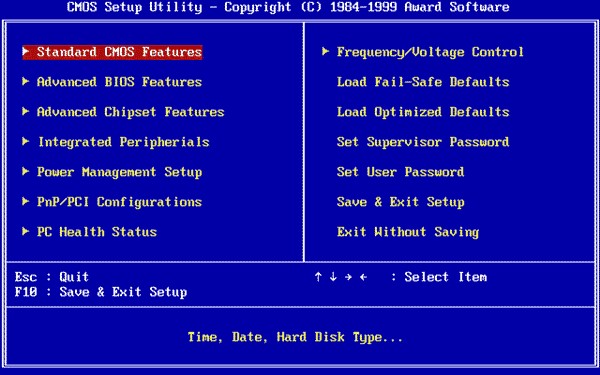 Part 3: How to Recover Data from an USB that is showing the Unknown USB Device Port Reset Failed Error?
Portable data has become an inseparable part of the digital age. The ability to have your data secured in a USB that can be taken anywhere and used at your will has a sheen that hasn't worn off yet. That is why when errors like usb device port reset failed affect one's portable devices it induces a panic that is not easily settled. Part of the panic stems from the fact that these USBs contain precious data which if lost may create a lot of problems for the user. So you require a reliable app in these situations which can bring back your lost data if it is lost while fixing USB issues. Introducing the Tenorshare 4DDiG data recovery software which recovers your USB data without much fuss.
Access and recover data from unrecognized USB flash drives, SD card, external drives, etc.
Recover from various loss scenarios like deletion, formatting, RAW, etc.
Support to recover lost or deleted data from USB flash drives, hard drives, memory cards, digital cameras, and camcorders, among other storage devices.
Support recover data from Windows and Mac computers
Compatible with over 1000 file types and file systems, including photos, video, documents, audios and others.
To use it to recover data from your USB devices, follow the steps below.
Connect USB and Select a Location

Plug your USB device into the PC and start the 4DDiG. Once the drive is recognized by the program, select the USB from the list of drives and click on Scan to proceed.

Scan the Drive

4DDiG quickly inspects the selected USB drive all over for missing files, and you might interrupt or stop the looking whenever you need. After the scan, recovered files will be listed in the app

Preview and Recover Files

Now you can select the files you want to save on your computer, choose a location and click on 'Recover'. Save the files in a different location from where they were lost to prevent overwriting.
Summary
Portable USB devices have become an integral part of data storage and transfer. Thus, any issue concerning them immediately becomes a top priority. We have gathered all the info that is required to solve the USB port reset failed error so that you don't have to struggle if you run into this error. And if you face any data loss issue while fixing this issue, the Tenorshare 4DDiG data recovery is always there to help you out!