"I am working on my dissertation and recently purchased Word 2010. Now, when I try to open my paper I get an error message that "Word found unreadable content in....." When I select yes, to recover that content I then get another error message that says "we are sorry. We can't open ......because we found a problem with its contents."The details then state: "Operation aborted: max-element-depth constraint violated."
-From Microsoft forums
There's no arguing the fact that encountering an error like "Word found unreadable content in…" can be pretty annoying, especially when you are working on something as important as a dissertation. To be honest, Word documents can become inaccessible due to an array of reasons and trigger the said "unreadable content in Word" error. If you are also unable to open a Word document and see the said error on your screen, continue reading. In this guide, we'll explain how to fix the "MS Word found unreadable content" error and retrieve your Word document.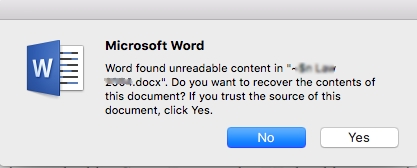 Part 1: Why You See The Message " Word-found-unreadable-content-error.jpg in....."
The error "Word found unreadable content in……" usually occurs when the particular Word file is corrupt or has been infected by malware. However, there are a few additional reasons that might make your Word document inaccessible by displaying the said error. These reasons include:
Your system has encountered an attack from macro viruses. For readers who don't know, macro viruses are small instances of malware that go after Word documents and damage their content, resulting in unreadable files.
If MS Word crashes unexpectedly, there's a huge probability that you are going to see the Word found unreadable content error.
Sometimes bad sectors can appear on your hard drive. These bad sectors can corrupt the data present on the drive, resulting in inaccessible documents.
Part 2: Recover Corrupted Word Files
Now, before we go ahead and explain how you can fix unreadable content in Word, we would like to point out that it would be better if you recover the corrupted Word files beforehand. This way even if you permanently end up damaging the Word document while trying to fix it, you'll still have a source to retrieve your content.
To keep the recovery process simple, we recommend using Tenorshare 4DDiG - Windows Data Recovery. It's a feature-rich data recovery solution specifically designed to retrieve accidentally deleted data including word documents from a Windows OS or a Mac computer. The tool works in different scenarios, which means whether your Word document contains a virus or has gone corrupt due to an outdated version of MS word, 4DDiG will allow you to retrieve its content without any hassle. The tool also supports 1000+ file formats so if you have accidentally deleted any other data, you'll be able to recover it as well.
Let's quickly walk you through the detailed step-by-step procedure to recover a corrupt Word document using Tenorshare 4DDIG.
Step 1:

Install and launch Tenorshare 4DDiG on your computer. On its home screen, select the location that contains the corrupt Word document. Then, press the "Scan" button to proceed further. Before the scanning, you can choose document from the the upper-right corner.

Step 2:

4DDIG will now initiate the scanning process and start scanning the selected drive for corrupt Word documents. Be patient as this may take a while.

Step 3:

After the scanning process completes, select the Word documents that you want to get back. On the right-side panel, click on "Preview" to check its preview. Then, click the "Recover" button and select the location where you want to save the recovered Word document.
Part 3: The Steps to to Fix the Found Unreadable Content Error in Word
So, after you have recovered the Word document, you can now proceed towards fixing the unreadable Word files. We'll explain two different solutions that you can implement to fix the Word document and make it accessible.
Method 1. Use Recover Text from Any File Converter
While many users don't know this, MS Word has a built-in feature known as "Any File Converter" that automatically converts different formats to Word documents. So, if a Word file has become inaccessible, you can also use this "Any File Converter" feature to fix it.
Launch the MS Word application on your computer. Click on the "File" tab, then tap the "Open" button, and click "Browse".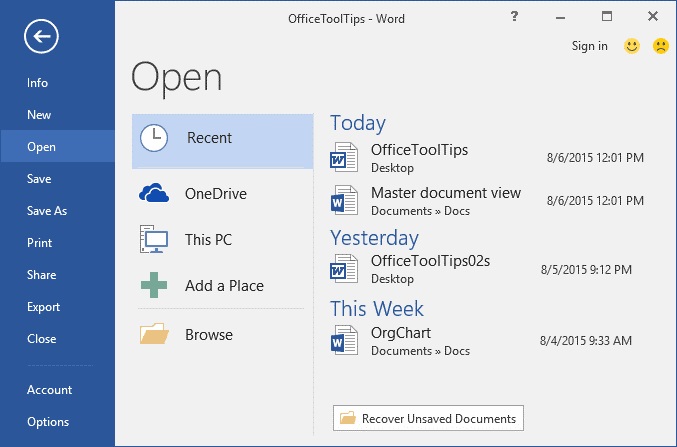 The file explorer window will pop up on your screen. Here, selects the unreadable Word file that you want to fix. Then, use the drop-down menu to select "Recover Text from Any File" and click "Open".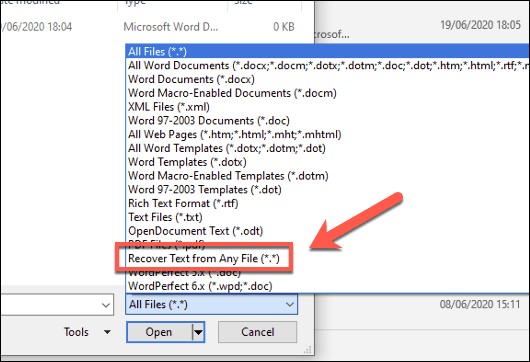 Wait for a few seconds and let MS Word automatically convert the selected document. Once the process completes, you'll be able to read its content without any hassle.
Method 2. Use "Open and Repair" Function
Now, if you are also seeing the "the file cannot be opened because there are problems with the contents" error message, you can also try the "Open and Repair" feature to fix the Word document.
Again, launch the MS Word application and navigate to "File>Open>Browse".
In the "File Explorer" window, select the document that you want to repair. Then, tap the arrow key present alongside the "Open" button and select "Open and Repair."
MS Word will automatically start repairing the corrupt document. Be patient as this might take a while to complete. Once the Word file has successfully been repaired, you'll be able to access its content without any hassle.
The Bottom Line
So, that's how you can fix the "Word found unreadable content in" error by yourself. We hope this guide helped you resolve the said error and save your crucial work from going down the drain. Before saying the final goodbye, we would like to point out that before implementing any of the above-mentioned solutions, you would want to use Tenorshare 4DDiG to recover the unreadable Word documents to keep the process hassle-free.