When you encounter problems with your M.2 SSD drive, it can be a difficult problem to solve. Anything can be lost that includes any files you've saved, your operating system, and the applications that live in that operating system if your SSD dies. You won't be able to boot the computer or access any of your data. This is because SSD drives have a limited life span, and when they die, they are not easily replaced. In addition, when your SSD drive dies, you'll lose all of your saved data. But what if your SSD drive is dying and you need help getting everything back up and running again? Well, we're here for you. Here are several methods discussed and some ideas are given which will help you to recover data from m.2 drive.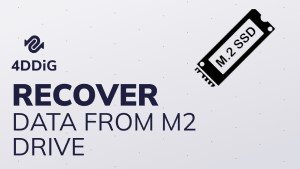 Part 1: M.2 SSD Drive Overview
Whenever we think about the storage of a computer or laptop, we think of hard disks. But many of us do not know that nowadays it is possible to run a computer or laptop by installing a small size hard disk with a very fast speed in place of this old hard disk which we have named SSD in modern technology. Here let's take a quick look at M.2 SSD Drive:
1. What is M.2 SSD Drive?
The full meaning of the word SSD is SOLID STATE DRIVE. This is a new generation of storage currently used on computers or laptops. It is built using an advanced technology that allows for a lot of storage in a very small amount of space. So, SSDs can easily beat old technology flash memory or hard disk with it's extra fast performance and size. We usually use a microchip to store large amounts of information. Even if the size of the microchip is 1 centimetre, we can store it up to several hundred GB. In the same way, we can store data in SSD by excluding large size hard disks. This SSD is used even in the games or gaming computers that are made nowadays. Because it is not possible to process a large size game without a fast processor and SSD. And M.2 SSD Drive is one kind of SSD drive which is small size and mountable memory card. M.2 drive supports Wi-Fi, USB, Serial ATA, and PCIe applications.
2. Why We Need to Recover Data from M.2 SSD Drive?
In the worst case scenario, your M.2 SSD drive may have failed to boot or died on your computer. When this happens, you won't be able to boot the computer or access any saved data on the disk. On this page, we'll show you some of the reasons for losing data from a dead M.2 SSD.
A Hardware Failure

If you see an error message of "The request failed due to a fatal device hardware error," it means your hard drive or SSD on your computer is physically damaged and the operating system can't access or perform read/write operations on it. This type of error can also happen with removable drives, such as external hard drives or flash drives.

Logical Corruption

While a lot of people worry about hardware issues, there are also many software issues that can cause data loss, which is called Logical Corruption. A hard drive can still have partitions that get lost, the filesystem that gets corrupted, or drives that get accidentally formatted for attacking virus or any software issues.

Forget to backup

Sometimes important documents may be lost due to lack of backup system. It is almost the main reason of losing data. A m.2 SSD is a device that has the capacity to hold up to 1TB of data and can store multiple files at once. This makes it easier for you to manage your files and keep them organized, but if you don't take precautions, then deleting or formatting one of these drives could lead to losing all of the data on it.
Part 2: 3 Steps to Recover Data from M.2 SSD
To get back lost data from dead m.2 SSD, it is the best practice to use Tenorshare 4DDiG data recovery software. Recovering data from any digital devices is now easier than ever with 4DDiG software. In most cases, the user does not have any idea how to perform a proper data recovery on their own. They may end up losing more than they had in the first place. This is why it is highly  recommended to use professional software such as Tenorshare 4DDiG Data Recovery Software which can help you to restore your files without causing any damage during the process itself.
Tenorshare 4DDiG Recovery program is the complete package of features to recover any digital data from any system. It includes:
Recovering data from any digital devices like Laptop or PC, internal or external drive, USB flash drive, SD card, camera, etc.
Recovering 1000+ file types including media files, photos, audios, videos, documents, etc.
Recovering files lost due to accidental deletion or formatting
Recovering files lost due to a broken partition on your hard drive or corrupted files inside your computer's memory
Recovering files lost due to a virus attack on your computer's operating system or any other issues related with your device such as hardware failure or slow performance
Follow these steps to get lost file back from M.2 SSD with 4DDiG:
Download the Tenorshare 4DDiG Recovery Software and install it on your PC or Mac. Connect your M.2 SSD to you PC or Mac, then run 4DDiG and select your M.2 SSD to start. If needs you can select file types also.
After selecting the location, 4DDiG will start searching for data. The lost files can be reviewed in tree style. Filter options can make your action specific.
When 4DDiG completes it's scan to find the lost files, it allows you to choose or select your desired files. Select and Click on 'Recover'. Hurray! Your lost file is now in front of you in the magic of 4DDiG.
FAQs:
1. Is it Possible to Recover Data from SSD Drive?
The answer is yes! Although difficult, it can still be done. But if you sit to recover with little knowledge, then the trouble will continue to increase. So this is the best solution for you to use Tenorshare 4DDiG Data Recovery Software. You can recover all lost files in just a few clicks.
2. Can we Recover Data from a Dead SSD Drive?
It's possible to recover data from dead SSDs, but it's not always easy. If the SSD died of natural causes (memory cells stopped working), you can simply clone it to a new drive, although you can also connect it to another PC as a secondary device.
3. How to Recover Data from SSD Not Detected
With Tenorshare 4DDiG Data Recovery you can recover data from any type of not detected SSDs. It's the perfect choice for anyone who needs to get back their files from a drive that is either damaged or formatted. 4DDiG's powerful scanning algorithms are able to recover files from damaged SSD drives without causing any problem to file content. It is an easy-to-use program that doesn't require any technical knowledge to use. It makes it possible for you to recover your files in just minutes!
Conlcusion
M.2 SSD is a good choice to backup data, but as with many other memory cards, data loss is hard to avoid. But you don't have to worry about it, since you got a powerful data recovery tool like Tenorshare 4DDiG to help you get back all lost data in 3 steps. However, remember not to add new data on your m.2 SSD once you found you have lost some data, which can increase the data recovery rate.